Nana's Oatmeal Raisin Cookies are sweet and chewy with the perfect ratio of raisins and oatmeal to cookie dough!
12 Days of Christmas Cookies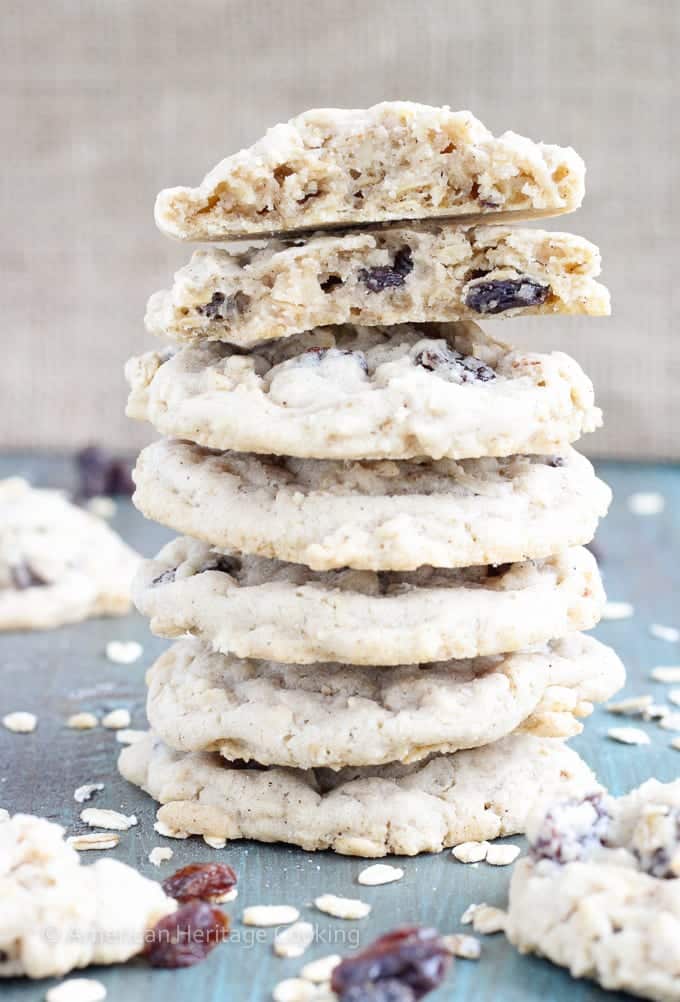 Flashback to Thanksgiving: I had baked and photographed 8 cookies (in addition to my regular job) in three days and, as I sat on the train to my grandparent's house in Washington DC, I was in desperate need of cookie inspiration.
I begged Nana for some Christmas cookie recipes and she pulled out an old, well-loved Pillsbury cook-booklet called "Best Loved Foods of Christmas." She flipped straight to the page with "Oatmeal Raisin Rounds" and said this was one of her and my mother's absolute favorite.
Done.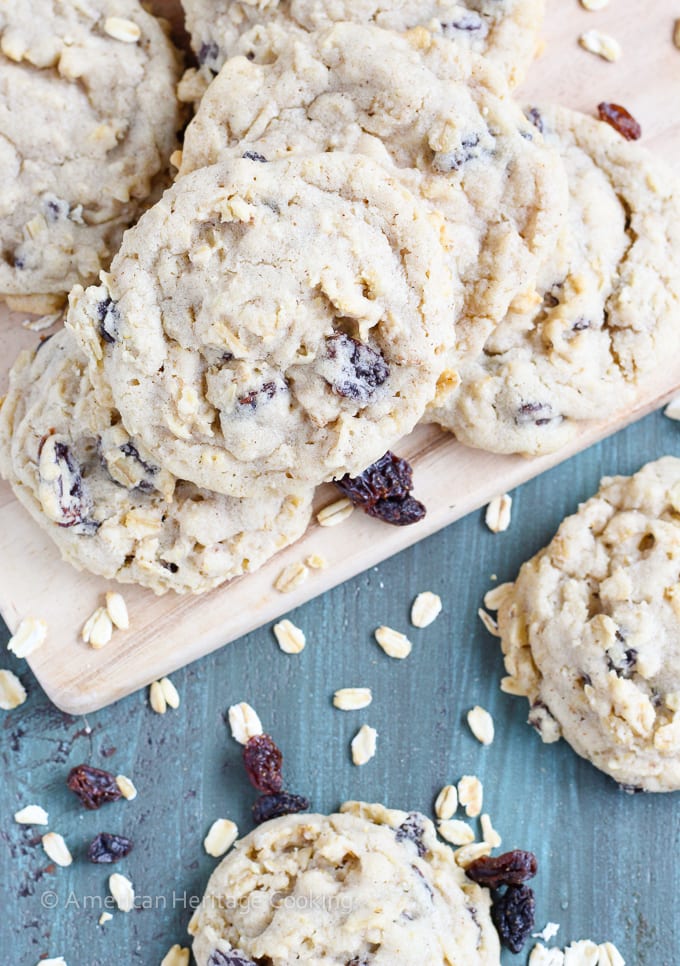 Nana, as all good bakers do, had modified the recipe over the decades; her notes added in barely legible pencil. She added some cinnamon and nutmeg (yes, please!) and swapped some of the granulated sugar for brown sugar (heck yes!). It is ALL about the brown sugar and cinnamon, people. Nana knows what's up.
I kept her ratio of brown sugar to granulated but I tripled the cinnamon, because cinnamon is my love language. I also doubled the salt. Trust me.
This dough is thick.
I say that with reverence. Thick doughs make beautifully chewy cookies. And that is a fact. Remember the cookie dough that broke my mixer? Mmm hmm. Chewy.
The sugar gives the outside of these cookies a bit of crunch while leaving the inside beautifully soft.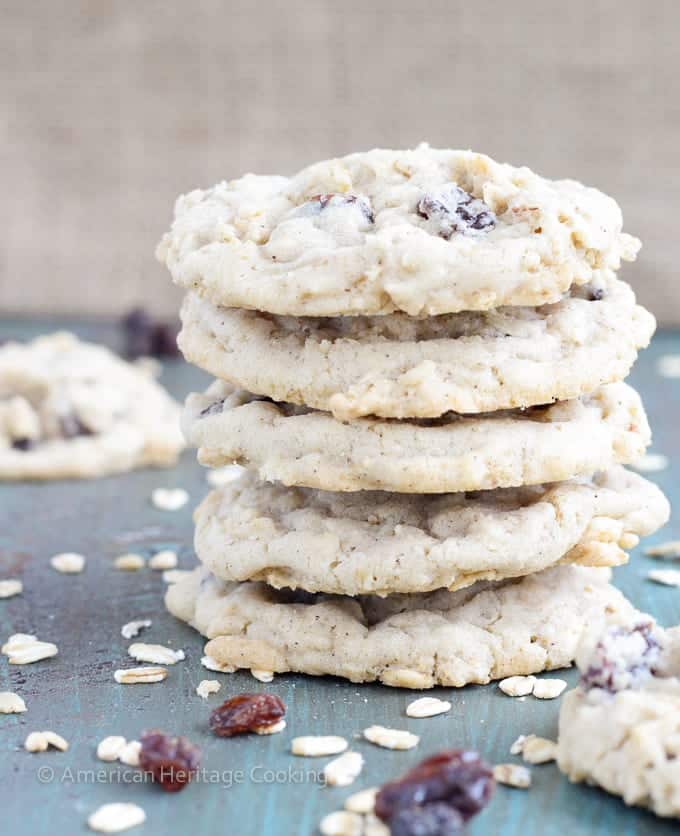 You know how sometimes when you reach for a cookie from an assortment and you think you picked up a chocolate chip cookie but you actually just took a huge bite of oatmeal raisin? You know that disappointment that consumes your whole body?
That won't happen with these cookies. They are that good. You will never wish that raisin would magically morph into a chocolate chip again.
Another perk of this recipe: There is no need to chill the dough before baking so you can have chewy oatmeal raisin cookies in under 30 minutes. Yup, 30 minutes.
Maybe 35 if you actually wait for them to cool. [I hear people do that. I don't know those people. Thankfully.]
Oatmeal Raisin Cookies were my little brother's favorite cookie growing up, so these beauties are headed his way right now. Merry Christmas little one! Xoxo
Sharing the love (and butter) one cookie at a time 😉
Just one more random thought. [I know this post is seriously disjointed. Thank you for sticking around.]
Honestly, I don't know how these old cookbooks come up with their recipe yields, because allegedly this recipe makes 5 dozen cookies. Maybe if they are the size of peas, but who wants an oatmeal raisin cookie the size of a pea? No one. That's who.
Nana's Oatmeal Raisin Cookies are for the eighth day of my 12 Days of Christmas Cookies! You won't want to miss the Cranberry Cinnamon Jam Bars, Rum Refrigerator Cookies, or Cardamom Walnut Snowballs, Spiced Crinkle Cookies, Coconut Peppermint Pretzel Bark, Old Fashioned Date Pinwheels, Cranberry Thumbprint Cookies!!
Recipe
Nana's Oatmeal Raisin Cookies
My grandmother, Nana's, Oatmeal Raisin Cookies are sweet and chewy with the perfect ratio of raisins and oatmeal to cookie dough!
Instructions
Pre-heat oven to 350° and line several baking sheets with parchment paper or silpat mats.

In a medium bowl whisk together flour, soda, salt and spices. Set aside.

In the bowl of a stand mixer or with a hand mixer cream the butter and sugars until light and fluffy. Add eggs one at a time, beating after each addition.

Add the flour all at once and mix on low speed just until combined. Add the oats and raisins and mix on low until combined.

Scoop onto prepared baking sheets with a 2 tablespoon cookie scoop or roll into balls; placing 2 inches apart.

Bake in preheated oven 10-12 minutes or until golden brown around the edges. I like my cookies walking the line towards underbaked, so I baked mine 10 minutes. My brother likes them well done, so I baked his 12 minutes.