An easy recipe for homemade candied citrus! Turn everyday citrus fruits into a sweet snack, an elegant garnish for desserts, a simple addition to a cheese plate, or a stunning homemade gift!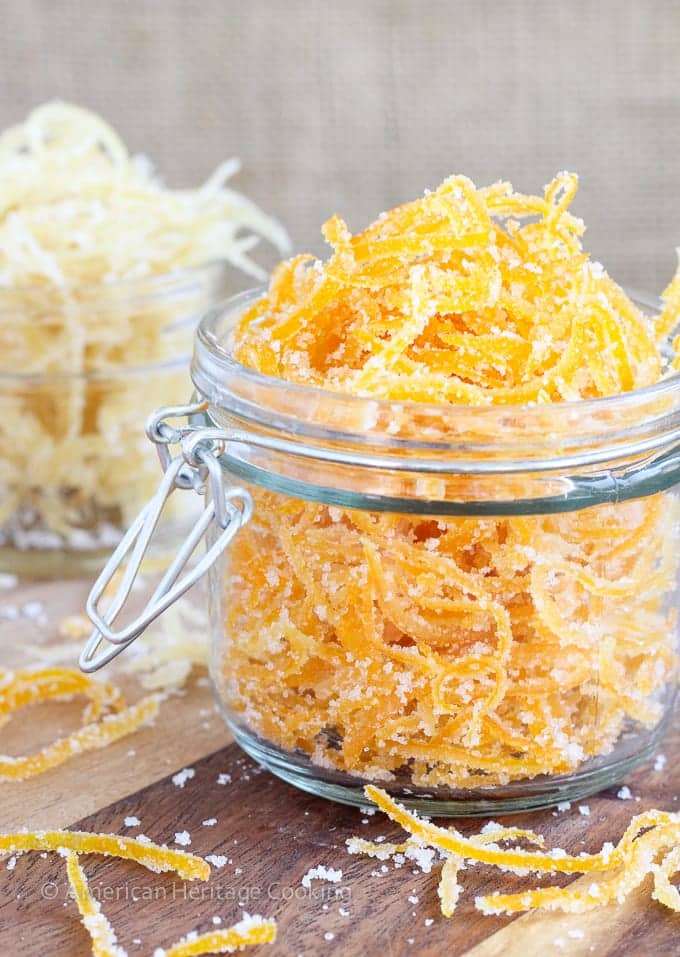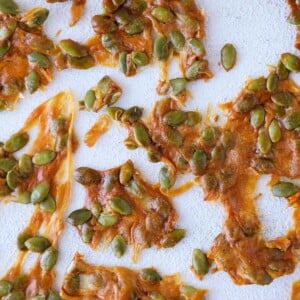 This is one of those easy, yet life-saving, recipes to have in your baking arsenal.
What if you find yourself in the middle of New York City and cannot find candied lemon peel to save your life? [These are real life scenarios, people. Don't laugh.]
Or perhaps you are one of those people who cannot stand wasting a single atom of produce.
No matter what your reasons, candied citrus is where it's at.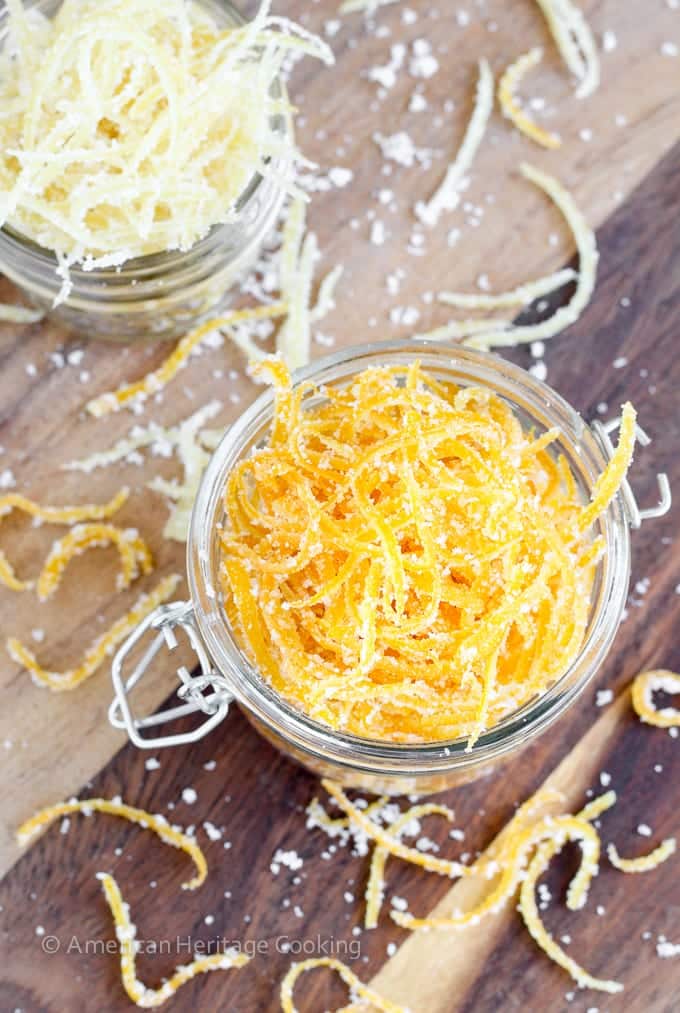 Basically citrus zest is cooked in simple syrup, drained and then tossed in granulated sugar, if desired. It will keep for months and looks rather fancy as a garnish on dessert, as a sweet component to a cheese plate, or (spoiler alert!) as a surprising note in cookies .
It would also make a lovely Christmas gift! 🙂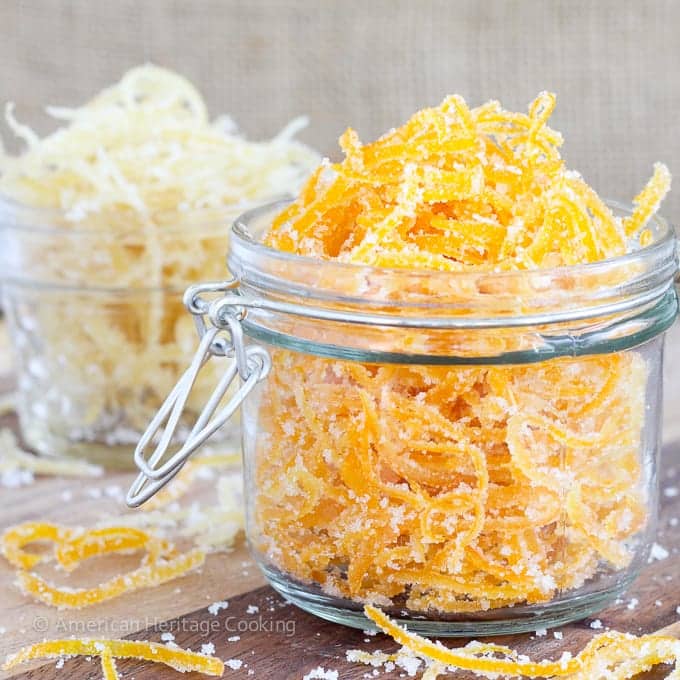 While this recipe is not difficult, it does take a bit of time. The most challenging part about it is cutting the zest. How you cut your zest completely depends on the application and how much time you have to let it cook.
My julienned zest took about 2 hours to cook. Imagine what a large piece takes!
A little technical tidbit for you – because you know I can't resist…
The ingredients for this recipe are very simple, as is the preparation, but the order of combination is paramount. Corn syrup is an invert sugar, which helps keep the sugar from crystallizing as it cooks; however, if you let an invert sugar sit on top of undissolved sugar, it will keep the sugar from fully hydrating and it can crystallize anyways. So make sure you dissolve your sugar in the water first and then add the corn syrup.
Also, don't skip the blanching of the peels! This helps take away any residual bitterness. It only takes a few minutes total. Promise.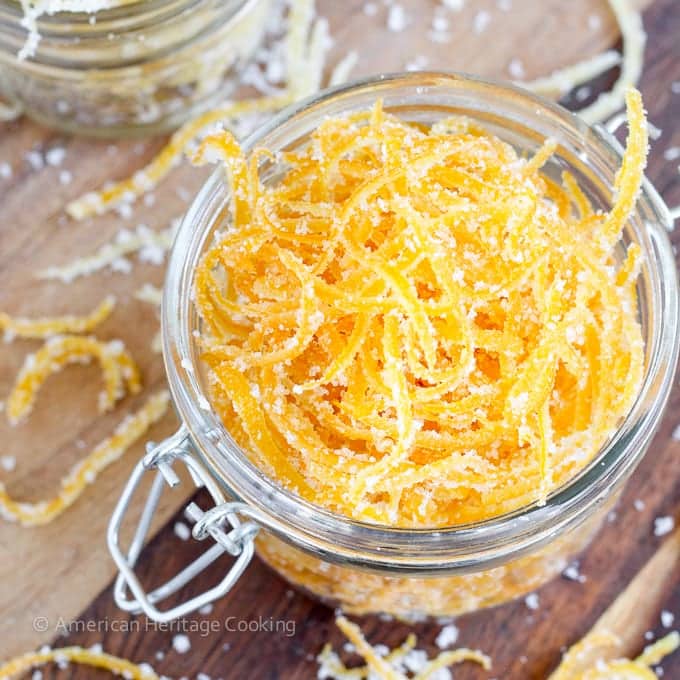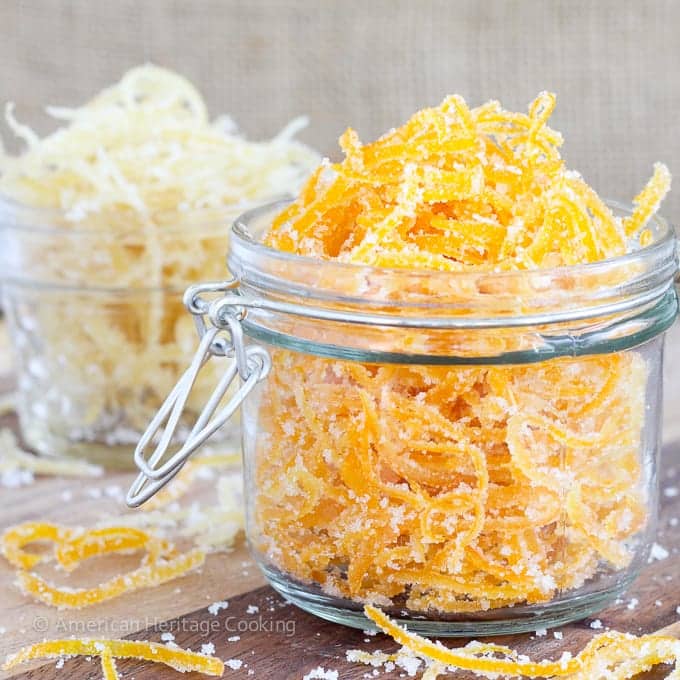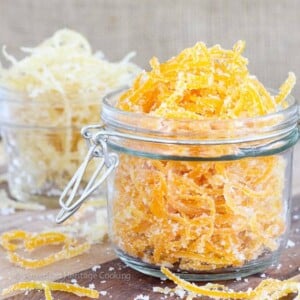 Candied Citrus Peel
An easy recipe for homemade candied citrus! Turn everyday citrus fruits into a sweet snack, an elegant garnish for desserts, a simple addition to a cheese plate, or a stunning homemade gift!
Instructions
Using a vegetable peeler, peel just the zest off of your fruit. Try to get as little of the bitter white pith as possible. This will make your life easier. The sharper your peeler, the easier this step is. Mine was as dull as a doornail (whatever that is…)

Cut the white pith from the peel if need be. Flatten the peel on a cutting board and carefully shave the white part from the zest. I find a large knife actually works better for this process because you can use the blade to keep the zest flat.

Cut the zest into long thin strips about 2mm wide. If you want perfect zest, square off the wide strips first and then cut the thin ones from that perfect rectangle.

Place peels in a saucepan and add cold water just to cover; bring the mixture to a boil; strain; repeat 2 more times.

In the same saucepan combine the sugar and water, stir to hydrate. Add your corn syrup. Return the peels to the saucepan and cook over low heat.

Simmer peels for 1-2 hours or until they are translucent but still retain their color. You can also test for doneness by eating one (my favorite method!). They should be soft and sweet with just a little bit of chew. If your cooking liquid no longer covers your zest at any point just add a little water.

You can store the candied zest in the cooking liquid (refrigerated) or to crystallize it as in the photos, strain the zest, place on a rack or plate and allow to cool until tacky. Then toss in about ¼ cup granulated sugar. Cool and store in a cool, dry place until ready to use.
Notes
You can make as little or as much as you would like at a time. I divided the recipe for syrup above (about 2/3 for the orange and 1/3 for the lemon) and candied the zest of 2 lemons and 4 oranges. I used separate pots to keep the flavors pure, but the process is the same.
Corn syrup is one of those pain in the tush things to measure because its hard to get it to stop flowing out of the container! In this recipe err on the side of more rather than less. If your corn syrup has a nifty 1 cup measure mark on the side (Thank you, Karo), you can also eyeball it.
The yield of this recipe depends on the type of fruit you use. 4 oranges gives you about 2 cups of crystallized peel and 2 lemons gives you about 1 cup.
Nutrition
Calories:
654
kcal
|
Carbohydrates:
171
g
|
Protein:
2
g
|
Fat:
1
g
|
Saturated Fat:
0.03
g
|
Polyunsaturated Fat:
0.1
g
|
Monounsaturated Fat:
0.04
g
|
Sodium:
42
mg
|
Potassium:
280
mg
|
Fiber:
14
g
|
Sugar:
138
g
|
Vitamin A:
550
IU
|
Vitamin C:
178
mg
|
Calcium:
222
mg
|
Iron:
1
mg
Like this? Leave a comment below!