Chocolate Cherry Brandy Balls are easy, no bake cookies flavored with chocolate cookies, cherries and brandy! Simply soak the cherries and combine all the ingredients in a bowl!
Day 10 of the annual 12 Days of Christmas Cookies 2022!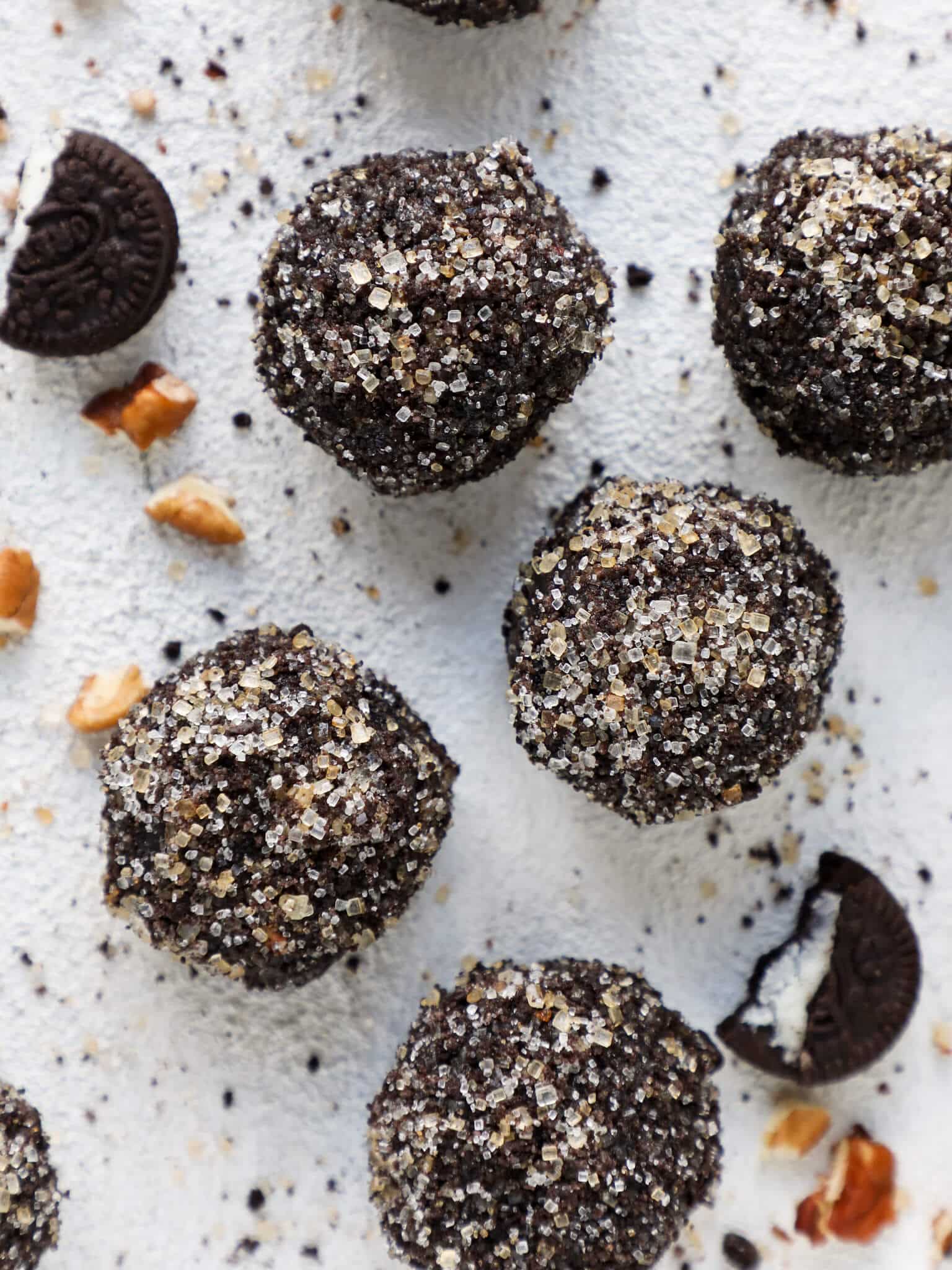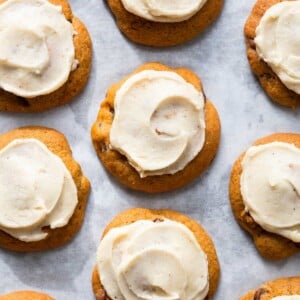 These No Bake Chocolate Cherry Brandy Balls are the easiest cookie you'll ever make! All the ingredients are stirred together in one bowl, scooped and refrigerated overnight. The flavors meld into one boozy, chocolate treat!
Every Christmas I choose one no-bake cookie to include in my Holiday cookie trays. This allows for variety and also makes the preparation much easier for me! Last year I made No Bake Speculoos Rum Balls, which were a smash hit! I also love my No Bake Gingersnap Brandy Balls for a boozy twist on the classic gingersnap flavors.
What are brandy balls made of?
Brandy balls are no bake cookies made by mixing together cookie crumbs, brandy, melted butter, confectioner's sugar, ground nuts and other flavorings. These Chocolate Cherry Brandy Balls use chocolate sandwich cookie crumbs.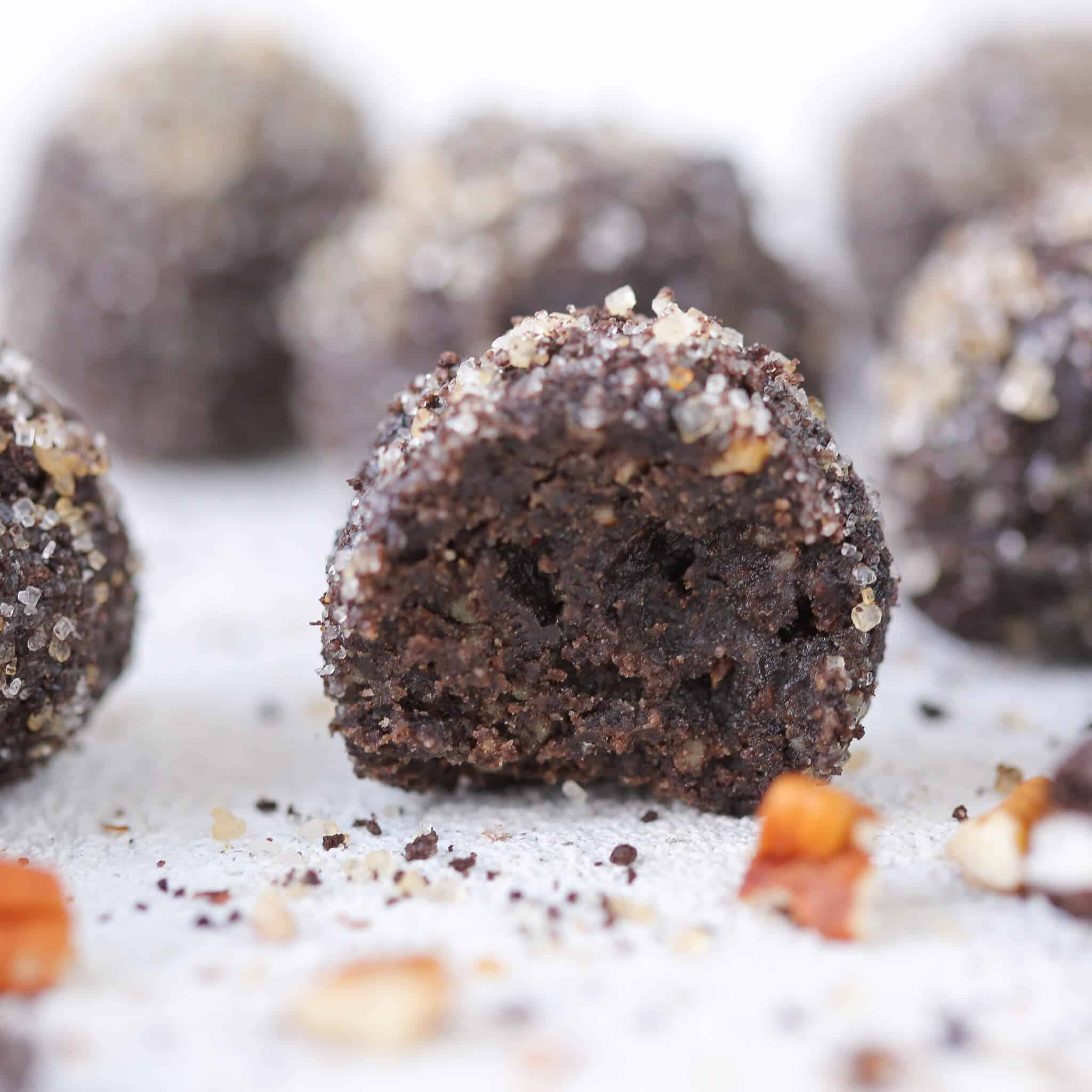 Do Chocolate Cherry Brandy Balls taste like brandy?
These Chocolate Cherry Brandy Balls do taste like brandy. The flavor does mellow with time in the refrigerator but they are boozy.
Ingredients
Dried Tart Cherries: I prefer dried tart cherries for baking because it adds a bit of welcome tartness to the Cherry Brandy Balls. It balances some of the sweetness and adds texture! Use any brand but be sure to check the ingredients for additional, unnecessary, added sugar.
Brandy: The brandy is here for moisture as well as flavor. You can taste it in the final cookie, so be sure to choose a brand that you like! The surest way to tell is by smell. If it smells good to you, it will taste nice in the cookies.
Chocolate Cookie Crumbs: I use Oreo cookies for this recipe, which I have ground fine in the food processor, but you can use any brand you enjoy.
Powdered Sugar: Powdered sugar adds sweetness but it also an essential dry ingredient in this no bake recipe. You cannot reduce it without adjusting the butter.
Pecans: You can finely chop pecans with a knife or pulse in a food processor until finely ground.
Butter: I use unsalted butter for baking, because you want to control the amount of salt you are adding. Every brand is different and it makes adjusting the recipe a challenge.
Kosher Salt: Kosher salt is lass salty than table salt and a teaspoon weighs less than other finer ground varieties. It heightens the flavor here and will keep your pastries for tasting dull or flat.
Red Sanding Sugar: Red sanding sugar has crystals that are just a little larger than granulated sugar. They are perfect for decorating cookies or topping bars and brownies. You could also use turbinado sugar, like I do in these pictures.
Chocolate Cherry Brandy Balls Substitutions
Cherries: You can substitute any chopped dried fruit you choose. Choose one that pairs nicely with chocolate like dried apricots or strawberries. Just be sure to check the ingredients and confirm there isn't added sugar.
Non-Alcoholic: You can substitute fruit juice for the brandy. I would suggest tart cherry juice in this particular recipe. Consider heating the juice a little before soaking the cherries.
Flavored Brandy: Choose a flavored brandy or use a different alcohol all together. Rum or a high-quality kirsch would also be excellent choices.
Pecans: The pecans are an essential dry ingredient in this recipe and one eliminate them without reducing the butter or brandy. You can, however, substitute any other finely chopped nut with no adjustment.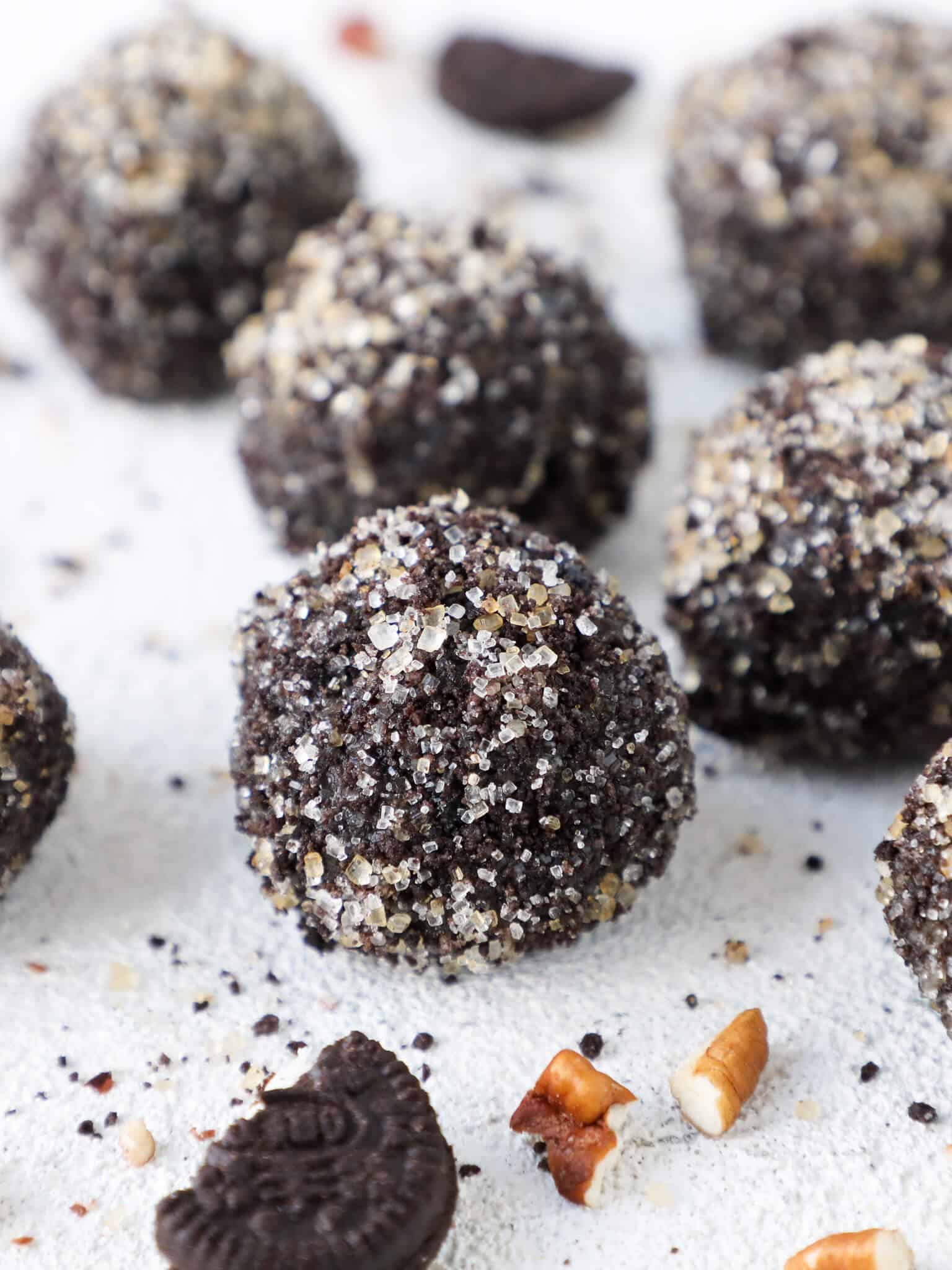 Frequently Asked Questions
How do you store chocolate brandy balls?
Store these cookies in the refrigerator in a tightly sealed container or zip-top plastic baggie for best flavor and texture.
How long will no bake cookies keep?
No bake black forest brandy balls will keep up to 10 days in the refrigerator. If they are stored in a tightly sealed container, they will keep a little longer because the alcohol inhibits bacteria growth.
Can you freeze these brandy balls?
These cookies freeze nicely. They will keep frozen for up to 2 months in a well-sealed container. Try to keep it airtight to prevent freezer burn or subtle flavor changes.
Can you make a larger batch of no bake brandy cookies?
You can make large batches of this recipe. Since it all comes together in one bowl, you will just have to break it up into batches that will fit in your largest bowl!
Will these cherry brandy balls ship?
These cookies are not ideal candidates for shipping. They are best when refrigerated and I would not suggest shipping without temperature controlled packaging.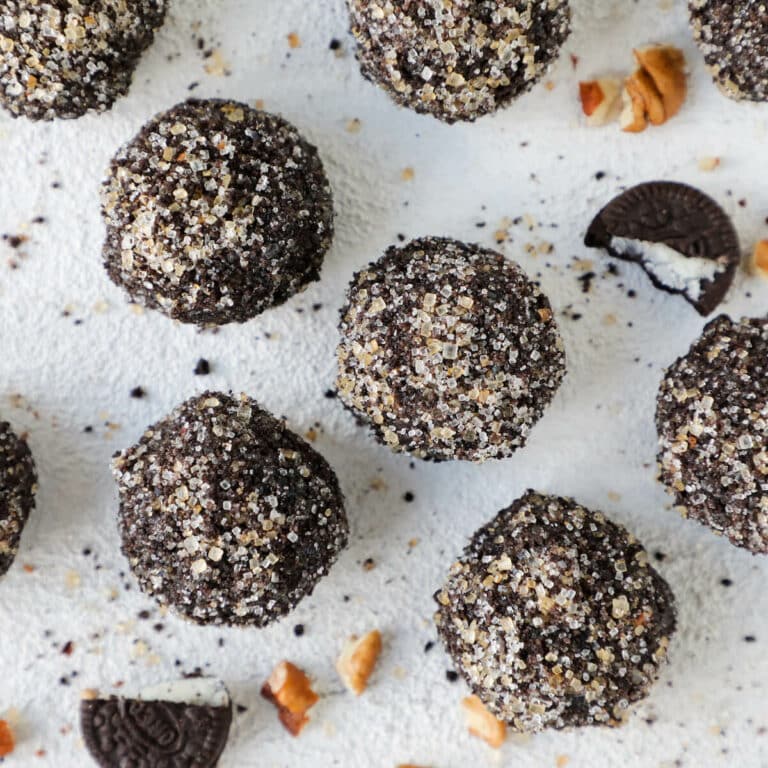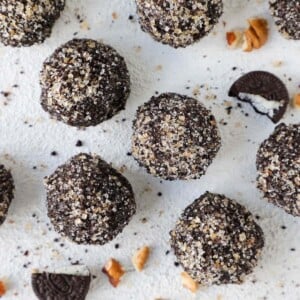 No Bake Chocolate Cherry Brandy Balls
Chocolate Cherry Brandy Balls are easy, no bake cookies flavored with chocolate cookies, cherries and brandy! Simply soak the cherries and combine all the ingredients in a bowl!
Instructions
In a small bowl, soak cherries and brandy for at least 30 minutes. This can be done up to two days ahead.

In a large bowl combine chocolate cookie crumbs, confectioner's sugar, chopped pecans, butter, salt and soaked cherries along with any lingering brandy.

Mix with a large spoon until completely incorporated.

In a medium bowl, whisk together ¼ cup chocolate cookie crumbs for coating and turbinado sugar.

Scoop with a cookie scoop or a tablespoon into 1 inch balls. Roll in cookie crumb coating and place on a parchment paper lined baking sheet.

Cover with plastic wrap and refrigerate for 12 hours. The balls will firm up in the refrigerator and the flavors will meld the longer they sit. Serve chilled or at room temperature.
Nutrition
Calories:
118
kcal
|
Carbohydrates:
15
g
|
Protein:
1
g
|
Fat:
6
g
|
Saturated Fat:
2
g
|
Polyunsaturated Fat:
1
g
|
Monounsaturated Fat:
3
g
|
Trans Fat:
0.1
g
|
Cholesterol:
5
mg
|
Sodium:
95
mg
|
Potassium:
42
mg
|
Fiber:
1
g
|
Sugar:
10
g
|
Vitamin A:
134
IU
|
Vitamin C:
0.03
mg
|
Calcium:
7
mg
|
Iron:
2
mg
Like this? Leave a comment below!
Before You Go!
Check out our other delicious, chef-developed recipes for Cookies!