The peaches shine in this Old Fashioned Peach Cobbler recipe. An easy sweet drop biscuit tops off all the juicy fresh peaches for the perfect summer treat.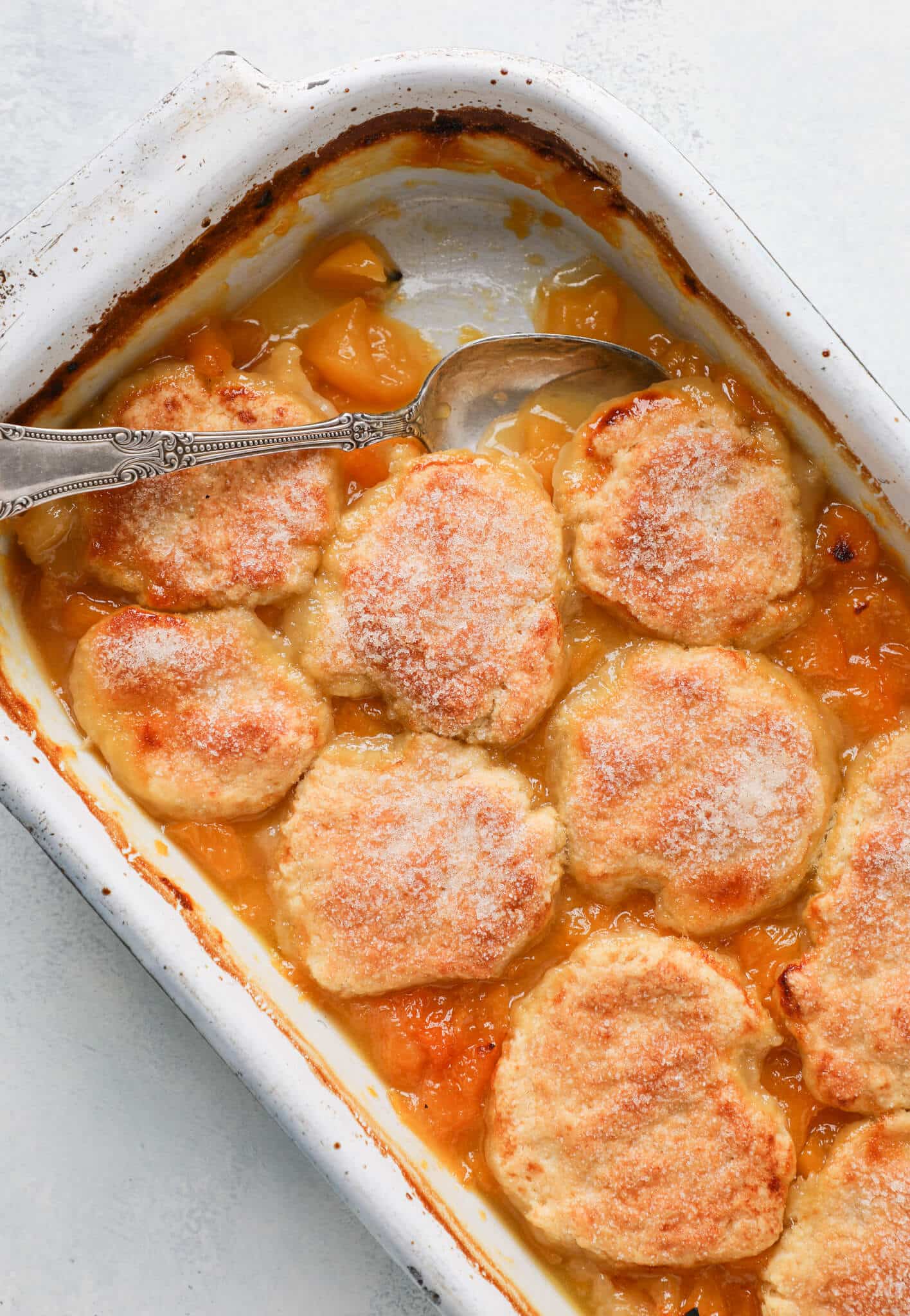 In 2022 when I remade the Youtube tutorial for old fashioned peach cobbler I omitted the ¼ cup water that is in the original recipe. This made it thicker and it wasn't runny at all! The original also calls for shortening in the crust but I used butter because I wasn't reading too closely that morning back in 2014. I liked it so much I kept it!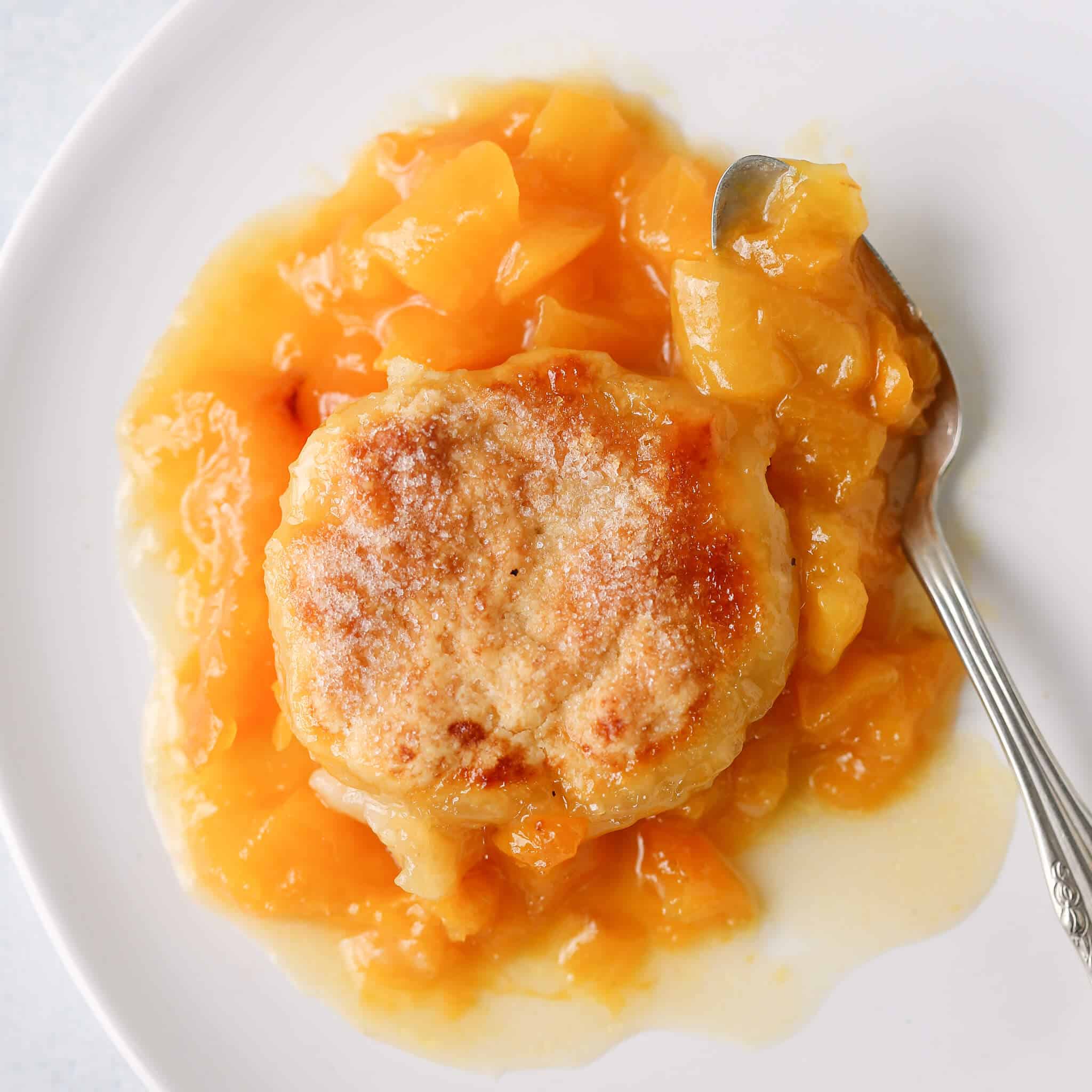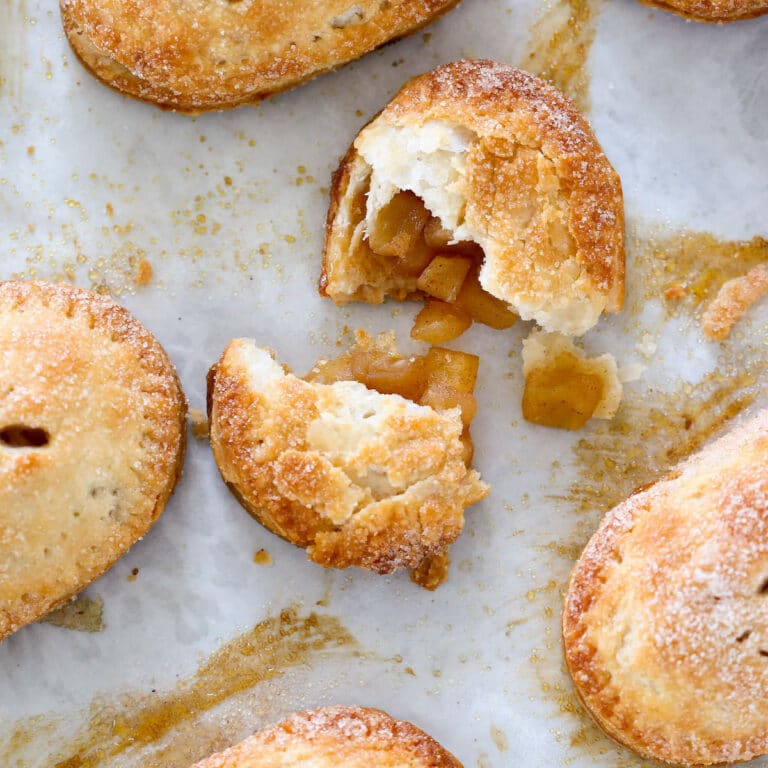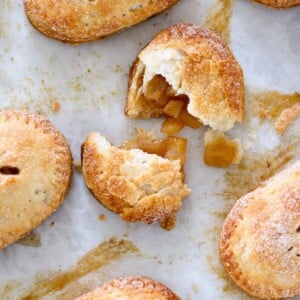 Ingredients in Old Fashioned Peach Cobbler
Fresh Peaches: Just like in my peach pie recipe, ripe peak Summer peaches will make all the difference in this simple recipe.
Sugar: I use granulated sugar here and it is a substantial amount. You can certainly adjust it to your personal preference.
Butter: I use unsalted butter for baking, because you want to control the amount of salt you are adding. Every brand is different and it makes adjusting the recipe a challenge. You can reduce the butter, but it adds just a nice richness to the filling.
All-purpose Flour: I use all-purpose flour but you could also use pastry flour to an even better effect!
Salt: I use kosher salt always. It heightens the flavor here and will keep your pastries for tasting dull or flat.
Water: I mentioned above that I omitted the water in the old fashioned peach cobbler filling, but the water for the crust should be COLD! All the tried and true pie crust rules apply here.
Sugar for topping: I can never say no to a crunchy, sugared topping. Reduce some of the sugar in the filling but please, don't omit the sugar on the crust!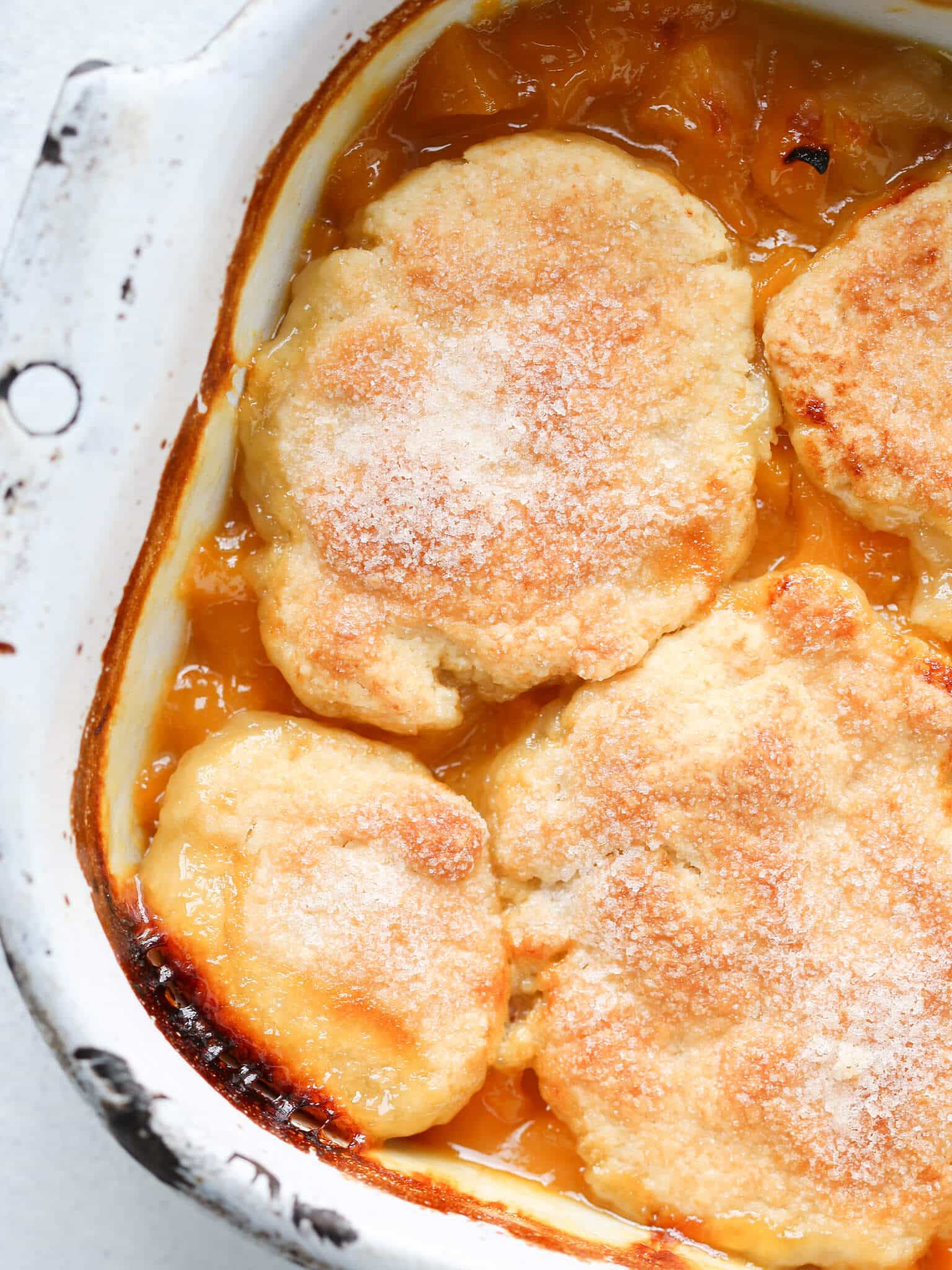 Tips for working with cobbler dough
Cobbler dough is just like pie crust and all those best-practices apply. I will say that I wasn't as persnickety about this crust as other. It's old fashioned peach cobbler and it's not that serious, though you can tell the difference. If you want to take a few extra steps, it will be worth it.
Keep it cold: This is the theme that runs through the whole process. The butter or shortening should absolutely be cold, the water should be ice cold and bonus points if the flour, mixing bowl and utensils are cold.
Work Quickly: This serves two purposes: the first is to keep your ingredients cold and the second is to restrict the amount of gluten that develops in your pastry. Cut your butter in as quickly as the method will allow; keep your focus while adding the water; and when gathering the dough into one cohesive mass, only work it just until it comes together.
Chill it: I clearly skipped this step in the video and my topping didn't rise as much. Still delicious, but definitely a noticeable difference.
Chill the filling: Yes, yes I know. These are precious moments standing between you and fresh baked cobbler. The agony! I did not chill it in the video, nor did Jean in the original recipe, and it will keep your cobbler topping from being flakey. Still tastes awesome. But if you want to go the extra mile, chill it. xo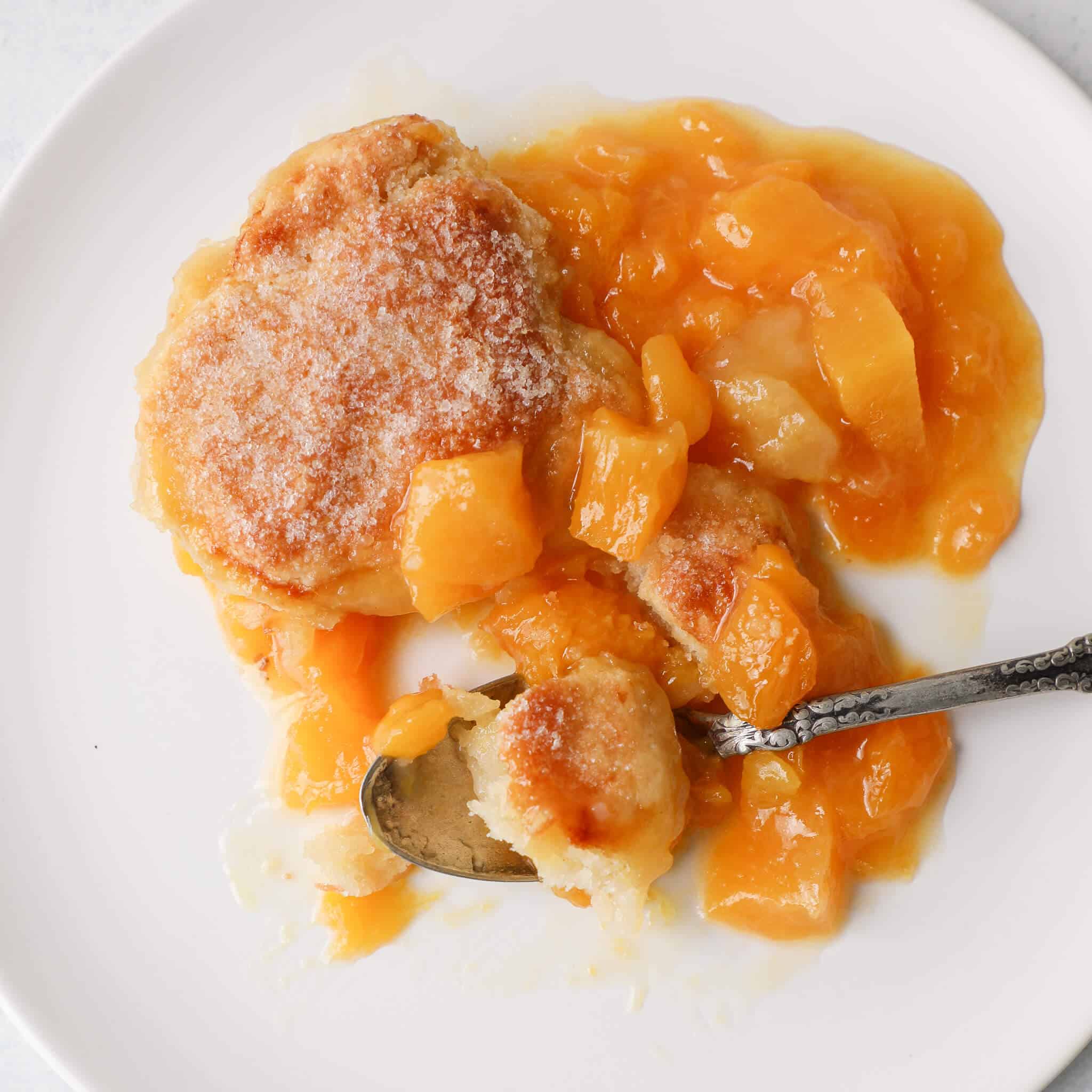 You can watch my video on how to peel peaches three ways!
Arguably the most challenging part of making old fashioned peach cobbler is peeling the peaches. I am here for you with three different methods. Find the one that works for you.
If you tried this recipe and loved it please leave a 🌟 star rating and let me know how it goes in the comments below. I love hearing from you; your comments make my day!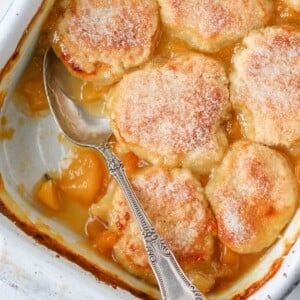 Old Fashioned Peach Cobbler
The peaches shine in this Old Fashioned Ozark Peach Cobbler recipe. An easy sweet drop biscuit tops off all the juicy fresh peaches for the perfect summer treat.
Instructions
To make the Filling:
In a large saucepan, gently stir together the peaches and sugar. Add butter. Bring to a boil over medium-high heat, then turn it down to medium. Stir occasionally. Simmer until the peaches start to release their juices, about 4 minutes. Or longer if you start reading something else and lose track of time. It'll still taste just as good! Pour into baking dish (9 ½ x 13 ½ inches).
To make the dough:
Stir together flour and salt. Add the unsalted butter or shortening. Using a pastry blender or fork, cut the butter or shortening into the flour until the mixture resembles course crumbs.

Measure out 7 tablespoons of ice water and sprinkle over the mixture. Blend lightly with a fork until the dough holds together. If it is at all dry, then add more water. The dough should hold together when pressed between your fingertips.

Turn out pastry onto a lightly floured surface. Gently knead until the dough holds together and is very smooth.

Shape the dough into a log and roll out until it will hang over the edge of your 9 ½ -by-13 ½ inch pan. Trim the edges until it will only hang over by ½ inch. Roll pieces of the cut-off dough into small balls and drop into the peach filling. Stir to mix. This will act as a natural thickener: a trick that Jean's Mother taught her.
Assembly:
Center the dough on the filled baking dish. Fold edges and "tuck it neatly into place". Cut slits with a greased paring knife. Sprinkle 1 tablespoon of sugar over the top of the pastry.

Bake for 20 minutes in pre-heated oven. Reduce heat to 375°F. Continue baking 15 to 20 minutes longer, or until the top is nicely browned and the filling is bubbly. Transfer to wire rack. Let cool at least 20 minutes, ideally longer, before serving.

Get really, really excited! It's going to be mind-blowingly delicious!
Notes
Flavor Tips
–
Ripe peak Summer peaches will make all the difference in this simple recipe. This filling has no added thickeners, instead it is thickened with little bits of the cobbler dough. Save a little to pinch off and press down into the filling! From Jean's kitchen to ours.
The original recipe from 2014 included 1/4 cup water in the filling. I have since removed it for a thicker filling.
Technique
–
If you are having a bad day and your dough is being uncooperative or you want to save a little time, then tear off pieces of the dough and flatten them into small circles. Gently place them over the top of your peach filling. They will taste just as good – promise. I halved the original recipe for the photos shown.
Storage
–
Store baked cobbler in a covered dish at room temperature or tightly wrapped in the refrigerator or freezer. Baked cobbler will keep for 3 days at room temperature, 10 days in the refrigerator or up to 3 months tightly wrapped in the freezer.
Nutrition
Calories:
244
kcal
|
Carbohydrates:
29
g
|
Protein:
2
g
|
Fat:
14
g
|
Saturated Fat:
5
g
|
Polyunsaturated Fat:
3
g
|
Monounsaturated Fat:
5
g
|
Trans Fat:
1
g
|
Cholesterol:
13
mg
|
Sodium:
296
mg
|
Potassium:
241
mg
|
Fiber:
2
g
|
Sugar:
18
g
|
Vitamin A:
288
IU
|
Vitamin C:
11
mg
|
Calcium:
41
mg
|
Iron:
2
mg
Like this? Leave a comment below!