These vegan, Healthy Tropical Oat Bars are filling, packed with tropical flavors and are naturally sweet! Perfect for breakfast, lunch boxes or a snack on the go!
Today I bring you Healthy Tropical Oat Bars because I've gotten a little out of control with the desserts! A quick scroll down the homepage will show you that I have been on a non-stop sugar high for over a month! My cinnamon almond bars are that addicting, and now it's time to rein it in, Lindsey. Rein it in.
But I can promise you that, while I have cut the added sugar down to a measly 2 tablespoons of honey in these vegan bars, you won't even notice that they are healthy. You will be too excited about the burst of tropical flavors on your tongue to give a second thought to the fact that they are only 175 calories each!
Homemade oat bars have been on my list for over a year now, but I've resisted because each and every one I have seen calls for dates as the base. I loathe dates. I used to pick them out of the muesli cereal my mom bought growing up. Dedicated date hater right here.
But several weeks ago late at night, which is when these experiments usually happen, I decided to forgo the hated dates altogether and use dried apricots as the base.
Best. Decision. EVER!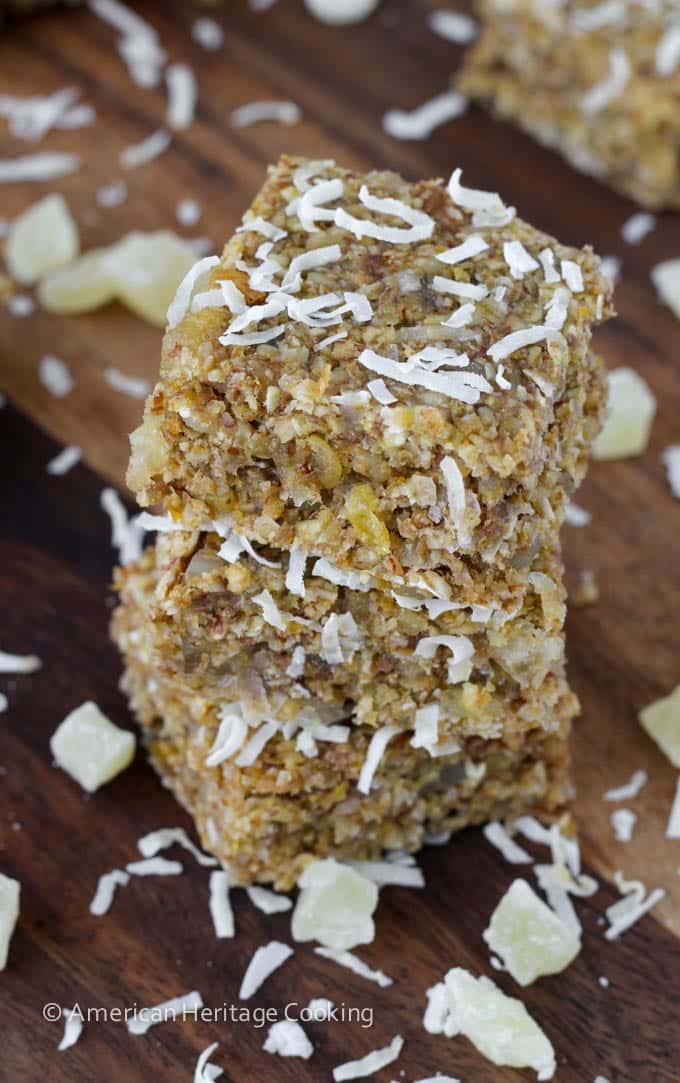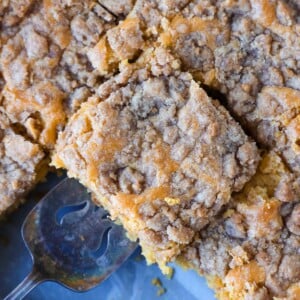 First you soften the apricots in simmering water to partially rehydrate them, then you puree them into a beautiful, thick paste that will act as the main adhesive for the bars, lastly you mix everything together and bake it. How easy was that?
The mild apricot flavor fades into the background and you are left with all the tropical flavors you love! Pineapple, coconut, and macadamia nuts! They'll take you right back to that last beach vaca!
"If you like piña coladas…"
Now that song is stuck in your head too. #sorryimnotsorry
The oats and wheat bran make each bar is as filling as it is tasty! I've been eating these for breakfast, for a pre-workout snack, for a post-workout snack, to tide me over 'til dinner; I stuffed some in my husband's carryon before he left last week…you get the idea. They're awesome! You'll love them! Even if you're a date-lover.
To make these happy snacks Gluten Free, simply substitute the wheat bran with oat bran and make sure that your oat bran and oatmeal are certified gluten free. Oh happy day!
Note: Each bar pictured is slightly smaller than an actual serving in this recipe because some edges had to be sacrificed in the name of beautifully enticing photography.
Healthy Tropical Oat Bars
These vegan, gluten-free, Healthy Tropical Oat Bars are filling, packed with tropical flavors and are naturally sweet! Perfect for breakfast, lunch boxes or a snack on the go!
Instructions
Preheat your oven to 350°. Line an 8-inch square baking dish with parchment paper.

Place dried apricots in a small saucepan and cover with water until the water is approximately ½ inch above the fruit. Place over medium-high heat just until it comes to a low boil, turn down the heat to a low-simmer and simmer until plump. I let mine simmer for at least 30 minutes, but 20 will be okay. Because of the long simmer time, I start the apricots before I begin measuring or chopping any other ingredient.

Place all other ingredients through raisins in a large mixing bowl.

Place plump apricots in the bowl of a food processor, reserving the cooking liquid. Process the apricots until completely smooth, adding some reserved cooking liquid if necessary. The liquid will help them puree.

Add the puree, coconut oil and honey to the large bowl and mix with a large wooden spoon. If needed add some of the reserved cooking liquid. In the 3 test batches I made, I needed about ¼ cup additional liquid. You want the "batter" to be cohesive but not extremely sticky or wet.

Press into the prepared pan with the back of a wooden spoon. Bake in preheated oven for 20-25 minutes or until the edges begin to brown.

Let cool and then cut into bars.
Notes
Store at room temperature for up to a week or in the freezer for several months. Wrap in wax paper and then place in a freezer bag prior to freezing. Take them out individual to thaw at room temperature!
I measured all ingredients before they were processed or chopped.
Nutrition
Calories:
242
kcal
|
Carbohydrates:
32
g
|
Protein:
4
g
|
Fat:
13
g
|
Saturated Fat:
5
g
|
Polyunsaturated Fat:
2
g
|
Monounsaturated Fat:
4
g
|
Sodium:
77
mg
|
Potassium:
257
mg
|
Fiber:
4
g
|
Sugar:
18
g
|
Vitamin A:
297
IU
|
Vitamin C:
2
mg
|
Calcium:
31
mg
|
Iron:
2
mg
Like this? Leave a comment below!