This easy Marinated Tomato Stone Fruit Salad is the best way to use all that ripe Summer produce! Fast and portable, this salad makes the perfect addition to picnics, barbeques, lunch or a weeknight dinner.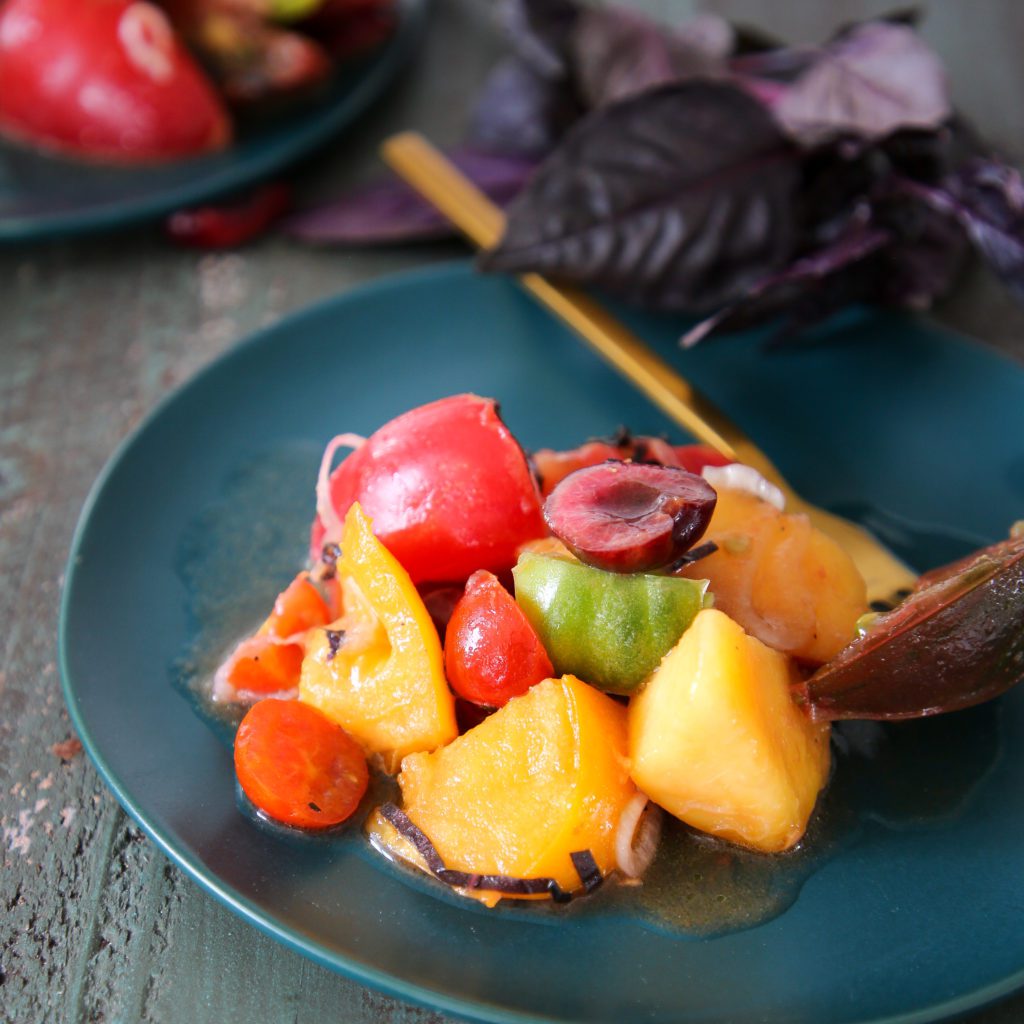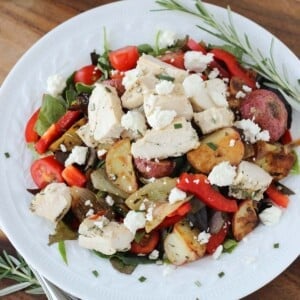 Possibly the best thing about this salad is that it is infinitely customizable! Want to top it with burrata? YES, PLEASE! Want to use plums, nectarines and apricots instead? Absolutely!
Fold in mozzarella cubes, avocado and quinoa for a filling vegetarian meal! Sold.
Anything goes with this salad, just don't throw out all the accumulated juices! That is the liquid gold. I like to serve this with something to sop up all that juicy goodness. Even just a hearty piece of sourdough bread will do the trick.
Speaking of bread! You could throw in some day old bread and turn this into a Panzanella like this stone fruit caprese panzanella salad! I told you, infinitely customizable!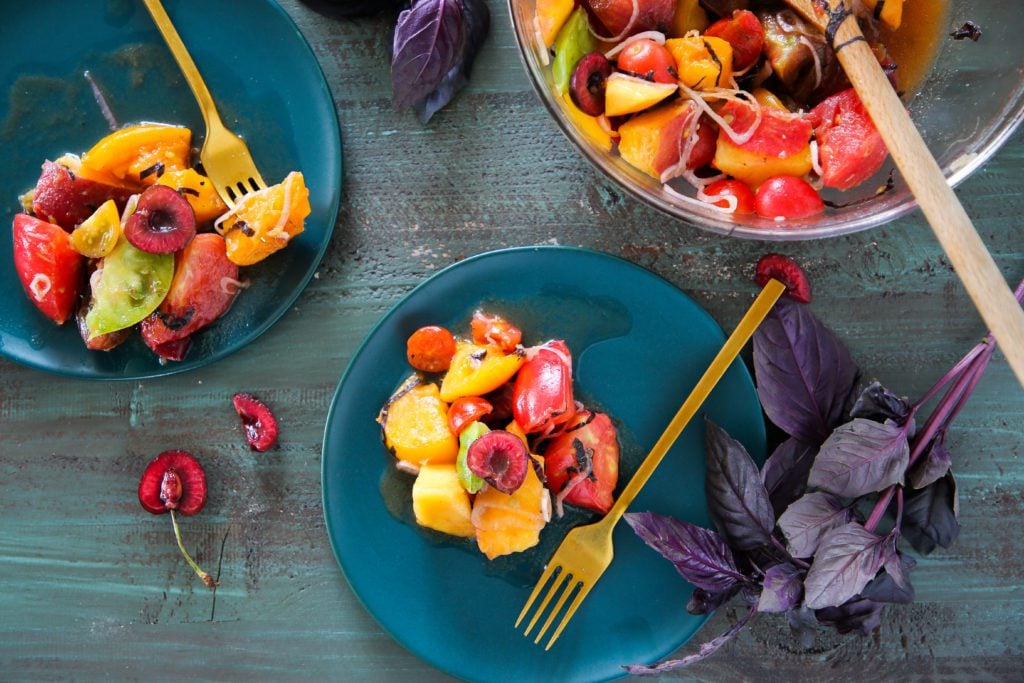 Key Components to a Marinated Tomato Stone Fruit Salad:
Tomatoes: The best and the ripest only! They are the star of this Summer Show and we want them to shine. Whether they are fresh from your garden or from the local farmer's market, you want them to be fabulous. I also used market cherry tomatoes because I cannot resist a cherry tomato impulse buy. ??‍♀️
Marinate: It's right there in the title for a reason! The marination draws out some of the juices and heightens the flavors of the tomatoes. It also gives you that rich tomato broth at the bottom of the bowl. Soak it up with bread or rice, or use it as the base for a bright vinaigrette dressing!
Basil: I used purple basil because I struck gold at the Farmer's Market but any basil will do.
Stone Fruit: I love mixing stone fruit with tomatoes because they compliment each other like fresh ricotta and jam. A little sweet with a little savory goes a long way in my book. 
Shallot: Shallot is like the progeny of onions and garlic. They are more mild and I prefer them raw to onions. You can totally use red or white onions in their place. Vidalia onions would also be phenomenal! Marinating them with the fruit also tempers their bite. Ahh, happiness!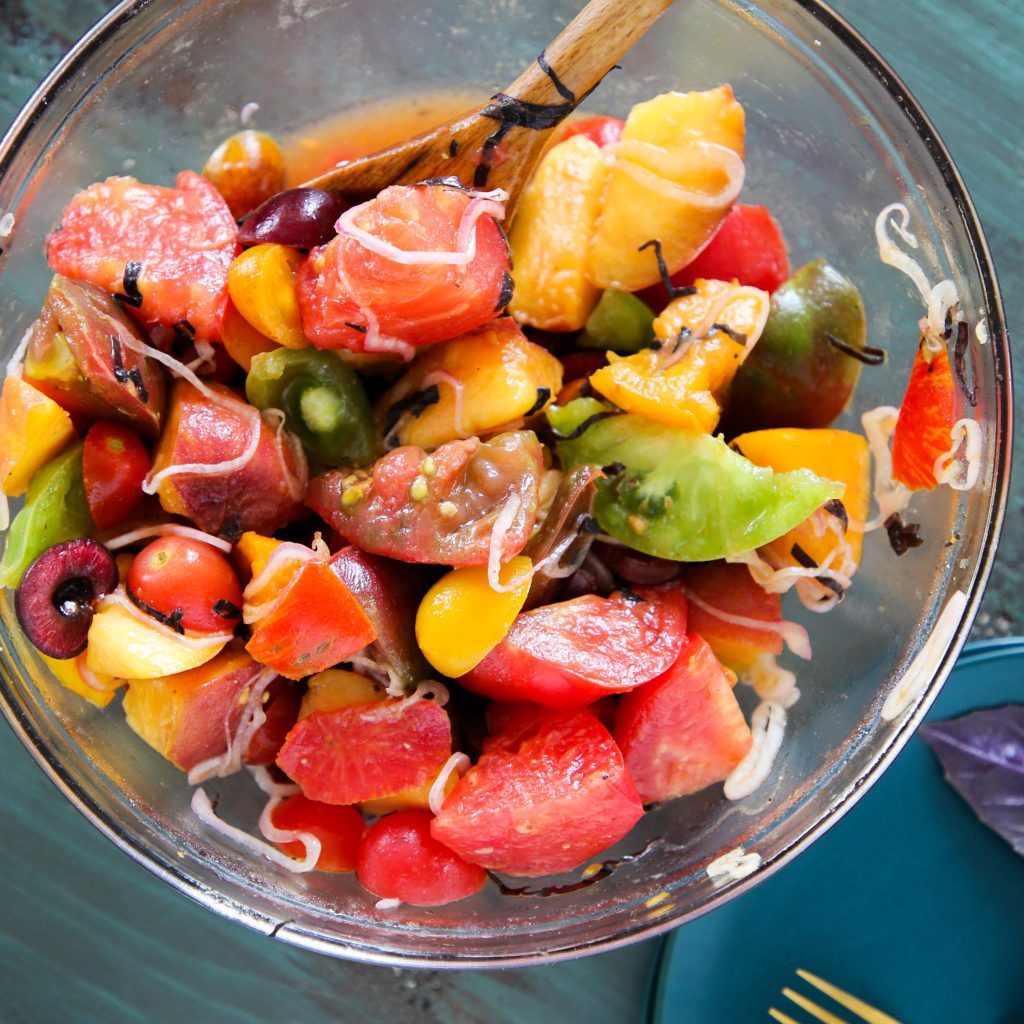 You couldn't ask for an easier summer salad. Chop, mix, allow to mingle. Enjoy.
That barely even warrants a recipe, but I'm going to give you one because I love you.
Speaking of recipes, when I make this, I don't measure. I add a bit of olive oil, a bit of salt, and a bit of white balsamic and then I taste and adjust. But I know lack of measurements causes anxiety for some people, and, here at CLF, we don't do anxiety. Only delicious, low-stress meals.
So for you, I measured. ?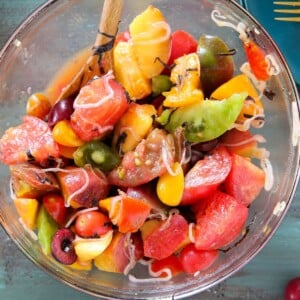 Marinated Tomato Stone Fruit Salad
This easy Marinated Tomato Stone Fruit Salad is the best way to use all that ripe Summer produce! Fast and portable, this salad makes the perfect addition to picnics, barbecues, lunch or a weeknight dinner.
Ingredients
1 ½

lbs

Tomatoes

heirloom or garden fresh

1

Peach

or nectarine

1

cup

Cherries

1

Tablespoon

Fresh basil

thinly sliced (about 1 sprig)

1

Tablespoon

Shallot

sliced paper thin (I use a mandolin)

2

Tablespoon

Olive Oil

3

Tablespoon

White Balsamic Vinegar

½

teaspoon

Kosher Salt

plus more to taste
Instructions
Chop all tomatoes and stone fruit. I do not peel anything, and I like to do asymmetric cuts for interest and ease. You can watch the video for more details on how I do that.

Combine all ingredients in a bowl and then toss to coat. Taste for salt and seasoning. Adjust if necessary.

Cover and allow to sit at room temperature for at least 30 minutes. If you want to make it more than a few hours ahead of time, cover and place in the refrigerator.

It can be made up to two days in advance but it is best served the day it is made. This does not stop me from using it for lunches later in the week, just fyi.
Nutrition
Calories:
95
kcal
|
Carbohydrates:
12
g
|
Protein:
2
g
|
Fat:
5
g
|
Saturated Fat:
1
g
|
Polyunsaturated Fat:
1
g
|
Monounsaturated Fat:
3
g
|
Sodium:
205
mg
|
Potassium:
366
mg
|
Fiber:
2
g
|
Sugar:
9
g
|
Vitamin A:
1058
IU
|
Vitamin C:
18
mg
|
Calcium:
19
mg
|
Iron:
1
mg
Like this? Leave a comment below!