This recipe for Sprinkles Copycat Vanilla Cupcakes with vanilla icing is even better than the original! Moist, dense cake that is packed with vanilla flavor.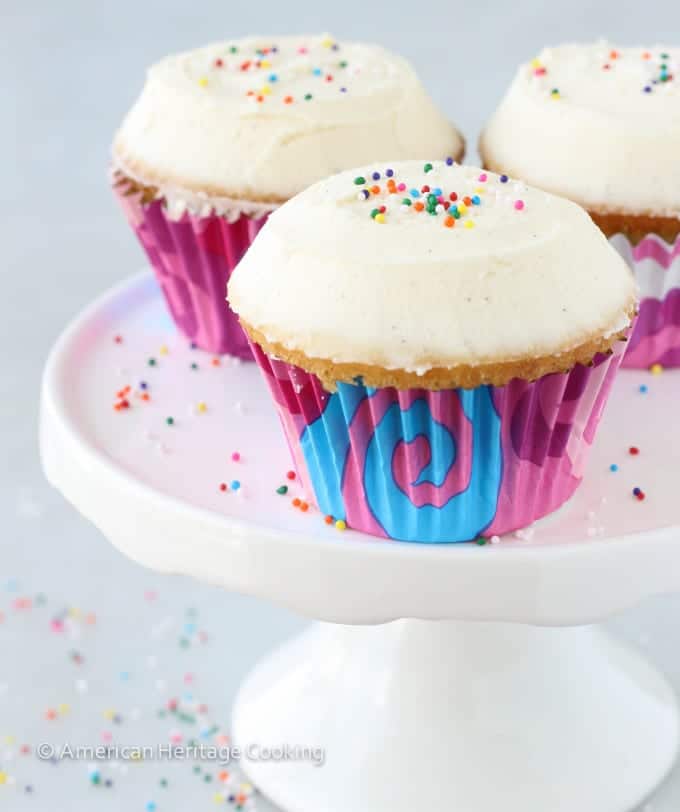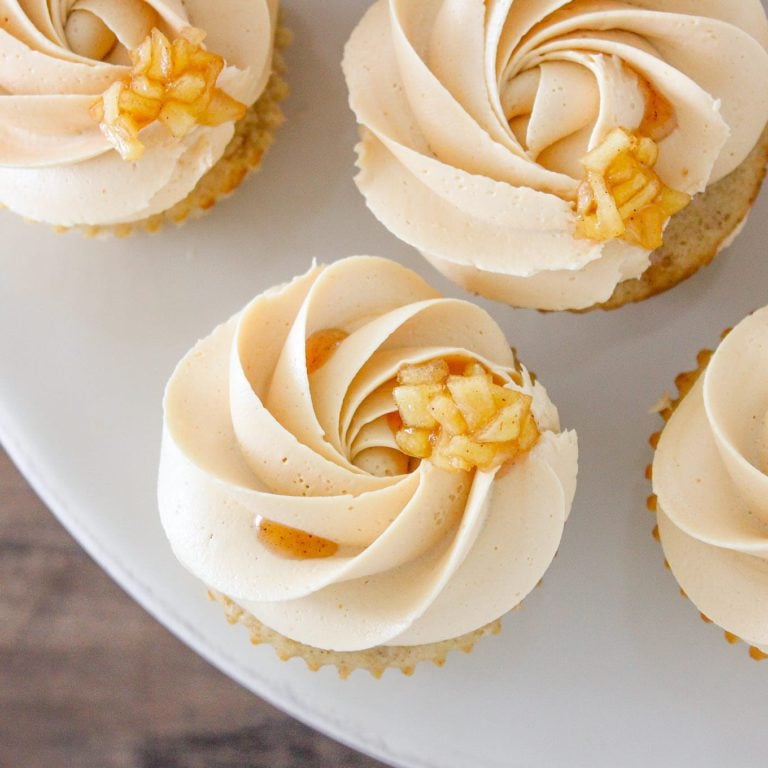 On this Memorial Day (or anyday), let us take a moment to remember all those men and women who have made the ultimate sacrifice for our Country and our Freedom.
All things considered, I think a holiday celebrating the brave men and woman who protect our Freedom calls for cupcakes. While definitely not ideal for shipping overseas, I know these Sprinkles Copycat Vanilla Cupcakes will bring a smile to any serviceman's face when delivered with a "Thank you".
Sprinkles Cupcakes is the only place where I have ever loved the vanilla cupcake with vanilla icing more than chocolate. That's right, more than even this triple death by chocolate cupcake! I also love their triple cinnamon cupcakes enough to make another copycat recipe.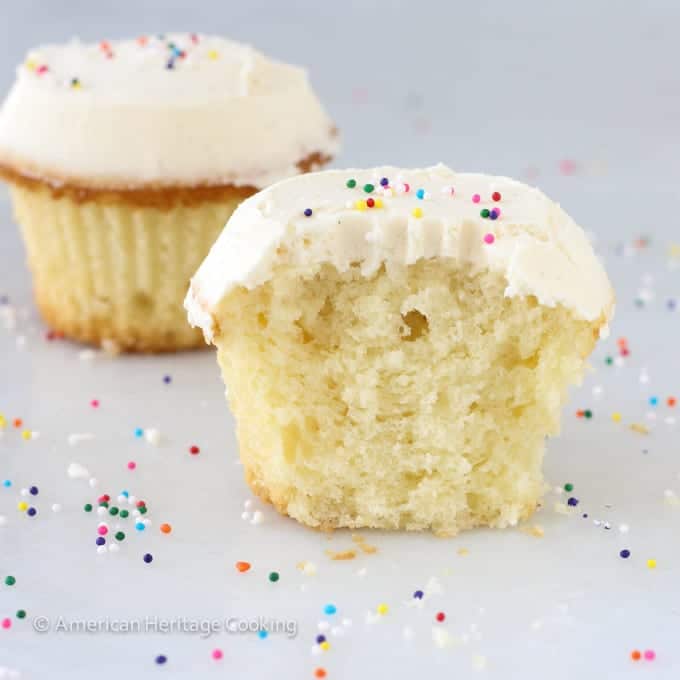 Sprinkles Cupcakes opened up a store in Atlanta several months ago, and my Husband and I were obviously there the day opened. What of it?
Accordingly, hubs and I have had a healthy (or possibly unhealthy) obsession with Cupcake Wars for several years now. We have seen every single episode, ate macarons at the Paris bakery where Florian was executive pastry chef, and search for Cupcake Wars winners in every new city that we visit. There is an obsession between us with Sprinkles Cupcakes, but I think I already mentioned that one!

My husband and I were eagerly waiting for months for the new Atlanta shop to open and the night before he said, "I would probably break the law right now to have a Sprinkles cupcake."
Certainly, he was 100% serious.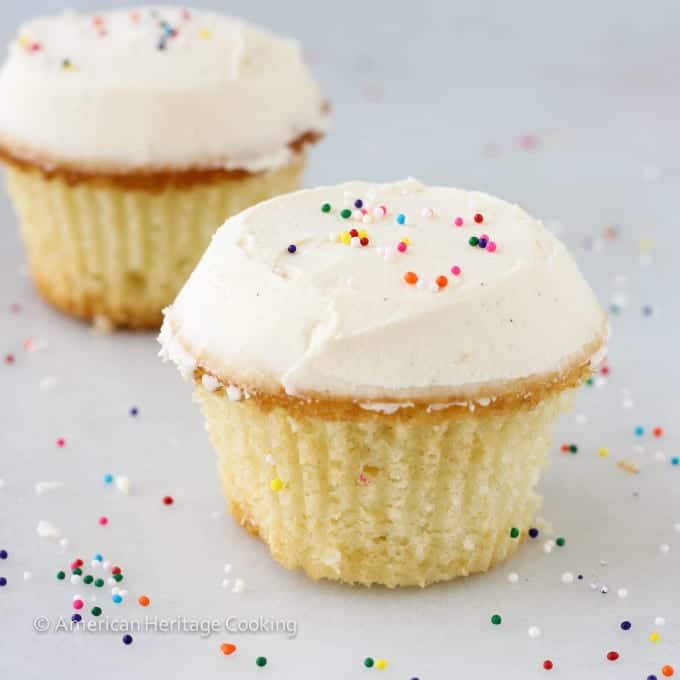 I have been scouring the Internet for Sprinkles Copycat Vanilla Cupcake recipes for months to try and replicate the dense, chewy texture and perfect vanilla flavor at home, and I think I have finally found it. For the vanilla cupcake recipe I adapted a recipe I found at Layers of Happiness and I modified the "official" Sprinkles vanilla frosting recipe that I found on Food.com. Quite frankly, I felt the one posted couldn't possibly be right because it didn't have any vanilla bean paste in it, so I changed it. In similar fashion I bumped up the vanilla extract.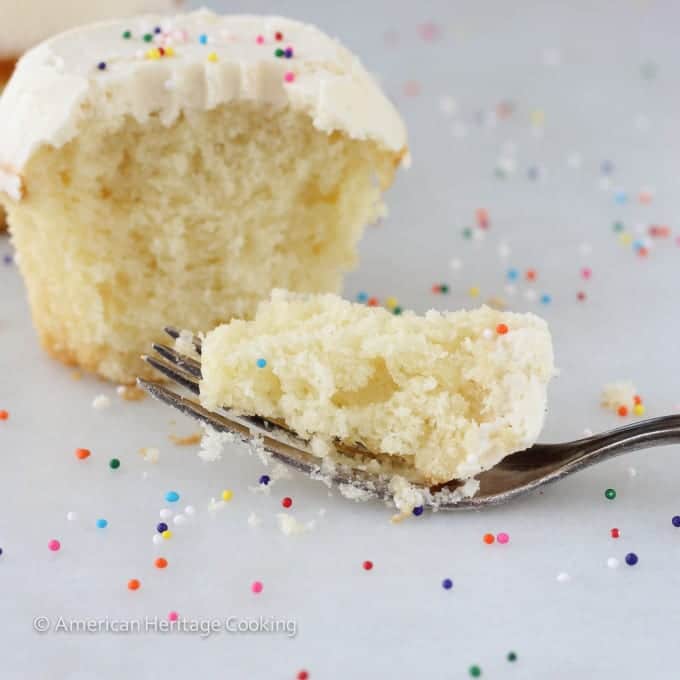 You'll never need another vanilla cupcake recipe again because these are the BEST! Additionally, I actually used the same cake recipe in these Salted Caramel Cupcakes. Swoon.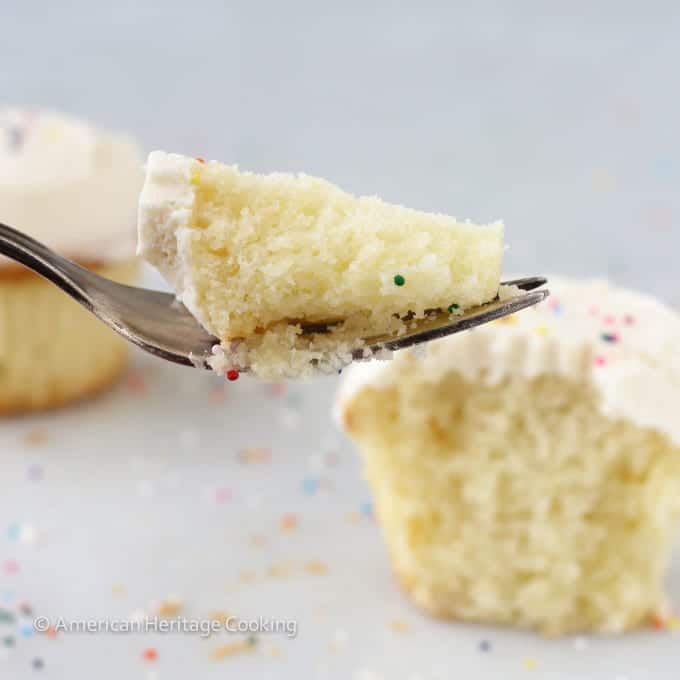 Want to laugh? My most compelling evidence of obsession: this is me at the Sprinkles Cupcakes' ATM. That's right I said cupcake ATM!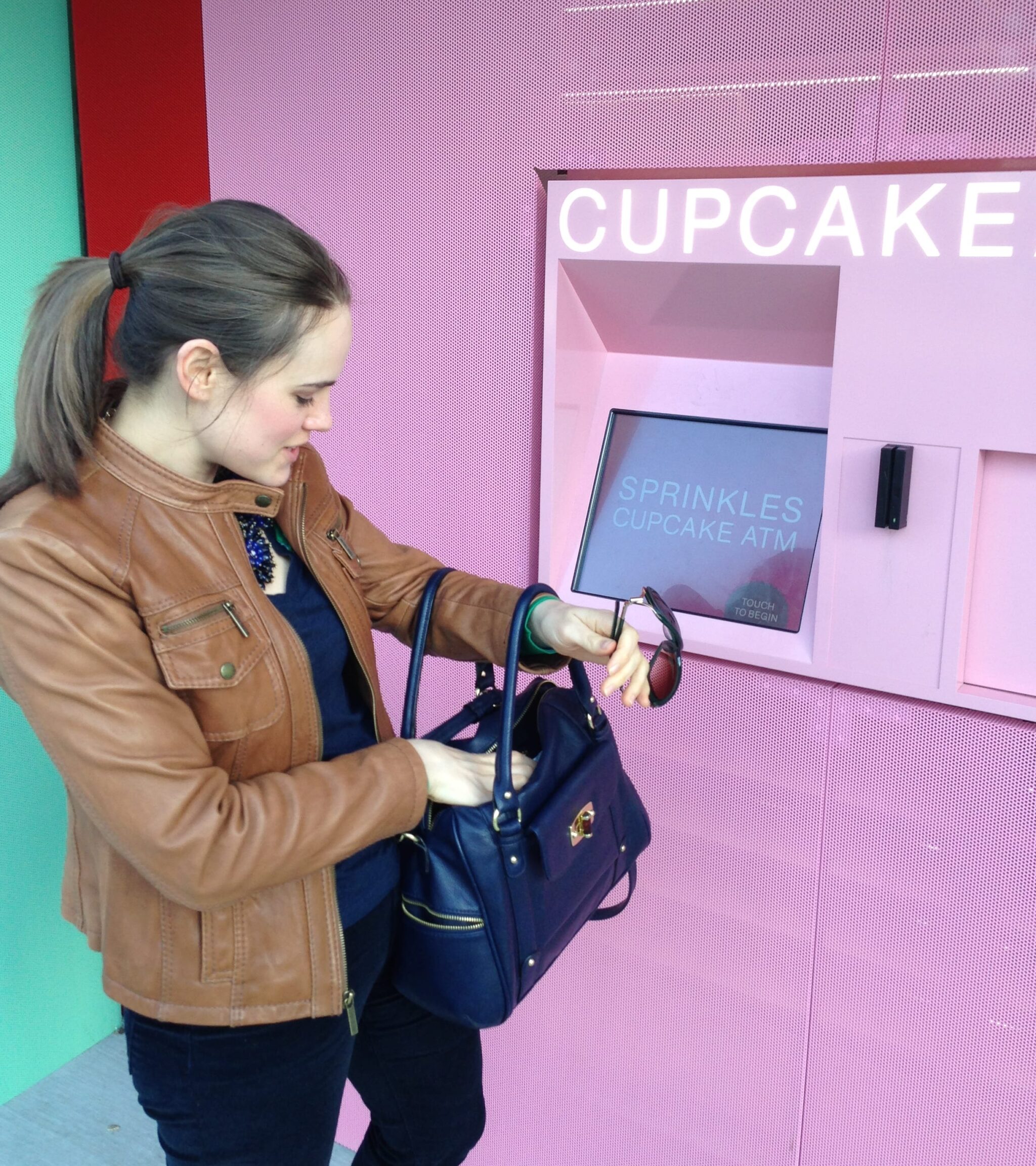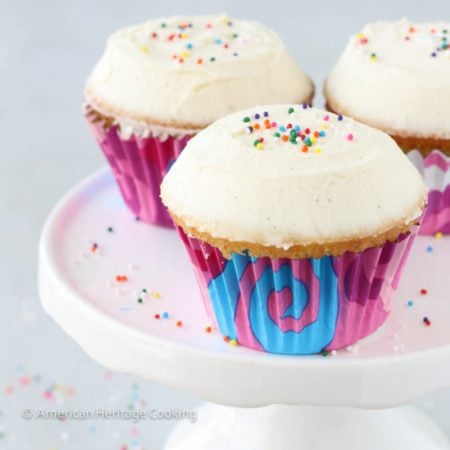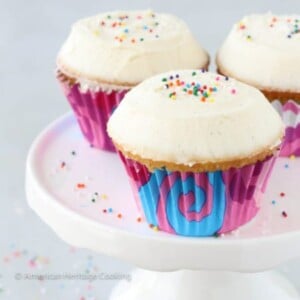 Sprinkles Copycat Vanilla Cupcakes
This recipe for Sprinkles Copycat Vanilla Cupcakes with vanilla icing is even better than the original! Moist, dense cake that is packed with vanilla flavor.
Instructions
For the cupcakes:
Preheat the oven to 350°. Line 2 muffin tins with 24 cupcake liners.

Sift flour, baking powder, baking soda and salt together in a medium bowl and set aside.

Cream butter and sugar in the bowl of an electric mixer fitted with the paddle attachment until light and fluffy. Add the eggs one at a time, beating to combine after each addition.

Add vanilla, sour cream and almond extract, beating until just combined.

Reduced the mixer speed to low and stir in the flour in several additions. Remove the bowl from the mixer and stir the last bit of flour in with a spatula until just combined. Do not over mix.

Scoop batter into cupcake liners and bake in preheated oven for 14-18 minutes or until a toothpick inserted into the center comes out with a few clinging crumbs.

Allow to cool completely before icing.
For the Frosting:
In the bowl of a stand mixer fitted with the paddle attachment, cream butter, sugar and salt on medium-high speed until combined, then add cream, vanilla extract and vanilla paste and continue to beat until light and fluffy.

You can either smooth the frosting on the cooled cupcakes with a small offset spatula à la Sprinkles, or you can just pipe it on. Personally I find piping easier!
Nutrition
Calories:
318
kcal
|
Carbohydrates:
40
g
|
Protein:
3
g
|
Fat:
17
g
|
Saturated Fat:
10
g
|
Polyunsaturated Fat:
1
g
|
Monounsaturated Fat:
4
g
|
Trans Fat:
1
g
|
Cholesterol:
63
mg
|
Sodium:
175
mg
|
Potassium:
42
mg
|
Fiber:
1
g
|
Sugar:
30
g
|
Vitamin A:
521
IU
|
Vitamin C:
1
mg
|
Calcium:
31
mg
|
Iron:
1
mg
Like this? Leave a comment below!
Before You Go!
Check out all our delicious, pastry chef-created recipes for Cupcakes!