Smooth and creamy brown butter sage mashed sweet potatoes are what happen when nutty brown butter and savory fresh sage come together in a beautiful and delicious side dish!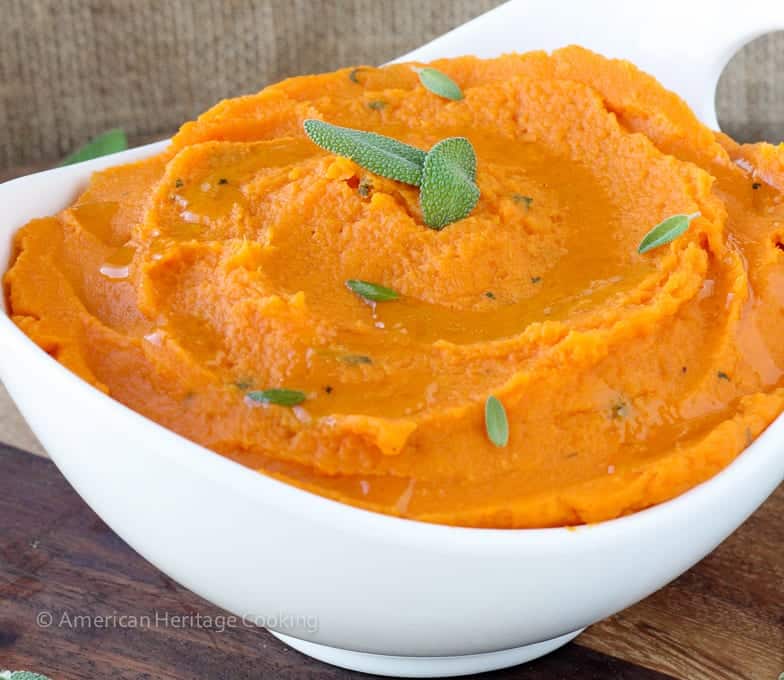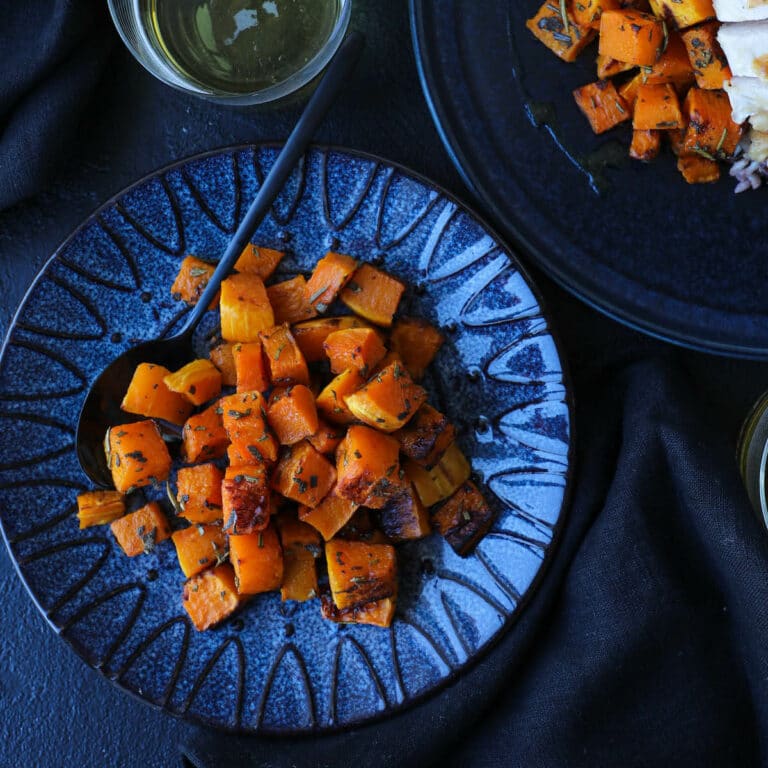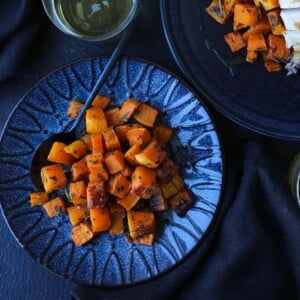 I had to squeeze in just one more side dish before Turkey Day. These Brown Butter Sage Mashed Sweet Potatoes are an easy side dish to add to your holiday meal or any night! It is easy enough for family dinner (or just yourself) but beautiful and exotic enough for company.
The sweet potatoes are still the star of this colorful dish, but each bite leaves a warm, slightly nutty aromatic flavor in your mouth.
Pressing the potatoes through a ricer makes them impossibly creamy and free of lumps without cream or milk. The only richness comes from the sage enhanced brown butter.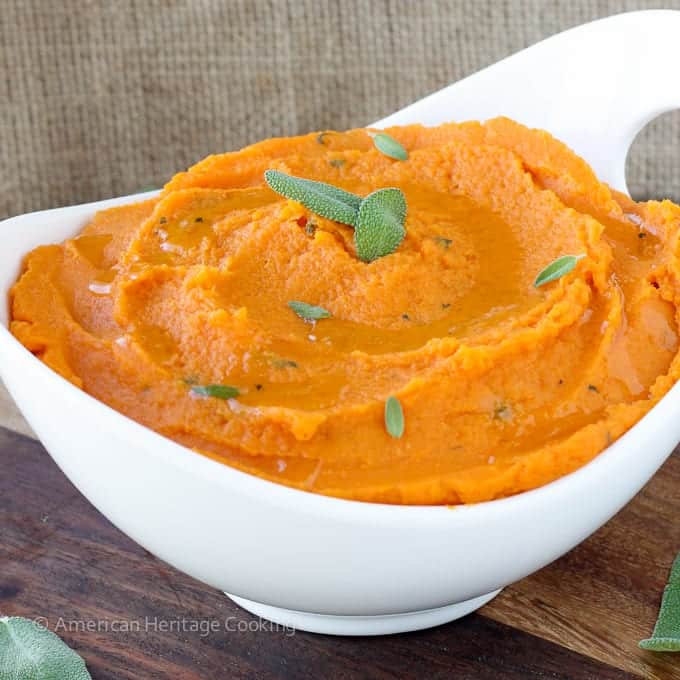 Oh brown butter how I love thee.
No longer relegated only to cookies around CLF!
Sage is one of those tough hearty herbs, like rosemary, that only releases it's true flavor and aroma when cooked. After the butter reached a perfect golden brown, I tossed in my chopped sage to fry it and infuse the butter. Then the sage brown butter is quickly beaten into the mashed sweet potatoes with a wooden spoon.
I used about ¾ of the brown butter in the potatoes and then drizzled a little on top for that extra flavor boost.
As I've mentioned in my other sweet potato posts, I boil my sweet potatoes to retain that stunning orange color. If you microwave or bake them, they can turn a brownish-orange and that isn't really what we are going for here!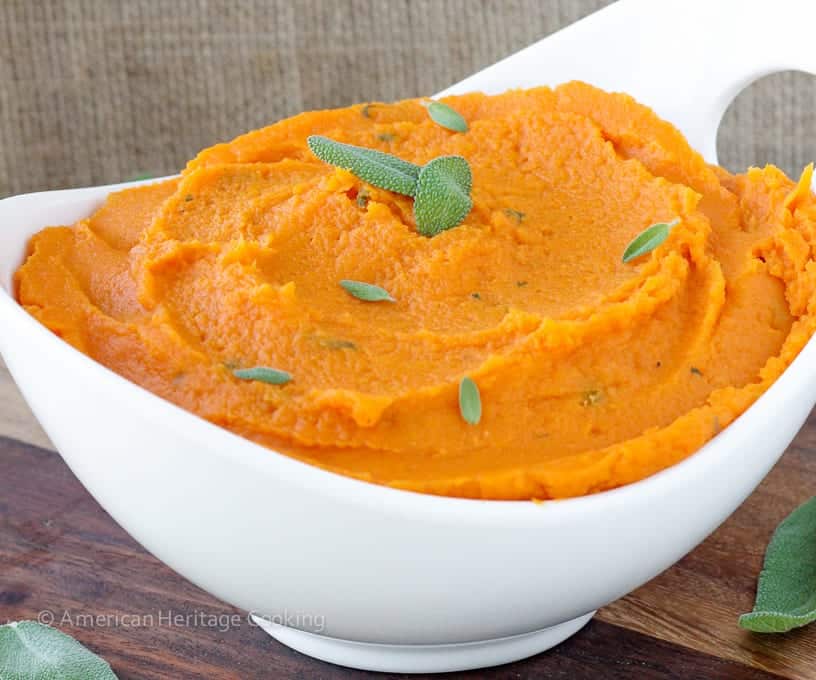 You will love this easy, flavorful and eye-catching side dish any night of the week. Whip these up with my vegetable casserole recipe, and your side dishes will be quick for you and popular for your guests! (And that goes double on Thanksgiving.)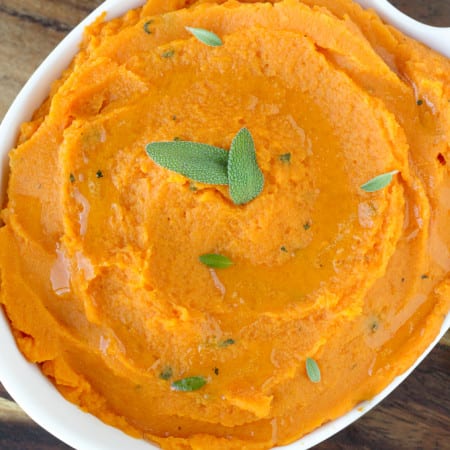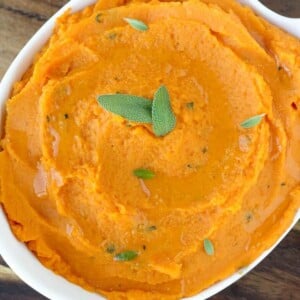 Brown Butter Sage Mashed Sweet Potatoes
Smooth and creamy mashed sweet potatoes with nutty brown butter and savory fresh sage come together in a beautiful and delicious side dish!
Instructions
Peal and cut up the potatoes into medium chunks. Mine were about 1 inches cubed but there is no need for perfection here…you are going to mash them! Place potatoes in a medium sauce pot and cover with cold water. Bring to a boil over medium-high heat and then reduce heat to medium to maintain a slow boil.

Cook until the break apart easily with a fork. They should be very tender! The time will vary greatly by how large your pieces are! Mine took about 20 minutes.

While your potatoes cook, heat your butter in a small saucepot or skillet over medium heat, swirling occasionally until the butter turns a golden brown and it takes on a nutty aroma. There are only a few moments between perfect and burned, so watch it like caramel!

Remove the butter from the heat and stir in sage, it will boil. Gently swirl the sage in the butter until it stops bubbling and set aside until your potatoes are ready. If you wait too long and your butter starts to reharden, you can just heat it gently over low heat until it is liquid again.

Drain the potatoes and either mash with the back of a wooden spoon or press through a ricer (my favorite option). Give the potatoes a good stir with the wooden spoon before pouring in about half of you sage butter. Make sure that you get sage with the butter. Add a large pinch of kosher salt and a few grinds of black pepper. Beat well, taste and add more sage butter and salt as needed. I used about ¾ of my butter and all of the sage (just pull it out of the butter with a spoon) in my mashed potatoes, and then drizzled a little extra brown butter on the top to finish it.

Spoon into a decorative bowl and serve hot!
Nutrition
Calories:
232
kcal
|
Carbohydrates:
38
g
|
Protein:
3
g
|
Fat:
8
g
|
Saturated Fat:
5
g
|
Polyunsaturated Fat:
1
g
|
Monounsaturated Fat:
2
g
|
Trans Fat:
1
g
|
Cholesterol:
20
mg
|
Sodium:
165
mg
|
Potassium:
643
mg
|
Fiber:
6
g
|
Sugar:
8
g
|
Vitamin A:
27049
IU
|
Vitamin C:
5
mg
|
Calcium:
66
mg
|
Iron:
1
mg
Like this? Leave a comment below!