Roasted Acorn Squash Slices are an easy, healthy side dish with only 3 ingredients! Fast enough for a weeknight side dish but fancy enough for a dinner party!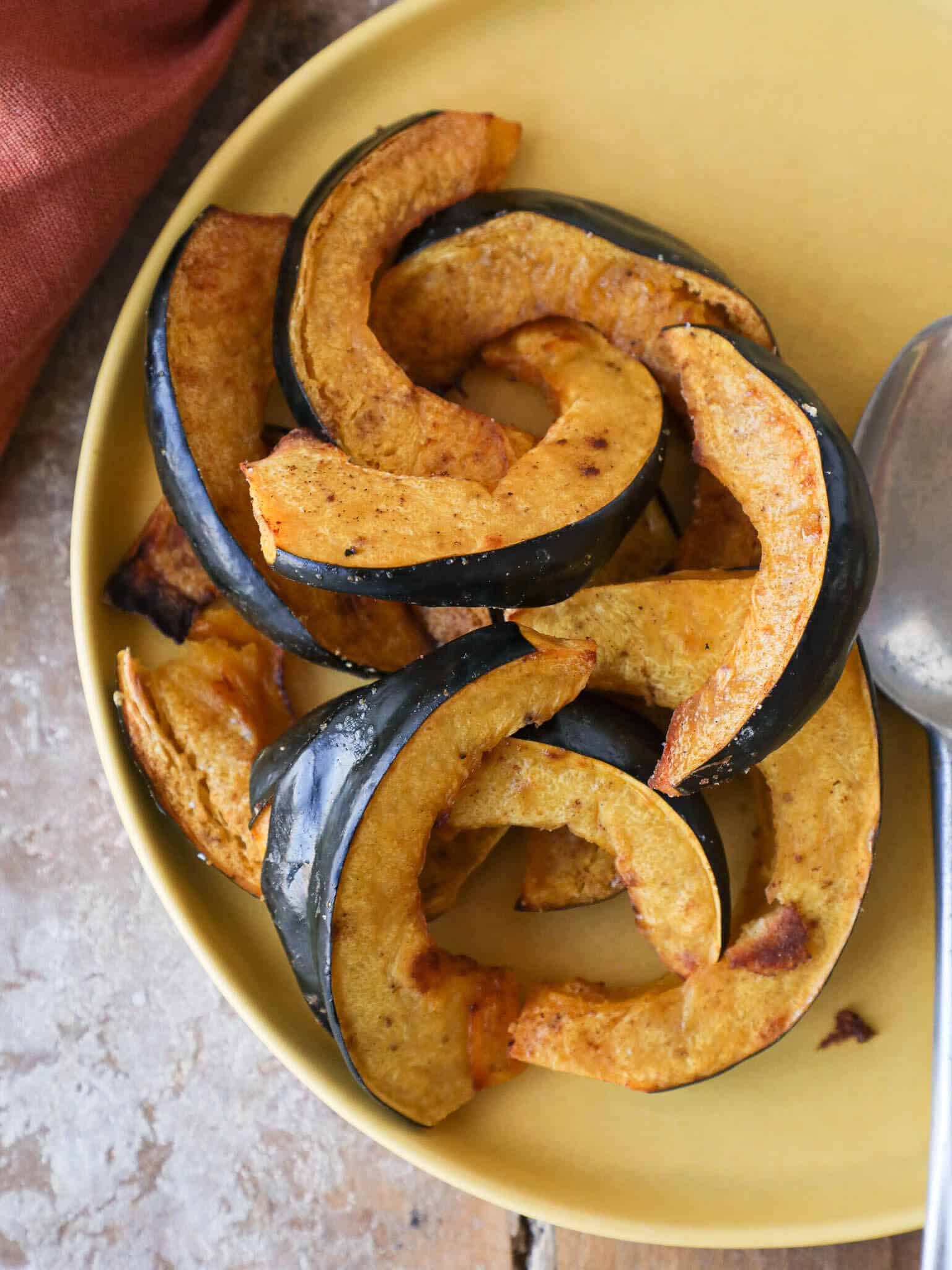 I make these roasted acorn squash slices at least once a week in the Winter when acorn squashes are at their most flavorful. Roasting the squash concentrates the naturally sweet flavor. A sprinkle of pumpkin pie spice highlights those sweet notes for the perfect winter dish! The spices pair beautifully with easy rosemary chicken, smoked duck, or spicy peach pork chops!
Slicing the squash adds extra surface area for more browning and it allows them to cook faster than baked acorn squash halves. A dinner win-win! They can cook at any temperature between 350°F and 425°F, so you can easily prepare the rest of the meal at the same time or add them to your weekly meal prep like I do! I always make extra for lunches or my favorite roasted squash salad!
Can you eat acorn squash seeds?
You can absolutely eat acorn squash seeds! They are delightful roasted. To roast acorn squash seeds simply separate the seeds from the strings, toss in a little oil, salt and pepper and roast in a 350°F oven until golden brown.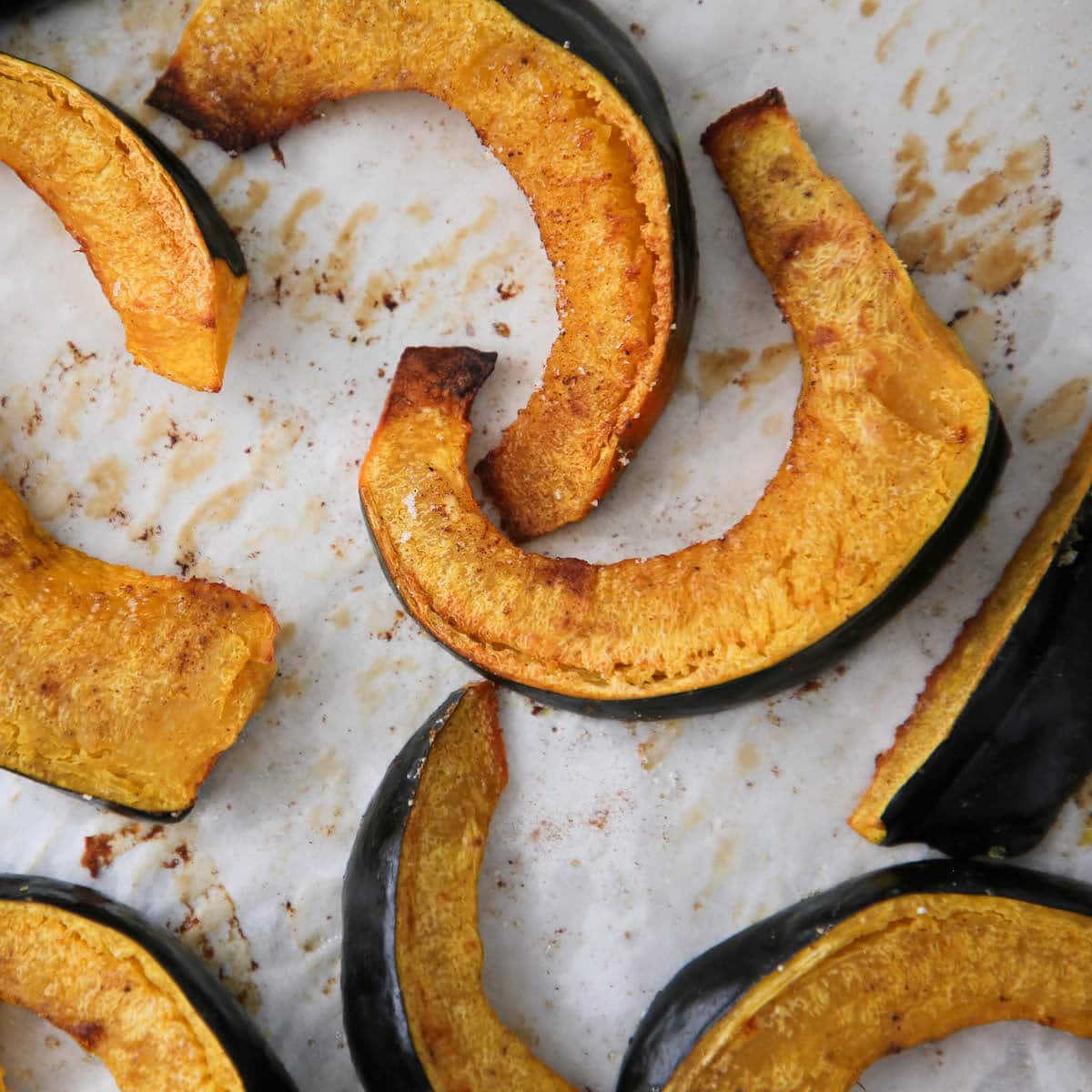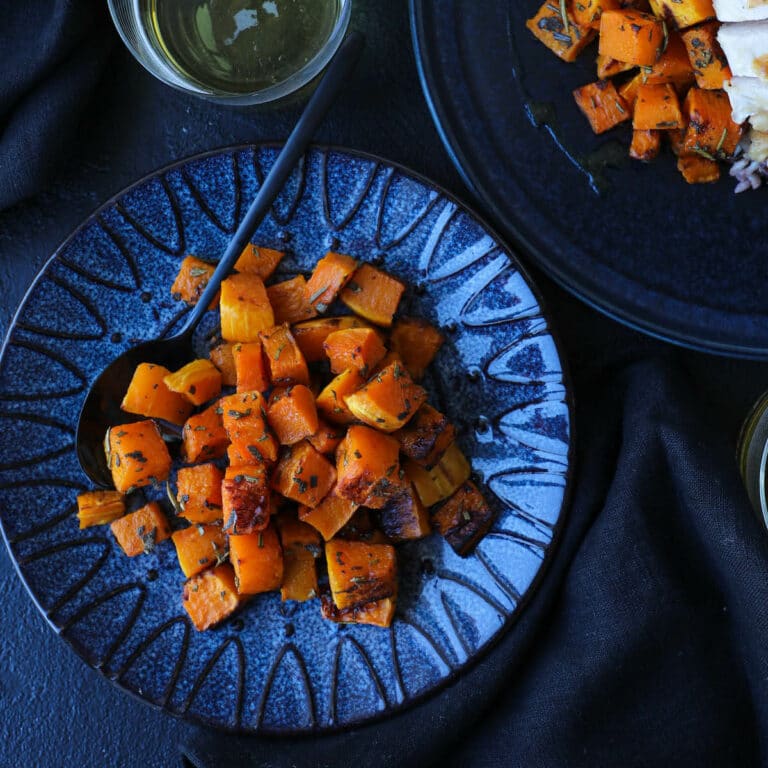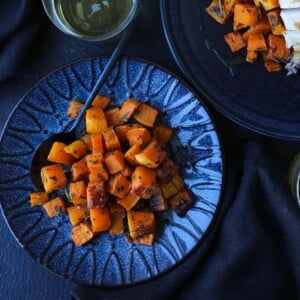 Ingredients
Acorn Squash: Choose an acorn squash that is firm and heavy for its size to make this roasted acorn squash. I think the smaller ones are in effect sweeter and have better flavor. If roasting multiple squash, try to choose ones that are similar in size so they roast in the same amount of time.
Kosher Salt: Not only does the kosher salt heighten the flavor but it helps keep the squash tender. Don't omit completely. Back it down to ½ teaspoon at the least.
Pumpkin Pie Spice Mix: I'd recommend you use my pumpkin pie spice mix recipe. Not only is it great in savory dishes, it's fine-tuned to also be delicious in biscotti, oatmeal, or cookies!
Extra Virgin Olive Oil: Extra virgin olive oil goes through the least amount of processing of the olive oils, so it keeps some of its nutritional values! It has a gentle taste and helps veggies retain their moisture.
Substitutions
Pumpkin Pie Spice: I use a few pinches of my pumpkin pie spice to highlight the natural sweetness, but you could use apple pie spice, cinnamon, or a grate of fresh nutmeg if you prefer.
Kosher Salt: Don't forget the salt! A pinch of kosher salt will heighten all those flavors and round out the dish.
Squash: You could use this same recipe to cook butternut squash as an easier alternative to my roasted spiced butternut squash or it is also phenomenal with kabocha squash.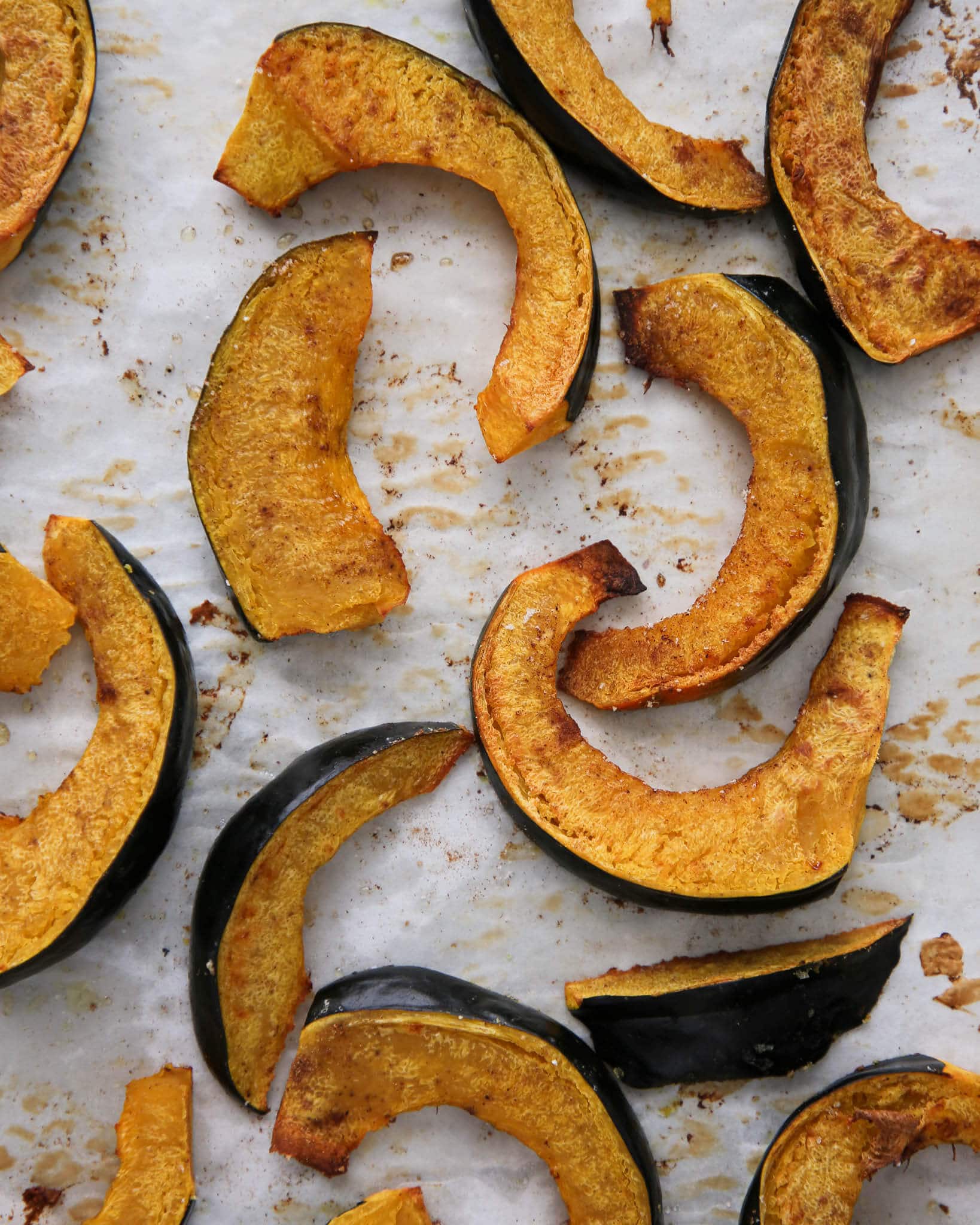 Frequently Asked Questions
How do you store roasted acorn squash slices?
Store roasted slices in a sealed, air-tight container in the refrigerator.
How long will roasted acorn squash keep?
Roasted acorn squash slices will last one week when refrigerated or one month frozen. The faster they were cooled and stored properly, the longer they will stay fresh.
Can I roast ahead of time?
You can roast squash slices ahead of time but I prefer to roast right before serving and then use the leftovers in salads and lunch the next day.
Can you eat the skin on acorn squash?
The skin on acorn squash is edible, so be sure to wash it before slicing. I find that when roasted, I can't even taste the skin on the roasted acorn squash and it generally cuts easily with a fork.
What to serve with Roasted acorn squash slices?
The warm, slightly sweet roasted acorn squash pairs perfectly with my spicy peach pork chops, rosemary roasted chicken or even roasted chicken served with apple butter. Yes, apple butter! The flavor combination will blow your mind! Finish the meal with a serving of easy quinoa pilaf, brown rice or mashed potatoes!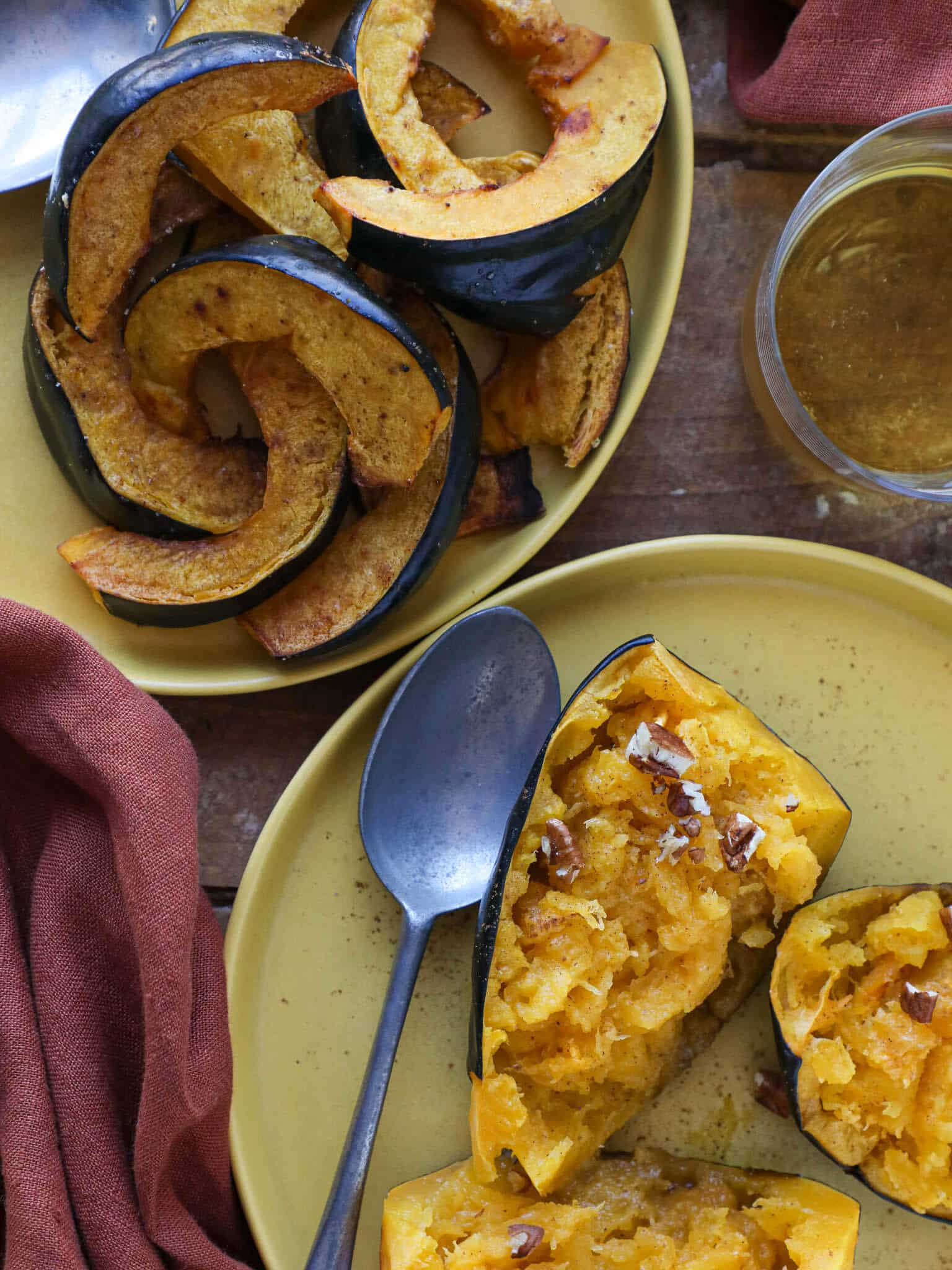 Chef Lindsey's Recipe Tip
To safely and easily slice acorn squash halves into slices I turn the squash center-side down on the cutting board to create a stable surface. Then starting on the right or left side I slice thin slices about 1 cm wide and work across the whole squash while holding the slices together for support. Think of it like the stones creating an arched doorway!
If you tried this recipe and loved it please leave a 🌟 star rating and let me know how it goes in the comments below. I love hearing from you; your comments make my day!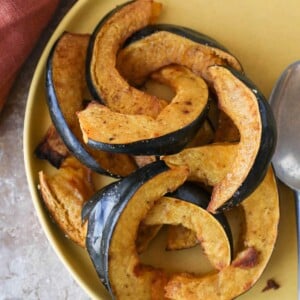 Roasted Acorn Squash Slices
Roasted Acorn Squash Slices are an easy, healthy side dish with only 3 ingredients! Fast enough for a weeknight side dish but fancy enough for a dinner party!
Instructions
Preheat the oven to 350°F regular or convection. They can cook at any temperature between 350°F and 425°F if you are cooking something else at the same time. Line 1 -2 baking sheets with parchment paper.
Prepare the Acorn Squash:
On a sturdy cutting board, slice off the top and bottom of the squash.

Place cut side down on the cutting board and slice in half lengthwise exposing the seeds.

Scoop out the seeds and set aside for roasting or discard.

Turn the squash center-side down on the cutting board and slice thin slices about 1 cm wide starting from one side and working across the whole squash like an arch. I like to hold the slices together to support the next ones for easy and safe slicing.

I season my squash on the baking sheet but you could also do this in a bowl for a more even coating. Arrange squash flat on prepared baking sheets with some space in between to allow for even cooking and browning.

Drizzle with all the olive oil, half the salt and half the pumpkin pie spice. Flip squash and repeat with remaining salt and spices. I don't add more oil to this side but you could if you would like.

Bake in preheated oven for 15-25 minutes or until the squash is tender and pierces easily with a fork, paring knife or cake tester. The bake time will vary depending on the size of the acorn squash slices, the color of the baking sheet, the oven temperature, and where the pan is in the oven. The top and bottom rack

Serve with or without the skin. The acorn squash skin becomes soft and tender when baked and I find it has no discernable flavor. After baking the flesh is easily scooped out if you don't want the skin.
Nutrition
Calories:
21
kcal
|
Carbohydrates:
4
g
|
Protein:
0.3
g
|
Fat:
1
g
|
Saturated Fat:
0.1
g
|
Polyunsaturated Fat:
0.1
g
|
Monounsaturated Fat:
0.5
g
|
Sodium:
50
mg
|
Potassium:
126
mg
|
Fiber:
1
g
|
Sugar:
0.01
g
|
Vitamin A:
132
IU
|
Vitamin C:
4
mg
|
Calcium:
13
mg
|
Iron:
0.3
mg
Like this? Leave a comment below!
Before You Go!
Check out our other delicious, chef-developed recipes for Side Dishes!