These Lemon Coconut Cupcakes have a moist coconut cake, a sweet, tart lemon curd filling and are topped with a lemon Italian meringue buttercream!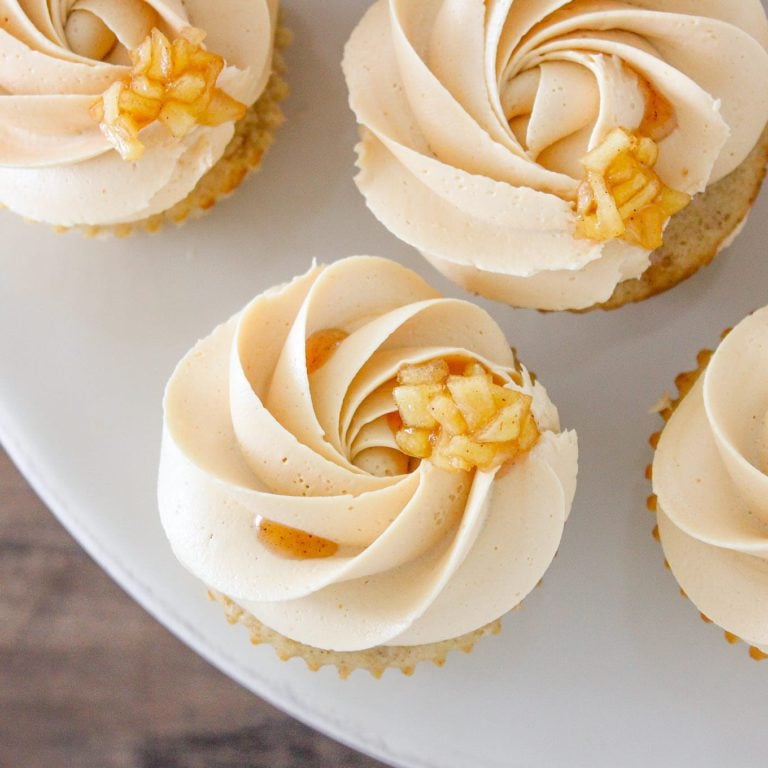 Lemon, coconut, Spring, cupcakes…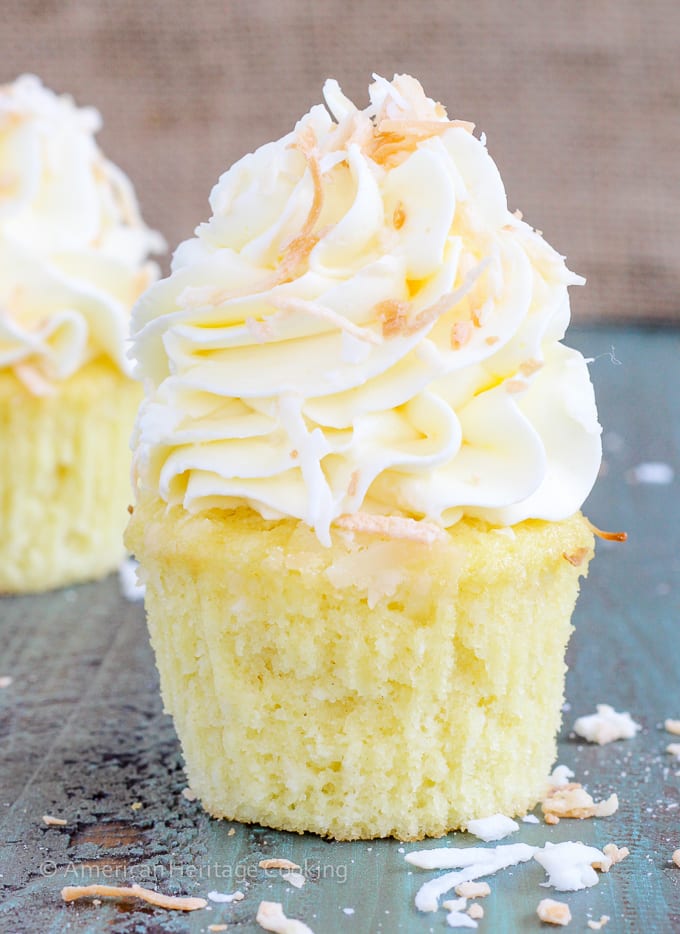 Look me straight in the face and tell me that lemon and yellow don't make you instantly happy.
That's what I thought. That is to say, insta-sunshine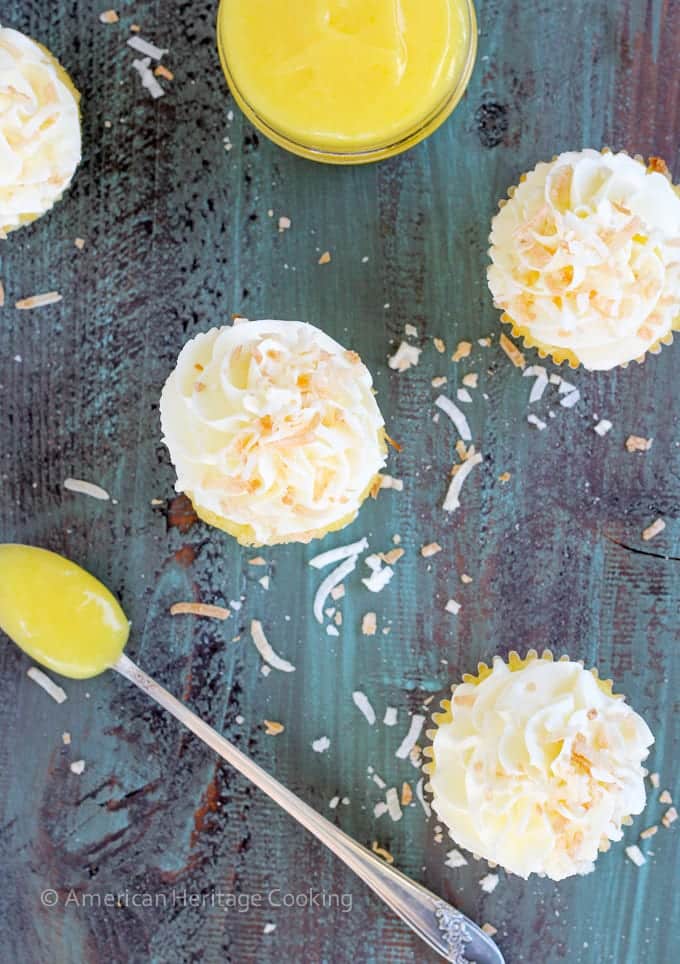 As I was photographing these little guys, I couldn't stop smiling. Maybe it was the fact that the light was actually cooperating for once, or maybe it was the covert tastes of lemon curd that were making me happy.
Or perhaps it's because my husband is visiting for the first time in a month!
You pair that happy-inducing lemon with a generous dose of coconut, and you have yourself a mini tropical vaca right there in your kitchen. #yourewelcome
These Lemon Coconut Cupcakes are a moist coconut cupcake! In particular, they are made with both dried coconut and coconut milk is filled with lemon curd and then topped with a coconut Italian Meringue Buttercream.
And then finally topped off with some more toasted coconut.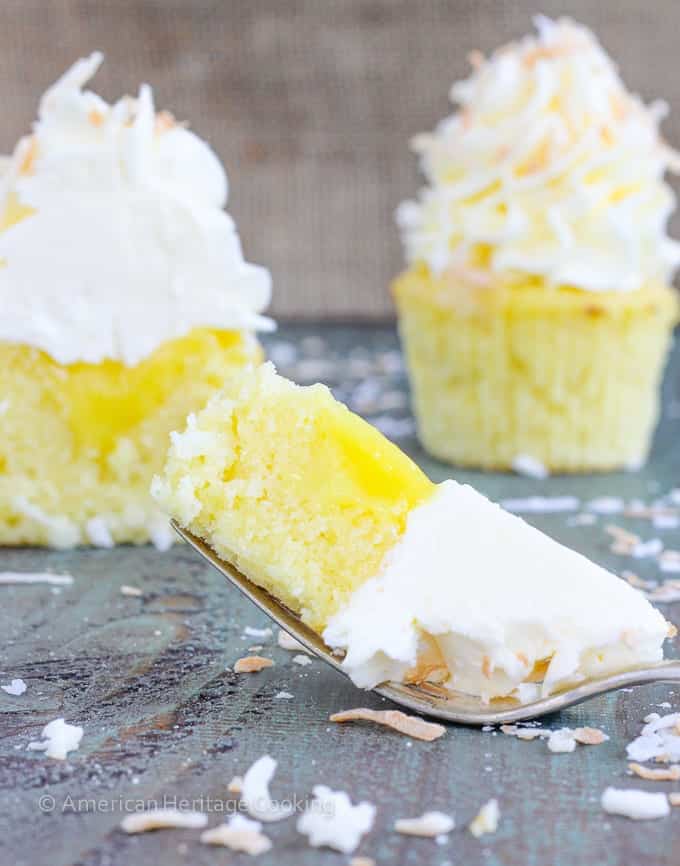 I think I mentioned recently how much I emphatically love lemon desserts in this lemon bread pudding recipe.
I've been having a lemon moment. I want lemon everything.
I had big plans for the extra lemon curd, but I ate it all. Every last tangy sweet drop.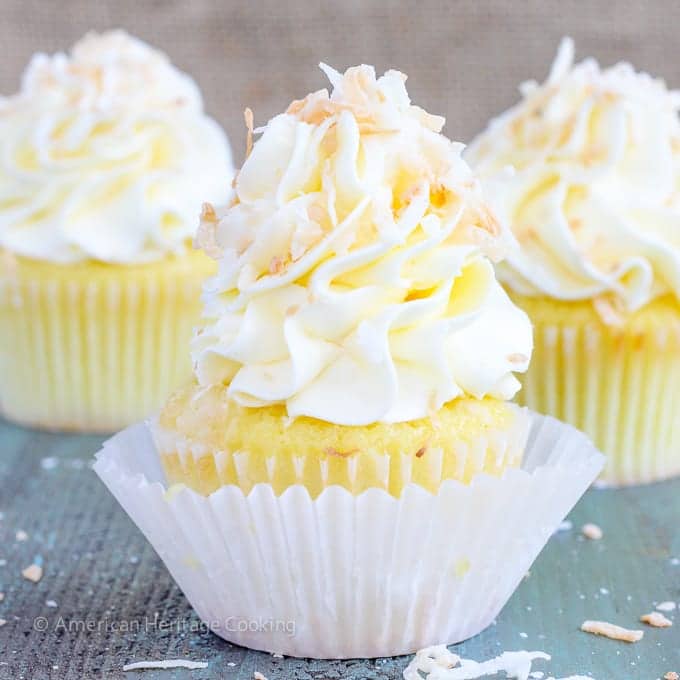 While I was developing this recipe, I took a look at my Lemon Curd recipe and was, like, "huh?" It seemed to be the most ridiculously convoluted process ever.
It doesn't need to be that difficult.
I updated the recipe with precise measurements and I totally changed the cooking process. I make it in one pan and it essentially has 2 steps. Easy Peasy.
Thank you culinary school, thank you.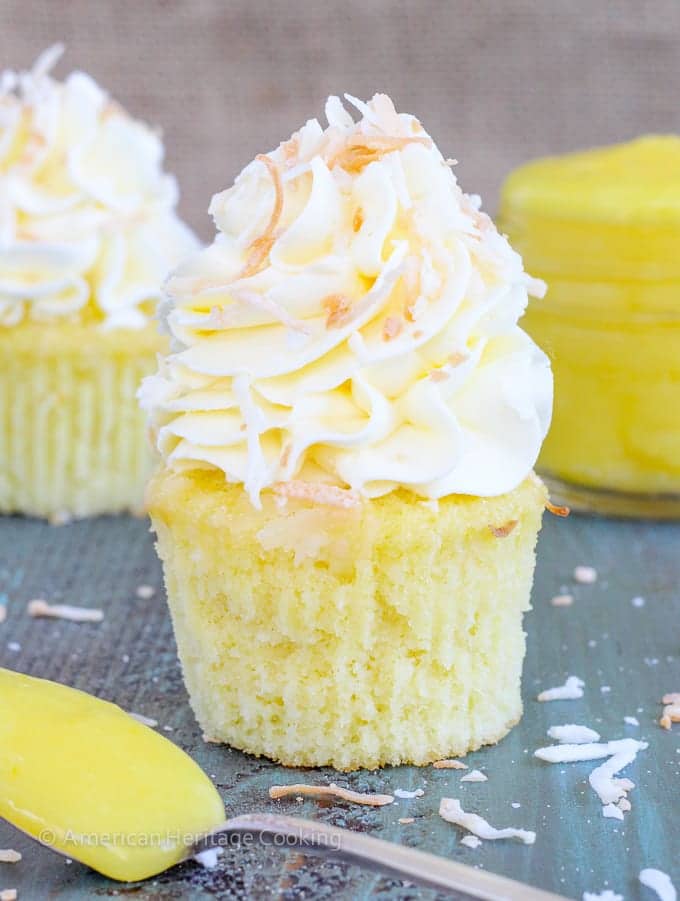 These cupcakes were the lucky recipients of my Italian Meringue Buttercream.
You can flavor the frosting with either lemon or coconut extract depending on which flavor you want to be most prominent.
Clearly I am in a lemony frame of mind, so I dropped a bit of lemon extract into mine and I may have spooned some more lemon curd on top…I know. Out of control.
It wasn't pretty but it tasted pretty fantastic.
Just a note on frosting: There is an amount of buttercream that looks beautiful on cupcakes and then there is an amount of buttercream you would actually want to eat. This is the former. Frost with care…
Just sayin'…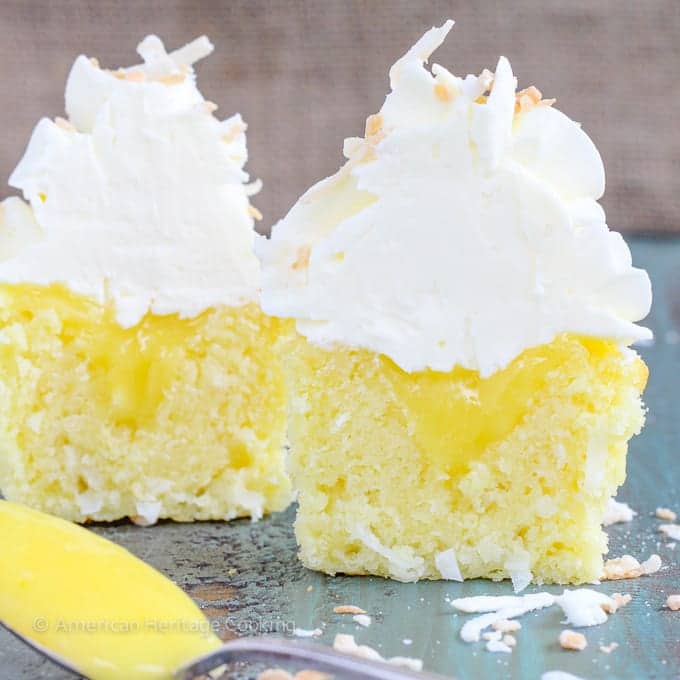 Also, I used the coconut milk that comes in a carton at the grocery store. It is not that super thick, incredibly rich coconut milk that you get in the can. The coconut milk should be the consistency of whole milk: if yours is super thick, thin it out with some water.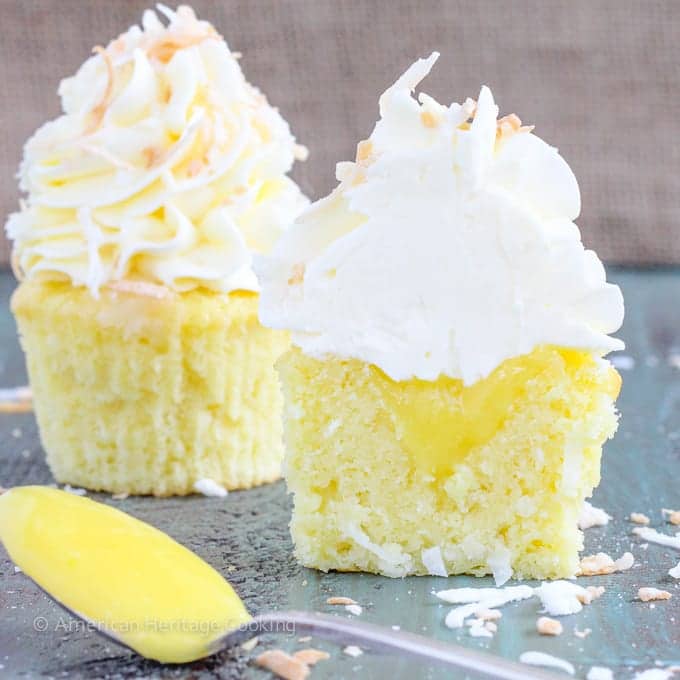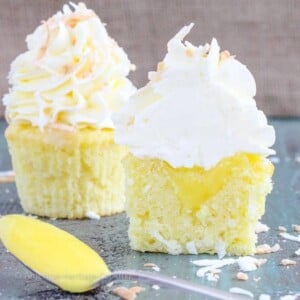 Lemon Coconut Cupcakes
These Lemon Coconut Cupcakes have a moist coconut cake, a sweet, tart lemon curd filling and are topped with a lemon Italian meringue buttercream!
Instructions
Preheat oven to 350˚F. Line 28 cupcake tins with liners. You can bake in 2 batches if you don't have enough tins.

Whisk together the all-purpose flour, coconut flour, baking powder and salt in a medium bowl; set aside.

Using a hand mixer or stand mixer fitted with the paddle attachment beat together the butter and sugar on medium-high speed until thick and lighter in color, 2-3 minutes. Add the eggs one at a time, beating well after each addition. Scrape down the sides of the bowl between each addition.

Alternately add flour and coconut milk in three additions on low speed beginning and ending with flour, scraping down the sides of the bowl as needed. Add the next addition when your batter is streaky; if you wait to long, you will overmix by the time you've added the remaining ingredients. You want to stop mixing as soon as the last flour has disappeared. I like to fold in the last addition of flour with a spatula to avoid over beating.

Scoop or pour the batter into the liners ¾ full. I use a large cookie scoop for this task and it works beautifully. Sprinkle some toasted coconut on each cupcake. Bake in preheated oven for 15-20 minutes. I always start checking at 12 because I'm not a fan of dry baked goods. The cupcakes are done when a toothpick, inserted into the center, comes out with a few clinging crumbs but no wet smears!

Remove from tins immediately and let cool on a wire rack. They must be completely cool before filling and frosting.
For the Assembly:
Cut a hole in the top of each cupcake with a pairing knife and fill each with about 2 teaspoons of curd. I don't measure, I just fill up the darn hole. It doesn't matter. The more the merrier. And, no, those little bits of cake don't go to waste. Those have my name on them.

Fit a piping bag with your favorite tip (I used an Ateco 883 here), fill with frosting and pipe on the desired amount of buttercream. In my opinion more is not more as with the lemon curd.

Sprinkle with more toasted coconut. Best if served the day they are made.
Notes
Coconut flour is not really flour at all. It is just very finely ground, unsweetened coconut. If you can't find it pre-ground or it is unbelievably expensive, you can make your own by processing unsweetened coconut flakes in the food processor or Nutribullet, which is what I did.
Do not substitute baking soda for the powder in this recipe. There is no acid for it to react with and you will end up with dense, flat and soapy tasting cupcakes. Just no.
You can make both the buttercream and the lemon curd up to a week in advance. Prior to frosting, beat your buttercream in a stand mixer fitted with a paddle attachment until light and fluffy. There are more detailed instructions for refreshing buttercream in my tutorial.
Nutrition
Calories:
142
kcal
|
Carbohydrates:
18
g
|
Protein:
2
g
|
Fat:
7
g
|
Saturated Fat:
5
g
|
Polyunsaturated Fat:
1
g
|
Monounsaturated Fat:
1
g
|
Trans Fat:
1
g
|
Cholesterol:
32
mg
|
Sodium:
128
mg
|
Potassium:
33
mg
|
Fiber:
1
g
|
Sugar:
13
g
|
Vitamin A:
135
IU
|
Vitamin C:
1
mg
|
Calcium:
15
mg
|
Iron:
1
mg
Like this? Leave a comment below!