This Chocolate Mayonnaise Cake is tender, moist and perfectly rich. Slather it with a silky chocolate cream cheese buttercream for the perfect pair!
I know what you are thinking, but stop.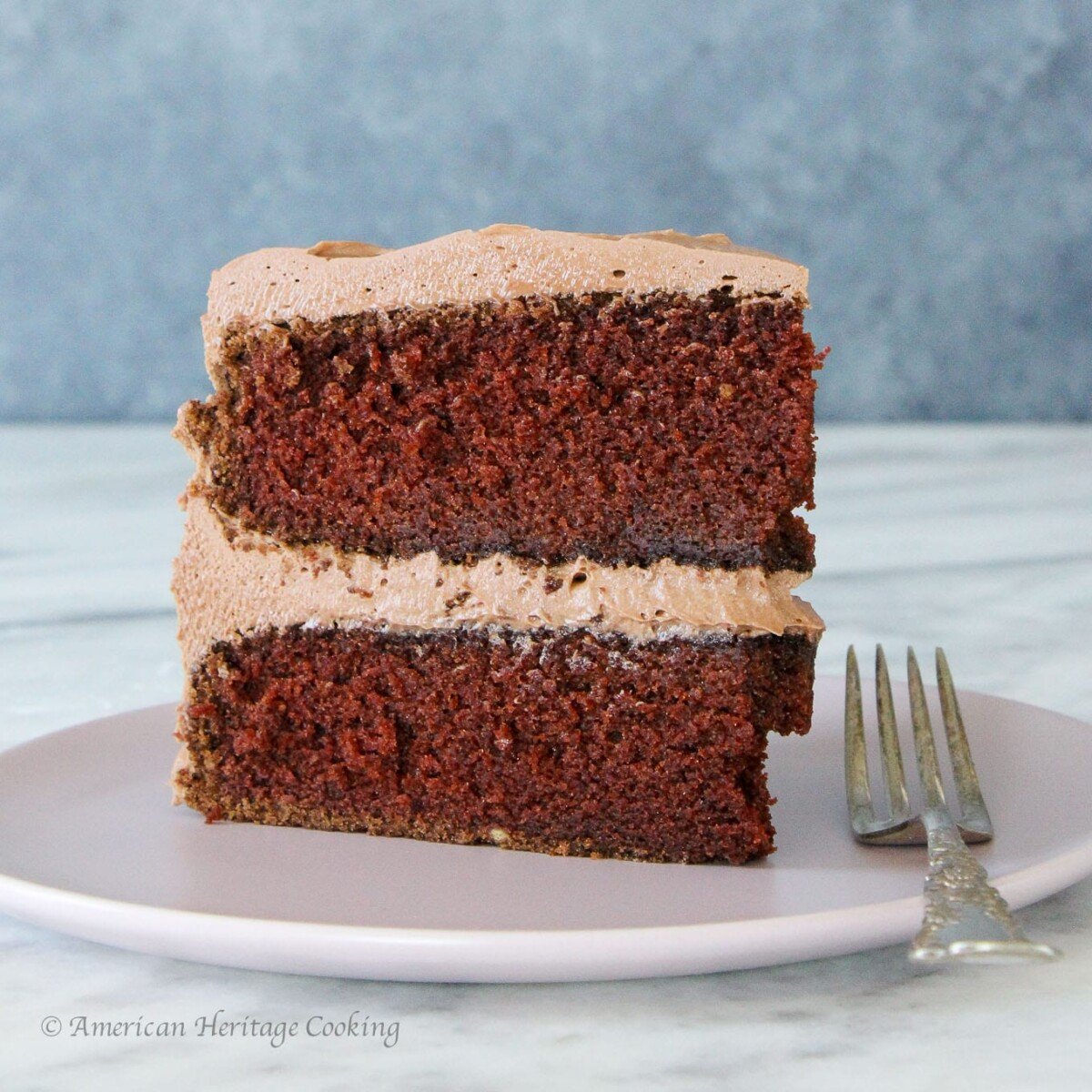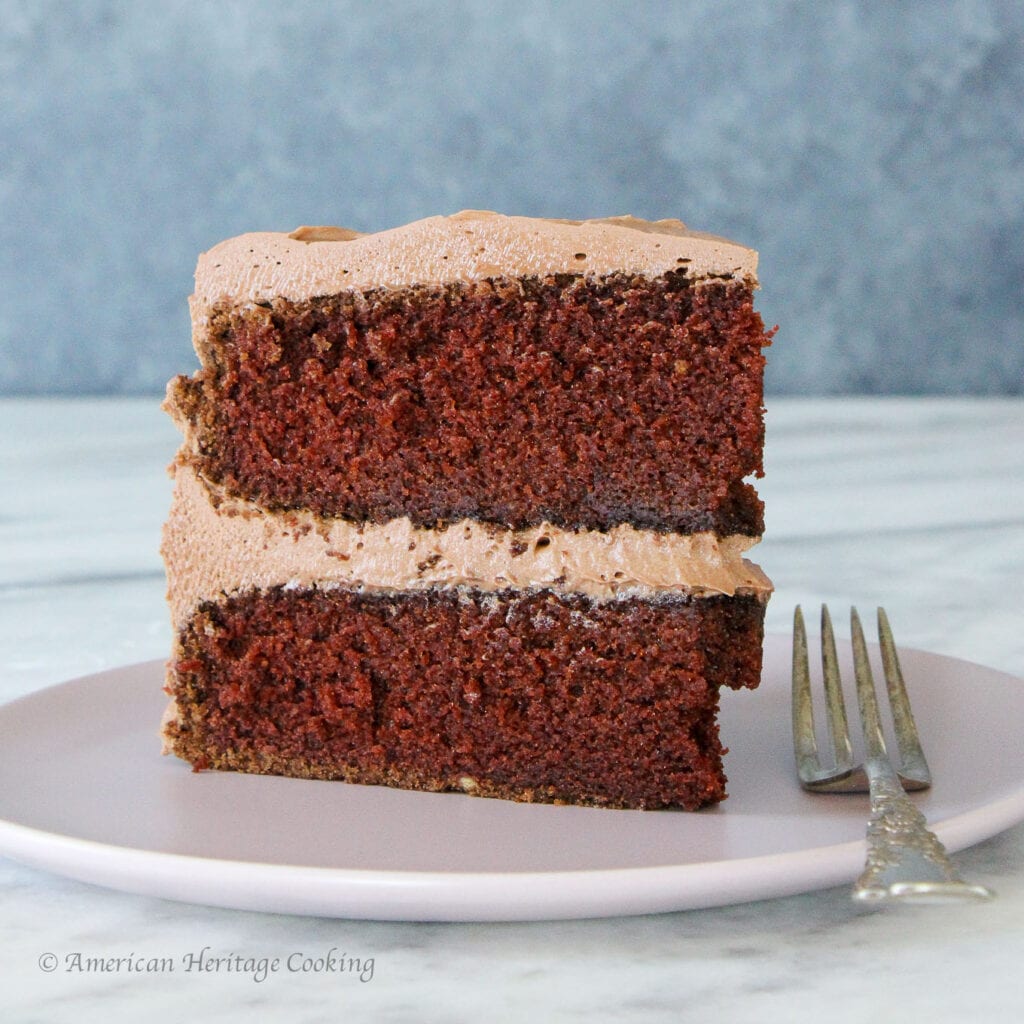 Let me baking science this for you: Mayonnaise is an emulsion of oil and egg yolks. Important to realize what you put in every single boxed-cake-mix cake…oil and eggs! Using mayonnaise is like the ultimate cheat code for moist, silky chocolate cake that is as easy as boxed cake.
I rest my case.
Jump to Recipe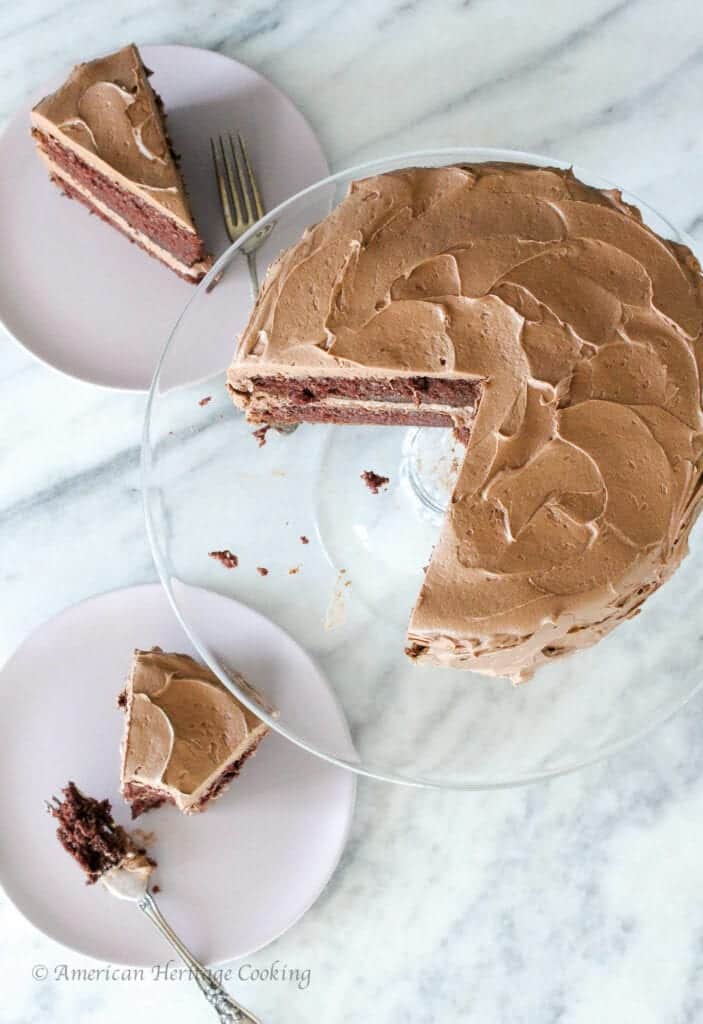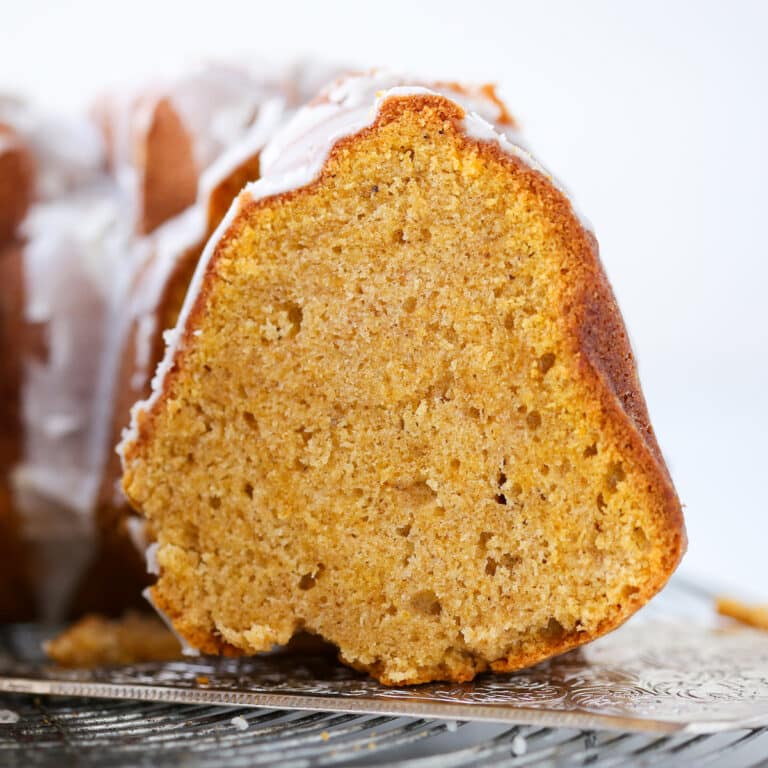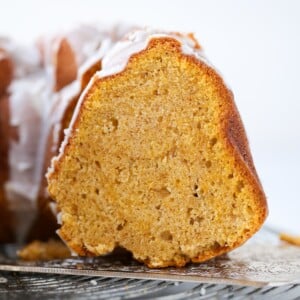 In effect, this is why you don't pick fights with science. Or pastry chefs over chocolate cake.
Seriously though, this cake is delightfully moist and the texture is tender and the perfect amount of delicate crumbly. The dark chocolate cake is perfectly paired with a cream cheese buttercream. A little tangy, a little sweet. A power couple if I ever saw one.
Sharing desserts during quarantine in NYC is proving V difficult. Have you every knocked on your neighbor's doors in NYC? Even when your medical-grade facemask and chocolate cake is fully visible through the peephole, such intrusions are unwelcome. I'd absolutely answer my door for chocolate cake.
Maybe that's just my midwestern roots with an extensive tour in the South. I say Northern "hospitality" be damned! I am nothing if not persistent. Finally I had reached whit's end with my neighbor's rejection, so I sliced it up, put it all on a plate and brought it down to the doorman (who, I must mention, had already had two generous slices!) and implored him to pawn it off on my neighbors as they entered the building.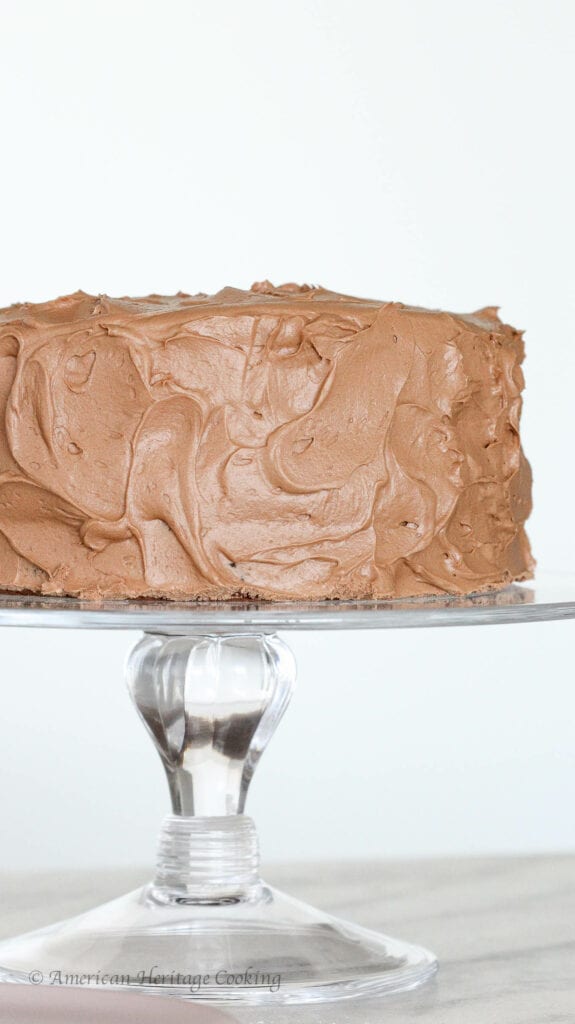 He called me about 2 hours later. Bracing myself for what I was sure was the inevitable disappointment, I answered, "Hi Danny…"
But much to my surprise and delight, he told me that it was all gone and a lot of people had come back down for seconds! My suppressed pastry chef-self radiated happiness. Finally able to feed people and bring joy with my desserts even without a job or a restaurant. ??‍?
Here's the takeaway people: Get over your mayonnaise bias and make the damn cake. Trust me. Even cold, skeptical New Yorkers will come back for seconds.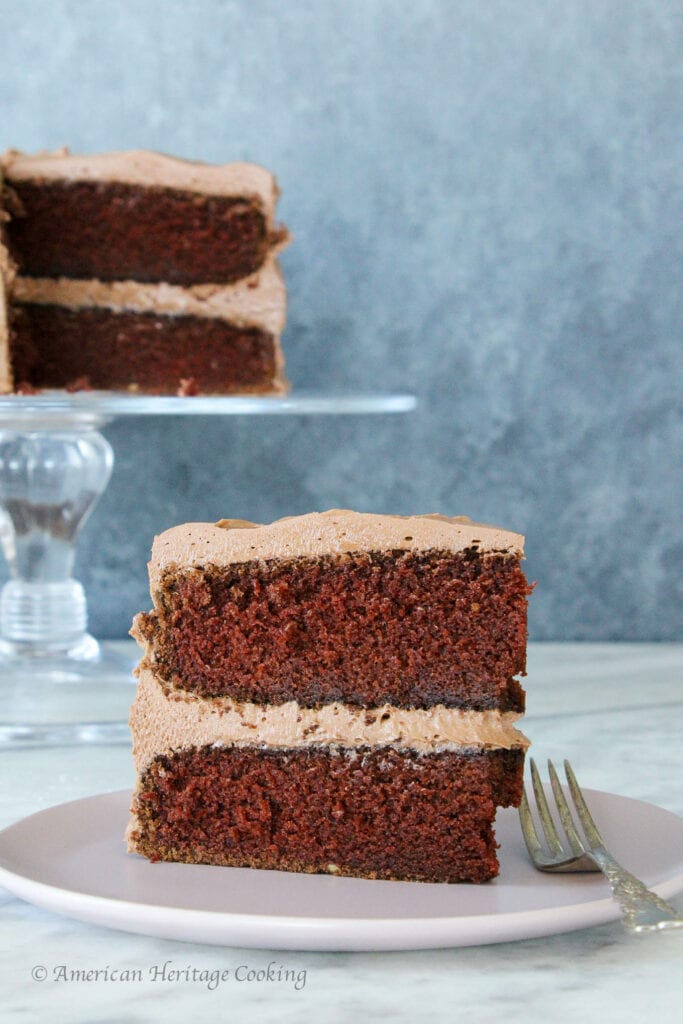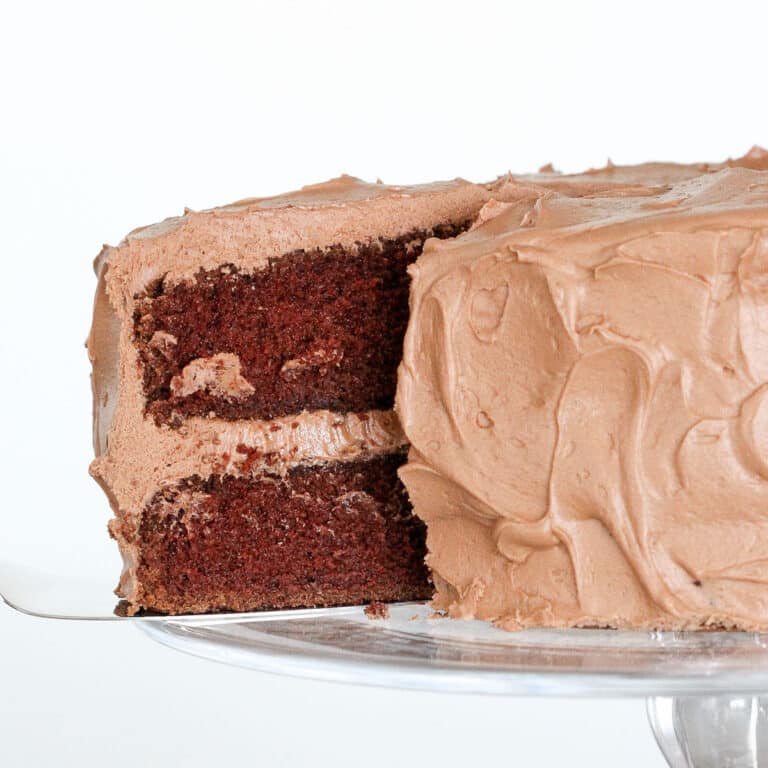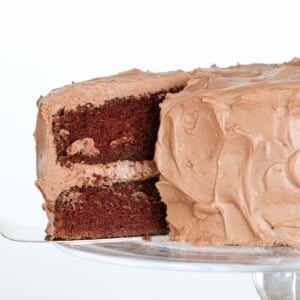 Chocolate Mayonnaise Cake
This Chocolate Mayonnaise Cake is tender, moist and perfectly rich. Slather it with a silky chocolate cream cheese buttercream for the perfect pair!
Instructions
Make the Cake:
Preheat oven to 350°F convection. Spray and line baking pan(s) with parchment.

Whisk together flour, soda, powder and salt. Set aside.

Melt dark chocolate over a double boiler, set aside to cool slightly.

In the bowl of a stand mixer fitted with the paddle attachment, beat eggs, sugar, and vanilla until very light and fluffy, about 3 minutes.

Stir mayonnaise into melted chocolate.

Add all chocolate to eggs and beat until smooth and combined.

Alternately add the flour mixture and coffee and water. The batter is very loose, so I whisked the last of the flour into the mixture to get rid of any lumps.

Divide between pans and then bake in preheated oven 25-35 minutes (start checking at 20 minutes for round pans)

Cool 5 minutes in pan and then turn out onto wire rack to cool completely.
Make the Frosting:
In a heat proof bowl put chocolate, salt, cocoa powder, and coffee or water. Heat gently over a double boiler until just melted. Set aside to cool slightly.

In the bowl of a stand mixer beat together cream cheese and butter until smooth and homogenous. It is super important that your butter is soft or you will have lumps that will never come out. Not even if you use a blow torch.

Beat in vanilla extract followed by powdered sugar. Once combined, add the cooled chocolate mixture and then beat until smooth and lightened. Don't over-beat or the cream cheese will begin to break and your frosting will loosen.
Assemble Cake:
Place one round cake on a cake stand or on a plate. Dollop 1/3 of the frosting on top. Spread it to evenly coat. Place the second round upside-down on top of the frosted cake circle. This way you have the flat bottom on top. Spread the remaining frosting on the top and around the sides. Swirling with an offset spatula to create decorative swirls.

Serve immediately or chill in the refrigerator. Let the frosting set a bit before wrapping in plastic wrap. The cake was delicious the day it was made but it was even better the next day!
Nutrition
Calories:
418
kcal
|
Carbohydrates:
57
g
|
Protein:
4
g
|
Fat:
20
g
|
Saturated Fat:
9
g
|
Polyunsaturated Fat:
4
g
|
Monounsaturated Fat:
5
g
|
Trans Fat:
1
g
|
Cholesterol:
49
mg
|
Sodium:
427
mg
|
Potassium:
139
mg
|
Fiber:
2
g
|
Sugar:
44
g
|
Vitamin A:
303
IU
|
Calcium:
35
mg
|
Iron:
2
mg
Like this? Leave a comment below!