This Caramel Molasses Pound Cake is richly spiced with cinnamon, ginger, cloves and allspice. It has a perfectly dense pound cake texture and I've topped it with salted caramel sauce for the perfect finish!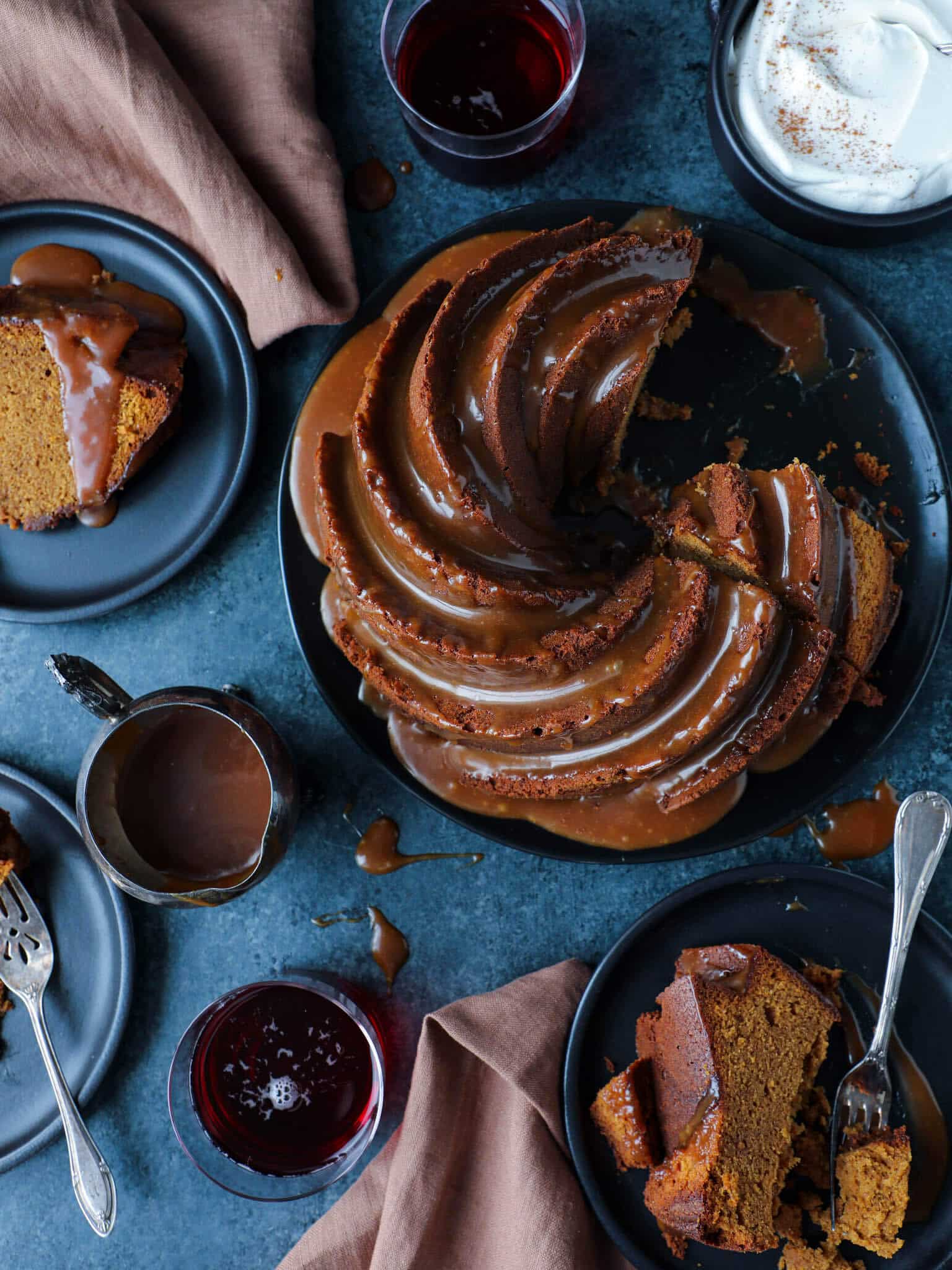 Caramel Molasses Pound Cake is dense, rich and generously spiced. The spices and molasses pair beautifully with the salted caramel glaze. The cake isn't overly sweet and has hints of a rich molasses gingerbread cake.
The flavors are similar to this old fashioned gingerbread cake but the texture is 100% pound cake! It has that crunchy, caramelized outside and soft, tender interior. You are going to want to add this to your Christmas bake list along with The Best Fruit Cake (yes, that kind of fruit cake!) and my Stollen bread recipe.
This cake is perfect for a cold winter evening. Serve it warm or room temperature with a generous scoop of vanilla ice cream, vanilla bean crème anglaise or homemade whipped cream.
Table of Contents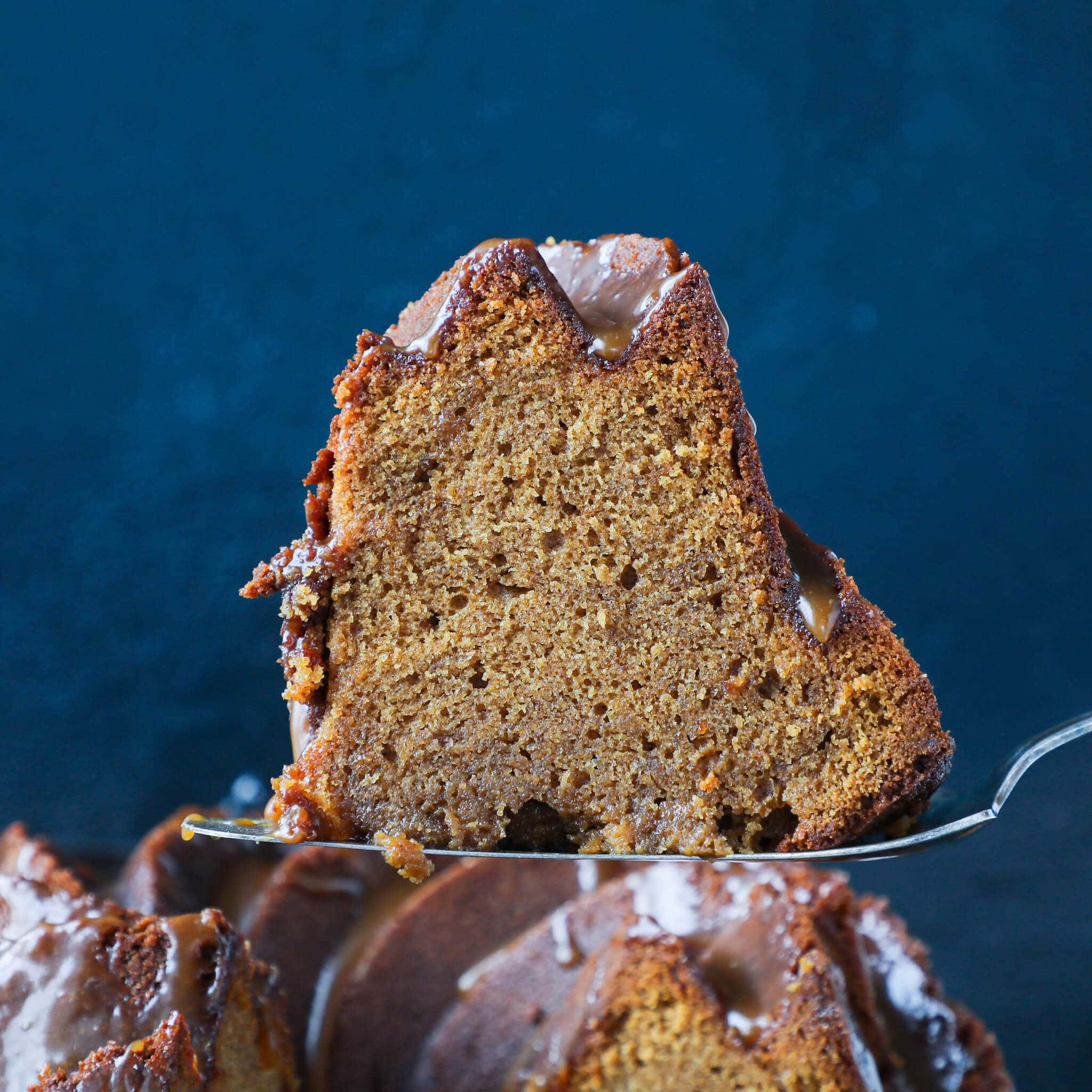 Ingredients
Molasses Pound Cake Substitutions
Sour Cream: I almost always bake with full-fat dairy because the fat adds to the texture and intensity of flavor, but low fat versions or even Greek yogurt can be substituted in most cases. Lower fat sour cream also breaks easier than the full-fat varieties when heated or an acid is added. This is generally not catastrophic but it will impact the final molasses pound cake texture in a subtle way.
Cake Flour: You could certainly substitute cake flour for the all-purpose flour but the resulting texture will be ever so slightly lighter. Be sure to sift it!
Molasses: I use unsulphered molasses, such as Grandma's Molasses, because it has a more mile flavor. Blackstrap molasses or sulphered molasses can be very bitter. This will not affect the texture of the cake; however, the flavor will be greatly impacted.
What other icings would be good on molasses pound cake?
This molasses pound cake would also be delightful with my vanilla donut glaze or a cream cheese buttercream. You could also use the cream cheese glaze from my cinnamon swirl scones.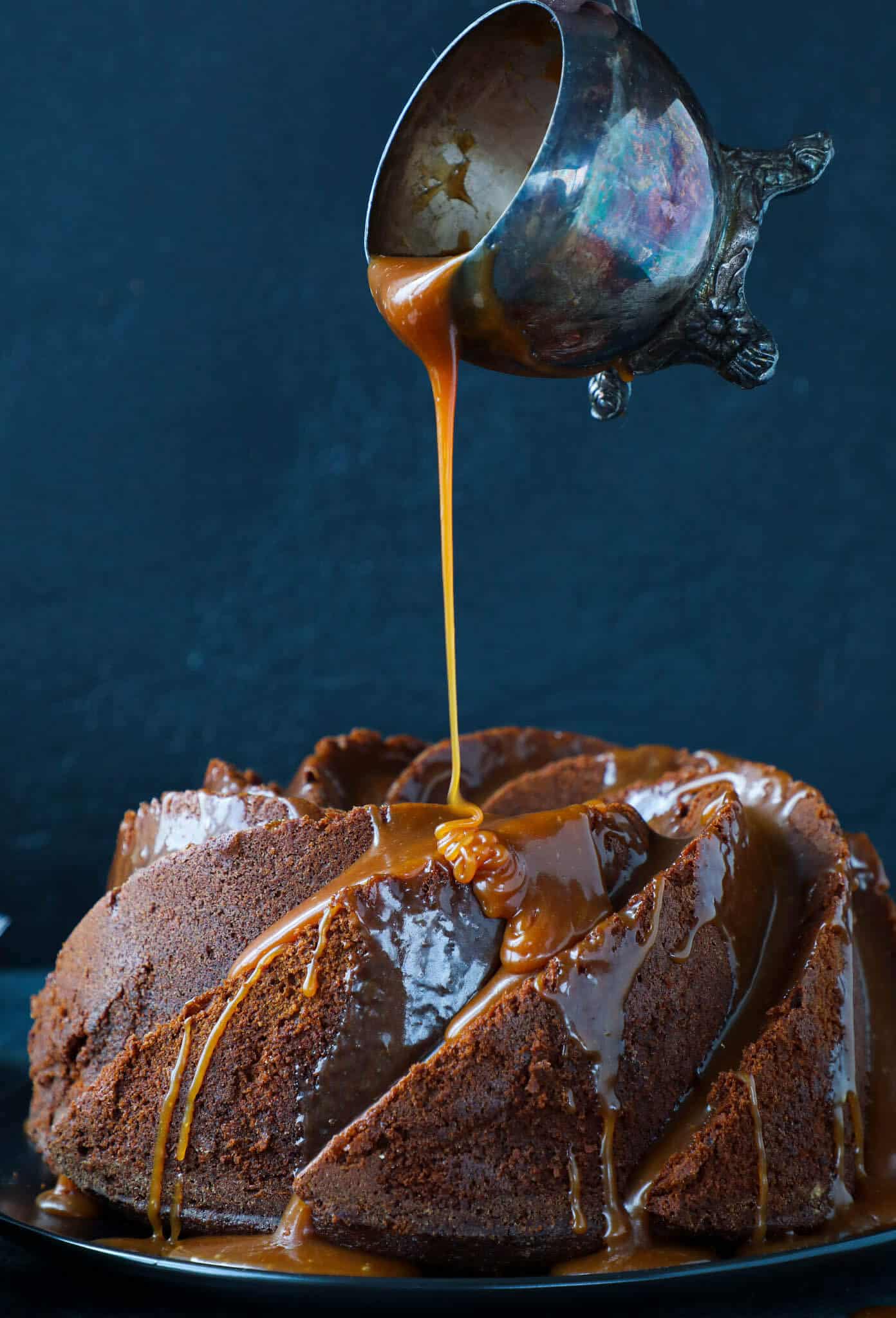 Frequently Asked Questions
How do you store caramel molasses pound cake?
Store pound cakes well-wrapped in plastic wrap at room temperature, refrigerated or frozen.
How long will pound cakes keep?
Molasses pound cake will keep 5 days at room temperature, two weeks refrigerated or 3 months frozen. For optimal freshness, serve within 2 days of baking or freeze for longer term storage.
Can you freeze caramel molasses pound cake?
Pound cakes freeze beautifully. This is the best way to preserve the moisture and texture of a freshly baked cake. I like to pre-slice them before freezing if I am not planning on serving the whole cake.
When applicable, the cake will freeze better not covered in caramel sauce. You can cool, wrap and freeze just the cake. Then after thawing cover with the caramel if desired. If you are going to serve and then freeze the rest of the cake, then the caramel sauce will be perfectly fine in the freezer. It will just be a bit messier to wrap and thaw.
Will this pound cake recipe multiply?
You can make as large a batch of pound cake as you would like. You are only limited by the capacity of your stand mixer.
How do you thaw molasses pound cake?
Thaw covered at room temperature or in the refrigerator.
What to serve with Caramel Molasses Pound Cake?
This Caramel molasses pound cake is delicious hot or room temperature. I love it with a generous dollop of vanilla whipped cream and additional caramel sauce. A spoonful of my Vanilla Bean Anglaise would bring out the spices and highlight the gingerbread flavor. You can also never go wrong with vanilla ice cream!
Chef Lindsey's Recipe Tips
Be sure to prep your bundt pan so that you can get that beautiful finish when you unmold your cake! I spray mine with cooking spray and then flour it, tapping around the flour in the crevices so I can be sure every inch is covered!
Recipe
Caramel Molasses Pound Cake
This Caramel Molasses Pound Cake is richly spiced with cinnamon, ginger, cloves and allspice. It has a perfectly dense pound cake texture and I've topped it with salted caramel sauce for the perfect finish!
Instructions
Preheat oven to 325°F convection or 325°F conventional.

Prep your Pan: I sprayed my pan with cooking spray and then floured it. Tap the flour around until every inch is covered. Tap out the extra flour onto a piece of parchment on the counter. You should be left with a perfectly floured pan.

Whisk together flour, spices, salt and baking soda. Set aside.

In the bowl of a stand mixer fitted with the paddle attachment, beat butter and sugar just until a thick paste forms. Beat in the eggs one at a time, scraping down the sides of the bowl after every two eggs or so.

Add molasses and beat in well.

Switch the mixer to low and then alternately add the flour and sour cream. I don't wait until all the flour has incorporated until I add the next batch. I just keep adding with two hands. Pro-style. I do stop the mixer to add the last of the sour cream mixture because I like to scrape it all out with a rubber spatula.

You should have a silky, smooth batter. Pour into prepared pan and smooth the top.

Bake in preheated oven until a cake tester comes out with a few clinging crumbs. This will take about 60-85 minutes depending on your oven. Mine baked for 70 minutes. If you overbake it will be dry. Even that much butter, sugar and sour cream can't over compensate for overbaking. Just sayin'.

Let her COOL 20 minutes and then loosen the edges with a paring knife and then turn it out onto a rack. Allow to cool completely.

Top with caramel sauce if desired. I warmed the sauce slightly in the microwave before pouring over the top of the cake, so that it would be a thinner glaze, but you could leave thick drips if desired!
Before You Go!
Check out our other delicious, chef-developed recipes for Cakes!