These healthy Ginger Peach Oat Bars are gluten free, vegan and incredibly easy. With only 125 calories each, they will fill you up without expanding your waistline!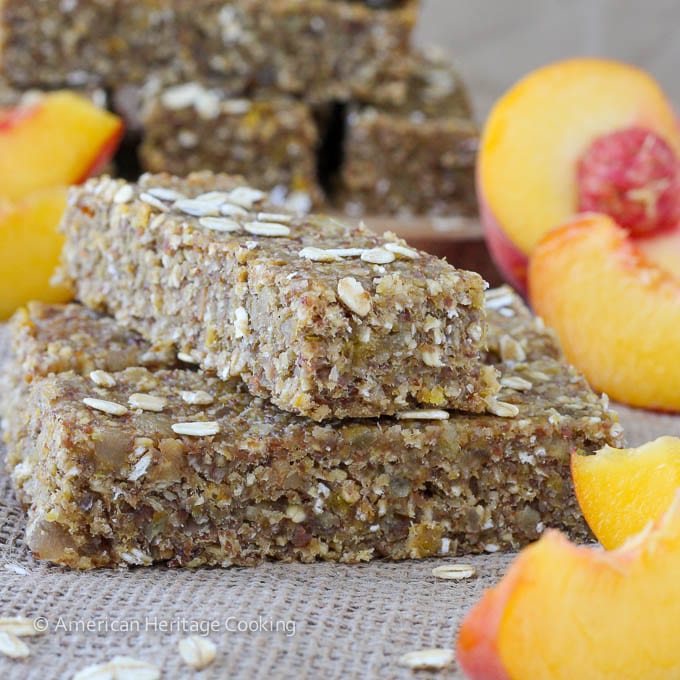 My number one concern going into Fall is not pumpkin. It's not even apples or pie.
It is how I am going to get through 6 whole months without peaches?!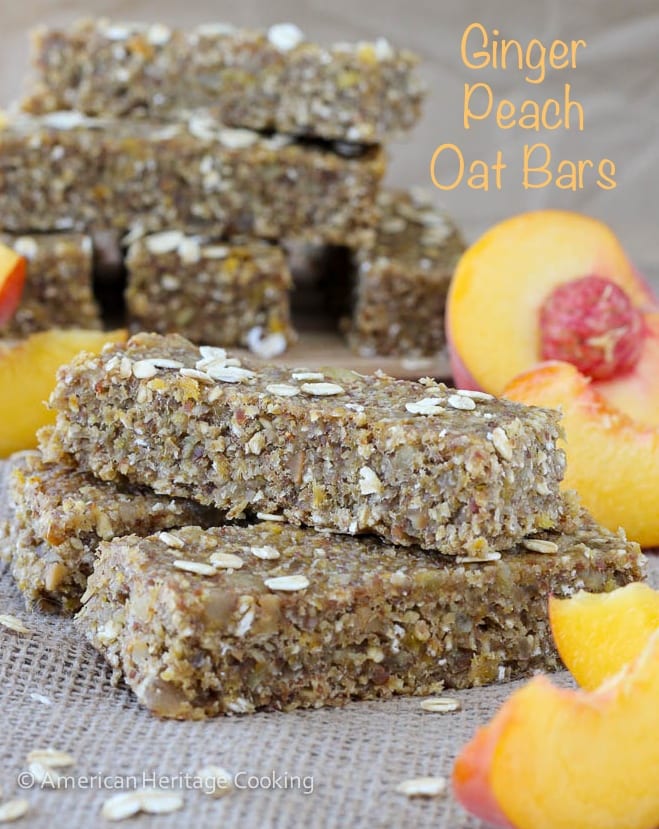 I get a little peach obsessed in the summer. At least I started it off healthy with this salad! But then I quickly moved on to more decadent treats like these Peach Crisp Cupcakes.
Peach lovers everywhere rejoice! These healthy bars use dried peaches as the base for a lightly sweetened snack. Though subtle, the peach flavor is definitely present and complimented by the crystallized ginger! The ginger brings the peaches seamlessly into Fall in a way that we will be able to enjoy all winter long!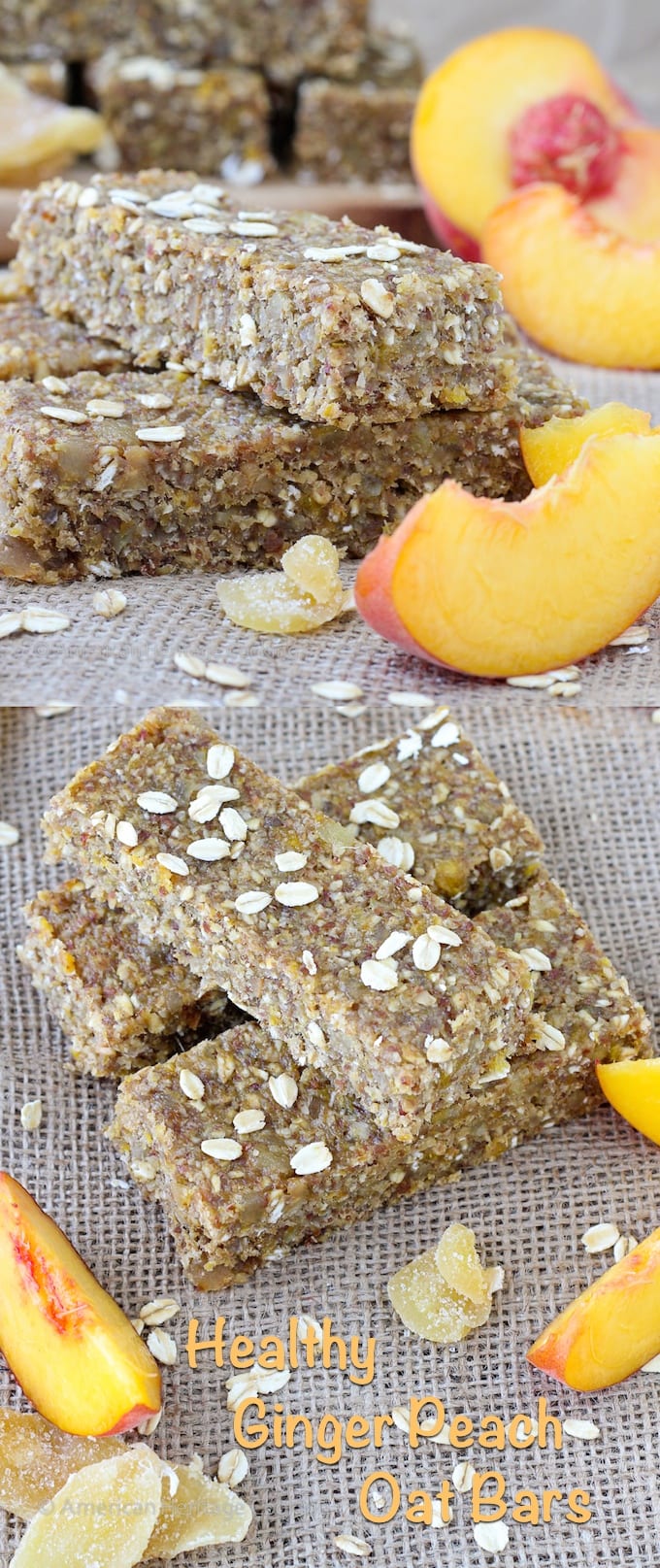 You will love that these bars are delicious and packed with healthy ingredients like coconut oil, flax seeds, ginger, fruit and nuts! The whole recipe only calls for 2 tablespoons of honey and no refined sugar. You can feel good about adding these gluten free, vegan bars to your diet!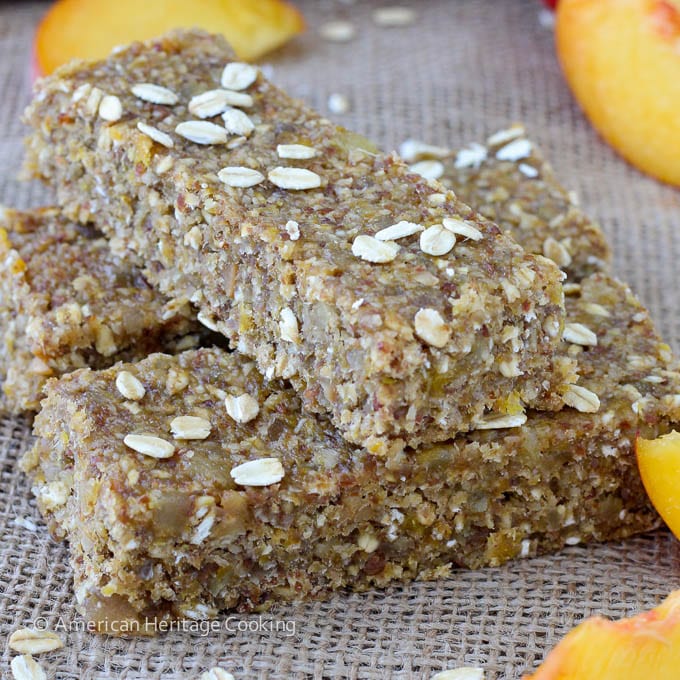 Recipe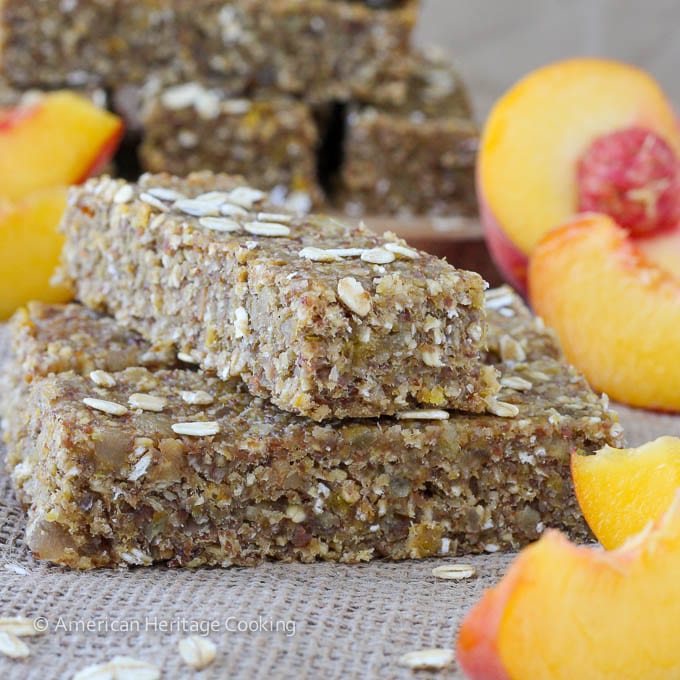 Healthy Ginger Peach Oat Bars
These healthy Ginger Peach Oat Bars are gluten free, vegan and incredibly easy. With only 125 calories each, they will fill you up but not expand the waistline!
Ingredients
12

dried peach halves

(no added sugar)

2 ½

cups

dried oats

(ground in a food processor)

¼

cup

ground flaxseed

¼

cup

wheat germ

½

teaspoon

cinnamon

½

teaspoon

kosher salt

½

cup

toasted pecans

(ground in the food processor)

¼

cup

toasted cashew nuts

(finely chopped)

½

cup

dried pineapple

(finely chopped)

½

cup

minced crystallized ginger

(measured after mincing (the less added sugar, the better))

2

tablespoons

coconut oil

(melted)

2

tablespoon

local honey

(I use wildflower)

~ ¼ cup reserved peach cooking liquid
Makes:
8
inch
8
x
8
inch
rectangle
Instructions
Preheat your oven to 350°. Line an 8-inch square baking dish with parchment paper.

Place dried peaches in a small saucepan and cover with water until the water is approximately ½ inch above the fruit. Place over medium-high heat just until it comes to a low boil, turn down the heat to a low-simmer and simmer until plump. I let mine simmer for at least 30 minutes, but 20 will be okay. Because of the long simmer time, I set the peaches on before I begin measuring or chopping any other ingredient.

Place all other ingredients through ginger in a large mixing bowl. Make sure that the pineapple is very finely chopped because you just want the sweetness from the pineapple but not an actual pineapple flavor.

Place plump peaches in the bowl of a food processor, reserving the cooking liquid. Process the peaches until completely smooth, adding some reserved cooking liquid if necessary. The liquid will help them puree. It should look like baby food.

Add the puree, coconut oil and honey to the large bowl and mix with a large wooden spoon. If needed add some of the reserved cooking liquid. In the 3 test batches I made, I needed about ¼ cup additional liquid. You want the "batter" to be cohesive but not extremely sticky or wet.

Press into the prepared pan with the back of a wooden spoon. Bake in preheated oven for 20-25 minutes or until the edges begin to brown.

Let cool and then cut into bars.
Notes
Store at room temperature for up to a week or in the freezer for several months. Wrap in wax paper and then place in a freezer bag prior to freezing. Take them out individual to thaw at room temperature!
I measured all ingredients before they were processed or chopped except the ginger.
You will also love these healthy options!
Bircher Muesli {Overnight Oats}
Healthy Peanut Butter Chocolate Chip Muffins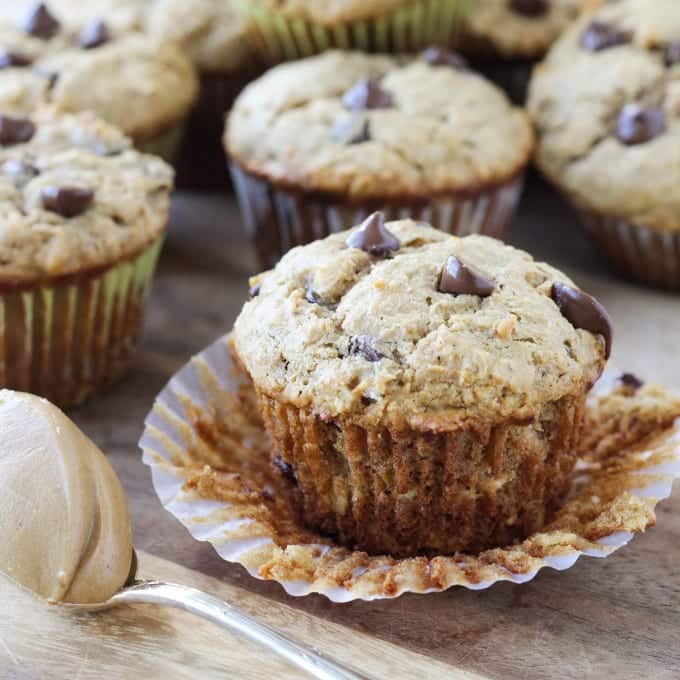 Strawberry Banana Spinach Smoothie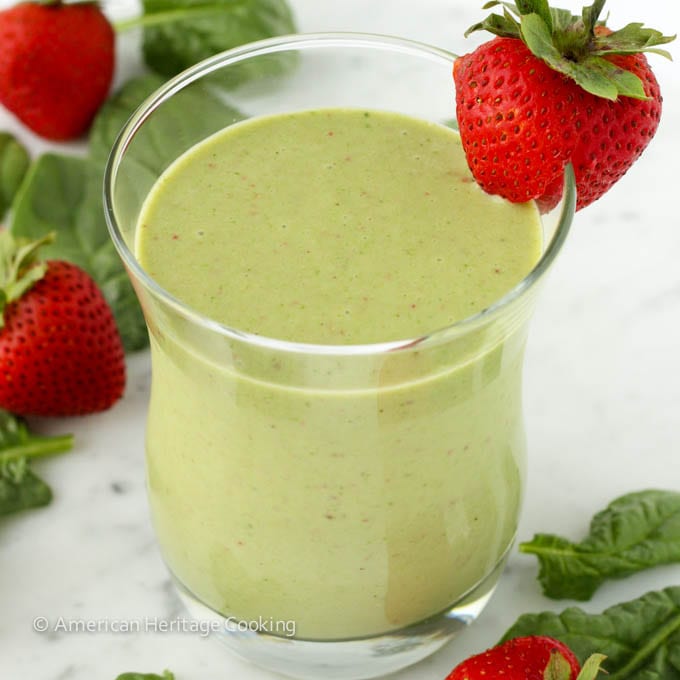 The Best Blueberry Banana Bran Muffins EVER
Strawberry Whole Wheat Chia Seed Muffins