This Old Fashioned Peach Pie is simple and lets the flavor of fresh, Summer peaches shine! The juicy peach filling is baked in an easy flakey shortening crust.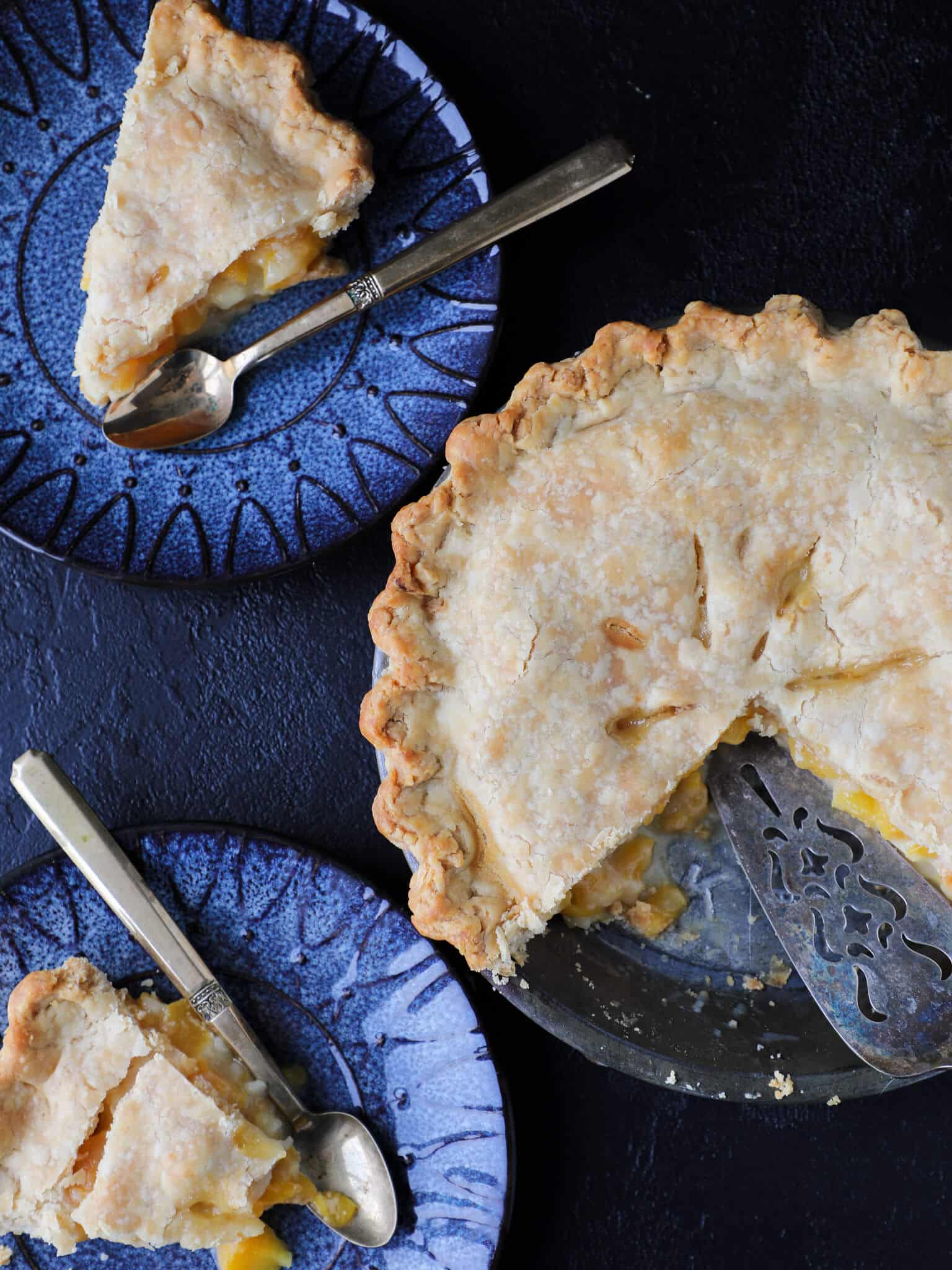 Serve this pie with a generous scoop of Vanilla Ice Cream or Vanilla Bean Anglaise for the perfect summer treat!
This Old Fashioned Peach Pie has an all-shortening crust. Shortening makes a wonderfully tender crust when prepared right, but it's definitely less rich than those containing butter. This pie would also be sensational with this fool-proof vodka crust, my all-butter crust or this Old Fashioned Almond Pie Crust.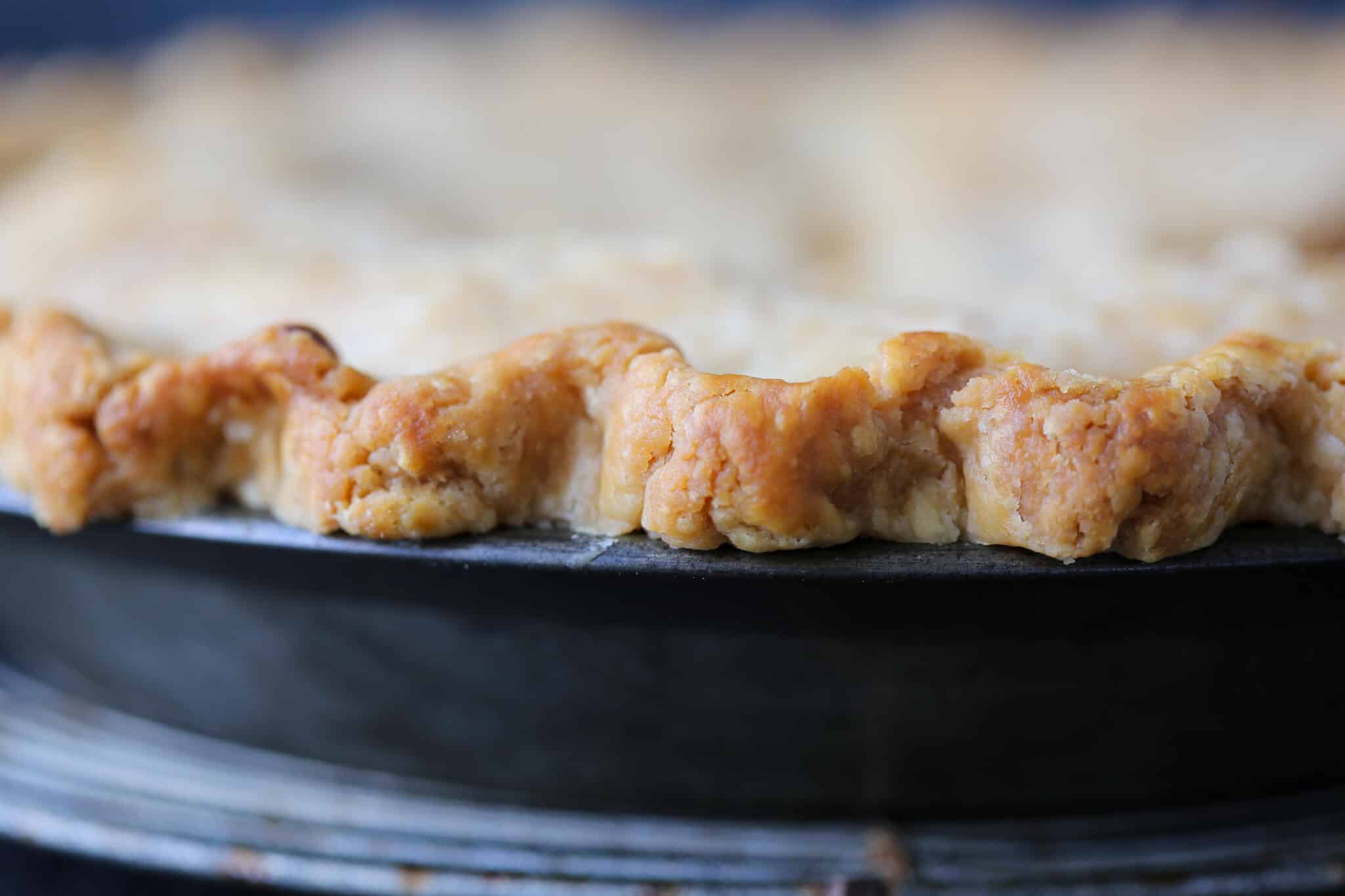 The old fashioned peach pie filling recipe is from One Big Table by Molly O'Neill. It is a heritage recipe from Coletta Boan in Winston-Salem, North Carolina where I went to university. I loved that the filling was cohesive but the added flour did not make for the prettiest thickener. Flour is a very effective pie and cobbler thickener, but it makes the filling cloudy and not as bright and beautiful as cornstarch or tapioca.
Table of Contents
Ingredients for Old Fashioned Peach Pie
Fresh Peaches: Ripe peak Summer peaches will make all the difference in this simple recipe.
Sugar: I use granulated sugar here and it is a substantial amount. You can certainly adjust it to your personal preference.
Butter: I use unsalted butter for baking, because you want to control the amount of salt you are adding. Every brand is different and it makes adjusting the recipe a challenge. You can reduce the butter, but it adds just a nice richness to the filling.
Egg: This recipe is like the strawberry rhubarb pie recipe where the sugar and eggs are beaten separately then poured over the fruit. It makes a fantastic thick old fashioned peach pie filling.
All-purpose Flour: I use all-purpose flour but you could also use pastry flour to an even better effect!
Salt: I use kosher salt always. It heightens the flavor here and will keep your pastries for tasting dull or flat.
Water: The water for the crust should be COLD! All the tried and true pie crust rules apply here. The amount of water is variable and it is the trickiest part.
Shortening: I freeze my vegetable shortening before using it in pie crusts. Shortening is still pliable when frozen and will cut in beautifully.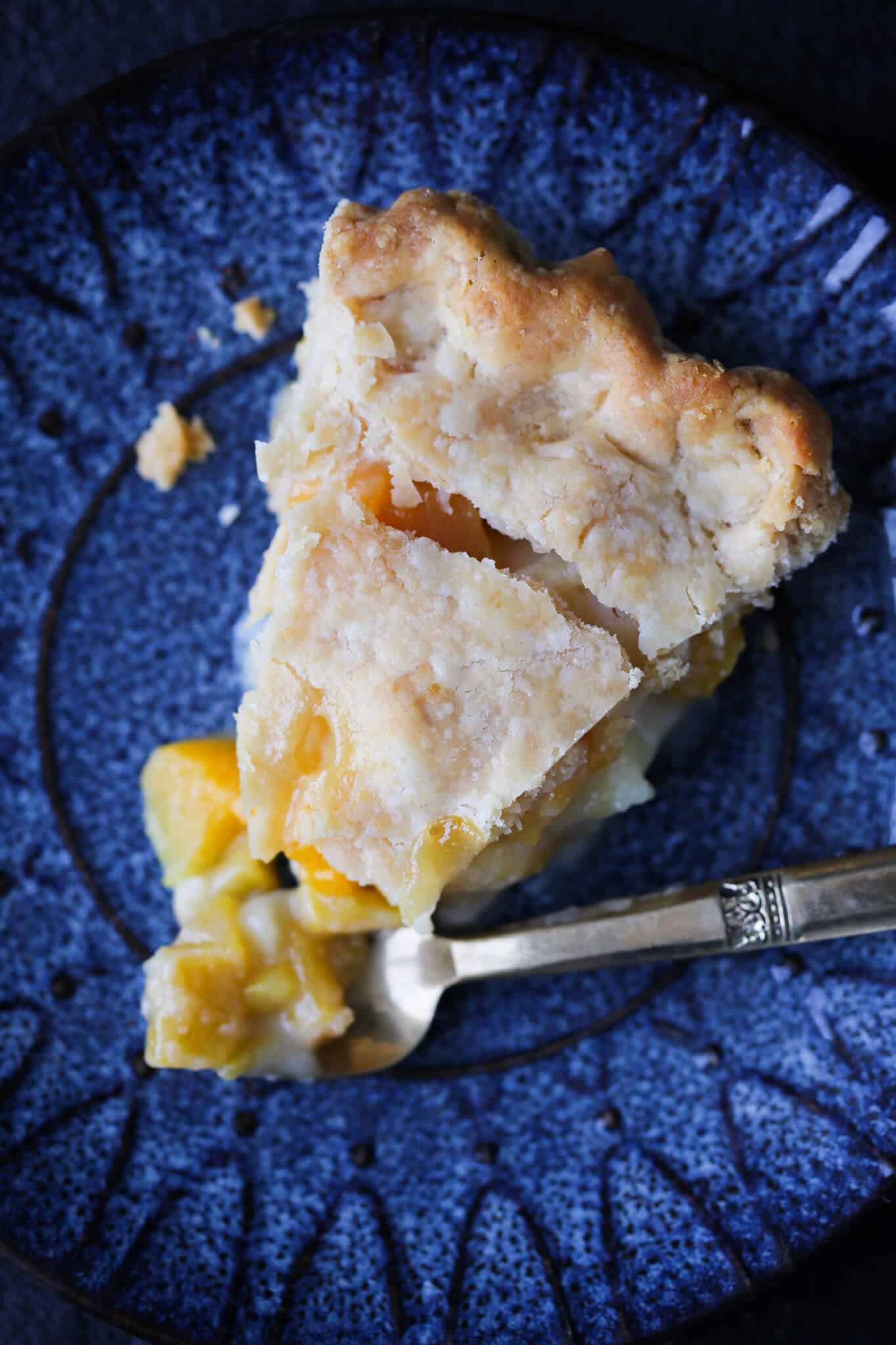 You can watch my video on how to peach peaches three ways!
Arguably the most challenging part of making old fashioned peach pie is peeling the peaches. I am here for you with three different methods. Find the one that works for you.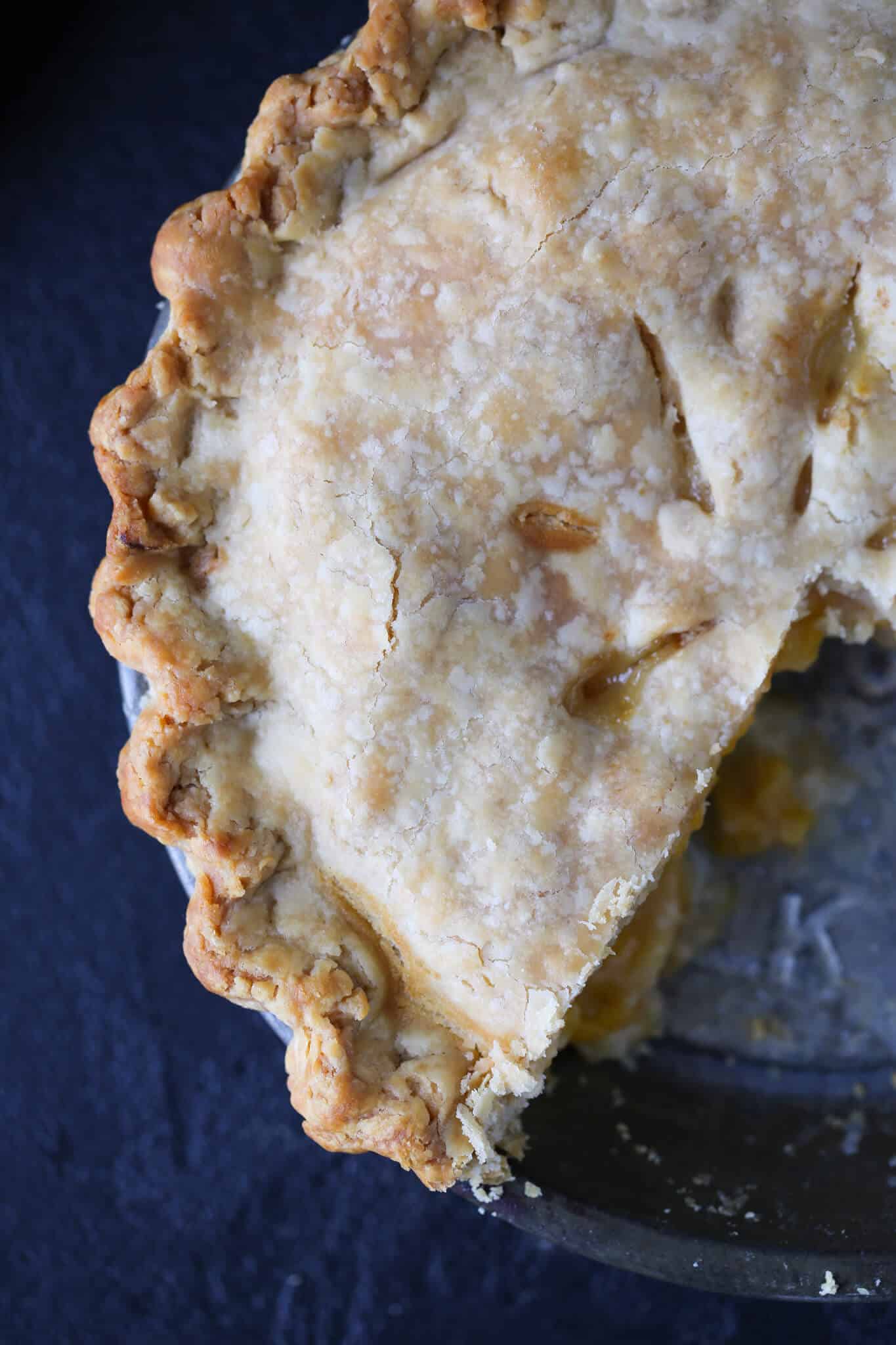 How to keep Pie Crusts Flakey
Keep it cold: This is the theme that runs through the whole process from the moment you scale your ingredients to putting the pie in the oven. Your shortening should absolutely be cold or frozen, your water should be ice cold and bonus points if your flour, mixing bowl and utensils are cold.
Work Quickly: This serves two purposes: the first is to keep your ingredients cold and the second is to restrict the amount of gluten that develops in your pastry. Cut your shortening in as quickly as the method will allow; keep your focus while adding the water; and when gathering the dough into one cohesive mass, only work it just until it comes together.
Bake it Hot: Shortening crusts don't get flakey like butter crusts, rather they are more crumbly and tender. They still should be baked hot to make them tender and crispy.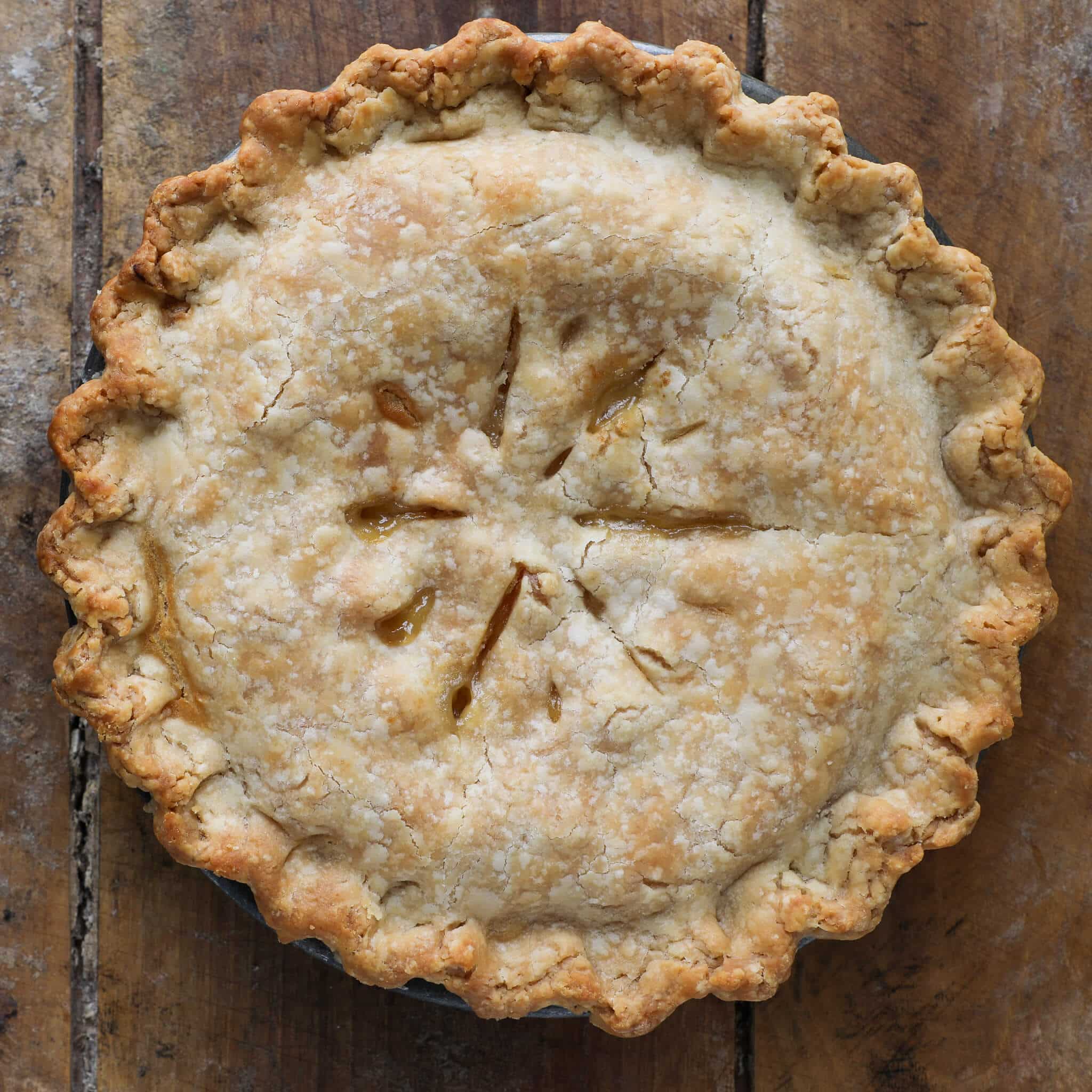 Pastry Chef Tip
Shortening crusts can be tricky, and this pie would be lovely with a different crust, but shortening crusts' texture is really lovely and puts this Old Fashioned Peach Pie a cut (or slice!) above the rest.
Recipe
Old-Fashioned Peach Pie
This Old Fashioned Peach Pie is flavorful and perfectly sweet with a flakey, tender shortening crust.
Ingredients
Makes:
9
inch
9
x
9
inch
round
Instructions
Make the pie crust:
In a bowl mix flour and salt. Cut shortening into cubes and pour into flour mixture. Cut the shortening into the flour with a pastry blender or two knives until the mixture resembles coarse crumbs.

Add water 1 tablespoon at a time and blend with a fork until the dough just holds together and is no longer crumbly. If you are making two single crust pies, split the dough in half. For double crust pies I like to split the dough ⅔ and ⅓. Refrigerate the dough for ~30 minutes before rolling.
Prepare the Pie:
Preheat the oven to 350°F.

Place peaches in pie shell. Mix sugar, butter, flour, and egg until smooth. Pour mixture over the peaches. Do not stir into peaches.

Bake for 1 hour and 10 minutes. If you want a browner crust preheat the oven to 425°F. Reduce the heat to 325°F after 30 minutes of baking. You may need to cover the edges to prevent over–cooking!
Video Instructions
Notes
Peach Pie filling from One Big Table by Molly O'Neill
Pie Crust recipe from Good Housekeeping 1955 Edition