These Individual Blueberry Raspberry Crumbles are perfectly portioned for one with a generous amount of brown sugar crumble topping!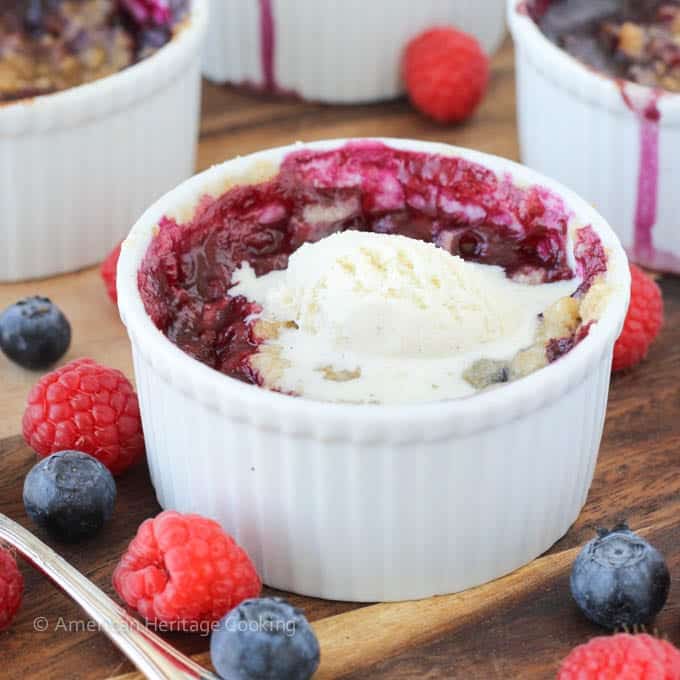 Are you that person that takes more than your fair share of the crumble topping off of crumbles or crisps? I am that person.
I am not the person to share a Crumble with. #sorryimnotsorry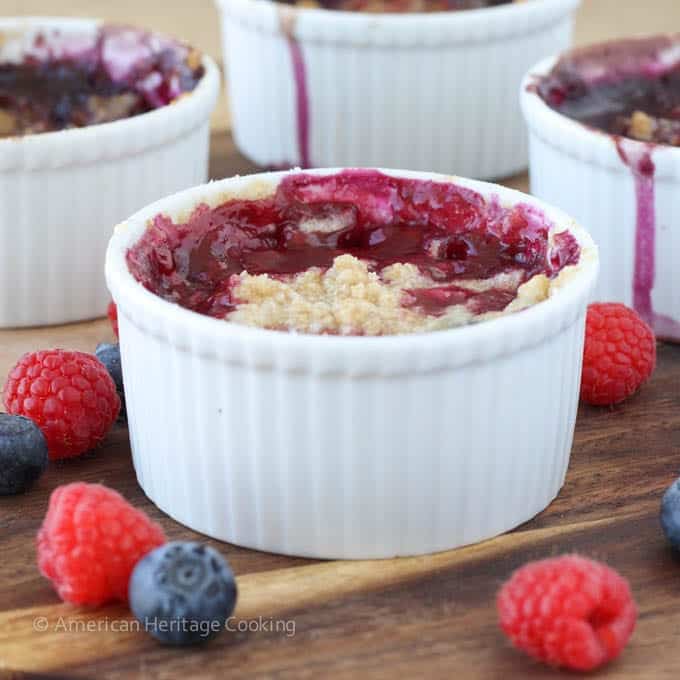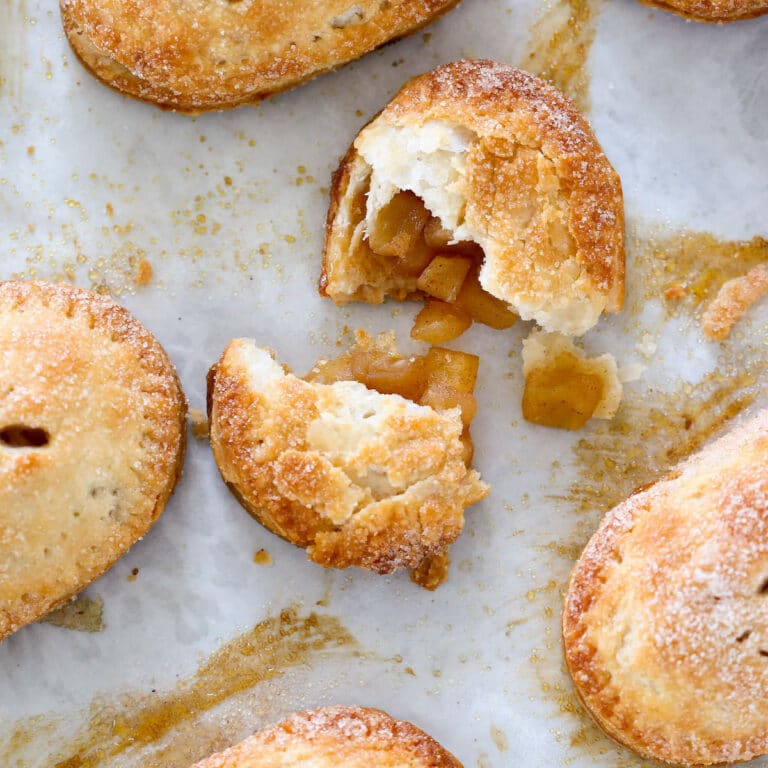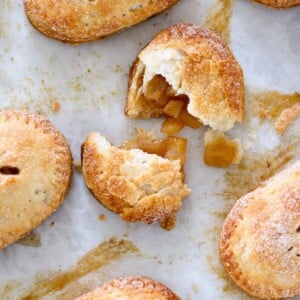 These Individual Blueberry Raspberry Crumbles fix that problem. They are perfectly portioned so that thieves like me cannot smuggle your topping onto their plate.
Part of me just died. Aaannnd the part of me that doesn't want to workout an extra hour for some crumble topping is jumping up and down in excitement.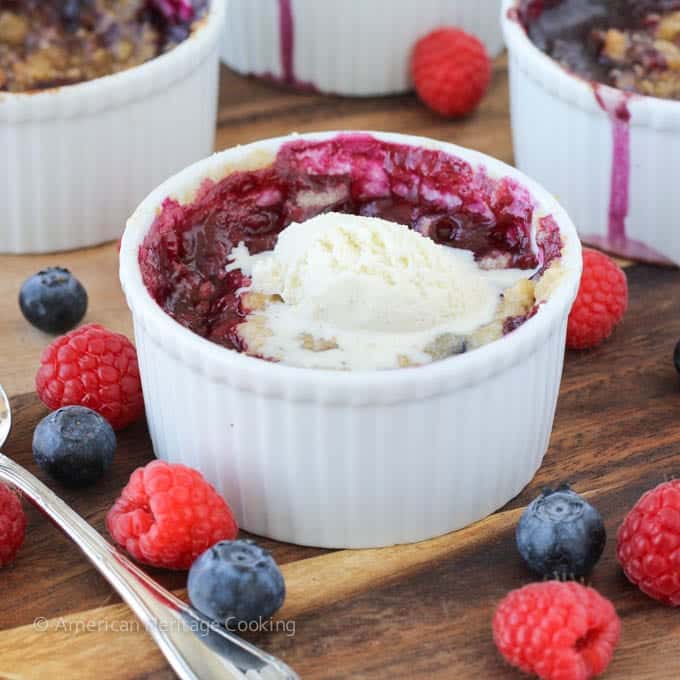 But before you stick your nose up at this magically simple and easy dessert, just know that there is way more brown sugar crumble topping on each of these than has any right to be there. The filling bubbles up as it bakes and hides some of the crumble topping. It's like a treasure hunt!
Just when you thought all the yummy topping was gone you find a secret cache hidden deep in the juicy fruit filling. Mmmmm
What? I like my crumble topping! I thought this was a judgment free space?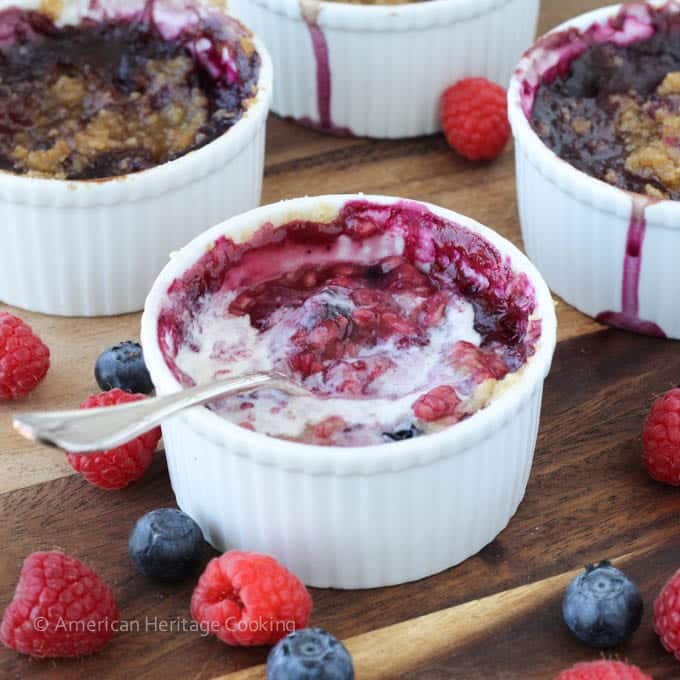 These Individual Blueberry Raspberry Crumbles are begging to be your July 4th dessert. They will be the star of your party! Nothing celebrates this Country's independence quite like an old-fashioned, All-American fruit dessert!
And as a bonus they took less than 10 minutes to throw together.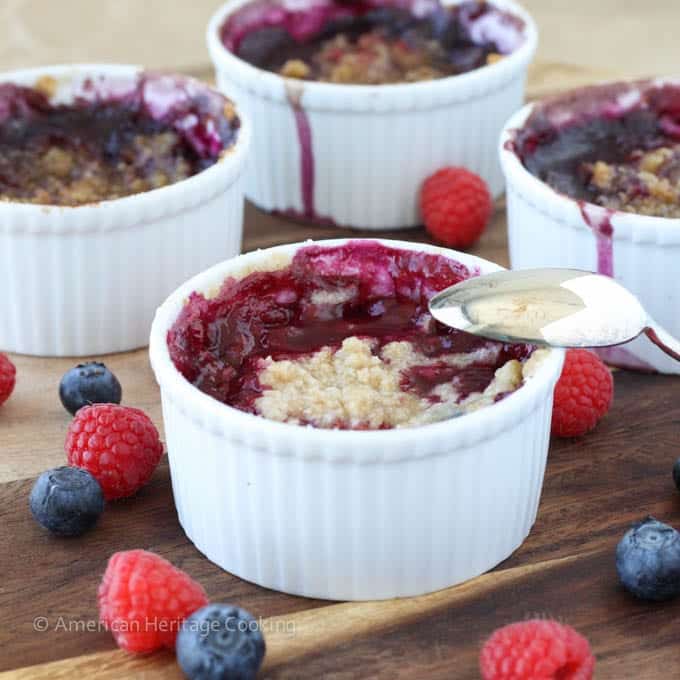 And the ice cream? Not optional. It's just not.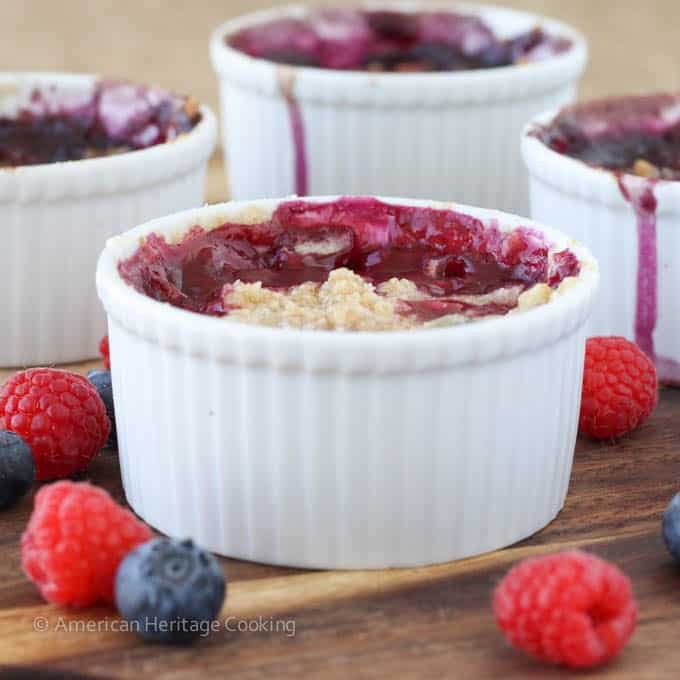 If you would rather make one large crumble, just double the recipe and bake it in a pie plate instead. Easy peasy.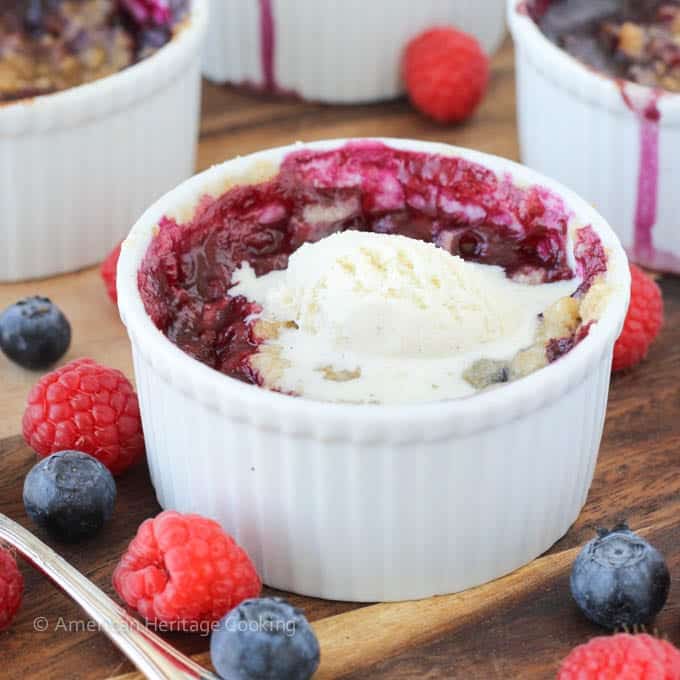 Individual Blueberry Raspberry Crumbles
These Individual Blueberry Raspberry Crumbles are perfectly portioned for one with a generous amount of brown sugar crumble topping!
Instructions
Prepare the Crumble:
Preheat the oven to 375°F and butter 6 small ramekins.

Combine sugars, flour, salt, cinnamon and lemon zest with a whisk. Cut the butter into the flour mixture using two knives or a pastry blender until the mixture resembles coarse crumbs.
Prepare the Crumbles:
Fill each ramekin with a mixture of blueberries and blackberries almost to the top.

Top each ramekin with the crumble, mounding it up in the center.

Bake on a baking sheet for 20-25 minutes or until the topping is crispy and the filling is bubbling.

Let cool slightly before serving. Serve with ice cream or whipped cream!
Notes
Let's get into it
like a
PROFESSIONAL CHEF
:
Presentation
–
Bonus points for serving this crumble with a mound of
vanilla bean ice cream
or a generous spoonful of
vanilla bean anglaise
.
Flavor Tips
–
Taste your fruit! You might want more or less sugar depending on the ripeness of the berries. I like to mix and then taste to get a real indication of how the flavors will meld.
Technique
–
Berries release a lot of juice when they are cooked, so this crumble is definitely a little runny even when cooled. The key to a thicker filling here is to make sure it bakes long enough! Wait to take the crumble out of the oven until after you can see the filling bubbling. More is more when it comes to crumble topping. The beauty of this recipe is that it allows for some to sink in and absorb some of the fruit juices and some to stay on top and get nice and crispy.
Helpful Tools
–
I use a pastry blender to make my butter topping crumbly, homogenous, and clumpy. But, you could also do this in a food processor or stand mixer if you so choose.
Variations
– If you use less crumble topping and you add a few more berries to each, this recipe will make 6 small ramekins. You can also double the recipe above and bake it in a 9 inch pie dish.
Storage
–
Store baked crumble in a covered dish at room temperature or tightly wrapped in the refrigerator or freezer. Baked crumble will keep for 3 days at room temperature, 10 days in the refrigerator or up to 3 months tightly wrapped in the freezer. The crumble topping can be made in advance and refrigerated for 7 days or frozen for up to one month.
Nutrition
Calories:
150
kcal
|
Carbohydrates:
20
g
|
Protein:
1
g
|
Fat:
8
g
|
Saturated Fat:
5
g
|
Polyunsaturated Fat:
1
g
|
Monounsaturated Fat:
2
g
|
Trans Fat:
1
g
|
Cholesterol:
20
mg
|
Sodium:
52
mg
|
Potassium:
75
mg
|
Fiber:
2
g
|
Sugar:
11
g
|
Vitamin A:
257
IU
|
Vitamin C:
15
mg
|
Calcium:
16
mg
|
Iron:
1
mg
Like this? Leave a comment below!