Bircher Müesli overnight oats is a simple, satisfying breakfast! Healthy oats, milk, fruit and nuts come together in one delicious, make-ahead meal!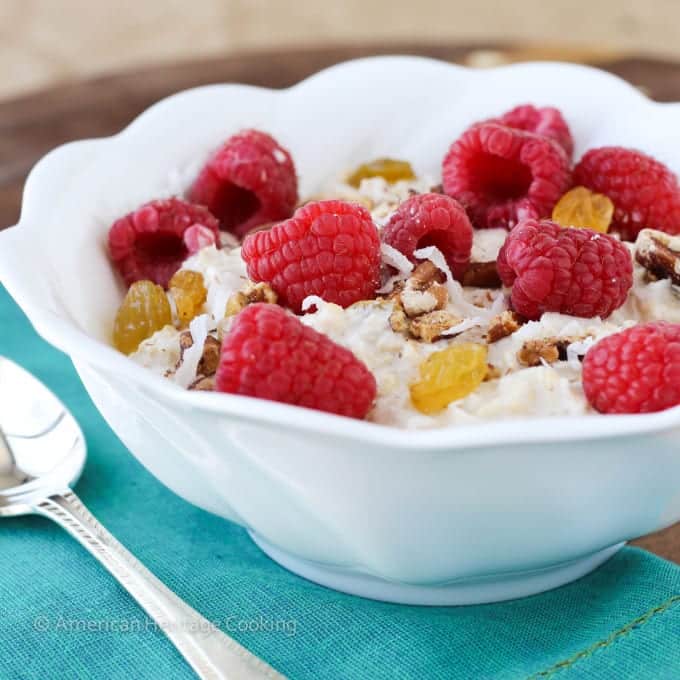 I cannot even tell you how sick I am of hot oatmeal. In fact, it doesn't matter how many spices I add or what nuts, raisins and fruit I add on top! Honestly, I'm over it. It reminds me of Winter. Now that it's springtime, it's time to shake up breakfast! With that in mind, let me introduce you to my new favorite: Bircher Muesli!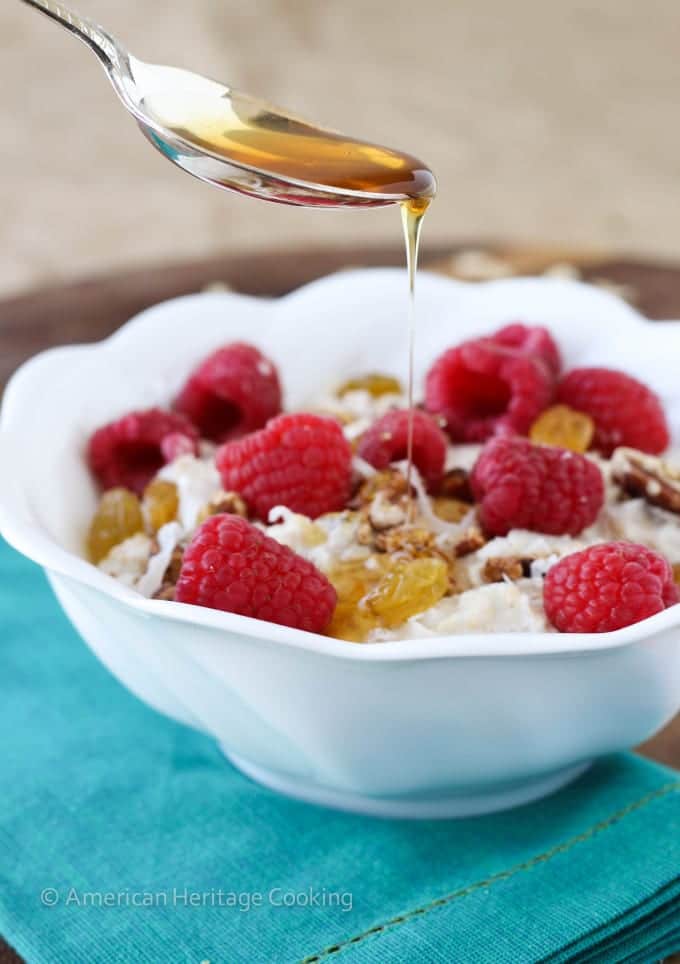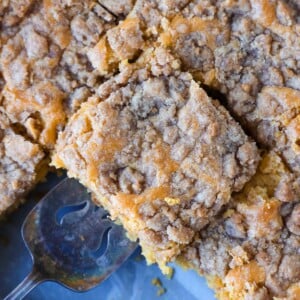 I was first introduced to this creamy overnight oat concoction when my family was living in Hong Kong. And let me tell you, I have ordered it at any restaurant serving it ever since. But for some odd reason, I never tried making it myself…until last week.
In conclusion, I'm in love.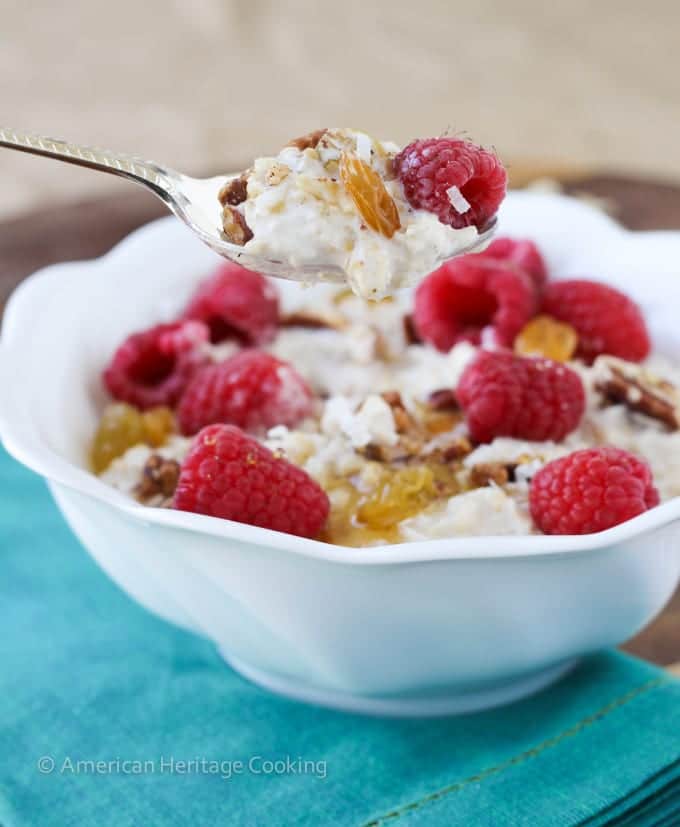 The wonderful thing about this simple, healthy breakfast is that you can easily tailor it to your taste or mood. In essence you can even tailor it to what you have on hand! In other words any combination of nuts, dried and/or fresh fruit would be marvelous!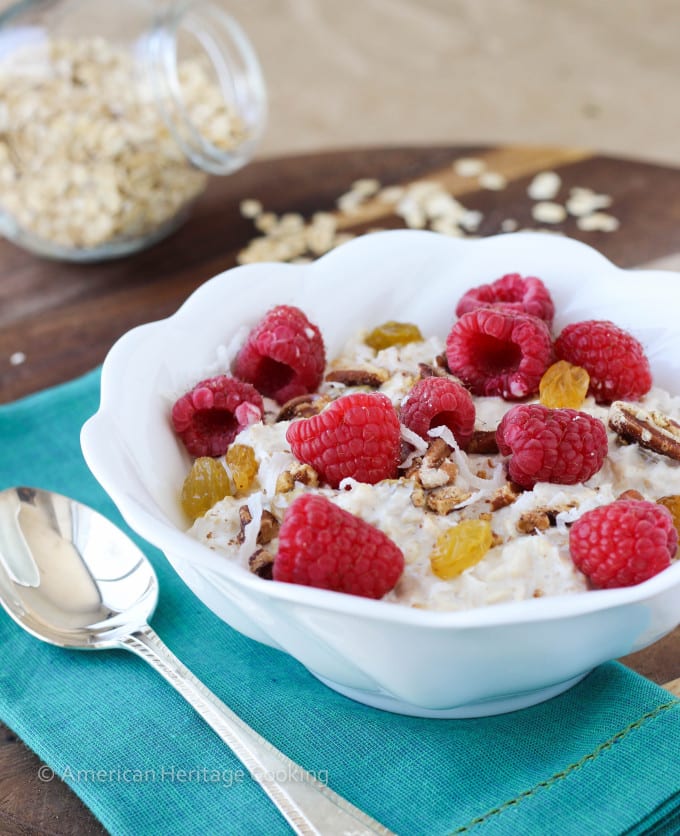 The only mix-in that I feel is mandatory is the grated Granny Smith Apple. Significantly, it's been in every variation that I have ever ordered. I've written my personal favorite combination below. The coconut, toasted pecans and raisins have the perfect hint of sweetness and crunch to counterbalance the tart, creamy oatmeal mixture!
If you want to cut calories (Hello, bathing suit!) then feel free to use skim milk and fat free yogurt, but I think there is a HUGE taste difference, and for me, personally, I prefer the flavor and satiety given by low fat milk and yogurt.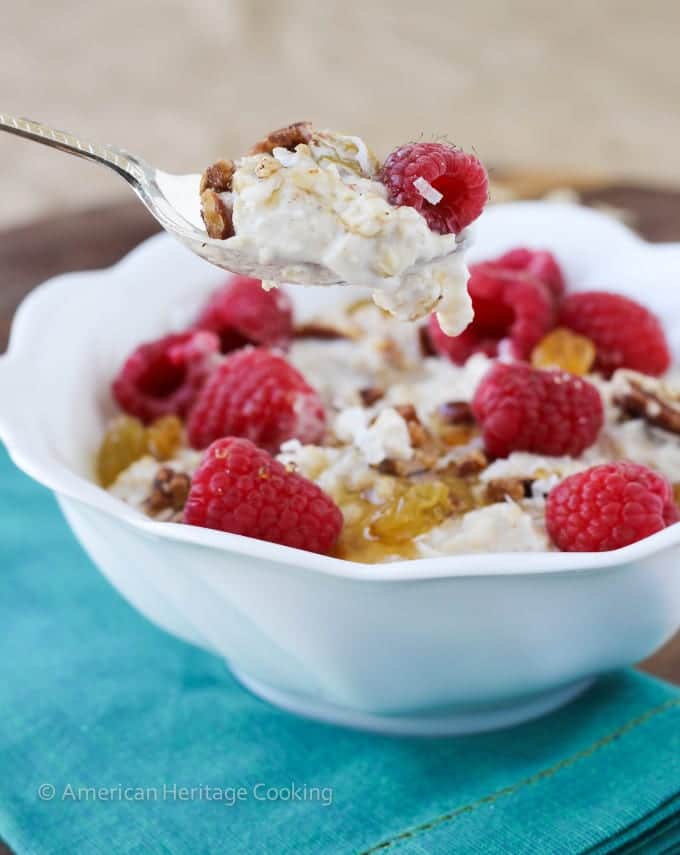 This Bircher Müesli sticks to the ribs and keeps me full for hours without the superfluous warmth of hot, cooked oats! Summer here we come!
And not to toot my own horn, but this is waaaay better than any bircher muesli I've ever had in a restaurant! Just sayin'…
If you're a nerd, like me, and you want to know about the invention of this fabulous Swiss breakfast, then I suggest you hang out with my friend, Wikipedia. 🙂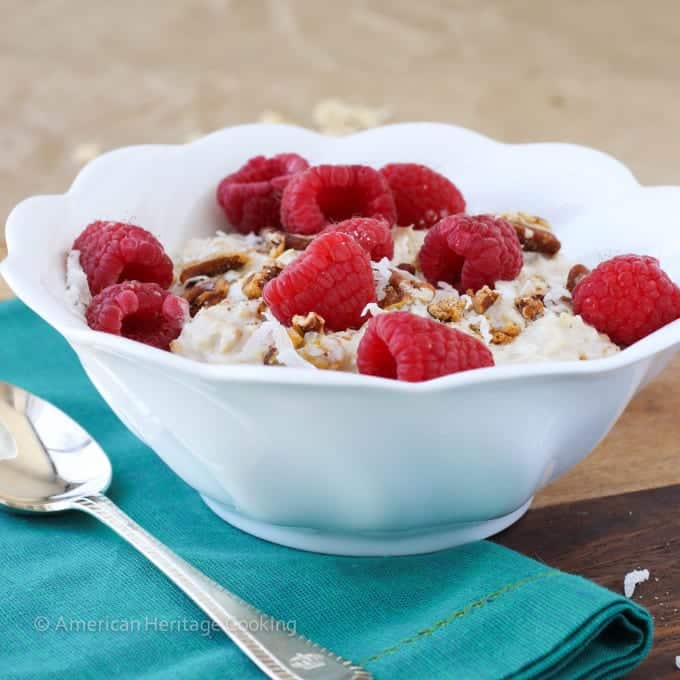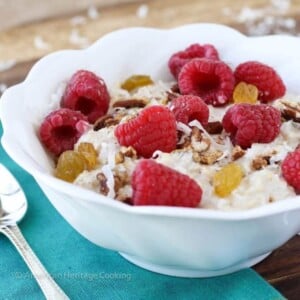 Bircher Müesli – Overnight Oats
Bircher Müesli overnight oats is a simple, satisfying breakfast! Healthy oats, milk, fruit and nuts come together in one delicious, make-ahead meal!
Instructions
The night before, mix oats, milk, lemon juice, lemon zest, and apple in a large, sealable container. Let sit over night, covered in the refrigerator.

Right before serving mix yogurt, honey, raisins, and cinnamon into the oat mixture. Top with pecans and fresh fruit!

Wasn't that obscenely easy?
Notes
Note: *Lemon Zest: I use the zest from a whole lemon but I think most people would find it overpowering. Be sure to only use the dark yellow portion of the zest especially in this recipe where it will be raw.
Mango would also be super yummy for a tropical twist.
CALORIES: The calorie count is based on the oats, milk, lemon, apple, and yogurt. All other add-ins would be additional. The way I make it, it is approximately 425 calories.
I actually make up a full batch (4 servings) and then make them a serving at a time. I also may or may not use more raisins and coconut. Bad, Lindsey! Tastes so good!
Nutrition
Calories:
313
kcal
|
Carbohydrates:
52
g
|
Protein:
15
g
|
Fat:
6
g
|
Saturated Fat:
3
g
|
Polyunsaturated Fat:
1
g
|
Monounsaturated Fat:
1
g
|
Trans Fat:
1
g
|
Cholesterol:
13
mg
|
Sodium:
76
mg
|
Potassium:
374
mg
|
Fiber:
6
g
|
Sugar:
22
g
|
Vitamin A:
185
IU
|
Vitamin C:
5
mg
|
Calcium:
228
mg
|
Iron:
2
mg
Like this? Leave a comment below!