These Apple Cinnamon Rolls are soft, tender, gooey cinnamon rolls with a generous layer of cinnamon apple compote rolled inside! This Apple Cinnamon Rolls Recipe is topped with an easy cream cheese frosting for the perfect breakfast.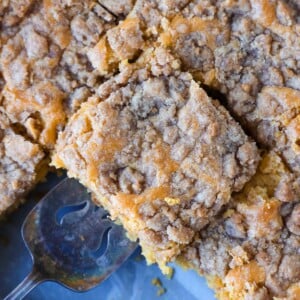 These Apple Cinnamon Rolls have a soft dough rolled up with a generous amount of cinnamon filling and apple compote! Each roll browns a little on the outside but they stay soft and gooey on the inside. Every single bite is packed with cinnamon, brown sugar and apples.
This apple cinnamon rolls recipe uses the same dough as The Best Cinnamon Rolls, because it truly is the best. You could also make a sourdough version by using the dough from my Sourdough Cinnamon Rolls, and this Easy Apple Compote tastes good on savory dishes as well, so making extra would be delightful.
Tips for the best Apple Cinnamon Rolls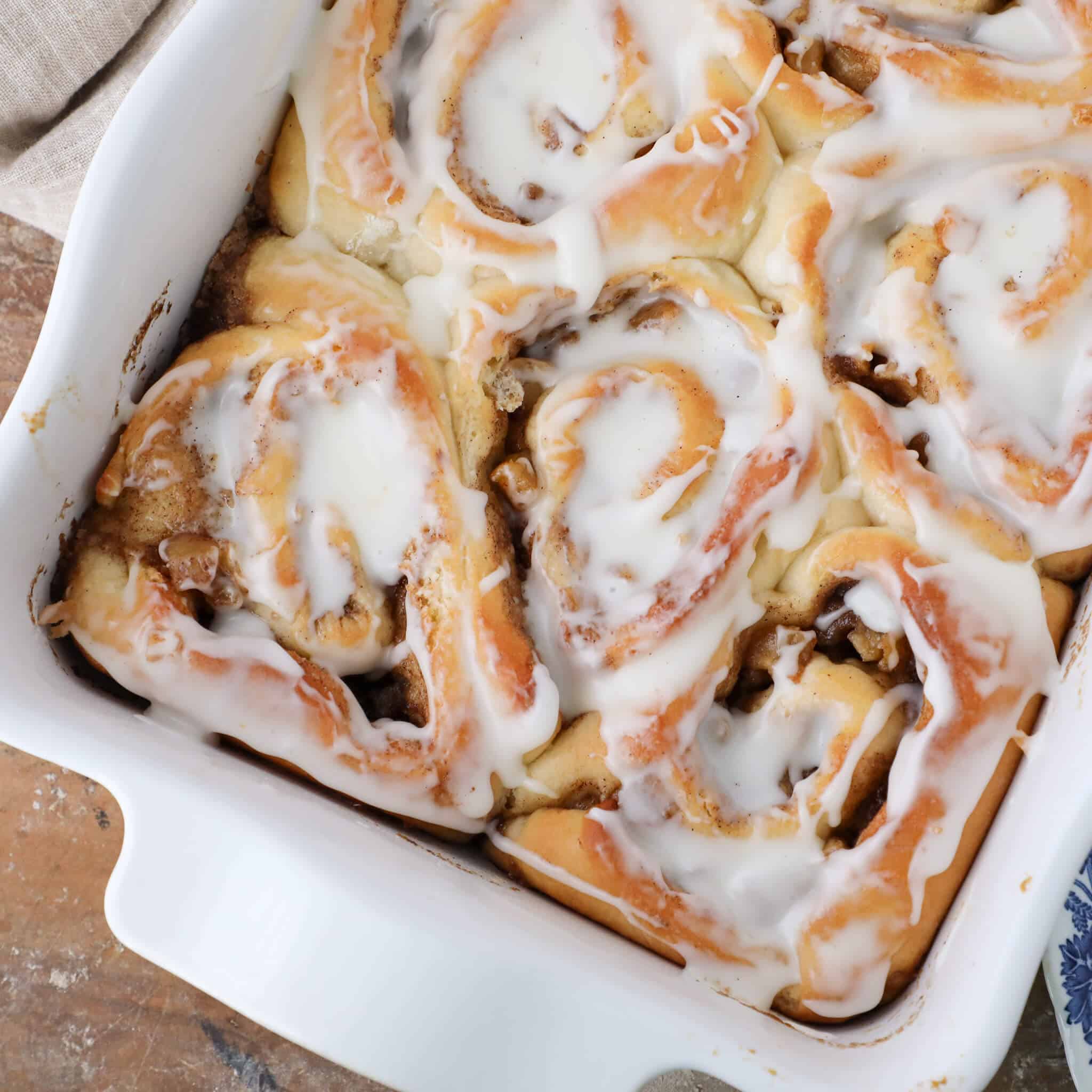 Ingredients
Possible Substitutions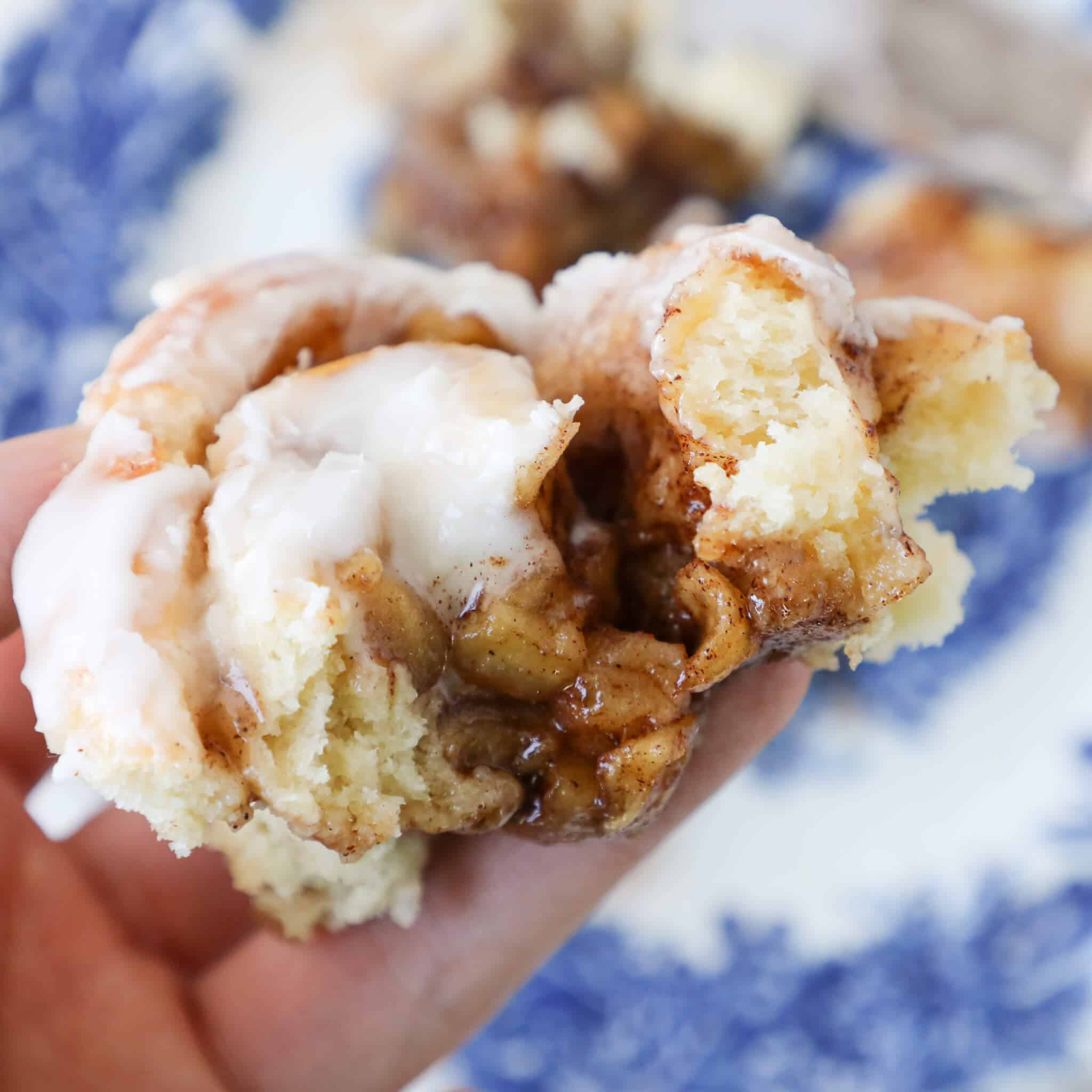 Frequently Asked Questions about Apple Cinnamon Rolls
Do apple cinnamon rolls need to be refrigerated?
Apple cinnamon rolls are stored best tightly wrapped at room temperature, though they can also be refrigerated. They are best the day they are baked.
How long until apple cinnamon rolls go bad?
Cinnamon rolls keep for 3 days at room temperature or a week refrigerated. They will slowly dry out as time passes, so keep in mind to eat as many as you can the day you bake them.
When can you freeze homemade apple cinnamon rolls?
You can freeze the baked, un-iced, cinnamon rolls. They will still be a little dry upon reheating but freezing is a better idea than refrigerating. Allow your apple cinnamon rolls to thaw, uncovered, at room temperature and then warm in a 325°F oven until warmed through. Make the icing and glaze them just before serving!
How long in advance can I make apple cinnamon rolls?
There is too much yeast in this recipe to prepare the apple cinnamon rolls dough too far in advance of baking. The process can be slowed by proofing at each stage in the refrigerator and then stored overnight in the freezer. Bake when fully proofed even if still frozen. Isn't yeast magical?!
Can I use this recipe in bulk for more apple cinnamon rolls?
Yes! As always with pastry recipes, use your kitchen scale, because weighing the ingredients will have much better results. This is particularly important with bread even one as simple as cinnamon rolls.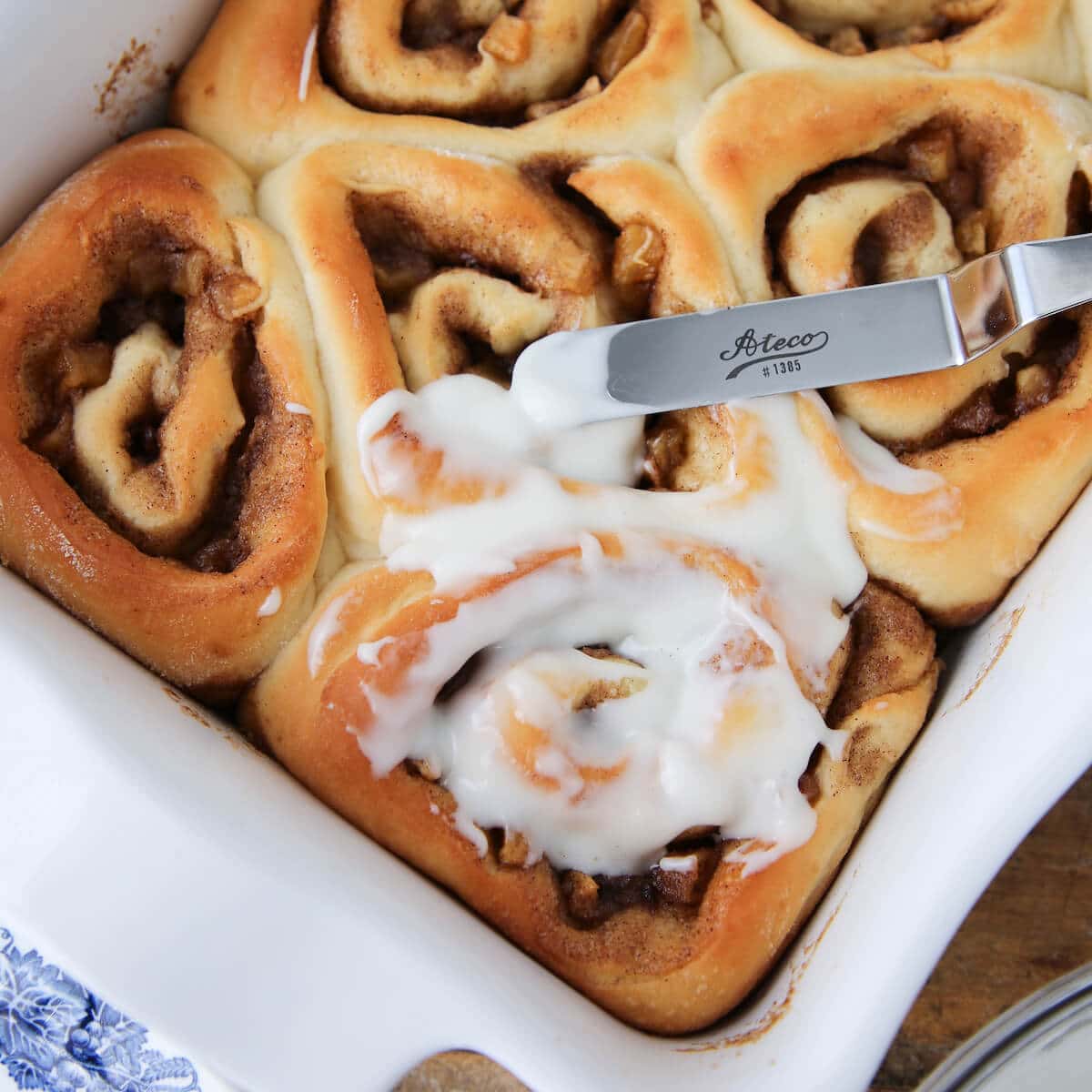 Possible Variations on Apple Cinnamon Rolls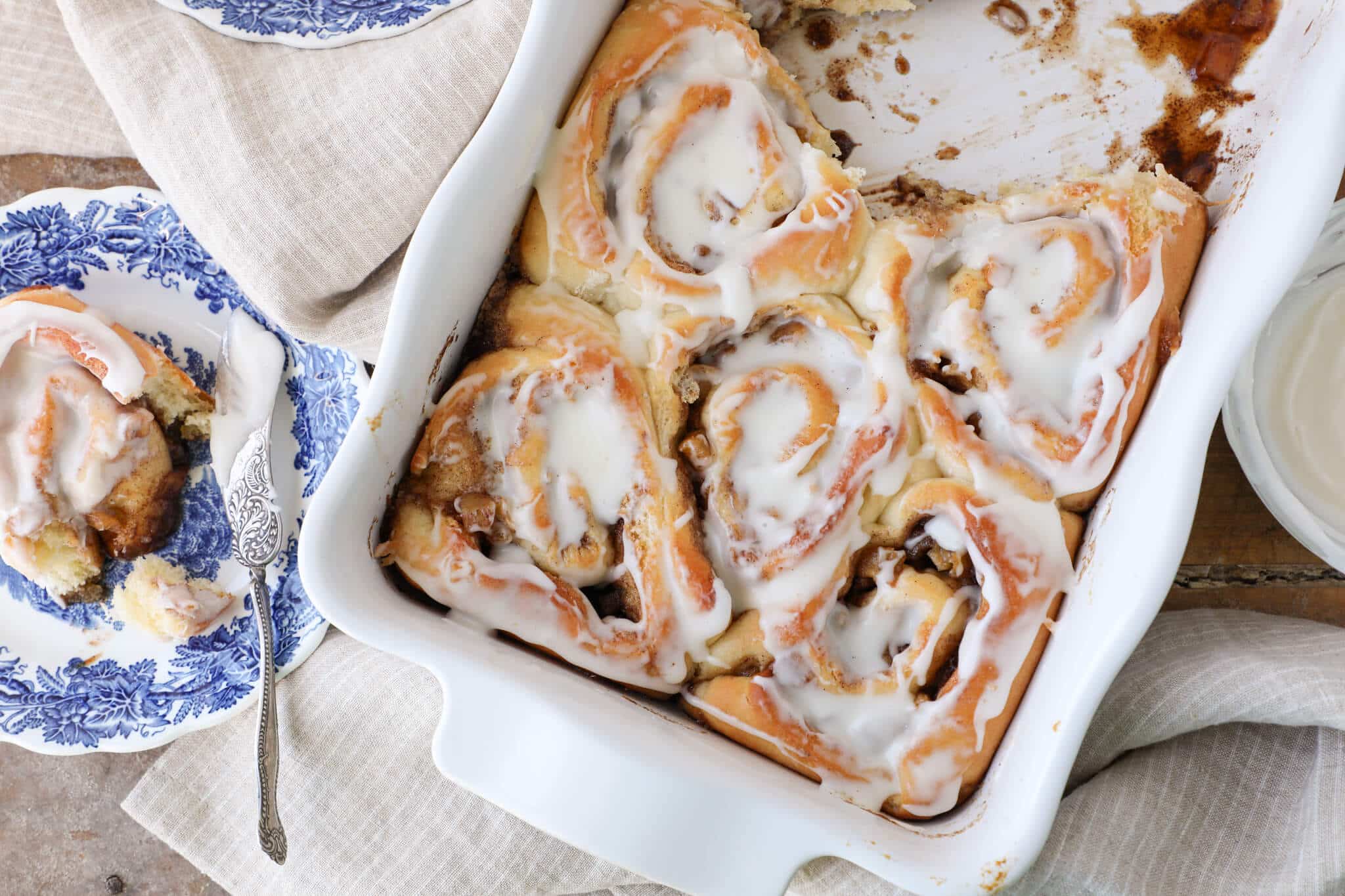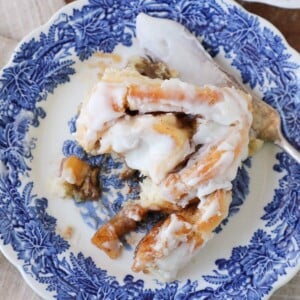 Apple Cinnamon Rolls
These Apple Cinnamon Rolls are soft, tender, gooey cinnamon rolls with a generous layer of cinnamon apple compote rolled inside! They are topped with an easy cream cheese frosting for the perfect breakfast.
Ingredients
For the Cinnamon Sugar Filling:
For the Cream Cheese Icing:
Instructions
Make the Dough:
In the bowl of a stand mixer add the warm milk then sprinkle the yeast over the surface. Whisk to break up any clumps. Allow to bloom (sit unperturbed) for 10 minutes or until bubbly.

Add the remaining ingredients for the dough to the bowl. All at once! Just dump it in there!

Fit the mixer with the paddle attachment and mix until incorporated and no lumps remain. Switch to the dough hook. Mix on medium for 3-4 minutes. The dough will pull away from the sides of the bowl and you will be able to pull a window pane. It is a stickier dough but don't be dissuaded.

Turn out into a bowl sprayed with cooking spray. Give the dough one series of folds. Starting on one side, pull the dough up and fold it halfway towards the center. Rotate the bowl a quarter turn and repeat with each side until you have a little dough packet. Turn it seam-side down. The top should be smooth. Cover with plastic wrap and bulk proof in a warm spot for 30-45 minutes. My oven has a proof setting that I use at 85°F. When it has doubled, it is done!

You can also proof the dough in the refrigerator. This is called "retarding" the dough. It will make it proof slower but the cold dough will be easier to work with.
Make the Filling:
While the dough proofs, make the filling. In a bowl, mix together butter, sugar and cinnamon. Mix until a paste forms. Set aside.
Roll Dough Out:
Cover your counter generously with flour and turn out your dough onto the counter. A bowl scraper or rubber spatula helps here because the dough is sticky. Sprinkle a generous amount of flour on top of the dough and flour a rolling pin.

Roll the dough out into a rectangle 12 inches long by 10 inches high. (Try to keep those sharp corners! It's harder than it looks but it's good to have goals, right?) Once you have your rectangle, spread your filling with an offset spatula. Sometimes it is necessary to let your fingers join the party to help spread/hold the dough. I purposefully keep a border on the top and the bottom edge. Distribute the cooled apple compote over the cinnamon sugar paste.

Starting at the bottom edge (12 inches across) start to roll away from you. Seal the top edge. Cut approximately 1 inch pieces with a knife (or your bench scraper). This makes 12 rolls. You can also cut the log into 8 equal pieces for larger rolls.

Spray a 9"x 11" baking dish with cooking spray and then place the cinnamon rolls about 2 inches apart. I offset them so I have a row with 2 and then one in the center followed by another row of 2 and so on. This gives them space to proof and grow without crowding.

Cover with plastic wrap and place back in your warm spot to proof an additional 20-40 minutes. I proofed 20 and then remove the dish to another spot and preheat my oven to 350°F convection. The smaller rolls will proof and bake faster than 8 larger ones.

Remove the plastic wrap and bake 350°F for approximately 15-20 minutes. Mine baked in 18 minutes. They will be golden brown around the edges and a bit on top and the centers will no longer look or feel doughy. You can also test with a cake tester. It should come out clean.

Allow to cool before icing.
Assemble:
Mix all the ingredients for the icing together. I find a spatula easier to use than a whisk to incorporate the cream cheese. I kept mine a bit thicker so that I could spread it on the cinnamon rolls still warm from the oven. A little bit of heaven on earth to be sure!
Nutrition
Calories:
389
kcal
|
Carbohydrates:
63
g
|
Protein:
5
g
|
Fat:
14
g
|
Saturated Fat:
8
g
|
Polyunsaturated Fat:
1
g
|
Monounsaturated Fat:
4
g
|
Trans Fat:
0.4
g
|
Cholesterol:
49
mg
|
Sodium:
217
mg
|
Potassium:
142
mg
|
Fiber:
2
g
|
Sugar:
41
g
|
Vitamin A:
458
IU
|
Vitamin C:
0.4
mg
|
Calcium:
52
mg
|
Iron:
2
mg
Like this? Leave a comment below!
Before You Go!
Check out our other delicious, chef-developed recipes for Breakfast + Brunch or check out the 20 Best Apple Dessert Recipes!