This Bourbon Cherry Caramel Ice Cream is a smooth, rich caramel ice cream with a homemade cherry jam swirl and Bourbon soaked cherries! The ice cream tastes like Werther's Caramel candies and is creamy perfection!
Two ice cream posts in one week!? Lindsey, show some restraint!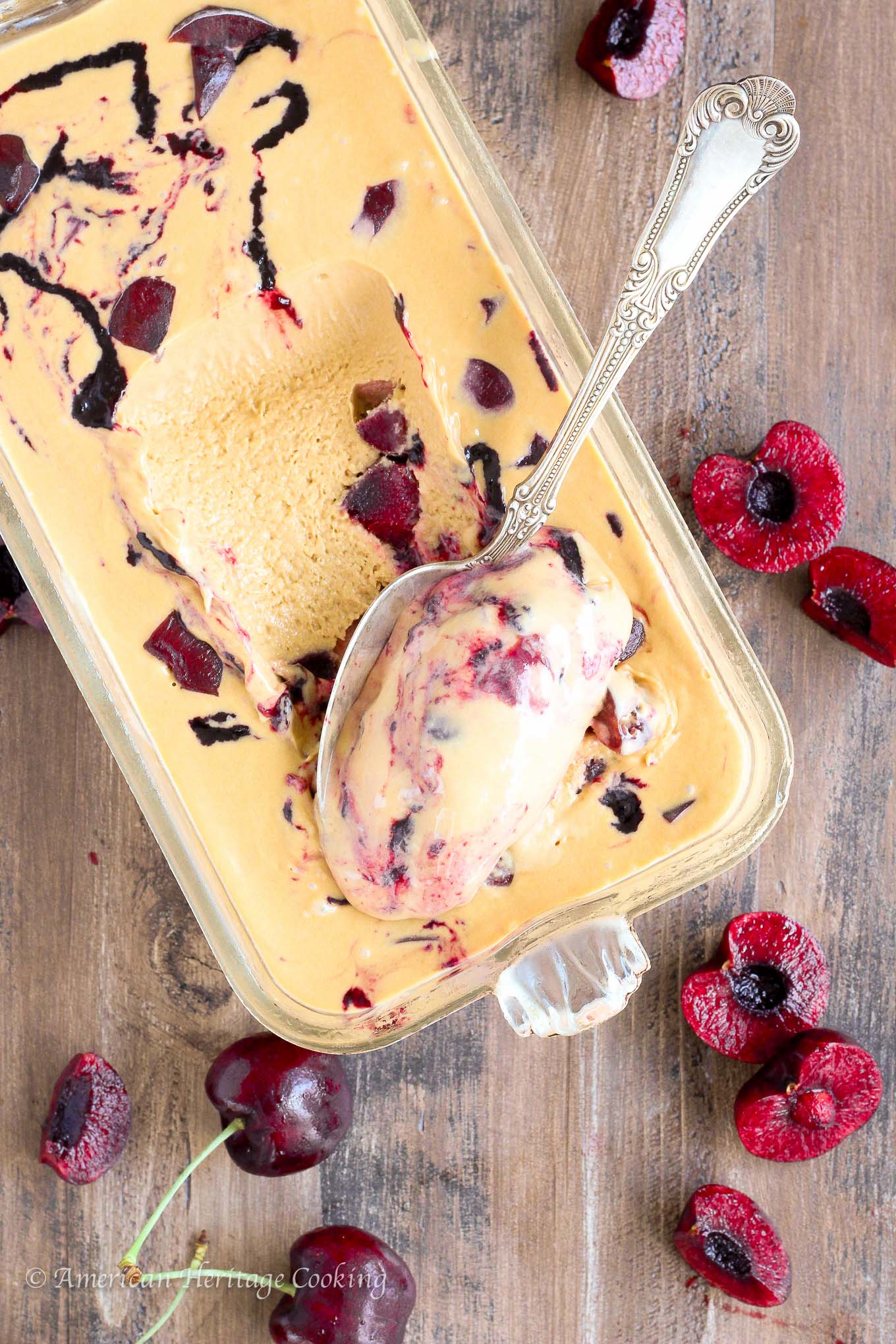 Can't stop. Won't stop!
But to be fair, ice cream is life, so really this post is essential.
I'm just doing my civic duty. Not all heroes wear capes, people. Some come with bourbon soaked cherries in caramel ice cream.
Full disclosure: This ice cream tastes like I melted down Werther's Original candies and created the creamiest, smoothest ice cream out of them. I live here now. If you are more of a caramel swirled in your ice cream kind of person, you will love this strawberry caramel cookie ice cream or this double chocolate caramel ice cream!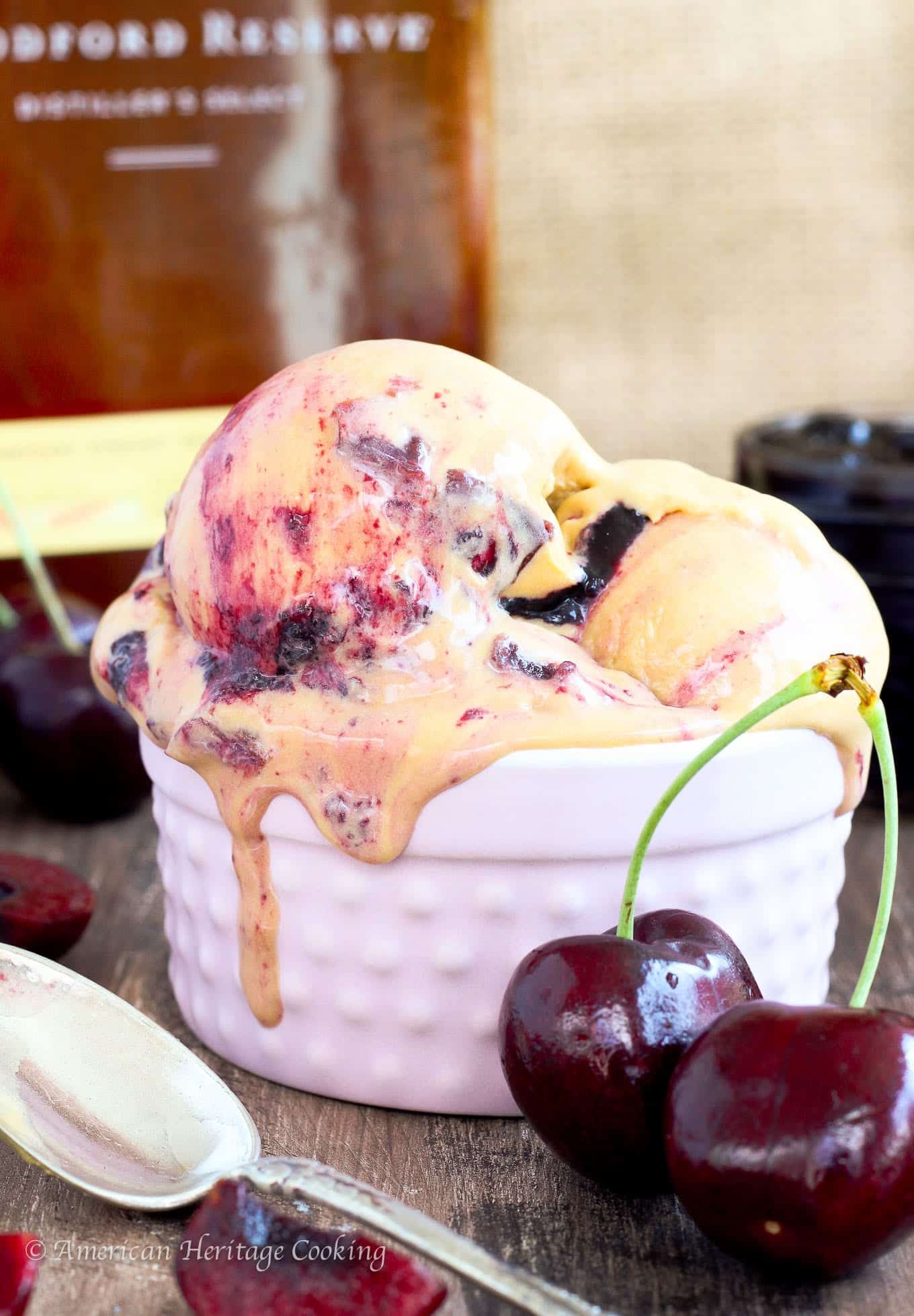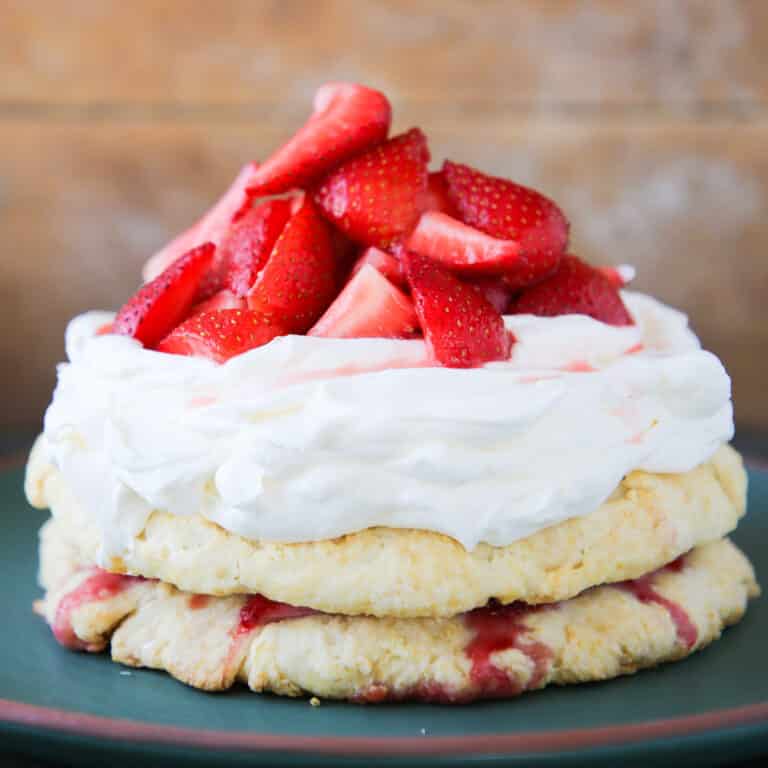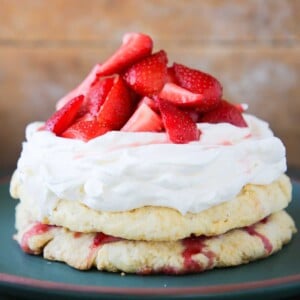 Last year was my first year as a pastry chef in NYC and I felt like cherry season was over in the blink of an eye. So many regrets.
Lesson learned.
This year I vowed not to let it slip away. It's like a personal challenge. Bring on ALL THE CHERRIES!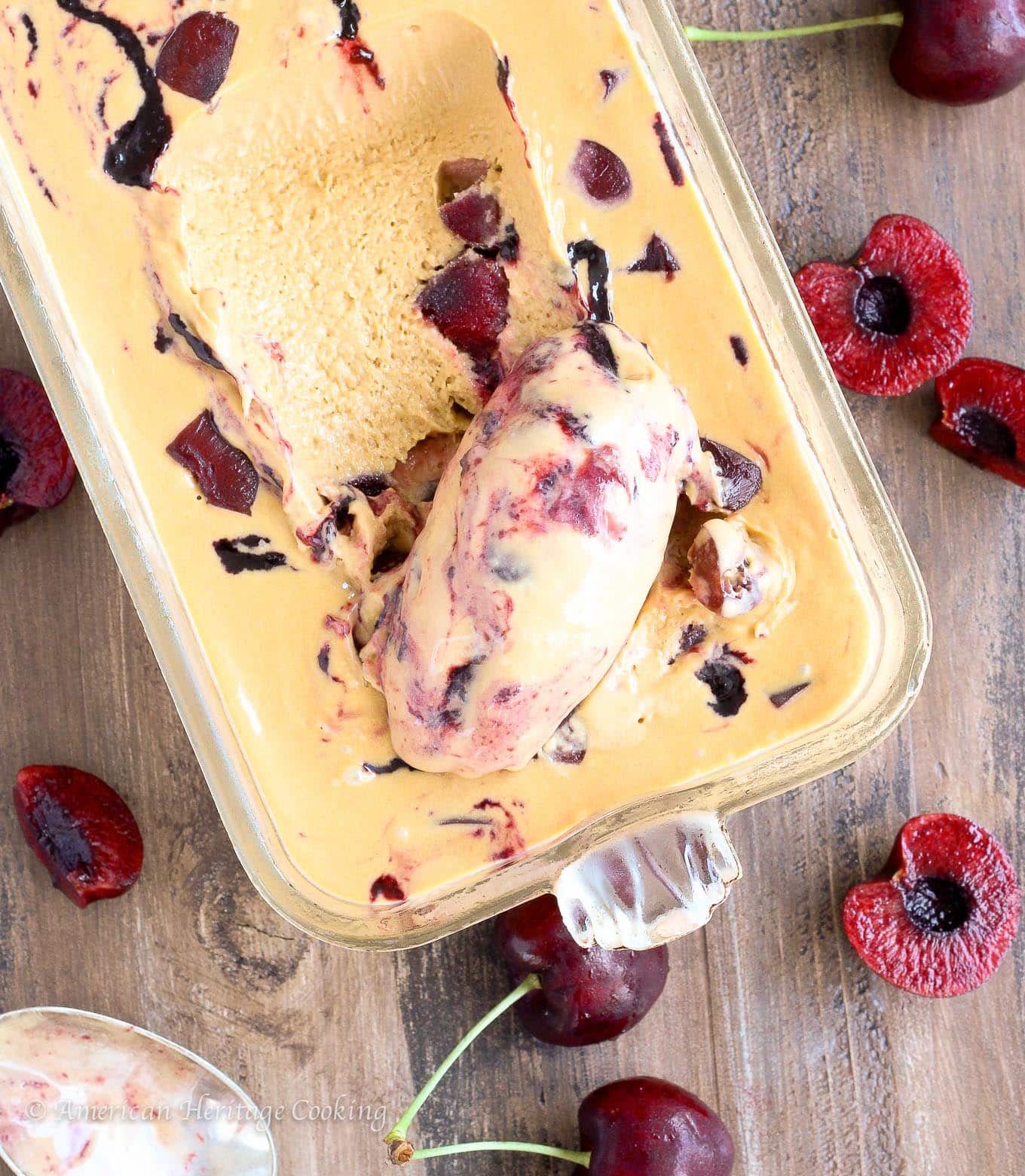 Like they do in my Raspberry Sorbet recipe, the fresh berries take this caramel ice cream to the next level. And, while we're at it, you could always make extra cherry jam to stash some away for when you're missing them! No regrets will be tolerated here!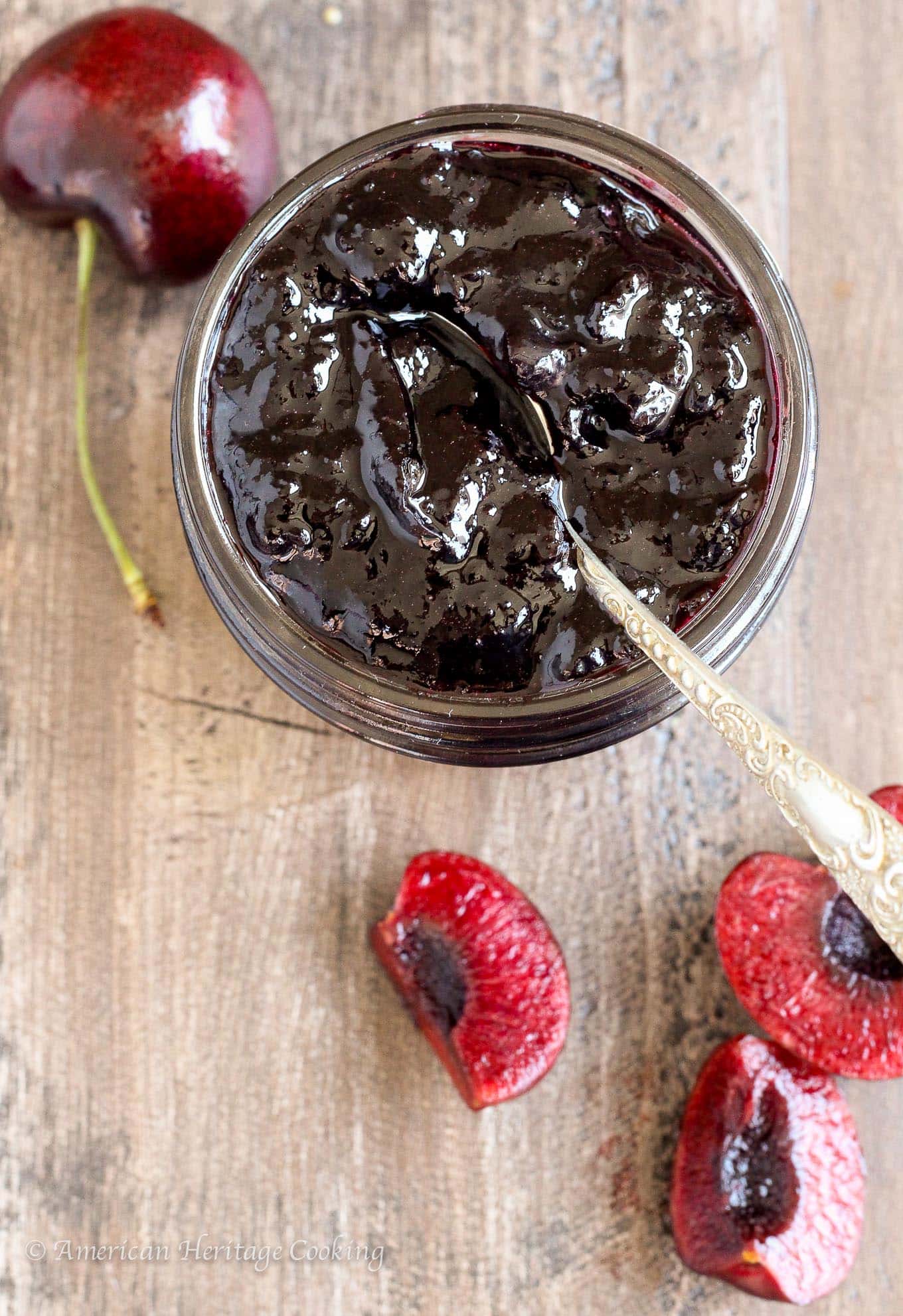 I don't know why but cherries and caramel cry out for Bourbon. They just do.
They asked, I just acquiesced and put all three together in the most decadent caramel ice cream you could possibly imagine. It is smooth and rich but not too sweet!
You are going to Luuuurve this Bourbon Cherry Caramel Ice Cream!! Like sneak into the kitchen after midnight for just one more bite kind of love 😉
Tips for the best Bourbon Cherry Caramel Ice Cream:
I took the caramel to a very dark amber, right on the cusp of being ruined, so that the resulting ice cream wouldn't be too sweet. You could play it safe with a lighter caramel but I say, walk on the wild side! Live dangerously [Plus the worst thing that could happen is that you have to start your caramel again]
Then there are the little bits of bourbon soaked cherries and the river of sweet cherry jam!
The Bourbon also keeps the cherries from getting icy in the freezer which is obviously necessary
You could be super extra and put whiskey in the caramel ice cream too. I will never keep you from living your best life… pour it up! A word of caution: this will make the ice cream super soft because alcohol inhibits freezing and so does sugar!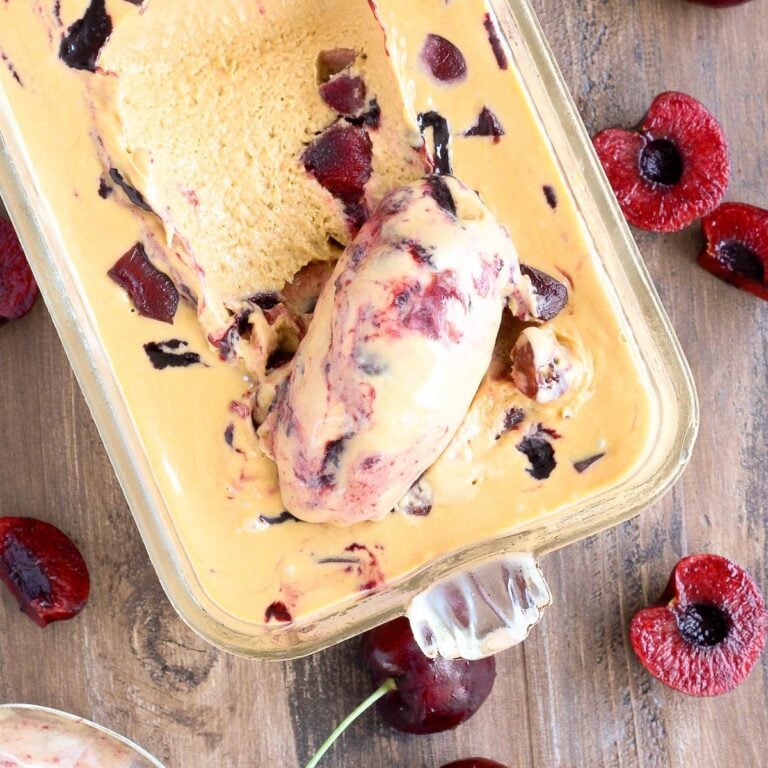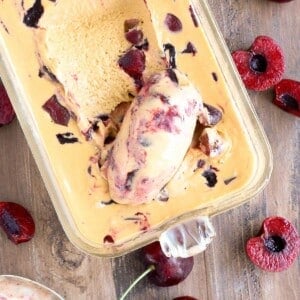 Bourbon Cherry Caramel Ice Cream
This Bourbon Cherry Caramel Ice Cream is a smooth, rich caramel ice cream with a homemade cherry jam swirl and Bourbon soaked cherries! Absolute magic happens when you pair salted caramel with Bourbon and cherries
Ingredients
For the Drunken Cherries:
1

cup

fresh cherries

chopped

1

tablespoon

sugar

¼

cup

Bourbon
For the Cherry Jam Swirl:
Instructions
Make The Drunken Cherries:
Mix all ingredients, cover and let macerate for at least 2 hours.

Strain. Reserve the liquid for cocktails, or pour into the ice cream base!
Make the Cherry Jam:
Combine all ingredients in a medium pot and cook on medium low until very thick. Cool.
Make the Ice Cream
Make sure you freeze the freezer bowl for your ice cream maker overnight! I just keep mine in the freezer at all times – you never know when you'll have an ice cream emergency and I don't like to be unprepared.

In a large pot combine cream, milk, salt and 1 cup sugar to the pot and bring to a boil.

In a medium bowl, whisk together the egg yolks. Whisk until a pale yellow, set aside.

While your cream mixture heats make your dry caramel with the remaining 2 cups of sugar.

Put 2 cups sugar in a pot or large saute pan (the bigger the better, then the sugar will be more spread out and heat evenly). Cook over medium high heat until the sugar begins to melt and caramelize in places. Gently stir with a wooden spoon or swirl the pot to promote even heating. Don't worry about some crystals, they'll melt back in. Take the caramel to a very dark amber – just after the caramel begins to smoke, pour it into the warmed heating cream mixture. If it seizes, don't worry, it will dissolve into the hot cream eventually. Once it comes to a boil you are going to temper into the egg yolks.

Temper the Egg Yolks: Add ¼ cup of the boiling cream mixture slowly to the eggs while constantly whisking. Once that has been incorporated, add another ½ cup of the cream mixture in a steady stream while whisking. Add the egg yolk mixture to the sauce pan with the remaining cream mixture. Stir constantly with a spatula or wooden spoon until the mixture thickens and it coats the back of the spoon or reads 180°F on an instant read thermometer. It will hold a line when you draw your finger through it. This took approximately 5 minutes. Do not let the mixture boil.

Remove from heat, whisk in the vanilla and pour into a large bowl, cover surface with plastic wrap and chill 4 hours or overnight.

Place your container to hold the ice cream in the freezer. Turn on the ice cream maker and pour the cream mixture into the moving, frozen bowl. Churn 25-30 minutes or until the ice cream is soft and creamy. It will look like soft serve.

Place the ice cream in the container, swirl in the cherries and jam. Cover and refrigerate 2 hours or more.
Nutrition
Calories:
400
kcal
|
Carbohydrates:
60
g
|
Protein:
3
g
|
Fat:
17
g
|
Saturated Fat:
10
g
|
Polyunsaturated Fat:
1
g
|
Monounsaturated Fat:
4
g
|
Cholesterol:
112
mg
|
Sodium:
641
mg
|
Potassium:
177
mg
|
Fiber:
1
g
|
Sugar:
59
g
|
Vitamin A:
726
IU
|
Vitamin C:
5
mg
|
Calcium:
61
mg
|
Iron:
1
mg
Like this? Leave a comment below!