This Baked Pear Recipe has pears filled with a simple mixture of brown sugar, cinnamon, cardamom and toasted pecans then wrapped in a flakey pastry, sprinkled with more sugar and topped with a warm butterscotch sauce.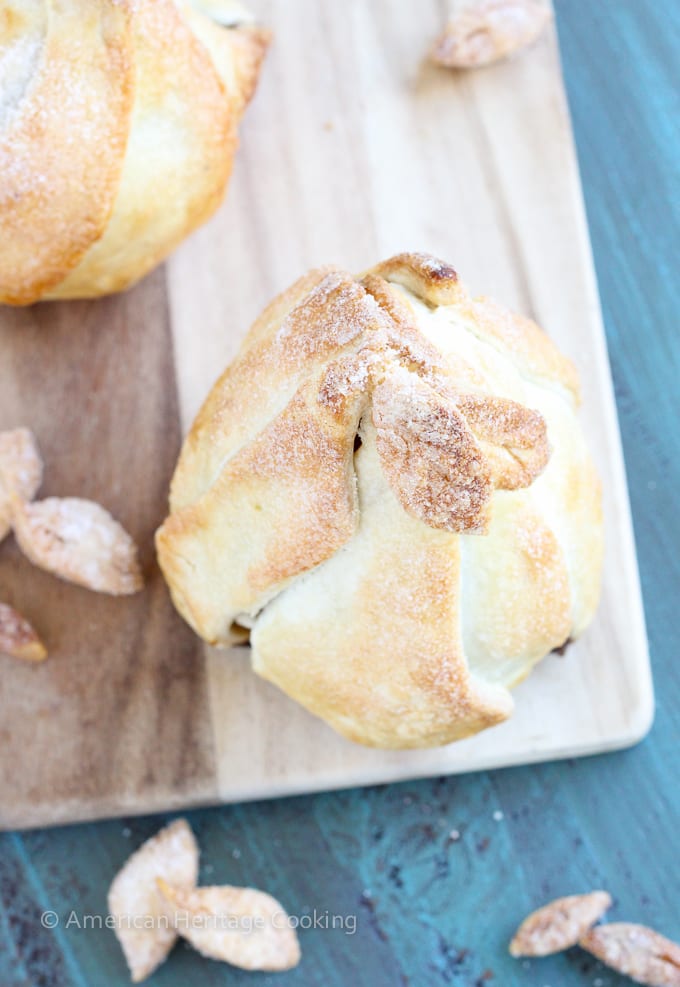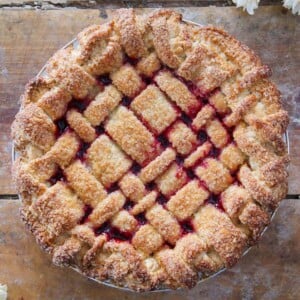 These pears are Winter Comfort Food incarnate.
Simple in it's construction but incredibly flavorful. The flavors all blend together in the oven and then the textures delight the tastebuds! Flakey, all-butter pie crust; warm pears that still have a little bit of firmness, crunchy pecans, and a silky smooth butterscotch sauce.
Nothing says "Welcome Cold Weather" like warm pears stuffed with brown sugar, cinnamon, cardamom and toasted pecans.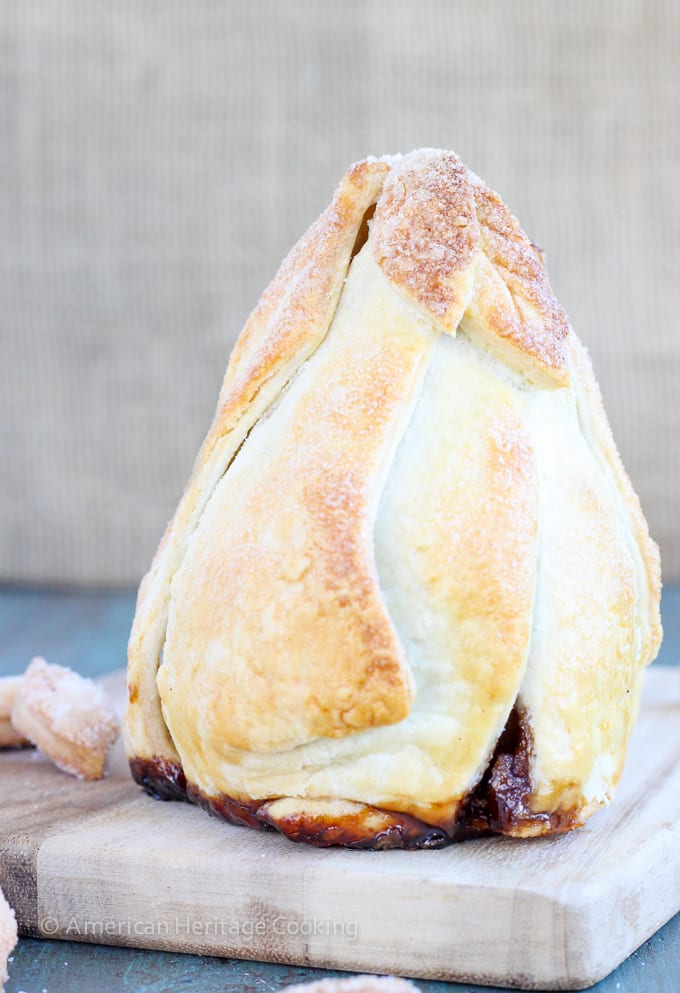 When baked the filling liquefies and becomes a delicious, sugary sauce.
And then because that isn't enough sauce (really what is?) I poured on a generous quantity of my homemade butterscotch sauce.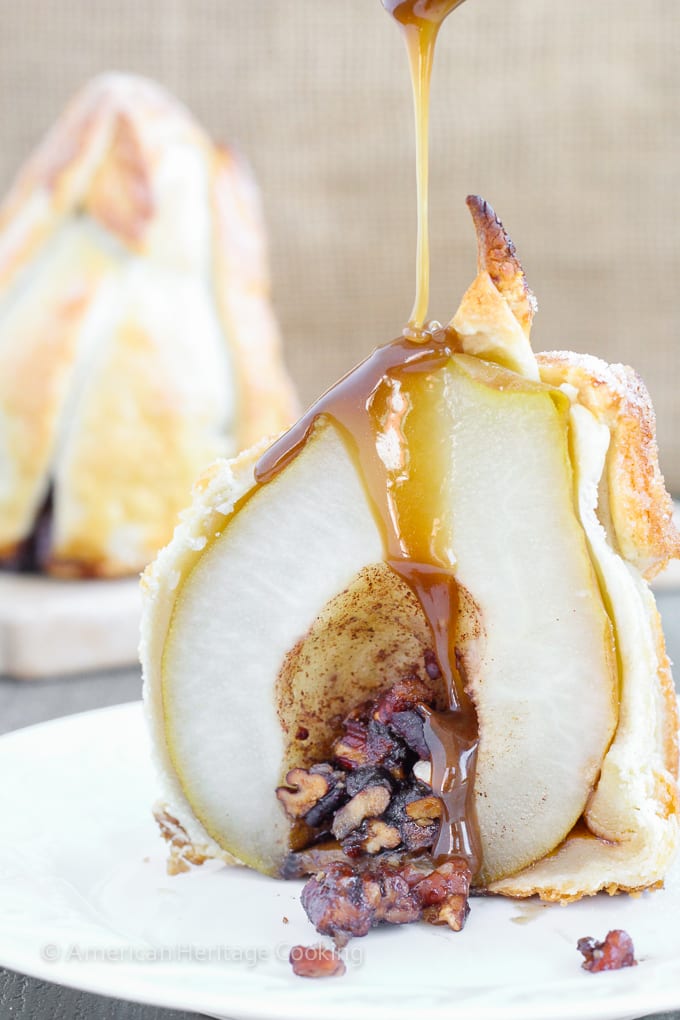 And then I just kept pouring.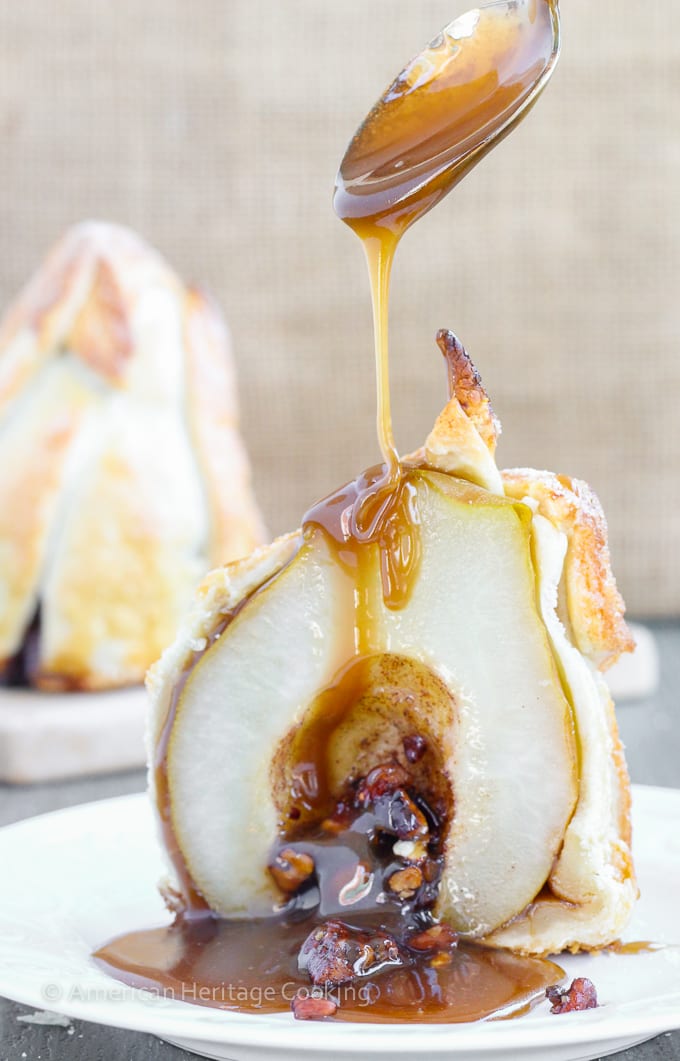 I can't even with the butterscotch, brown sugar, pear, and cinnamon combo. Cannot.
Don't you just want to dive in there face first like a baby dives into the cake at his first birthday party?
Just me?
Mentirosos. [Pardon me. I've been learning Spanish at work…I've learned all the key words like "liars" and "May I please borrow your scale"]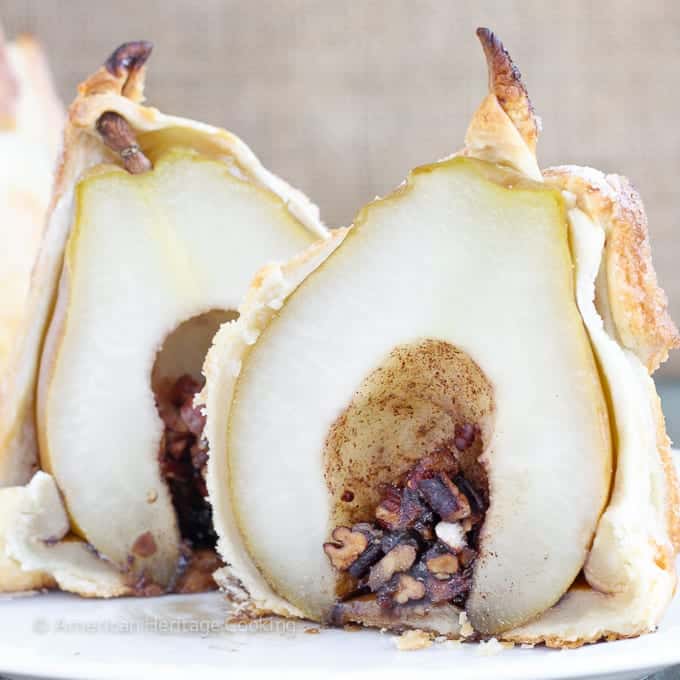 These pears would be a stunning finale to any dinner party or date night. You can prepare them in advance and then pop them in the oven for 30 minutes or you can bake them the day before and just warm them in the oven before serving.
A scoop of my French vanilla ice cream would be an amazing addition to this dessert.
Claro que si!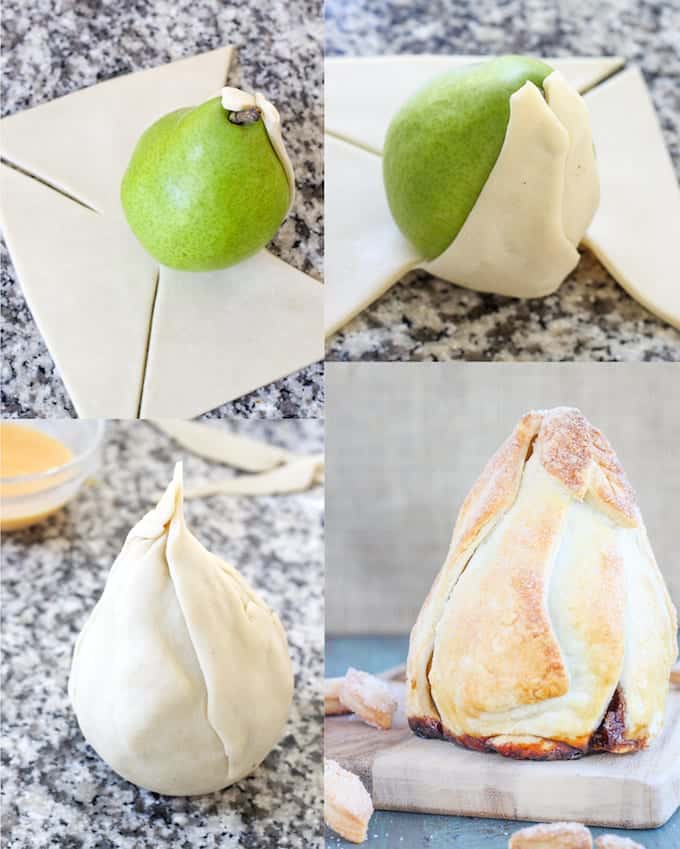 Baked Pears
These Baked Pears are filled with a simple mixture of brown sugar, cinnamon, cardamom and toasted pecans are wrapped in a flakey pastry, sprinkled with more sugar and topped with a warm butterscotch sauce.
Instructions
Make your egg-wash by beating together all the ingredients with a whisk or, my favorite, a hand-blender. A hand-blender makes it perfectly smooth and homogenous.

Mix together sugar, pecans and spices in a small bowl.

Core the pears from the bottom, leaving the stem and top in tact. The easiest way to do this is with a melon-baller – just keep scooping from the bottom until all the seeds are gone!

Fill pears with the brown sugar mixture. Stuff as much in there as you can!

Roll out your pastry until it is 1/8 inch thick. I worked with half of my dough at one time. The size that you roll it out really depends on the size of your pears. My pears were gargantuan, so I rolled mine out into a 7-inch square.

Place a pear in the center of your square and cut a slit in the dough at each corner until it almost reaches the pear.

Pick up one corner and begin wrapping the pear; egg wash one side and layer the second corner on top of the first piece of dough; press down firmly. You can press down the bottom more firmly, which will help keep all that delicious filling inside instead of on your baking sheet. Repeat until the whole pear is covered. You can stretch the dough a little if it doesn't quite fit or cut off a piece of scrap dough and fill in any gap that remains when you are finished.

I re-rolled the scraps of the first half of dough to cover the second pear and then repeated with the second half of the dough. If your pears are small enough, you can probably get 2 squares out of each rolling and there will be no need to re-roll scraps.

I cut little decorative leaves out of my scraps. Adhere any decorations with a little egg wash.

Refrigerate pears 2 hours or overnight. This will ensure your pastry is flaky!

Preheat oven to 400°F (204°C) and line a baking sheet with parchment paper.

Brush the entire surface of the wrapped pear with a thin coat of egg wash and sprinkle generously with sugar.

Bake at 400°F for 10 minutes then reduce oven temperature to 350°F (176°C) until the pastry is a golden brown and you cannot see any more raw dough in the seams, approximately 15 – 20 minutes more.
Notes
Store well wrapped in the refrigerator. You can bake these pears ahead of time and then refresh / warm them in the oven for your guests. Just preheat oven to 350°F (176°C) and bake pears 10-15 minutes until warmed through.
Nutrition
Calories:
146
kcal
|
Carbohydrates:
27
g
|
Protein:
2
g
|
Fat:
3
g
|
Saturated Fat:
1
g
|
Polyunsaturated Fat:
1
g
|
Monounsaturated Fat:
2
g
|
Trans Fat:
1
g
|
Cholesterol:
41
mg
|
Sodium:
20
mg
|
Potassium:
137
mg
|
Fiber:
3
g
|
Sugar:
22
g
|
Vitamin A:
87
IU
|
Vitamin C:
4
mg
|
Calcium:
29
mg
|
Iron:
1
mg
Like this? Leave a comment below!