This Chocolate Chip Cheesecake has an easy oreo crust! It is silky and dense, yet surprisingly light! You can't go wrong with the traditional texture and tang of a NY Style Cheesecake!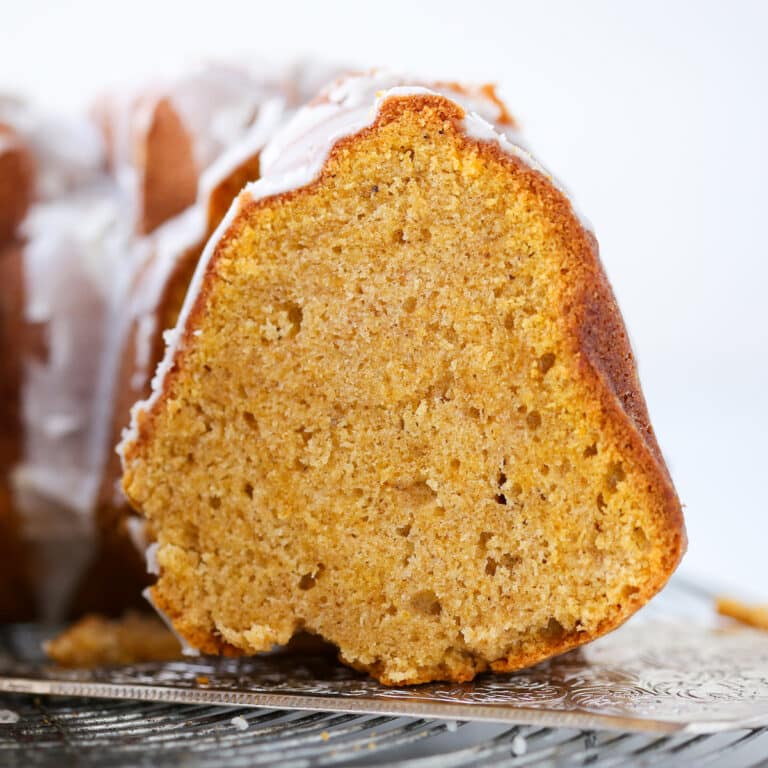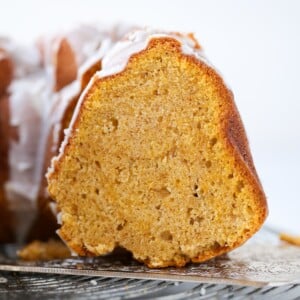 Think of the best cheesecake you've had in your life. This is better.
Mass hysteria and fights have broken out over cheesecake scraps in the restaurant. True story.
This is one such coveted recipe!
I take my cheesecake seriously. Ok, ok, fine, I take ALL pastry seriously! Cheesecake is no exception. Especially this cheesecake.
Walk with me down memory lane por favor: One year shortly after my family moved to St. Louis I couldn't make up my mind about what kind of birthday cake I wanted. I wanted a tiered chocolate extravaganza like my mom always made for me but I ALSO wanted a Dierberg's Chocolate Chip Cheesecake.
Since my Mom is the best and she takes birthdays more seriously than I take pastry, she got me both!
I don't even know if Dierberg's (a local grocery store chain) still makes these cheesecakes but my version certainly lives up to my memories of it. That is no small feat!
Anyways! The key to the perfect texture in this cheesecake is that all the ingredients need to be at room temperature, and that, yes, all that beating is necessary!
Oh, and sadly, so is baking it in a water bath.
If you are in the business of hoping for the best, you could press extra crust up the sides of the pan (rather than just the bottom) and then bake it without the water bath. It is definitely going to crack, but as long as it doesn't boil, you're golden. You could also just hit the easy button with an easy no bake cheesecake instead!
My chocolate chip cheesecake can stand on it's own but may I suggest a good spoonful of chocolate fudge sauce and fresh berries?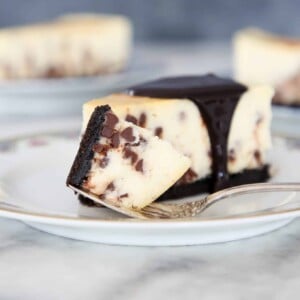 Chocolate Chip Cheesecake
This Chocolate Chip Cheesecake has an easy oreo crust! It is silky and dense, yet surprisingly light! It has the traditional texture and tang of a NY Style Cheesecake!
Ingredients
Crust:
250

g

Oreo Crumbs

or any other chocolate cookie

50

g

Butter

melted
Makes:
9
inch
9
x
9
inch
round
Instructions
Preheat oven to 325°F (I did convection because I did not want that direct heat on the top of my cheesecake).

Prepare the Crust:

Line the bottom of a springform pan with aluminum foil for easy release and extra insurance against water entry! Combine all ingredients for the crust and press into the bottom of the foil lined springform pan.

Bake in preheated oven for 8-10 minutes. You want the crust to look matte and smell fragrent. Cool at least 10 minutes or until the sides are no longer hot. Warm is fine.

Wrap the outside of the pan with aluminum foil, rolling the top edges outwards so as not to direct water into the lining.

Prepare the filling:

Beat the cream cheese in the bowl of a stand mixer fitted with the paddle attachment until silky, creamy and smooth.

Add the sugar and beat until no granules are visible. The filling will look shiny and silky.

Add the vanilla extract and seeds and beat until incorporated.

Add the eggs one at a time a beat 1 minute after each addition. Yes, an actual minute.

Add the sour cream and cream and beat to combine.

Add the flour to the bowl of chocolate chips, toss to coat. Add to batter and fold in.

Pour into prepared crust and bake in a water bath halfway up the sides of the pan. Bake approximately 1 hour and 30- 40 minutes or until set but still wobbly.
Notes
Makes 1, 9-10" Round Cheesecake
The flour to keep the chocolate chips from sinking makes the filling not gluten free. You could use cornstarch instead.
Nutrition
Calories:
642
kcal
|
Carbohydrates:
53
g
|
Protein:
9
g
|
Fat:
45
g
|
Saturated Fat:
25
g
|
Polyunsaturated Fat:
3
g
|
Monounsaturated Fat:
10
g
|
Trans Fat:
1
g
|
Cholesterol:
160
mg
|
Sodium:
348
mg
|
Potassium:
152
mg
|
Fiber:
1
g
|
Sugar:
41
g
|
Vitamin A:
1399
IU
|
Vitamin C:
1
mg
|
Calcium:
122
mg
|
Iron:
1
mg
Like this? Leave a comment below!