This Classic Cornbread Stuffing uses fresh, savory cornbread with an abundance of spices, herbs and aromatics for a delicious side dish!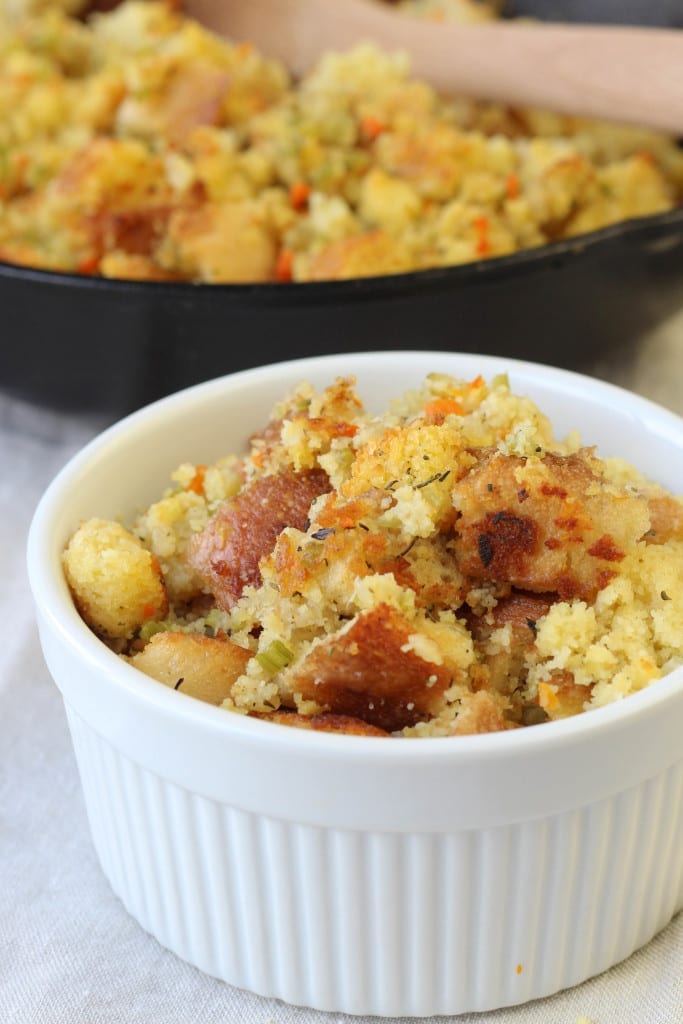 I've been getting excited about stuffing for weeks! Maybe you are more of a pie person, but I prefer not to discriminate. Any Holiday that condones eating copious amounts of pie AND stuffing is fine by me!
If I were to give you a family heirloom recipe for stuffing, it would be Stove Top. Stove Top is the bar to which all stuffing is compared. As my brother so aptly put it, "Honestly, at the end of the day, I will still devour a massive amount of stovetop." True that.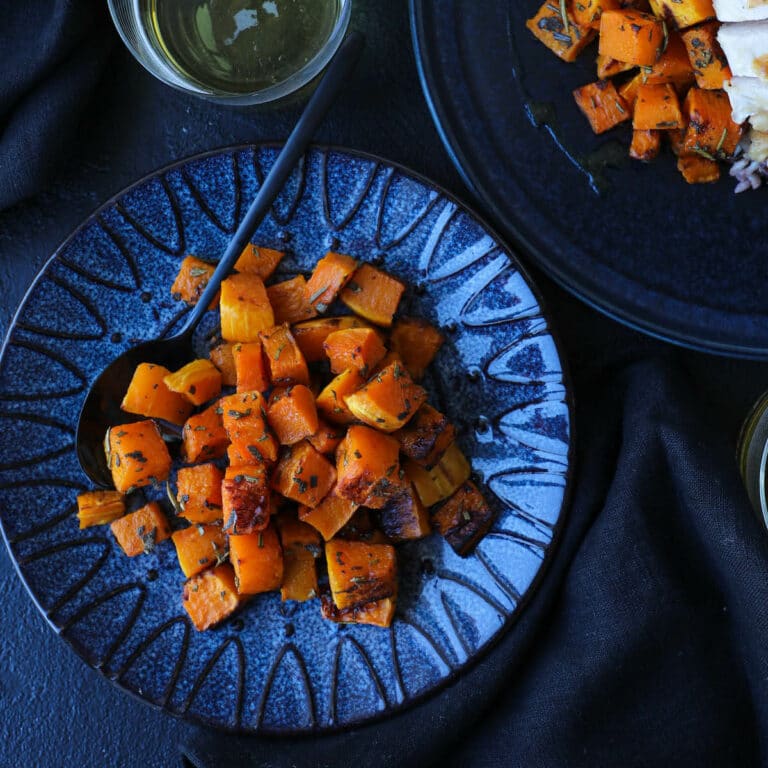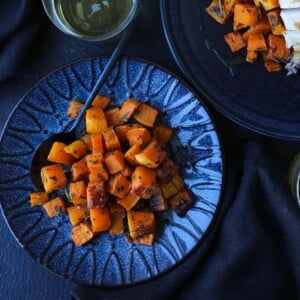 Last year I tried a heritage stuffing recipe and it was beyond horrible. I am nothing if not persistent (some call it stubborn. semantics.), so this year I decided to try a cornbread stuffing recipe. In my mind the only way stuffing could get any better than Stove Top would be if you added cornbread.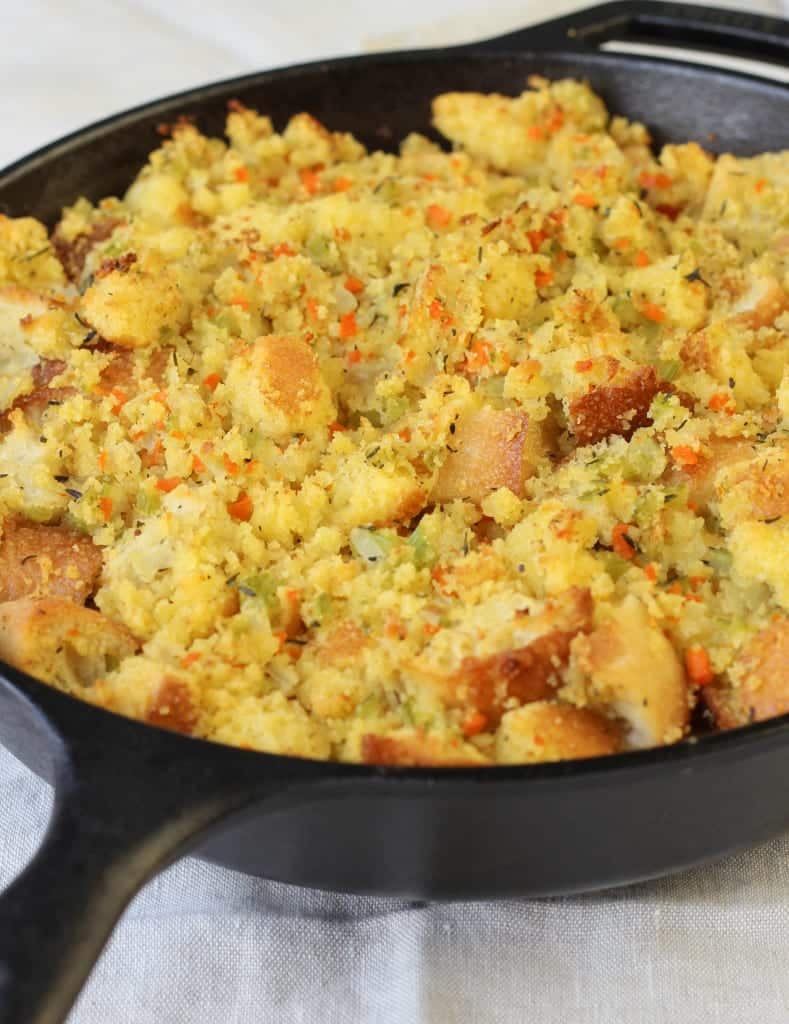 And I was right.
I have been voraciously reading cooking magazine and cookbooks in search of the perfect stuffing recipe. I studied three such magazines devoted to Thanksgiving recipes on the plane to Paris. And then I read them again on the way back. Sad.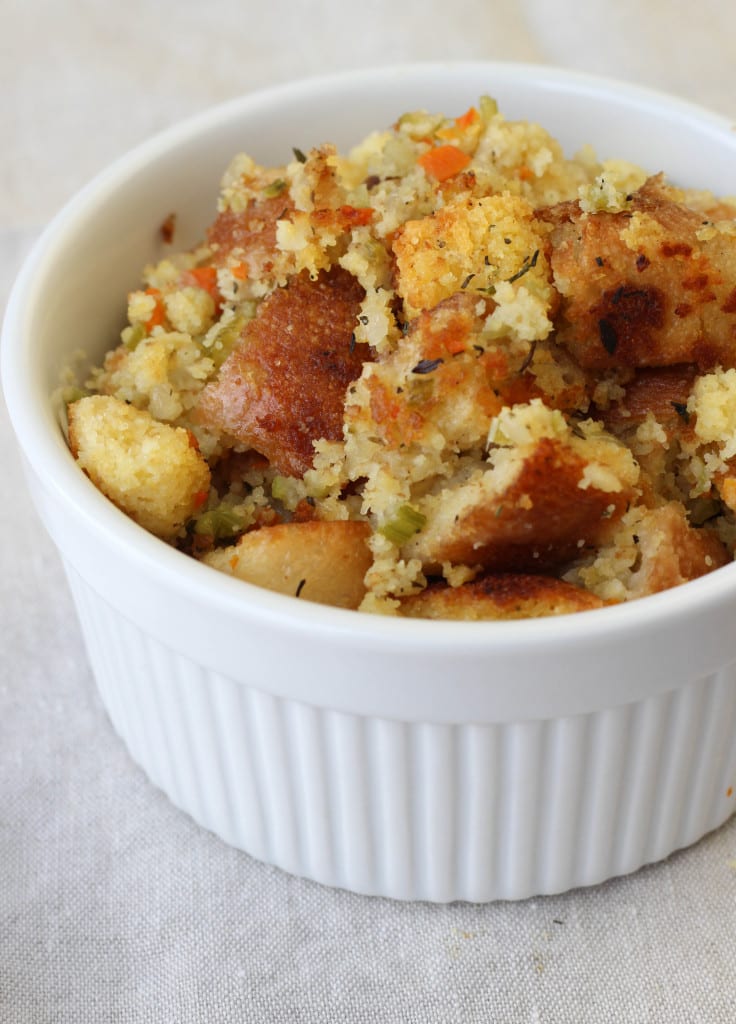 I finally settled on Ree Drummond's Cornbread Stuffing in the Food Network Magazine. I tweaked it, but most of my changes revolved around really bumping up the spices. I like a moist, flavorful cornbread stuffing.
Ree of The Pioneer Woman makes some good comfort cooking, and this recipe was no exception. I'll be making this again (in addition to Stove Top) for Thanksgiving next week. You could use store-bought cornbread to save some prep time, but just make sure it isn't too sweet. My all-time favorite sweet southern cornbread would be a miss in this recipe but it would be a fabulous Thanksgiving side!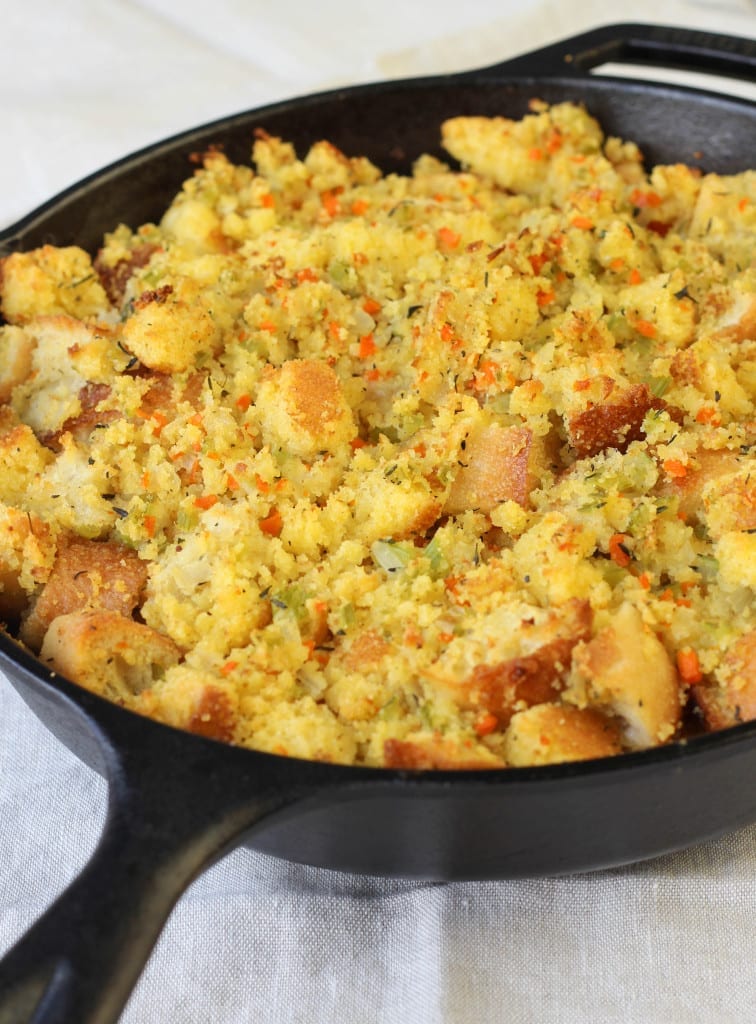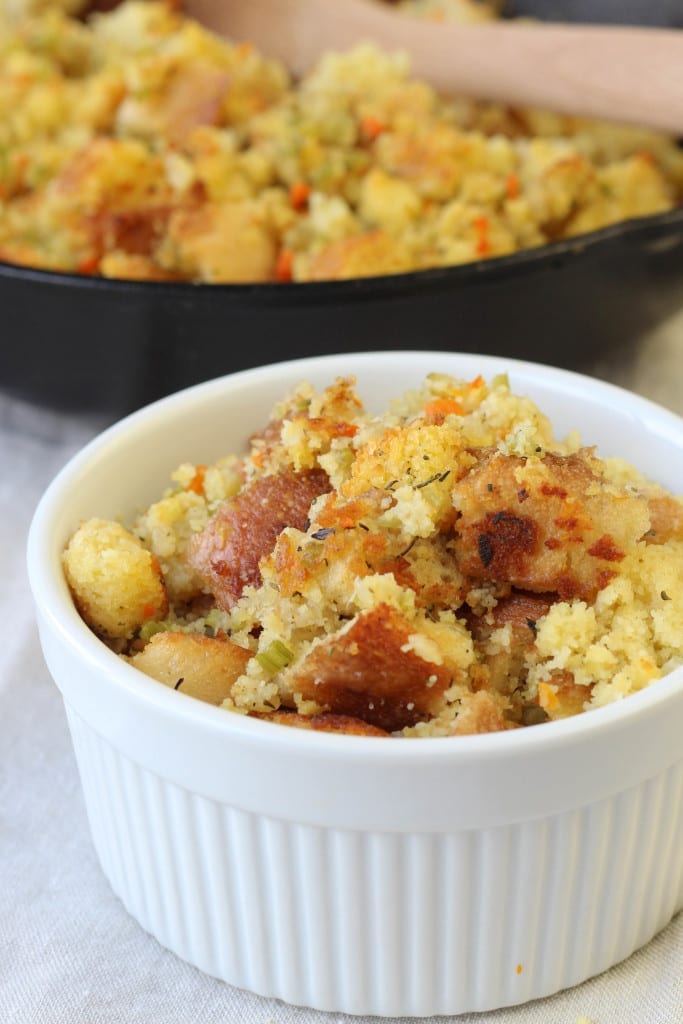 Classic Cornbread Stuffing
This Classic Cornbread Stuffing uses fresh, savory cornbread with an abundance of spices, herbs and aromatics for a delicious side dish!
Ingredients
Makes:
9
inch
9
x
11
inch
rectangle
Instructions
For the Cornbread:
The day before making the stuffing, bake the cornbread: Preheat oven to 450°F. Melt 2 tablespoons butter in cast iron skillet over medium heat. Combine cornmeal, flour, baking powder, baking soda and salt in a large mixing bowl.

In a separate bowl whisk buttermilk, milk and egg until combined. Slowly incorporate the wet ingredients into the dry, until just combined. A few lumps are okay.

Add the melted butter and stir gently until just combined. Pour batter into hot skillet and bake in pre-heated oven for 20 – 25 minutes or until a toothpick comes out with few crumbs attached.

Let cool in the skillet and then cut into 1 inch cubes or smaller to taste.

Spread cornbread and French bread cubes onto two baking sheets and dry over night (~24 hours) at room temperature until they are crisp.

Dump into large bowl and toss to mix.
For the Stuffing:
Preheat oven to 350°F. Melt the butter in a large skillet or Dutch oven over medium heat.

Add celery, carrots, and onion and cook until onion is almost translucent. Add chicken broth and bring to a boil. Reduce heat to low and add the spices. Taste and add a little salt as desired.

Gradually ladle the hot broth mixture into the bowl with the bread, tossing gently. If the mixture is not moist enough, add more broth. Stir in parsley.

Transfer mixture to a 9×13 inch baking dish. I used the same cast iron skillet that I used above. Bake until golden brown, 20 to 25 minutes. Let rest 10 minutes prior to serving.
Nutrition
Calories:
150
kcal
|
Carbohydrates:
18
g
|
Protein:
4
g
|
Fat:
7
g
|
Saturated Fat:
3
g
|
Polyunsaturated Fat:
1
g
|
Monounsaturated Fat:
2
g
|
Trans Fat:
0.4
g
|
Cholesterol:
19
mg
|
Sodium:
473
mg
|
Potassium:
107
mg
|
Fiber:
1
g
|
Sugar:
2
g
|
Vitamin A:
1056
IU
|
Vitamin C:
2
mg
|
Calcium:
65
mg
|
Iron:
1
mg
Like this? Leave a comment below!