In this Hearty Rosemary Lamb Stew tender pieces of lamb are generously seasoned with fresh thyme and rosemary and a bit of fresh cracked black pepper.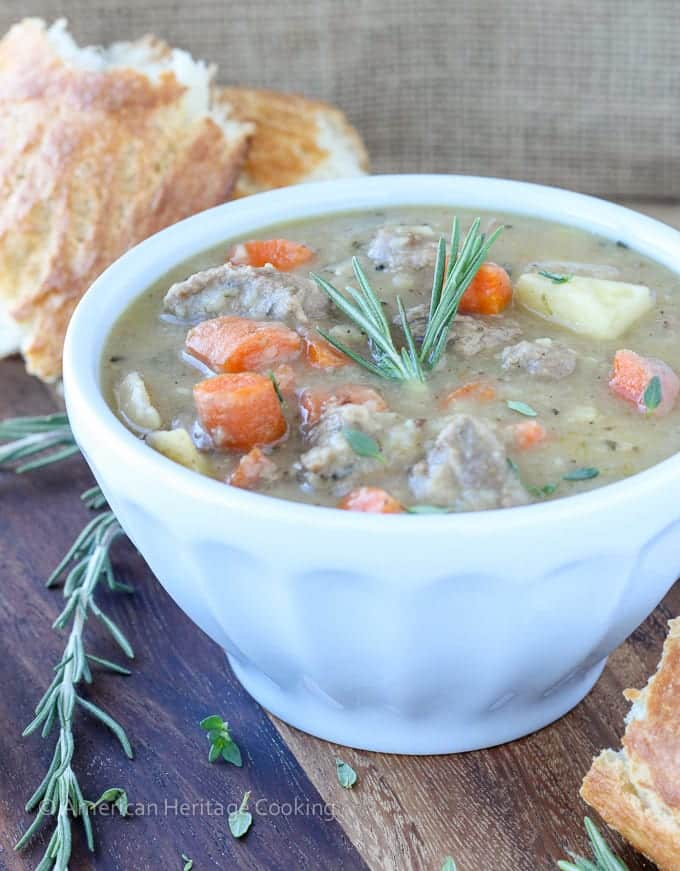 I hate to disillusion you but we have not been subsisting solely on cookies the past few weeks. I've actually made some really delicious meals that I have been dying to share with you!
But I thought it might be odd for Day 6 of 12 Days of Christmas Cookies to be stew, so I waited patiently!
I don't know what the technical difference between stew and soup is but to me stew is thick, thick, thick! Like stick to the ribs for three days kind of thick. There is nothing like a steaming bowl of stew on a cold winter's day.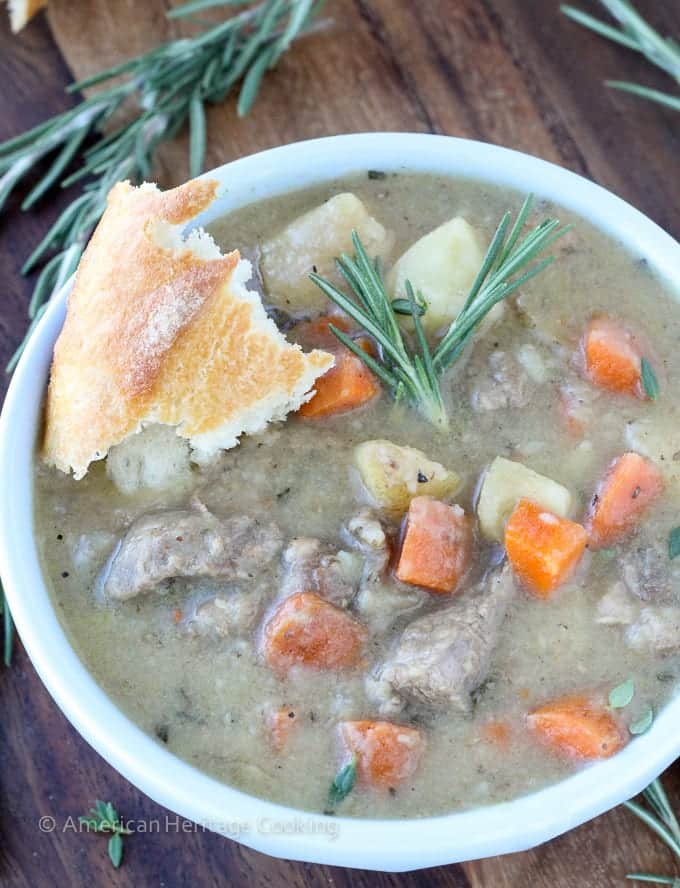 And stew, like tuscan vegetable sausage soup, must be eaten with bread. Good crusty Italian bread, fresh French baguette, Irish soda bread, or even homemade whole wheat bread.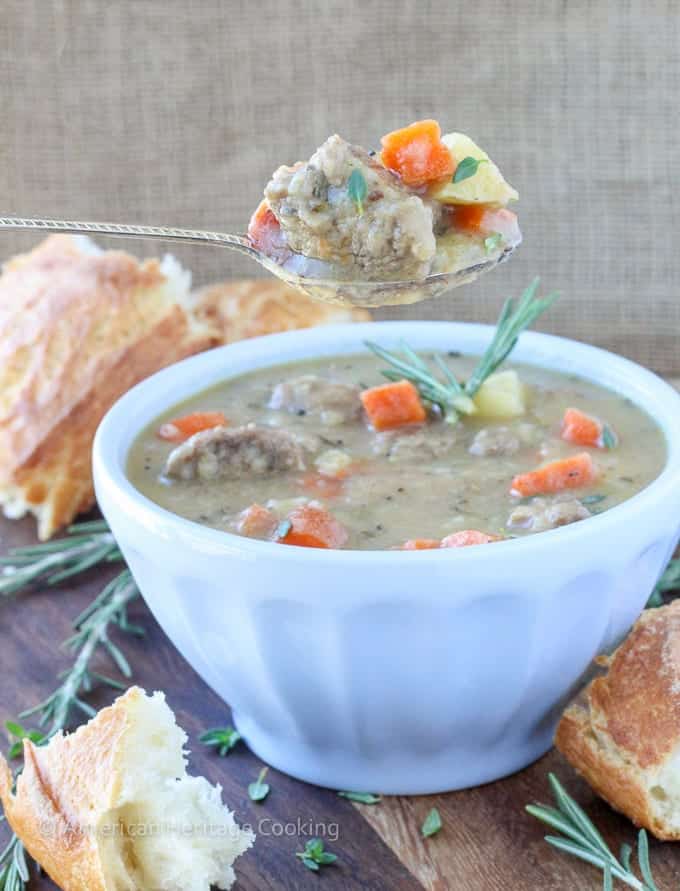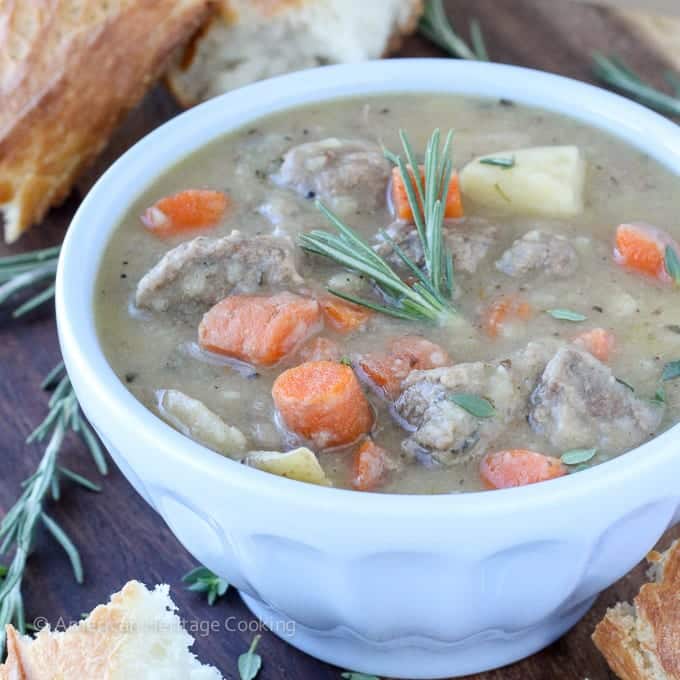 So I thickened this stew with mashed potatoes.
The birth of this idea went like this:
My husband was on his way home;
I had a panic attack that my stew wasn't thick enough;
I went through a mental list of all the things I could thicken it with;
I had none of them and I panicked again;
And then I made quick and dirty mashed potatoes in the microwave and I stirred them in the stew.
#problemsolved
Unfortunately the mashed potato thickener ensured that this Hearty Rosemary Lamb Stew wouldn't win any beauty contests, but any misgivings are forgiven after one bite. Like most stews, this one is even better the next day. May I suggest you make double?
In addition to mashed potatoes in the broth, there are potatoes and carrots in the stew. A generous seasoning of rosemary and thyme perfectly compliments the lamb, and little white wine to add complexity.
All is simmered to tender perfection! The lamb absolutely melts in your mouth!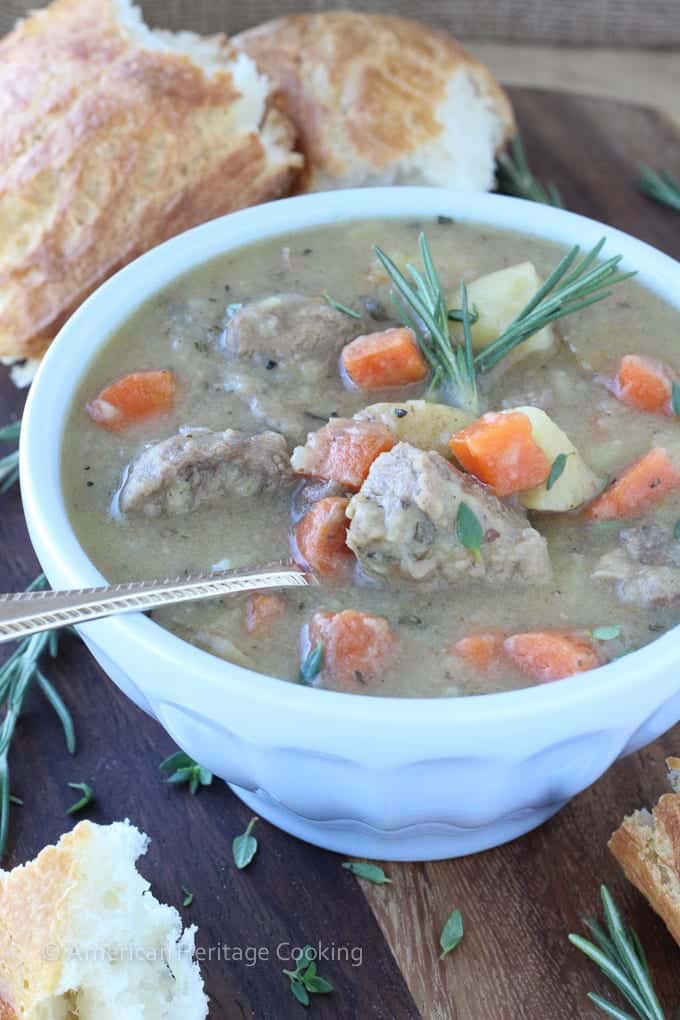 Add a side salad and a gigantic hunk of crusty bread and you have yourself a filling, fantastic meal!
Recipe
Hearty Rosemary Lamb Stew
In this Hearty Rosemary Lamb Stew tender pieces of lamb are generously seasoned with fresh thyme and rosemary and a bit of fresh cracked black pepper.
Ingredients
1 ½

lbs

lamb stew meat

(cubed)

2

tablespoons

flour

1

teaspoon

pepper

1

teaspoon

kosher salt

2

tablespoons

rosemary

(chopped)

2

tablespoons

olive oil

1

tablespoon

butter

1

yellow onion

(medium dice)

½

cup

dry white wine

3

medium carrots

(medium dice)

6

small Yukon gold potatoes

(medium dice)

4

sprigs

rosemary

4

sprigs

thyme

1.5

quarts

cold water

4

small potatoes such as Yukon gold

(peeled but left whole)
Instructions
Mix flour, pepper, salt & chopped rosemary together in a large bowl. Brown in 3 batches (or more) in a large Dutch oven in 1-2 tablespoons olive oil. Start with 1 and add as needed between batches.

Rinse and pat dry your meat – cut into small cubes, no larger than ¾ inch across.

Toss meat in flour mixture to coat

Heat a large saucepot or Dutch oven over high heat. Add 2 tablespoons of oil and swirl to coat.

Brown meat in 3 batches (or more). Make sure there is enough space between pieces so that they brown and don't steam. Flip and brown each piece on 4 sides.

Remove meat and cover. Repeat with the next batch, adding more oil as needed.

Once all meat has been browned and is set to the side, add butter to pan and melt. Saute onion for 2 minutes or until it has just started to become translucent around the edges. Add wine to deglaze pan, scraping any browned bits off the bottom.

Add meat, accumulated juices, and veggies back to pan. Add water just to cover. Bring to a boil, skim the foam, reduce to a simmer and cook, covered, 2 hours.

Microwave potatoes on high for 3 minutes or until soft. Mash with a fork and add to the pot, stirring to mix.

Taste and add salt and pepper as needed. Add rosemary and thyme sprigs to pot, pushing them down into the liquid. Cook an additional hour at least.

I simmered mine for 4, which gives plenty of time for the meat to break down and become soft. You could cook it for less time but you may sacrifice the texture of your meat.

You will want to remove any skin that accumulates on the top of the liquid with the back of a dry metal spoon.

If your stew is not thick enough, you can cook it uncovered for the last hour. I did.