You will love this rustic Tuscan Vegetable Sausage Soup. It's packed with fresh vegetables and herbs; the sausage adds a touch of heat; the wine and Parmesan create a complex flavor in an incredibly easy and delightfully satisfying soup!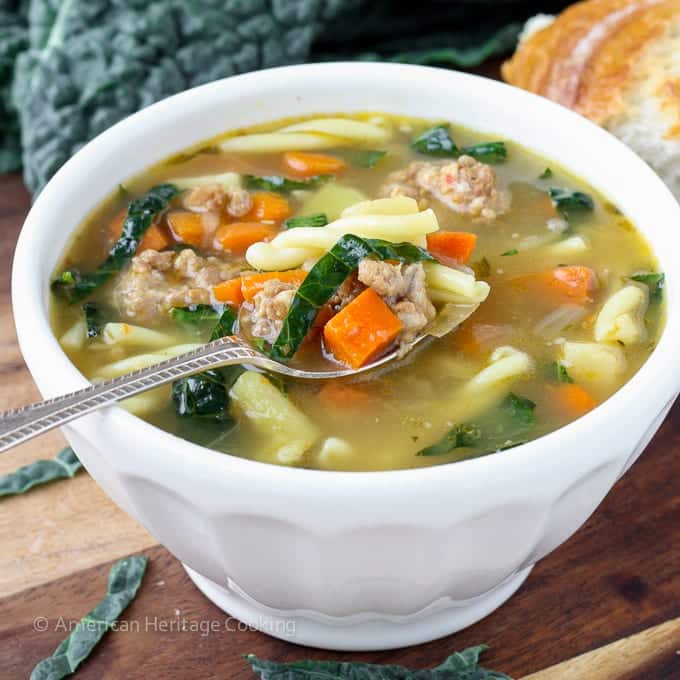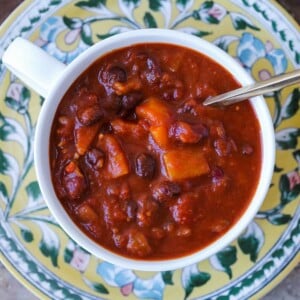 Soup is one of my favorite ways to clean out the refrigerator in the winter. Sometimes the combination is delicious, but unsophisticated, and other times I stumble upon a concoction that is worthy of sharing.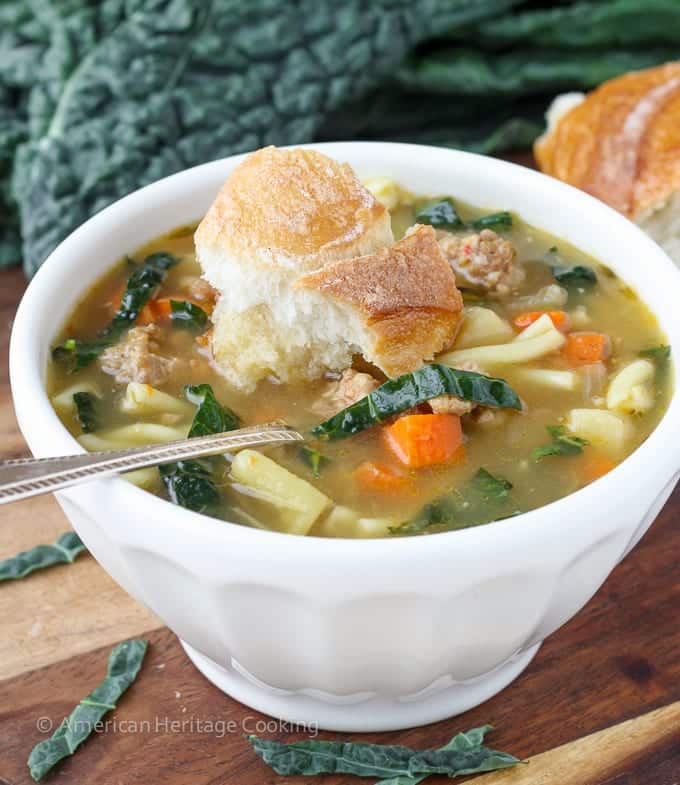 I made this soup over a month ago and I am still dreaming about it. Every now and again I peek in the refrigerator just to make sure there is none left.
It is warm and comforting and has a mellow, complex flavor from the wine and the cheese rind cooked inside. Lots of vegetables and fresh herbs simmer together in a homemade brown chicken stock. A little crunch from the Tuscan kale adds texture and color!
I do love hot Italian pork sausage in this soup because I adore the marriage of flavors between the sausage and the wine and Parmesan infused broth, but you could use spicy chicken sausage.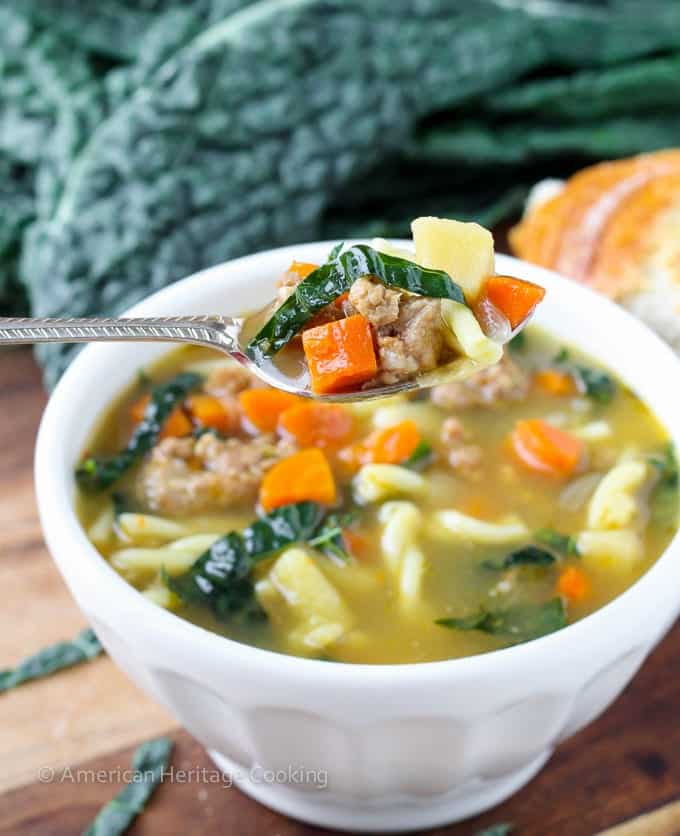 The broth is exquisite! You will want to sop up every last drop with crusty bread. Not that I need an excuse to eat rustic Italian bread!
The secret to this truly magnificent, showstopper of a soup is simmering a rind from Parmesean cheese in the soup pot. The effect is magical.
The Parmesean rind imparts a satisfying umami flavor. Umami is that mystical savory flavor that adds richness and depth to a dish, and this soup has it in spades.
My other trick to a well balance soup is stirring the precooked noodles and raw Tuscan kale into the hot bowl of soup right before serving: the noodles don't get soggy and the kale will still remain vibrant and a little crisp. The kale will also keep more of its nutrients this way. Bonus.
An entire pot of this soup disappeared in 2 days. Two people, two days, one huge pot of soup, and two satisfied foodies! My husband didn't even ask if I wanted a bite of the last bowl…I opened up the refrigerator and it was gone! I shed a silent tear and vowed to buy more pork sausage at the store soon.
The flavors are complex and blend together seamlessly into a perfect, filling soup! Serve a steaming bowl with a hunk of crusty Italian or French bread and listen for the sighs of happiness!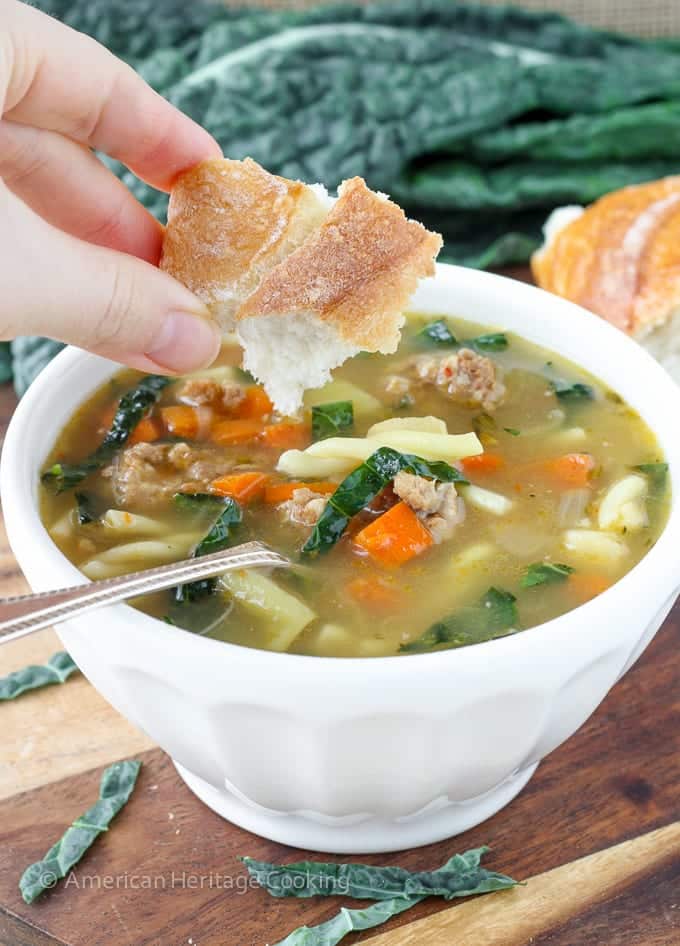 Soak up the goodness!
Tuscan Vegetable Sausage Soup
You will love this rustic Tuscan Vegetable Sausage Soup. It's packed with fresh vegetables and herbs; the sausage adds a touch of heat; the wine and Parmesan create a complex flavor in an incredibly easy and delightfully satisfying soup!
Ingredients
2

yellow onions

coarsely chopped

6

cloves

garlic

minced

3

tablespoons

olive oil

3

carrots

medium dice

2

teaspoons

fresh thyme

chopped

1

tablespoon

fresh rosemary

chopped

1

teaspoon

fresh oregano

chopped

kosher salt and pepper

to taste

1

pound

hot Italian pork sausage

1

cup

dry white wine

I use white Burgundy because it's awesome. Right, Dad?

1.75

quarts

brown chicken stock

4

inch

rind from a piece of Parmesan cheese

about 1 inch thick

1

parsnip

pealed and cut in a medium dice

4

small Yukon potatoes

cleaned and cut in a medium dice

8

stalks of Tuscan kale

ribs removed and cut in ¼ inch ribbons

2

cups

cooked gemelli pasta

or any other kind will do, but isn't gemelli fun?!
Instructions
In a large Dutch oven or soup pot heat olive oil over medium heat until it is hot but not smoking. Add onions and cook until they release their juices and begin to turn translucent. Add garlic and sauté, stirring frequently, for 2 minutes.

Add the carrots and fresh herbs and a pinch of salt and pepper. Sweat the vegetables until the onions are almost translucent.

Push all the vegetables to the edges of the pot and add the sausage to the middle. Brown the sausage but try to keep it in larger pieces.

Pour in the wine and allow to boil for a few minutes.

Add the chicken stock, cheese rind, parsnip, and potatoes. Stir to mix. Bring to a boil and then reduce heat and cover. Cook until the potatoes are cooked through and are very soft.

If a skin forms on the top of your soup when the heat is turned off, you can de-grease the soup if you wish by placing a two paper towels on top of the skin and quickly removing it. You can also remove the skin with a metal spoon.

Dish into bowls and add a small handful of kale and noodles, stir to mix in the kale and noodles. Serve hot with crusty bread.
Notes
If you have time, you may want to refrigerate over night and then remove the fat solids from the top of the cold soup. This is way easier and more effective than degreasing while it is hot. I did both.
Nutrition
Calories:
634
kcal
|
Carbohydrates:
67
g
|
Protein:
27
g
|
Fat:
27
g
|
Saturated Fat:
8
g
|
Polyunsaturated Fat:
4
g
|
Monounsaturated Fat:
12
g
|
Trans Fat:
1
g
|
Cholesterol:
94
mg
|
Sodium:
811
mg
|
Potassium:
1249
mg
|
Fiber:
7
g
|
Sugar:
8
g
|
Vitamin A:
9670
IU
|
Vitamin C:
79
mg
|
Calcium:
271
mg
|
Iron:
5
mg
Like this? Leave a comment below!