This Irish Soda Bread is tender and just a little sweet. Nothing is better than a thick slice fresh from the oven generously slathered with Irish butter and fruit jam.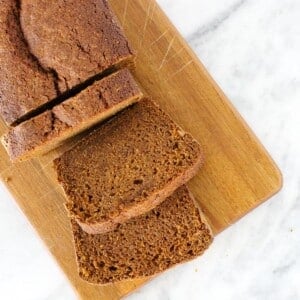 There are certain foods that, for me, are never good enough; those foods that incite a deep-rooted nostalgia. For these foods, nothing less than perfect will suffice. You know I'm heading towards Irish Soda Bread with this…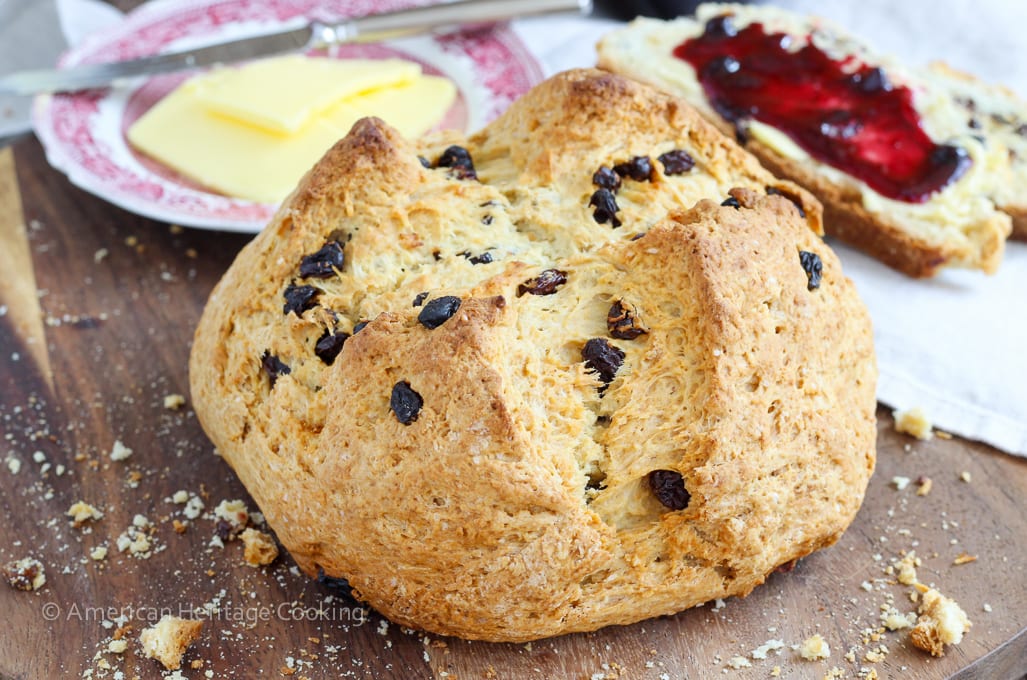 You got me: Irish Soda Bread is one such food. I fell madly in love with soda bread in middle school. In reality, there is no reason why this particular bread sparked a two-decade-long obsession with recreating it.
Perhaps it is because Irish Soda Bread is reminiscent of traditional British scones like these strawberry lemon scones and my family and I had just moved back to the States from Hong Kong where I developed a 3 year long obsession with the tea-time treat.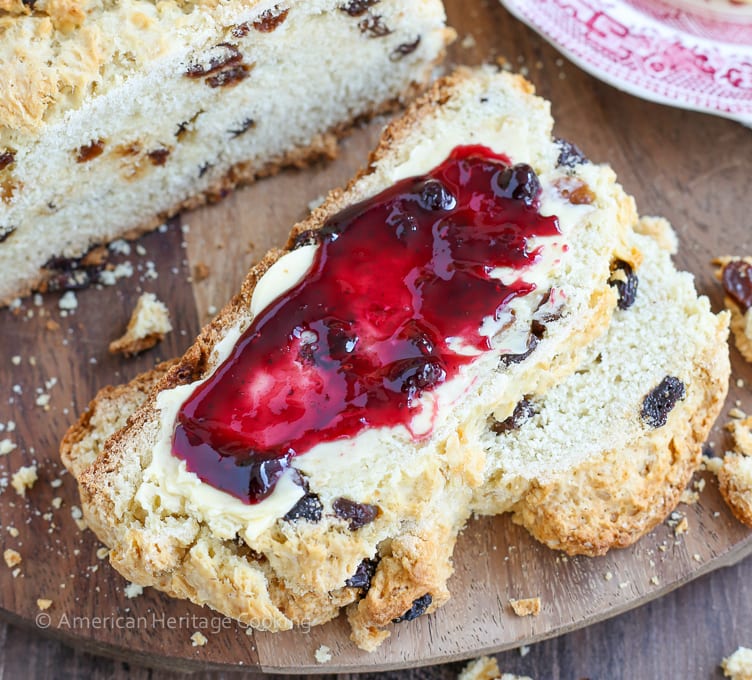 I have been trying to find the perfect Irish soda bread recipe ever since.
No joke. I have tried the top rated ones on All-Recipes, in my heritage cookbooks, and in my modern cookbooks. Even the soda bread from culinary school didn't live up to my standards.
So I stopped trying and just made my own recipe. I loved it so much I even used it to thicken this beef vegetable stew and this rosemary lamb stew!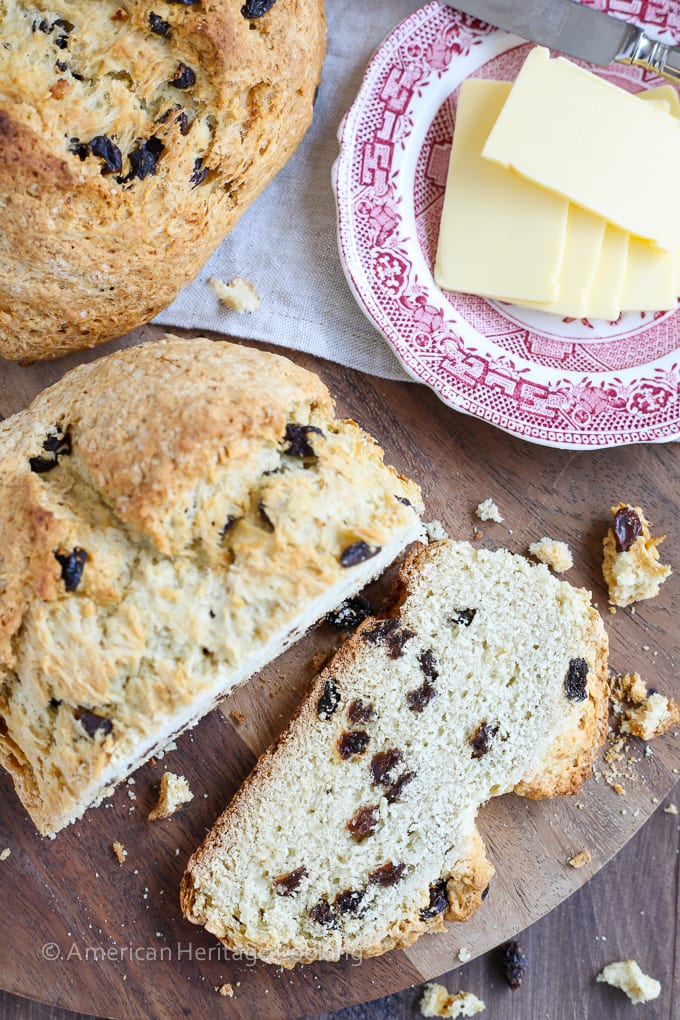 Everyone looks for something a little different in Irish soda bread. They want to recreate the bread of their youth, or the bread just like their great-grandmother, who was fresh off the boat, used to make. Some like it a little sweeter, some with caraway seeds, some a little more crumbly.
I like mine with a tight, tender crumb, a little sweeter than is all together necessary for a "bread", never dry, and it must have raisins. Must. Have. Raisins.
This is the bread that ignites my nostalgia.
The recipe of which I need to make a double batch: one for me and one for everyone else.
This is the bread that I will make my great-grandchildren.
The secret ingredient in this Irish Soda bread recipe, and the one that will take this bread from exceptional to I-can't-believe-you-made-something-so-incredible, is love. You must make this bread with love. Add the buttermilk with your hands and when you kneed it, kneed it with love. Feel the dough. It will tell you when it's had enough and is ready to be baked. This is how your bread will be more tender than anyone else's.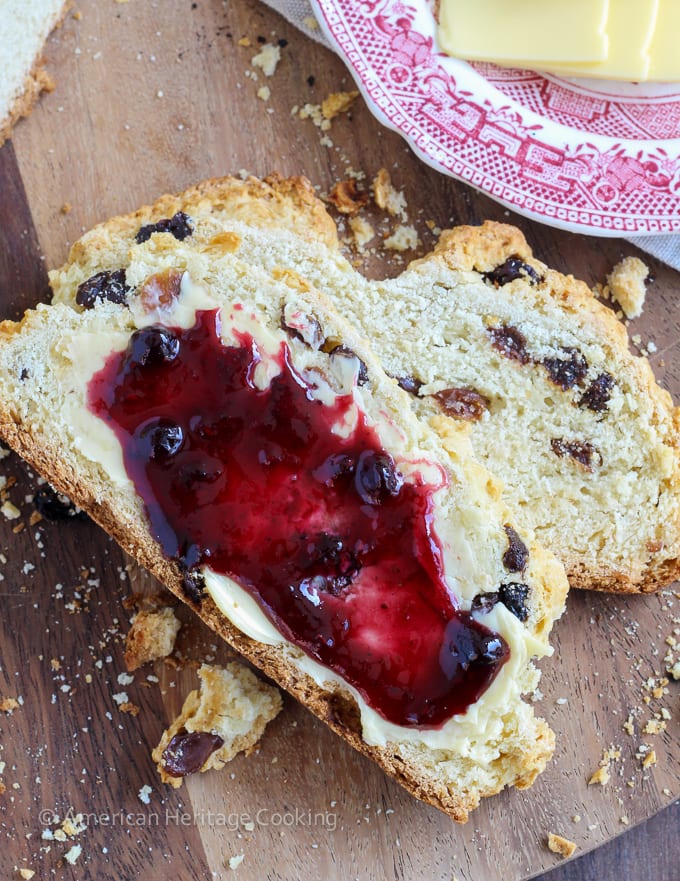 Brew some coffee or tea, slather salted Irish butter and jam on a thick slice of this soda bread, and be happy. You can taste the love, can't you? 🙂
Irish Soda Bread
This Irish Soda Bread is tender and just a little sweet. Nothing is better than a thick slice fresh from the oven generously slathered with Irish butter and fruit jam.
Instructions
Preheat oven to 375° F.

In a medium bowl whisk the flour, soda, baking powder, salt and sugar. Dump it on the counter or on a large wooden cutting board. You can make this on any counter except tiled counters with grout lines. If that is what you have, make it in the bowl with a pastry blender or on a cutting board.

Sprinkle the cold butter cubes over the flour mixture. Cut in the butter with a bench scraper until the butter pieces are almost indiscernible.

Slowly add the buttermilk, scooping the flour over the buttermilk and working it in. Do this gently. At first I use the bench scraper to mound the flour on top of the buttermilk until it is absorbed before adding a little more. After a dough begins to form, I abandon the bench scraper and just use my hands to kneed in the buttermilk until a cohesive dough forms. There shouldn't be any dry patches but it shouldn't be sticky either. At this point gently, but quickly, kneed in the raisins. You can always use a little more or a little less buttermilk. You want to kneed it as little as possible so that it doesn't become tough.

Stand Mixer Method – you can also do this in a stand mixer. Simply add the dry ingredients to the bowl of the stand mixer, fitted with the paddle attachment, along with the cubed butter and mix on low speed until no large pieces of butter remain. You want the butter to almost disappear into the flour mixture. With the mixer on low, slowly pour in the buttermilk just until a cohesive dough forms. With a stand mixer, try to be very careful not to over mix. Turn out the dough onto the counter and kneed in the raisins.

Shape into a round loaf and make two cuts in the shape of a cross on the top of the dough. Make sure they are ½ inch deep for the prettiest loaf. Place in a cast iron skillet or on a parchment lined baking sheet, and bake in preheated oven for 45-50 minutes or until a wooden skewer comes out clean. It is easy to over-bake this bread, so watch it!

Serve with Irish salted butter and jam!
Notes
Irish soda bread is best the day it is made or one day thereafter. Store in an airtight container at room temperature. Serve room temperature or warm!
Nutrition
Calories:
180
kcal
|
Carbohydrates:
32
g
|
Protein:
4
g
|
Fat:
4
g
|
Saturated Fat:
3
g
|
Polyunsaturated Fat:
1
g
|
Monounsaturated Fat:
1
g
|
Trans Fat:
1
g
|
Cholesterol:
11
mg
|
Sodium:
305
mg
|
Potassium:
134
mg
|
Fiber:
1
g
|
Sugar:
5
g
|
Vitamin A:
128
IU
|
Vitamin C:
1
mg
|
Calcium:
50
mg
|
Iron:
1
mg
Like this? Leave a comment below!