This Chicken Noodle soup from scratch is rich, hearty and just like your great-grandmother might have made it! Healthy, low-sodium, and bursting with flavor!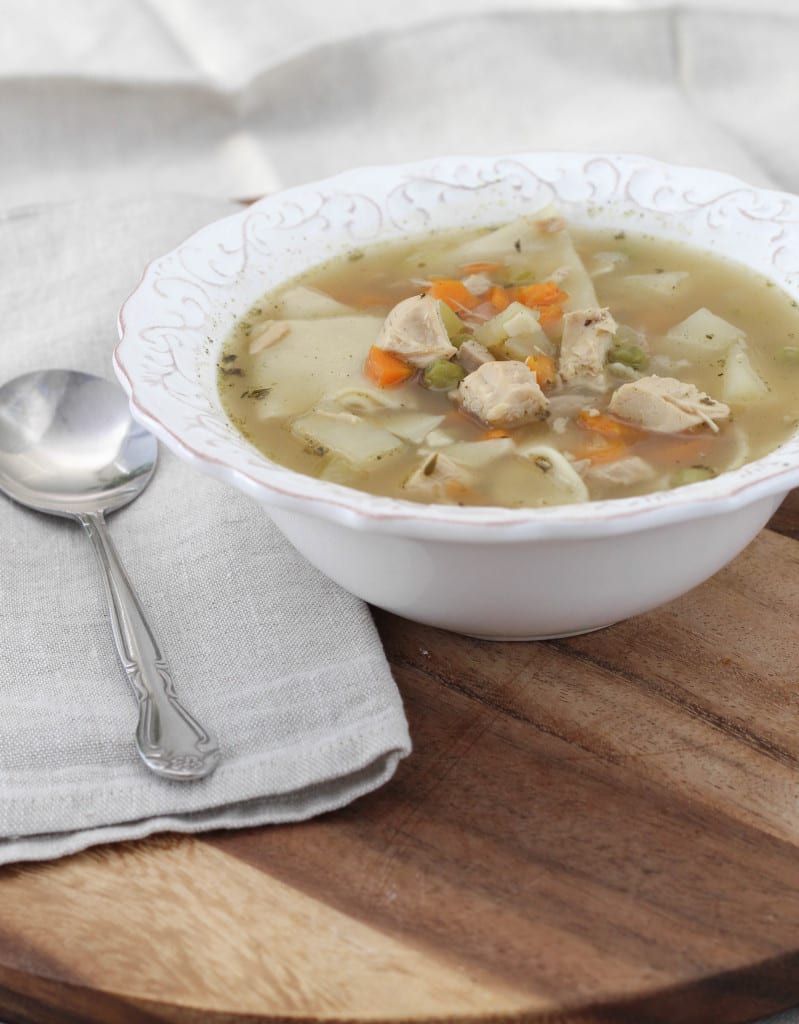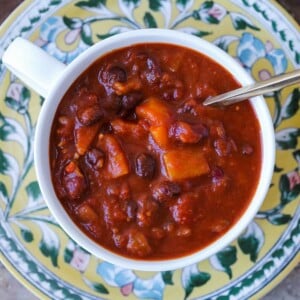 We got back last night from a long trip to France and I took a peek in the fridge to assess the food situation. Let's just say that a few pathetic lemons, baking soda, and condiments do not a meal make, so I begrudgingly took a quick trip to the grocery store because breakfast is not optional in our house.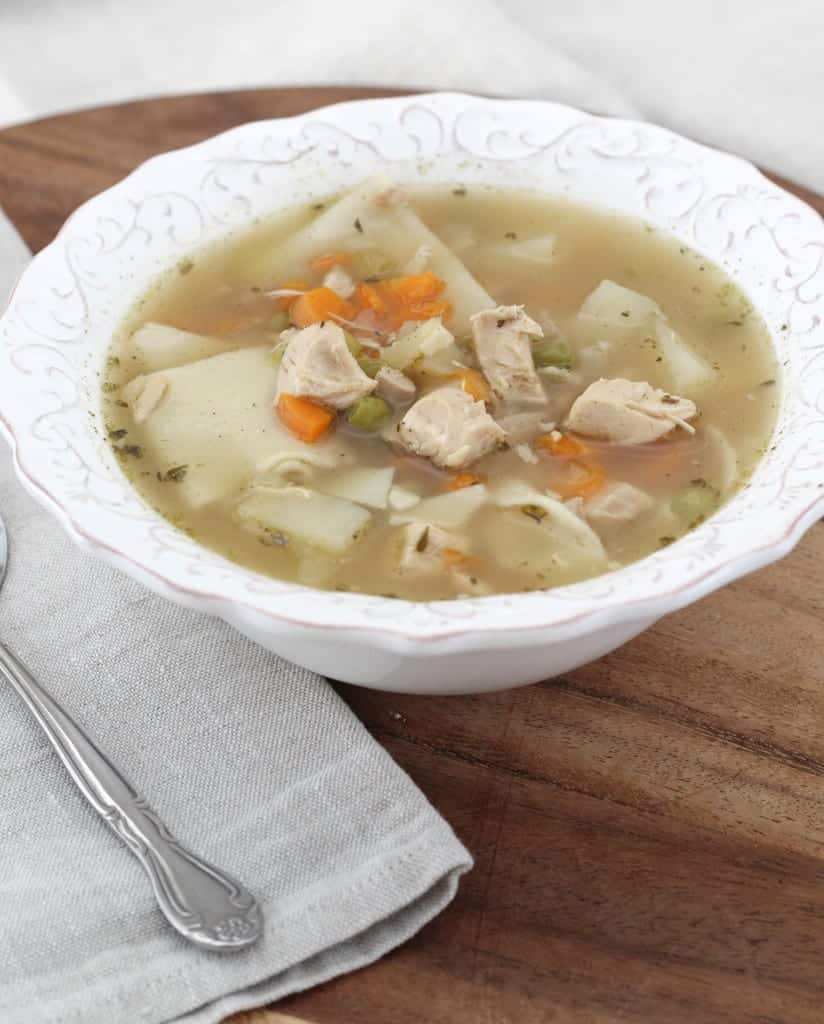 As I pushed my cart through the store, I pondered what I could make that would be quick yet filling. After the rich pastries and cuisine in France and Italy I craved something simple, healthy and warm. What could I make that would fill this need yet still give me time to address the clothes bomb that detonated in our condo? As I passed the roasted chickens it hit me! Chicken Noodle Soup!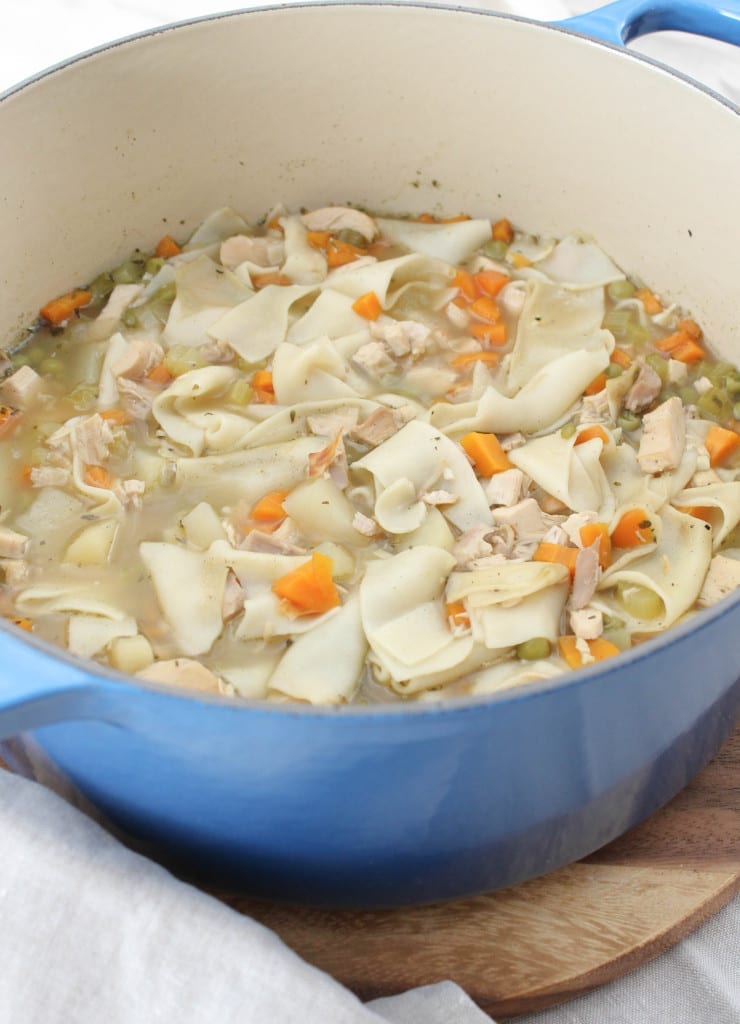 Chicken Noodle Soup feels like a warm hug for the soul: the perfect antidote for our jet-lag. Plus I could throw everything in the pot, address the unpacking situation, and then lunch would magically be ready!
I feel no shame in unabashedly using the meat from a store-bought roasted chicken for this soup. This is not corner cutting. Furthermore, this is excellent time management. If you're starting from a whole chicken, my video on how to debone a chicken will help you, but really you can just use left over meat from a previously roasted chicken or even some of that ubiquitous left over Thanksgiving roasted herb turkey.
Whereas something I never cut corners is with my broth. I have a firm Homemade Chicken Broth Only rule in my kitchen, whether making chicken paprikash or chicken noodle soup. To clarify, there are some organic, low sodium broth options out there that don't taste like water! However, this is one of my culinary idiosyncrasies. I always have some in the freezer Fortunately I had a double recipe just waiting to be the base of this amazing soup.
As far as Homemade Chicken Noodle Soup recipes go, this one is darn good. I may be biased because it is mine, but it is rich, hearty, and fills a need deeper than physical hunger. What's more, it's easy. I've added and adjusted over the years to bring you the best Homemade Chicken Noodle Soup recipe yet. You be the judge.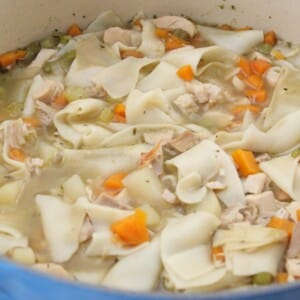 Homemade Chicken Noodle Soup
This Chicken Noodle soup from scratch is rich, hearty and just like your great-grandmother might have made it! Healthy, low-sodium, and bursting with flavor!
Instructions
In a large Dutch oven over medium heat, sauté onions, garlic, carrots, and celery. Then deglaze with wine before proceeding. The wine is totally optional. Sometimes I do it and sometimes I don't. It adds another layer of flavor, which can be quite nice.

Throw all remaining ingredients in the Dutch oven except the noodles. Simmer for several hours or until all the vegetables are cooked through.

Add the noodles and continue simmering until they are tender. Some only take 3 minutes! If you choose to substitute rice for the noodles, which you absolutely should sometimes to mix it up, I suggest pre-cooking the rice and then adding just the right amount. I have turned a perfect soup into a rice pilaf by adding dried rice using the old-eyeball method.

You can also pre-cook the noodle to al-dente, run under cold water to keep a nice level of broth in you soup.
Notes
Using both potatoes and noodles will use up some of your broth, so you might want to add more to get it to the consistency of your liking.
Nutrition
Calories:
228
kcal
|
Carbohydrates:
21
g
|
Protein:
21
g
|
Fat:
5
g
|
Saturated Fat:
2
g
|
Polyunsaturated Fat:
1
g
|
Monounsaturated Fat:
2
g
|
Trans Fat:
1
g
|
Cholesterol:
40
mg
|
Sodium:
280
mg
|
Potassium:
700
mg
|
Fiber:
3
g
|
Sugar:
4
g
|
Vitamin A:
3570
IU
|
Vitamin C:
17
mg
|
Calcium:
45
mg
|
Iron:
2
mg
Like this? Leave a comment below!