This traditional Hungarian Chicken Paprikas is comfort cooking at its best! A rich, creamy sauce flavored with sweet Hungarian paprika surrounds tender chicken for a delicious meal!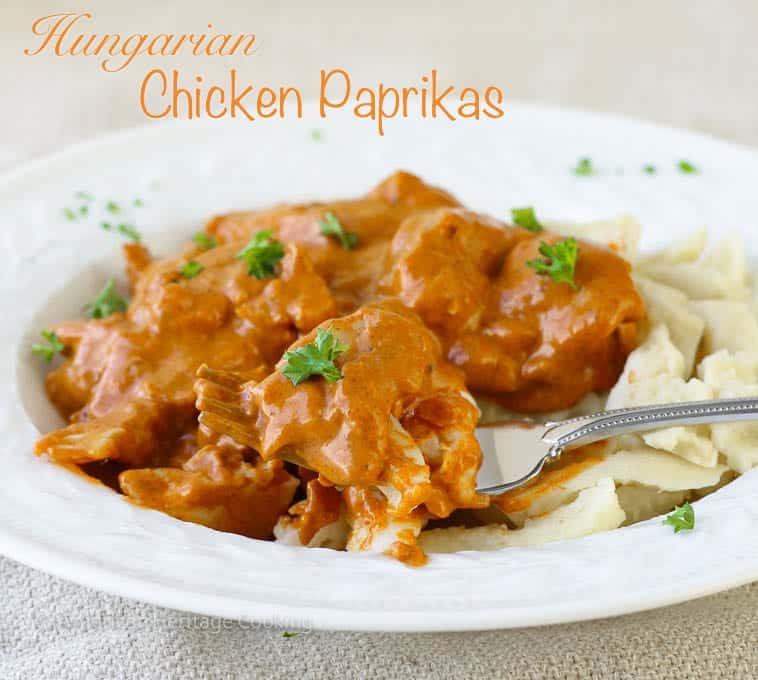 This post is for all of you who are still enduring the longest and coldest winter ever! My heart goes out to you. Buuuut Hungarian Chicken Paprikas will make it all better.
Promise.
Rich and creamy and surprisingly easy to prepare –this is chicken at its best.
This is the quintessential Hungarian dish. When I think of using sour cream to finish a dish, I think of Hungarian Chicken Paprikas (Csirkepaprikas) and Russian Beef Stroganoff.
They rank up there with Hungarian walnut cookies and kiffles for me!
I LOVE Hungarian food.
But down here in Atlanta, if you want Chicken Paprikas with Hungarian dumplings, you are just going to have to make it yourself.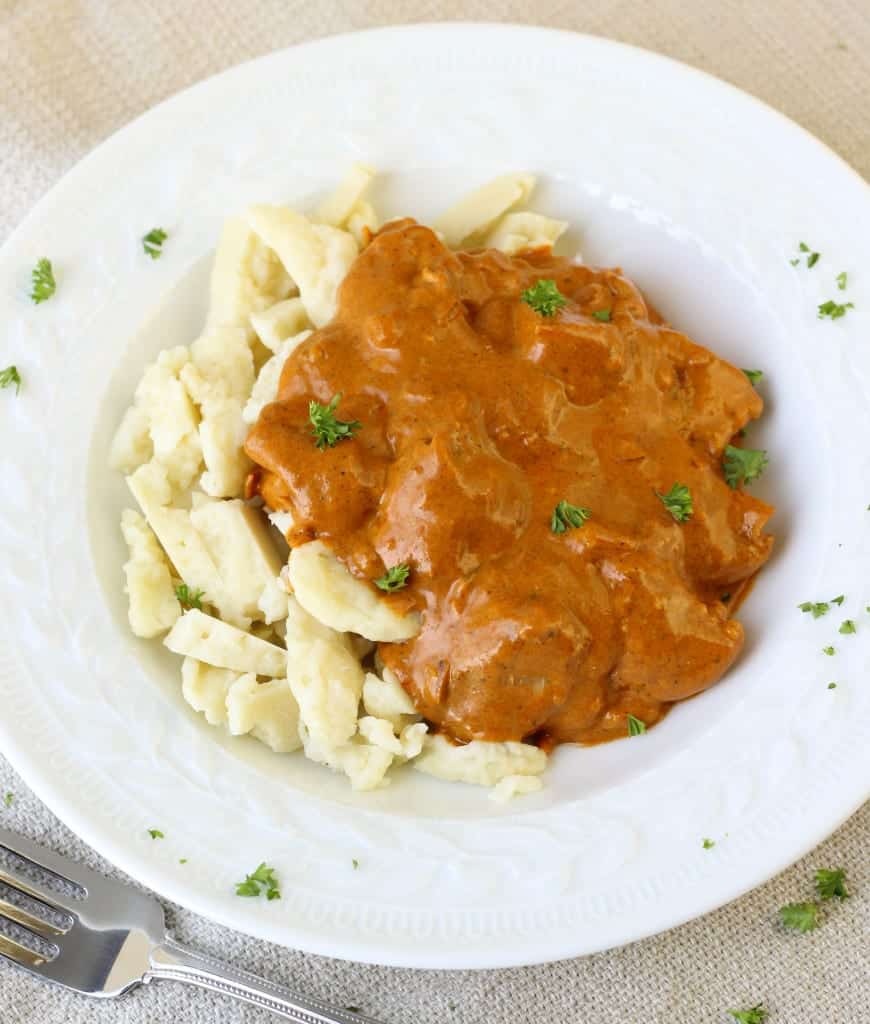 I was nervous about making Spaetzle from scratch. There is a strong Hungarian influence in Cleveland, and you can buy homemade, fresh spaetzle at the regular grocery store, but not down here in the South. No, no. You have to brave them yourself.
But, truthfully, it wasn't that hard!!! You stir them up in one bowl and drop the dough into boiling water with a spoon. How hard is that? It's not. It's completely manageable. But, if you don't want to fuss with the spaetzle, and your grocer doesn't carry it, you can't go wrong with egg noodles, because, let's be honest, it's all about the sauce!
With a dish that has so few ingredients, one must use THE BEST of each. That means a rich chicken broth (preferably homemade), authentic, imported Hungarian paprika, and a good quality sour cream. They will make all the difference.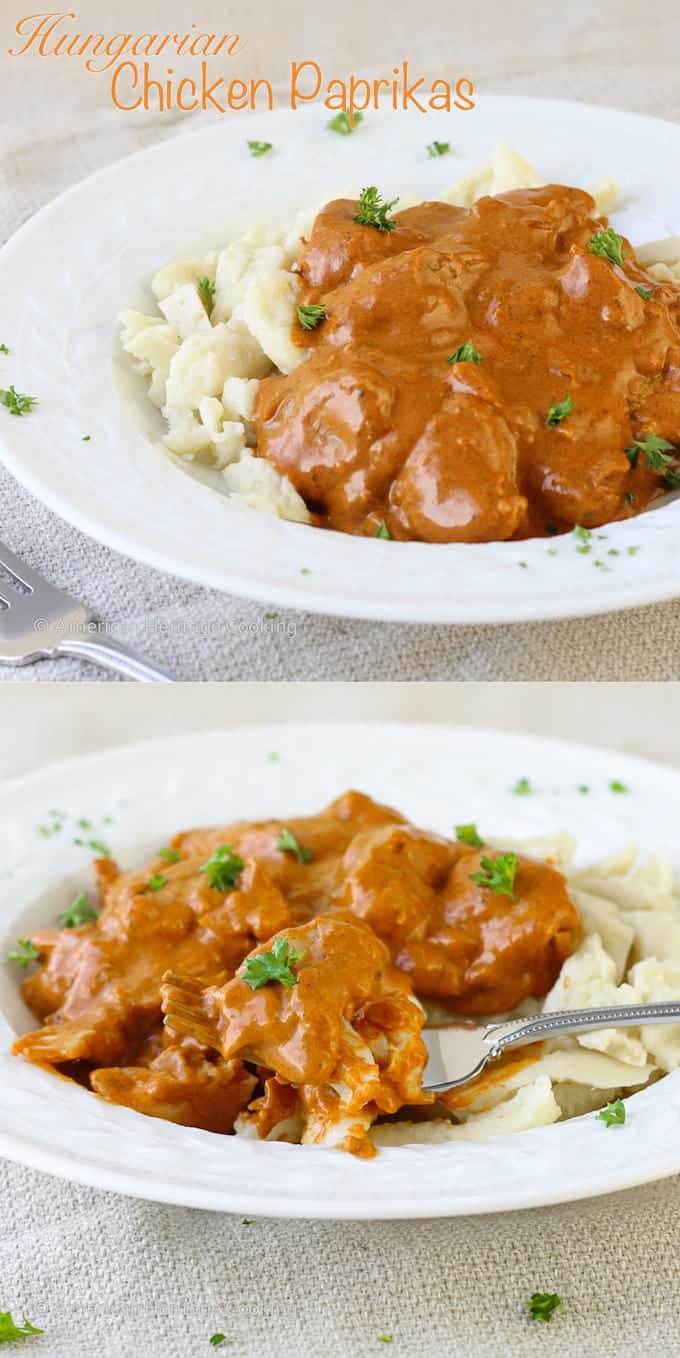 So go pick up some Hungarian sweet paprika and make this tomorrow! You'll forget all about that snow outside. Well, at least for a while.
Side Note: Many people (including some very famous people and magazines) incorrectly call this dish Chicken Paprikash, which is how it is pronounced. I am not known for my spelling, so I just wanted to throw that out there.
Recipe
Hungarian Chicken Paprikas
This traditional Hungarian Chicken Paprikas is comfort cooking at its best! A rich, creamy sauce flavored with sweet Hungarian paprika surrounds tender chicken for a delicious meal!
Ingredients
For the Chicken Paprikas:
For the Hungarian Spaetzle:
Instructions
Prepare the Chicken Paprikas:
Chop chicken into 1" pieces and dry and dust lightly with flour.

Heat a large skillet over medium heat until it is hot. Melt ¼ cup butter. Add chicken, paprika, salt and pepper, and sauté until the chicken is lightly browned. Remove chicken from pan and tent loosely with foil.

Add remaining 1 tablespoon butter to pan and sauté onions until they are translucent. Return chicken to the pan.

Add chicken broth and gently simmer over low heat until chicken is cooked through. Remove chicken from the pan and tent loosely with foil.

Stir 2 tablespoons of flour into the pan and boil until the sauce has thickened to your taste. Add sour cream and return chicken to the pan and coat with the sauce.

Serve with spaetlze or egg noodles.
Prepare the Spaetzle:
I suggest you make the spaetlze while your chicken is simmering in the broth. I made mine too early and they sat around for way too long.

Bring a large pot of water to a boil.

Whisk together flour and salt in a medium bowl. Make a well in the middle and add the eggs, water and butter.

Stir until the batter is smooth and thick.

Drop batter (each dollop about a teaspoon) into boiling water with a spoon; dipping the spoon into the water each time. This will keep your spoon clean and make the whole process less painful. [You can make these larger or smaller to your taste]

Cook only half the dough at a time to avoid over crowding. Stir the bottom of the pot with a wooden spoon, so that the dumplings will rise to the top. After the dumplings rise to the top, let them boil about 2 minutes more.

Remove to a large colander and drain while you repeat the process with the second half of the batter.

Add about a teaspoon of butter to the spaetzle and toss to coat. (This isn't traditional but I found that it kept them from sticking together)
Notes
Authentic Hungarian chicken paprikas recipes call for bone-in chicken pieces, but I find my method simplifies the process and that way there are no bones in the final dish. Bone in chicken would need to cook longer in the broth and would, thus, be more flavorful because the sauce would have more time to develop.