These Parmesan Garlic Knots are an easy, addicting appetizer for game day or any party! Soft homemade pizza dough knots topped with garlic, butter and Parmesan cheese! I know I'll be reaching for another!
I am super excited to introduce you to one of my blogging Besties (Can you say that outside of High School? Not sure. Sorry, David!)!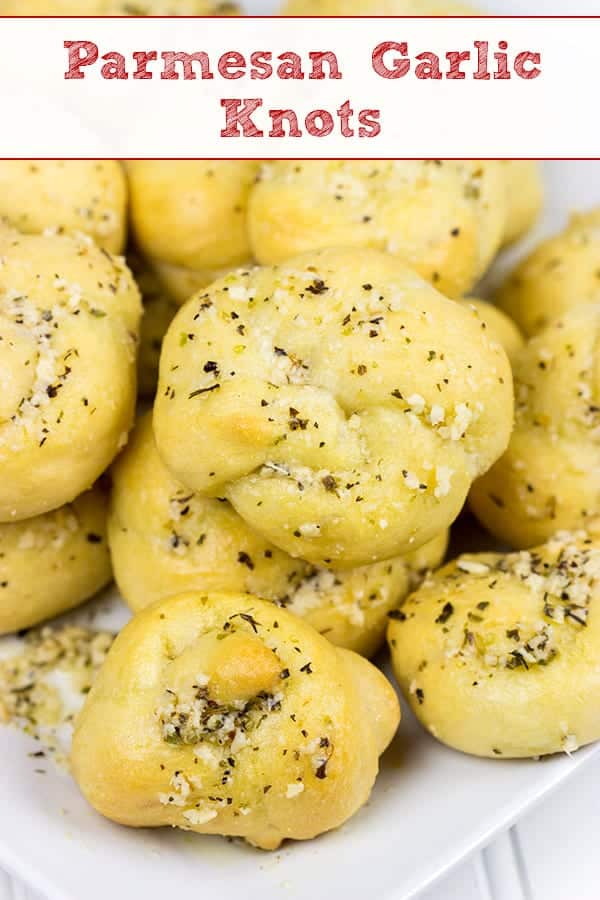 David blogs over at Spiced, where he bakes and cooks up the most fantastic creations! He is my go-to for Manly Foods like this Roasted Potato, Bacon & Onion Pizza and this Bacon and Jalapeño Stuffed Pork Tenderloin, but he also bakes up drool worthy breads, donuts (& Apple Fritters!!!) and desserts like these Turtle Brownies. Just try and tell me you can resist those brownies dripping with caramel and pecans. I think not.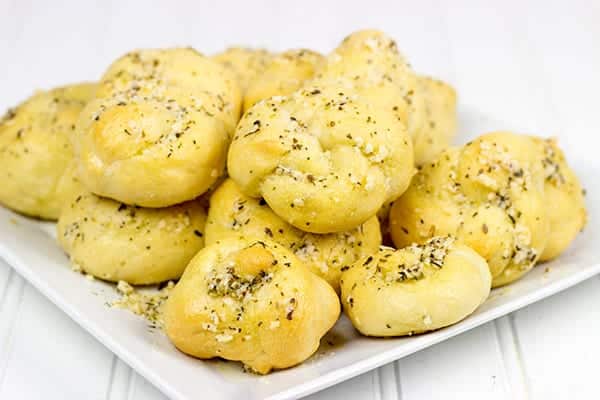 Hey there, American Heritage Cooking fans! I'm Dave from Spiced, and I'm dropping by today to bring you this awesome recipe for Parmesan Garlic Knots. As I'm sure you know, Lindsey is up in NYC settling into her gig learning how to be a pastry chef. I'm seriously jealous of her skills, and I'm sure we'll be seeing the results of her classes here soon. But for now, it's almost Super Bowl time…and that means we need delicious Super Bowl snacks. These Parmesan Garlic Knots are a favorite in our house, and I hope you enjoy them as much as we do!
Although Lindsey is up in NYC at the moment, she calls Atlanta home. I also spent a number of years living in the A, but sadly I didn't know Lindsey back then. It's probably a good thing since I would have been begging her to make me cupcakes all of the time. In fact, I was what you might call lazy back then. I played a lot of video games and made a lot of quick (aka "really bad for you") dinners. After all, it was just me and my dog, so the thought of actually making a real dinner after a long day at work just didn't sound like fun. (The weekends were another story, however...but there were still only 2 days and just 1 person to eat all of the food.)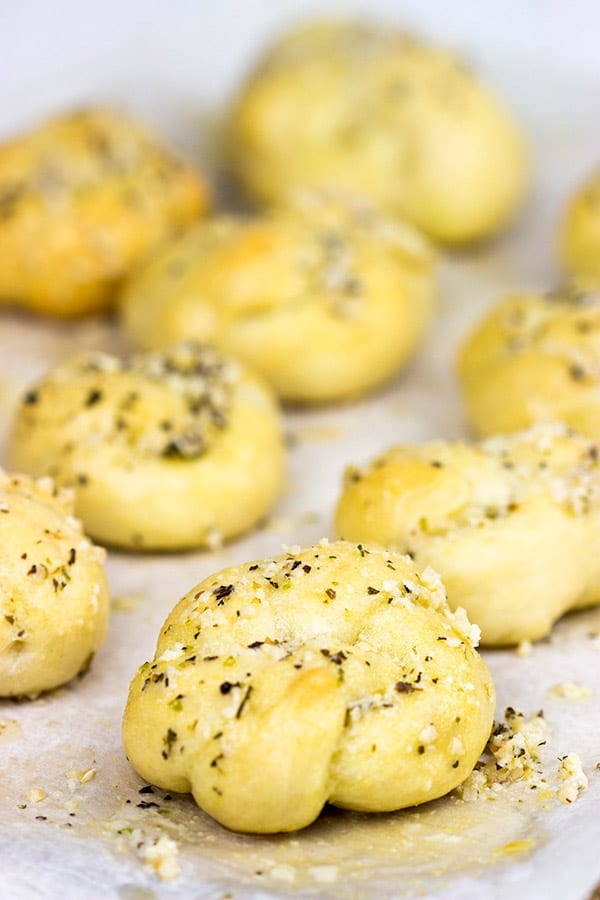 Then I met my wife, and my habits changed. Slowly some of that video game time turned into gym time in the morning. And then some of that couch-sitting time turned into recreational sports in the evening. We even took up tennis lessons for about a year before we moved up here to the frozen tundra of upstate New York. Unfortunately, our tennis rackets have been hanging in the garage unused for way too long now, but we did take up curling instead. When in Rome...
I have fond memories of those tennis lessons. It was me, my wife and my sister-in-law along with a handful of other folks. Our coach was awesome, and I looked forward to those Wednesday night outings. Ok, ok, so what do these delicious Parmesan Garlic Knots have to do with weeknight tennis lessons? Well, we would sometimes go out for a beer and garlic knots with our tennis coach after our lesson. I fully recognize the irony of working out only to sit down for garlic knots and a beer afterwards. But it's all about balance, and I try to follow that mantra every day. (By balance, I mean a cookie in each hand. Haha...just kidding! Despite my childhood wishes, I'm not actually the Cookie Monster.)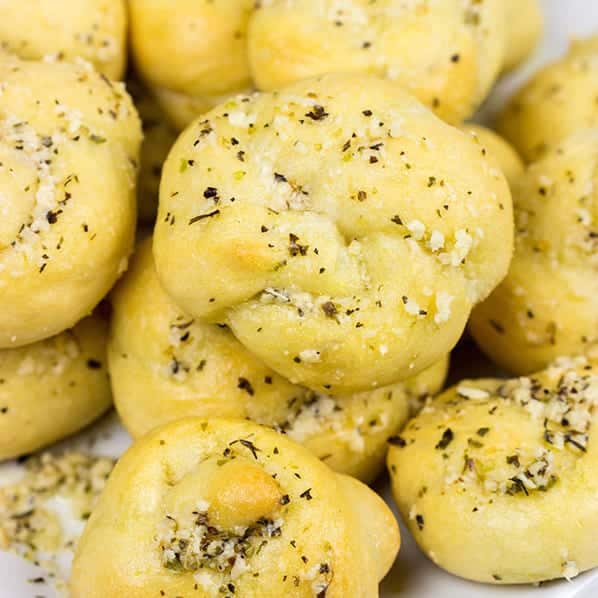 With the Super Bowl quickly approaching, it's all about tasty appetizers. I'm talking delicious finger foods that you can pick up quickly so you don't miss any of the commercials. (C'mon...admit it. The commercials were definitely more entertaining than the actual game last year!) I've been thinking about garlic knots for a while now, and I figured the Super Bowl was the perfect opportunity to whip up a batch.
These Parmesan Garlic Knots are really quite simple to make, too. I used my go-to pizza dough recipe, but you could certainly just grab store-bought dough instead. (You could also try calling your local pizza shop. Chances are they will sell you some dough for just a couple bucks, and it's probably much tastier than the grocery store version.) Then I just shaped the dough into simple knots and baked those bad boys up. A little butter, garlic and Parmesan added to the top once they are baked and you're all set with this classic gameday snack. Enjoy!
Lindsey, here! I know you will love Spiced as much as I do, so hop on over there and check it out!
Don't forget to follow David on Instagram, Facebook, Twitter and Pinterest!
Recipe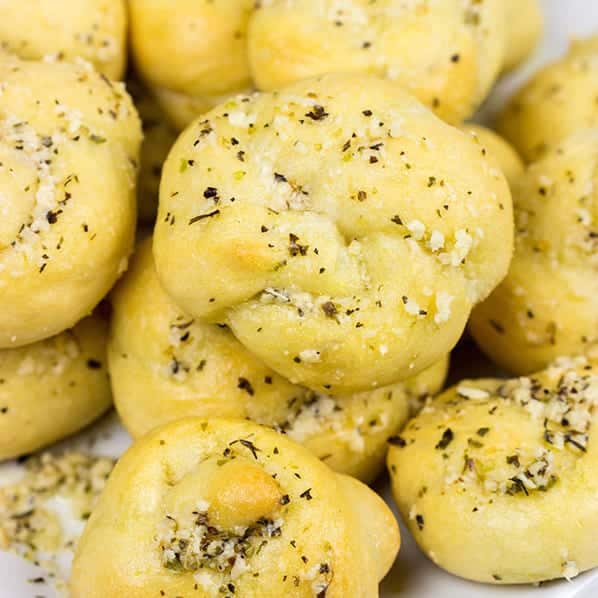 Parmesan Garlic Knots
These Parmesan Garlic Knots are an easy, addicting appetizer for game day or any party! Soft homemade pizza dough knots topped with garlic, butter and Parmesan cheese! I know I'll be reaching for another! 
Instructions
Line 2 baking sheets with parchment paper; set aside.

Place pizza dough on a well-floured countertop or cutting board; roll dough into a large rectangle (~12"x16").

Using a pizza wheel, cut dough in half length-wise, then cut each half into 8 equally-sized strips. (Note: You will end up with 16 total pieces of dough.)

Roll each strip of dough into a 6"-7" rope. Tie each rope into a square knot, tucking the ends into the center of the knot.

Place knots onto parchment-lined sheet pans; sprinkle tops of knots with cornmeal and then cover lightly. (Tip: I lightly cover my dough with plastic wrap, and the cornmeal keeps the dough from sticking to the wrap.)

Cover pans and place in a warm location for 45 minutes, or until knots have almost doubled in size. (Tip: For a warm location, I turn my oven on to 100°F. Then I turn it off and use the oven as a warming area. Just make sure to turn the oven off before putting dough in!)

Once dough has risen, brush tops with olive oil.

Bake knots at 350°F for 18-22 minutes, or until knots are light golden in color. (Tip: If you have a pizza stone, place it in the oven while preheating; bake knots (still on the parchment paper) directly on the pizza stone.

While knots are baking, melt the butter and stir in the minced garlic, Parmesan cheese, Italian seasoning and kosher salt.

Remove knots from oven and brush with the garlic butter mixture. Serve hot.
More AHC Game Day Favorites!
Spice Rack Dry Rubbed Baked Chicken Wings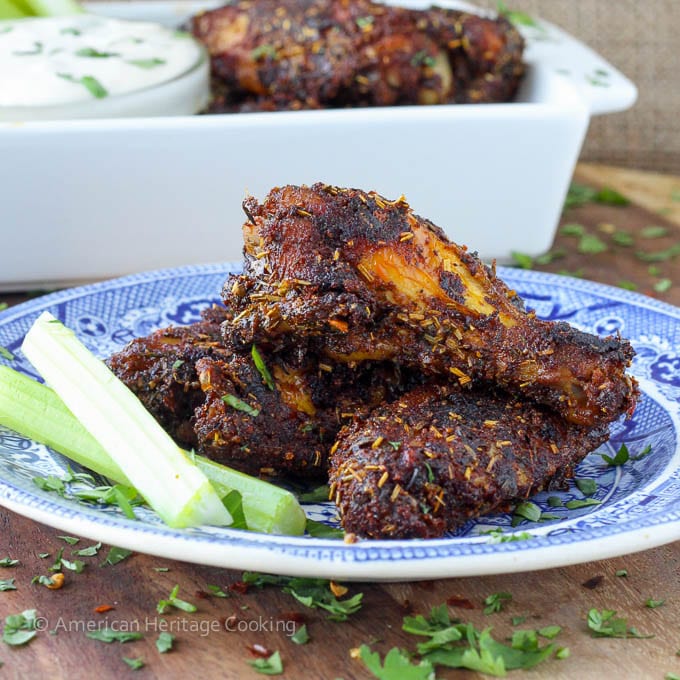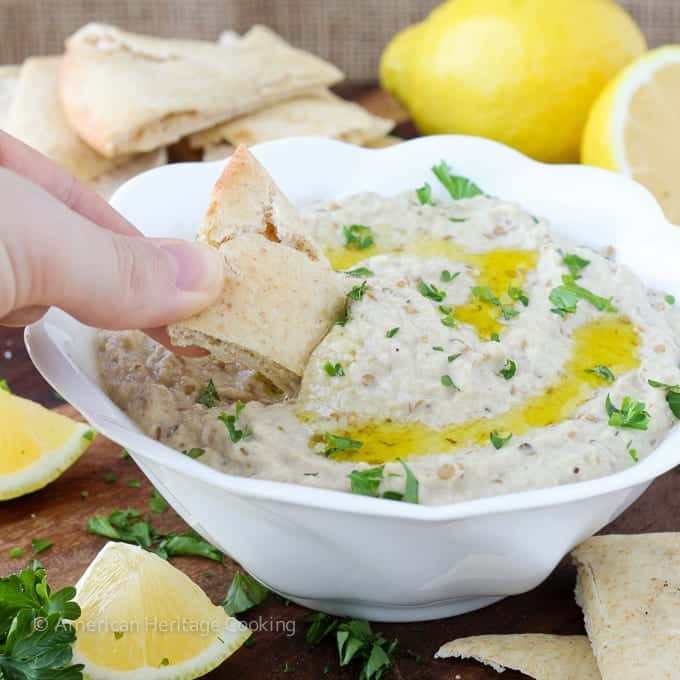 Saucy Chipotle Maple Baked Chicken Wings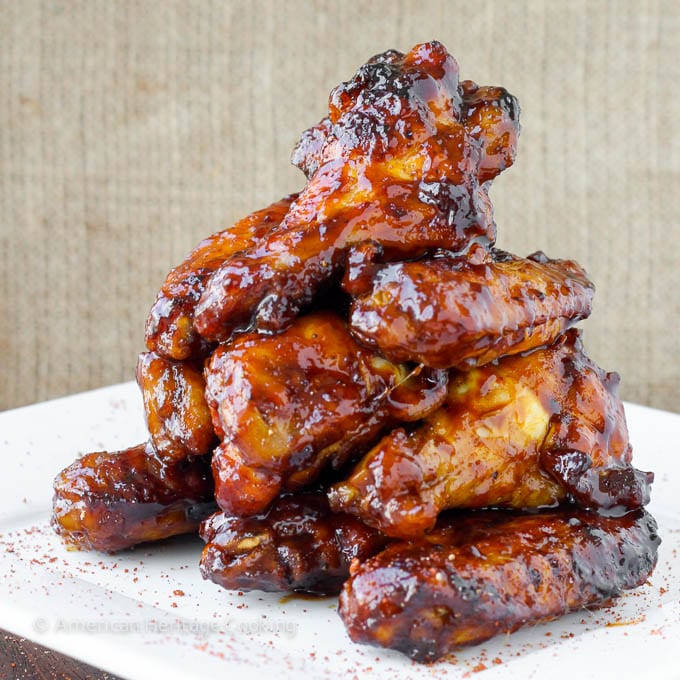 Healthy Chipotle Chorizo Chicken Tacos
Healthy Chipotle Chicken Chili & Gluten Free Cornbread