These are the perfect savory Pumpkin Herb Dinner Rolls. Rosemary, sage and thyme are bloomed in browned butter for a deep, complex flavor. These yeasted rolls are soft, tender and full of flavor. I'll give you all the tips and tricks for perfect rolls every single time.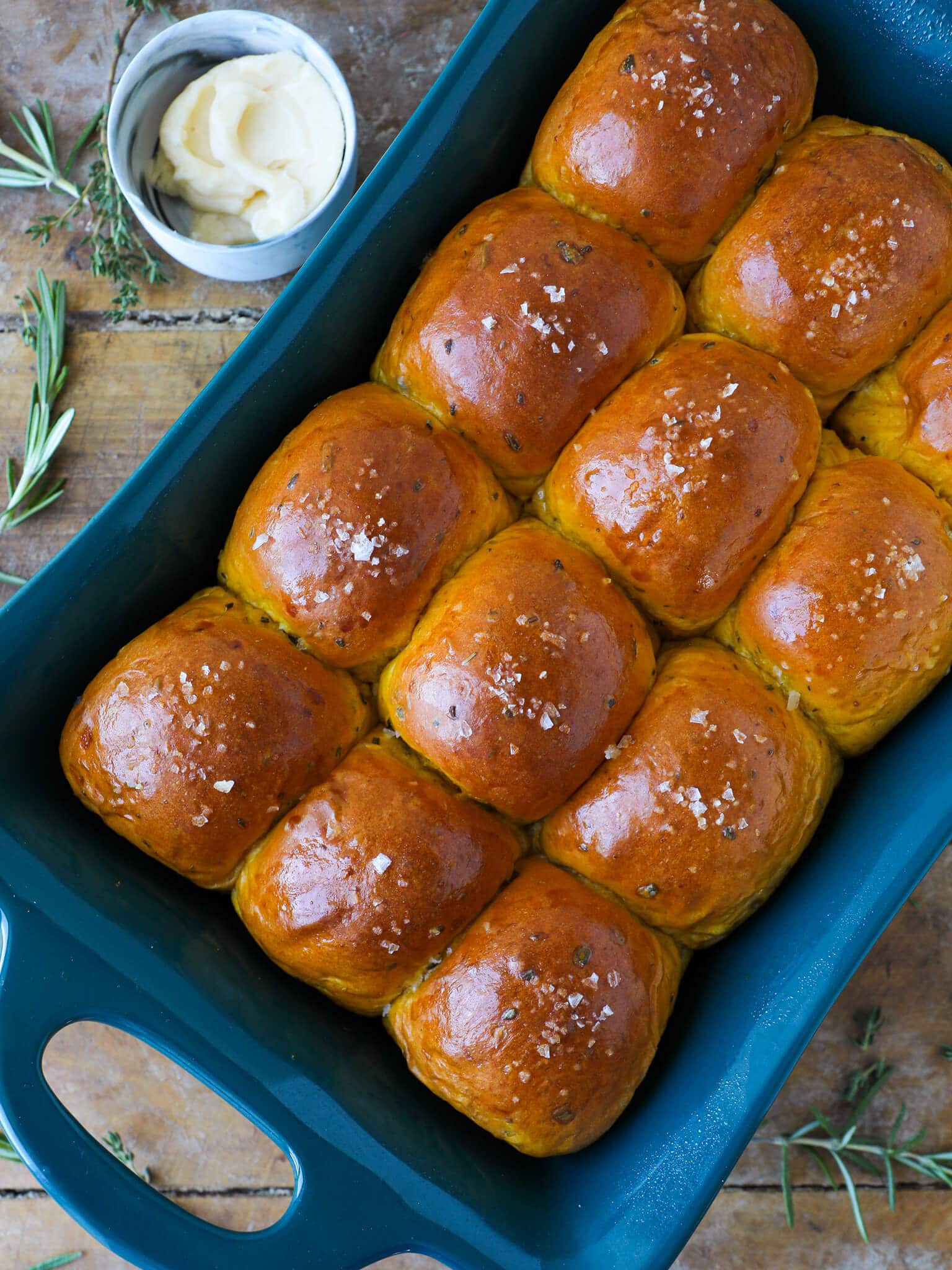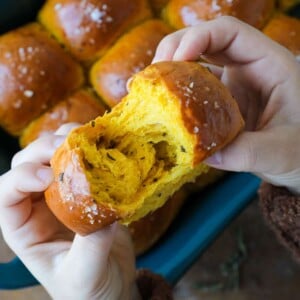 It will come as no surprise that I am a sweet pumpkin spice girl with the likes of easy pumpkin pie and pumpkin bread and all the pumpkin dessert recipes. But every now and again a savory pumpkin inspiration arrives. These pumpkin herb dinner rolls just popped into my head and I couldn't get them out. It was the browned butter and herb combination that made my heart stop!
These pumpkin herb dinner rolls will make the perfect addition to your Thanksgiving dinner table, or perhaps make my Pumpkin Spice Rolls for the fam and save the browned butter goodness for Friendsgiving. Whatever you do, please don't limit them to one day a year. They deserve to shine all season long! There is nothing like one of these rolls slathered with homemade maple butter to warm the soul.
Why use a sponge in Pumpkin Herb Dinner Rolls?
The quick answer is you use a sponge to hydrate the yeast and speed up the process! A sponge is a bread making technique where you combine a portion of the flour with the yeast and all of the liquids. In these pumpkin herb dinner rolls that liquid is whole milk. The sponge not only activates and gives the yeast time to start fermenting, but also allows the gluten network to begin forming. This decreases the total amount of time you have to mix or knead the bread and will make the whole process faster!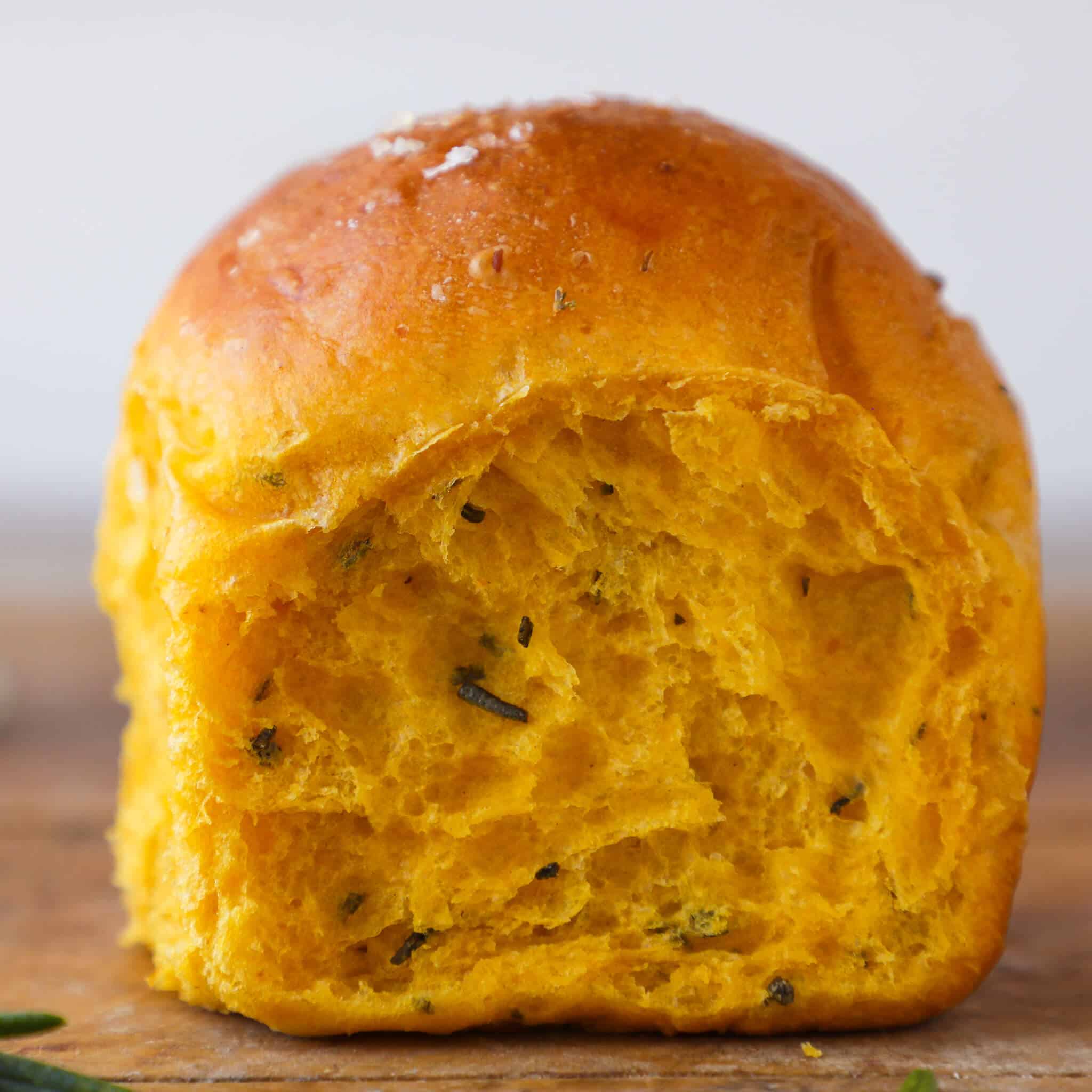 Ingredients for Pumpkin Herb Dinner Rolls
Dry Active Yeast: These little guys require the added step of hydration, but dry active yeast is fast yet controllable. See substitutions for more options.
Whole Milk: I generally use whole milk in yeasted breads for the added flavor and fat. It has a lower water content and the extra fat helps keep the rolls tender and moist.
Sugar: There is a little bit of granulated sugar here for flavor, caramelization of the crust and also to give the yeast an easy, readily accessible food source in order to start the party!
Bread Flour: I use bread flour in this recipe because there are so many additions to the dough that inhibit gluten development like pumpkin puree, egg and butter. The extra protein in bread flour helps to form a strong enough gluten network in spite of these additions to create soft, tender, and well-risen rolls.
Butter: Unsalted butter allows you to control the flavor of the dough while still adding all the buttery goodness!
Fresh Rosemary: Prepare fresh rosemary by picking the leaves of the stems. I run my thumb and pointer-finger down the thick stem from the top to bottom. This removes most of the leaves. Then pick the remaining leaves off. Gather and chop!
Fresh Sage: Prepare fresh sage by picking the leaves off the stems. Gather a few together and roll into a spiral as you would basil. Slice with a sharp knife using a rocking motion to chiffonade then run your knife through the other way for a fine mince.
Fresh Thyme: Prepare fresh thyme by picking the delicate leaves off the stem. You can try running your thumb and forefinger down the stem to remove as many as possible, but picking thyme, unfortunately, takes some time.
Dark Brown Sugar: Using dark brown sugar adds sweetness along with a little moisture.
Kosher Salt: Kosher salt is lass salty than table salt and a teaspoon weighs less than other finer ground varieties. It adds flavor but also salt contributes to the dough structure, and I consider it in the hydration equation of the dough.
Whole Egg: The whole eggs are here to add fat, moisture and flavor. The fat from the yolk adds richness and helps keep the rolls moist.
Pumpkin Puree: I use Libby's pumpkin puree because it is consistent and that is what I use to develop all my recipes. Use whichever brand you prefer for these pumpkin herb dinner rolls. Just be sure to grab pure pumpkin puree and not pumpkin pie mix! I would not suggest substituting homemade pumpkin puree due to the varying moisture content. Canned pumpkin puree is tightly controlled within a certain percentage.
Substitutions
Pumpkin Puree: There are no substitutions here but it is worth reiterating that this is just plain puree and not pumpkin pie mix. You can make your own puree but the water content varies greatly and you might end up with dry or gummy rolls. The water content of canned puree has been adjusted by the manufacturer, thus taking some of the guess work out.
Milk: I prefer baking with whole milk for the flavor and fat, but you could use skim milk, alternative milks or even make this recipe using all water.
Dark Brown Sugar: If you don't have dark brown sugar on hand, you can absolutely substitute light brown sugar in equal amounts. You could also add coconut sugar instead.
Yeast: If you don't have dry active yeast, you can substitute double the weight of fresh yeast or half the weight in instant yeast. If using either fresh or instant yeast, you can add them straight to the pumpkin herb dinner roll batter, but mixing them into the sponge will still kickstart the fermentation and gluten development!
Herbs: Use any combination of fresh herbs that you would like. Woody herbs like rosemary, oregano, and sage stand up to the heat of the browned butter better. If you would like to use a more delicate herb like cilantro, mix it straight into the batter or risk it burning and losing its fresh flavor.
Can I make these pumpkin herb dinner rolls into loaves instead?
Absolutely! This will make two standard sized loaves. Follow the dividing, shaping, final proofing and baking instructions for my brioche bread loaves instead. I made a full video tutorial on those brioche loaves, if you're looking for extra tips and tricks!
What can you do with leftover pumpkin herb dinner rolls?
Sandwiches: These pumpkin herb dinner rolls make fantastic sandwich rolls for lunch the next day! Can you see the Thanksgiving leftover sandwich possibilities?! Pure magic.
Make a Savory Bread Pudding: You can also cube it and make a savory bread pudding for brunch or a side dish for dinner.
Croutons: Tear or cut into cubes and make croutons for a salad. These would make a phenomenal addition to a stone fruit panzanella salad like this one!
Bread Crumbs: Tear and toast these pumpkin herb dinner rolls the oven until dried. Pulse in the food processor to make homemade bread crumbs!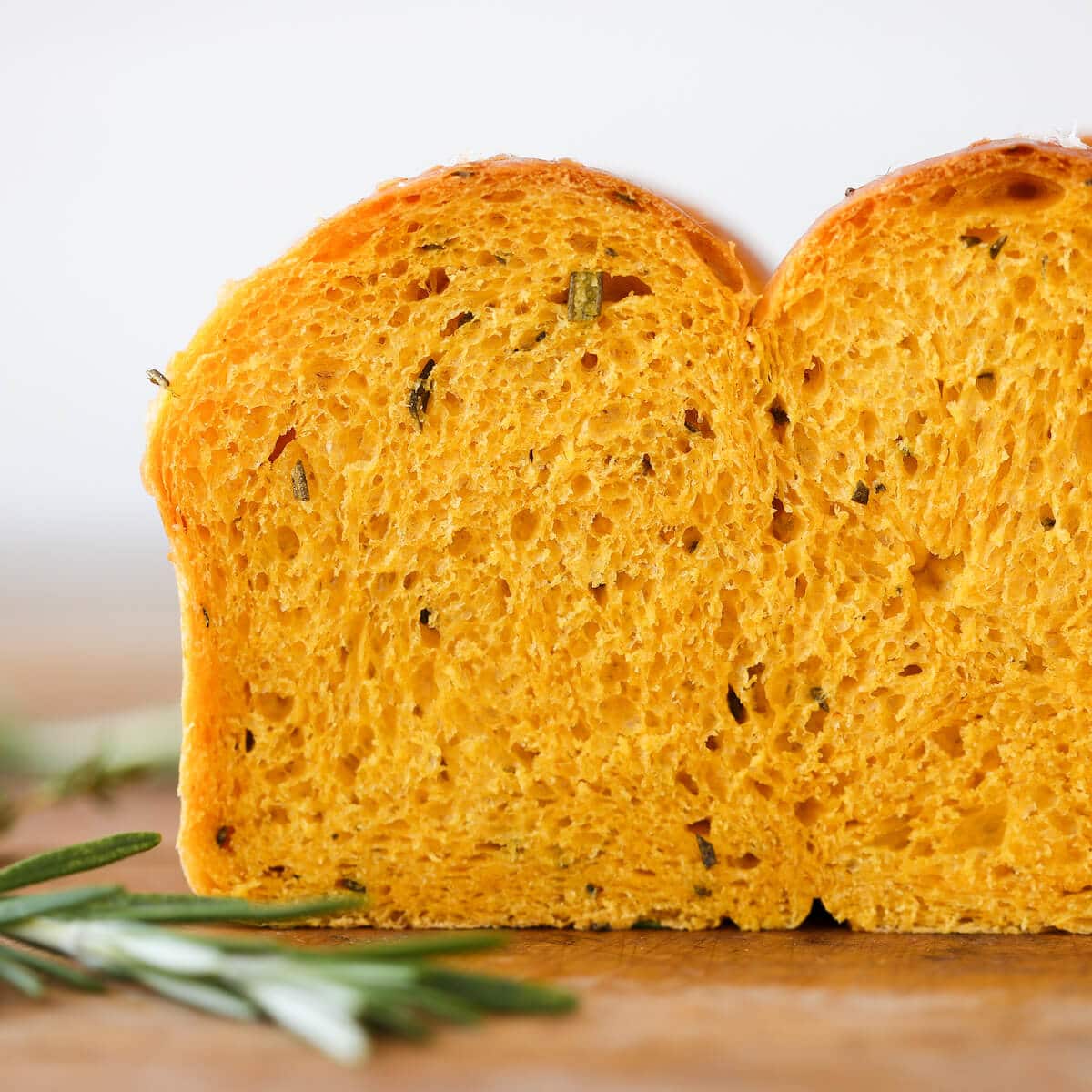 Frequently Asked Questions
Do I have to brown the butter?
You definitely do not need to brown the butter. You can mix these just like my pumpkin spice dinner rolls. There is more butter in this recipe because some moisture is evaporated and solids are burned when browning. You can reduce the butter or not!
How do you store pumpkin herb dinner rolls?
Store cooled rolls in an airtight container or zip-top bag, or wrapped in plastic wrap. Store at room temperature or frozen. They can be stored in the refrigerator but they will dry out faster.
How long will the rolls keep?
For optimal freshness, consume or freeze within two days. Once frozen they will keep for 1 month.
Can you freeze these rolls?
These rolls can be well wrapped and frozen. Thaw at room temperature and reheat in a 325°F oven until warmed through.
Can you make pumpkin herb dinner rolls ahead?
The rolls can be prepared the night before but use half the amount of yeast and final proof in the refrigerator. Bake them when they are fully proofed. If they are fully proofed in the refrigerator, bake them cold, but if they need to rise more, allow them to rise at room temperature.
Will this dinner rolls recipe multiply?
I have tested this bread recipe in a professional commercial bakery setting. You are only limited by the capacity of your particular mixer. I would strongly suggest measuring by weight when multiplying bread recipes. They are particularly sensitive to minute adjustments of flour and hydration. I scale all my bread recipes but it is particularly important when making a larger batch.
What to serve with Pumpkin Herb dinner rolls?
These Pumpkin Herb Dinner Rolls are part of my Thanksgiving Menu 2023. You could also serve them with maple sweet potato casserole, creamy mashed potatoes, easy roasted cauliflower, or just as a side dish for roasted lemon chicken and vegetables. If they put you in a purely pumpkin mood, check out my 25 Best Pumpkin Recipes to get the ball rolling!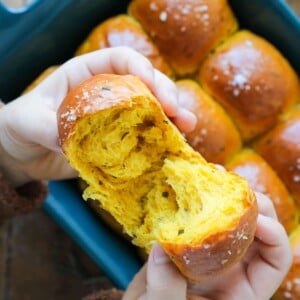 Pumpkin Herb Dinner Rolls
These are the perfect savory Pumpkin Herb Dinner Rolls. Rosemary, sage and thyme are bloomed in browned butter for a deep, complex flavor. These yeasted rolls are soft, tender and full of flavor. I'll give you all the tips and tricks for perfect rolls every single time.
Instructions
Make the Sponge:
Heat the milk to around 95-100°F in a pot or the microwave.

In a medium bowl combine all the ingredients for the sponge and mix with your hands. You can mix with a spoon but it is so wet that it will be more difficult.

Cover with plastic wrap and set in a warm spot until visibly bubbly. It should take about 20 minutes.
Brown the Butter with the Herbs:
In a small pot melt the butter and add the chopped fresh herbs. Cook on medium heat, stirring frequently until the butter is browned and smells lightly nutty. You don't want to cook it so long that the herbs burn. If you are worried, begin by browning the butter and then add the herbs.

Pour into a small bowl and allow to cool to room temperature before adding to the dough. You can also pop it in the refrigerator to speed this along!
Mix the Dough:
I usually scale the remaining ingredients while the sponge is sitting. You can scale them all straight into the mixer bowl and let them sit while waiting on the sponge.

In the bowl of a stand mixer add the remaining flour, dark brown sugar, salt, butter, pumpkin puree, egg and sponge. Add the browned butter and herbs.

Mix on low speed with the paddle attachment until combined.

Switch to the dough hook and mix on medium speed until a rough window pane can be pulled. This means the dough will not look perfectly smooth but will have pulled together and made one cohesive dough around the hook. Pinch off a piece and gently pull the sides apart, rotate and pull again, making a square shape. The dough should not tear; you should be able to see through some of the dough like a window pane but then there will be pieces of dough that look rough. This is what you want.

Scrape the dough into a well-oiled bowl, cover with plastic wrap and allow to proof for 30 minutes in a warm place. Fold the dough by grabbing one side, pull it upwards out of the bowl and then fold it over 1/3 of the dough. Rotate the bowl 180 degrees and repeat with the opposite side. Rotate a quarter turn and repeat the same folding technique. Rotate the bowl 180 degrees and make the final fold. You should have a nice tight square packet of dough.

Marvel at your skills. Cover with plastic wrap and allow to double. Mine took about an additional 30 minutes.

While the is finishing its bulk proof, grease a 9 x 13-inch baking dish with cooking spray or butter.

When the dough has doubled and feels light and aery when touched, turn it out onto an un-floured surface. It is soft, supple and not sticky!

Divide into 12 equal portions. You can eyeball this or weigh them. They should be about 99g each. Place each about equidistant apart in the prepared dish.

Cover with plastic wrap and place back in the warm spot to double. This took about 30 minutes for mine.

Preheat the oven to 350°F

When the buns are ready to bake (doubled and light and airy), brush with beaten egg.

Bake in preheated oven for 20-22 minutes or until an instant read thermometer reads 185°F when inserted into the center of one of the middle buns. If you don't have a thermometer, you can insert a cake tester or toothpick into the center and it should come out with clinging crumbs but no streaks of dough!

Brush the hot buns with melted butter to emulate my shiny, enticing tops!

Technically they should cool, but who has the patience? I say dig right on in.
Notes
Note: They are best eaten the day they are made but can be reheated in a warm oven the next day.
Nutrition
Calories:
257
kcal
|
Carbohydrates:
40
g
|
Protein:
8
g
|
Fat:
8
g
|
Saturated Fat:
4
g
|
Polyunsaturated Fat:
1
g
|
Monounsaturated Fat:
2
g
|
Trans Fat:
0.2
g
|
Cholesterol:
31
mg
|
Sodium:
255
mg
|
Potassium:
150
mg
|
Fiber:
2
g
|
Sugar:
5
g
|
Vitamin A:
3227
IU
|
Vitamin C:
1
mg
|
Calcium:
50
mg
|
Iron:
1
mg
Like this? Leave a comment below!
Before You Go!
Check out our other delicious, chef-developed recipes for Breads!