This easy Rosemary Lemon Roasted Cauliflower will be your new favorite side dish! Cauliflower florets seasoned with fresh rosemary, thyme and lemon zest. It is fast, flavorful and versatile.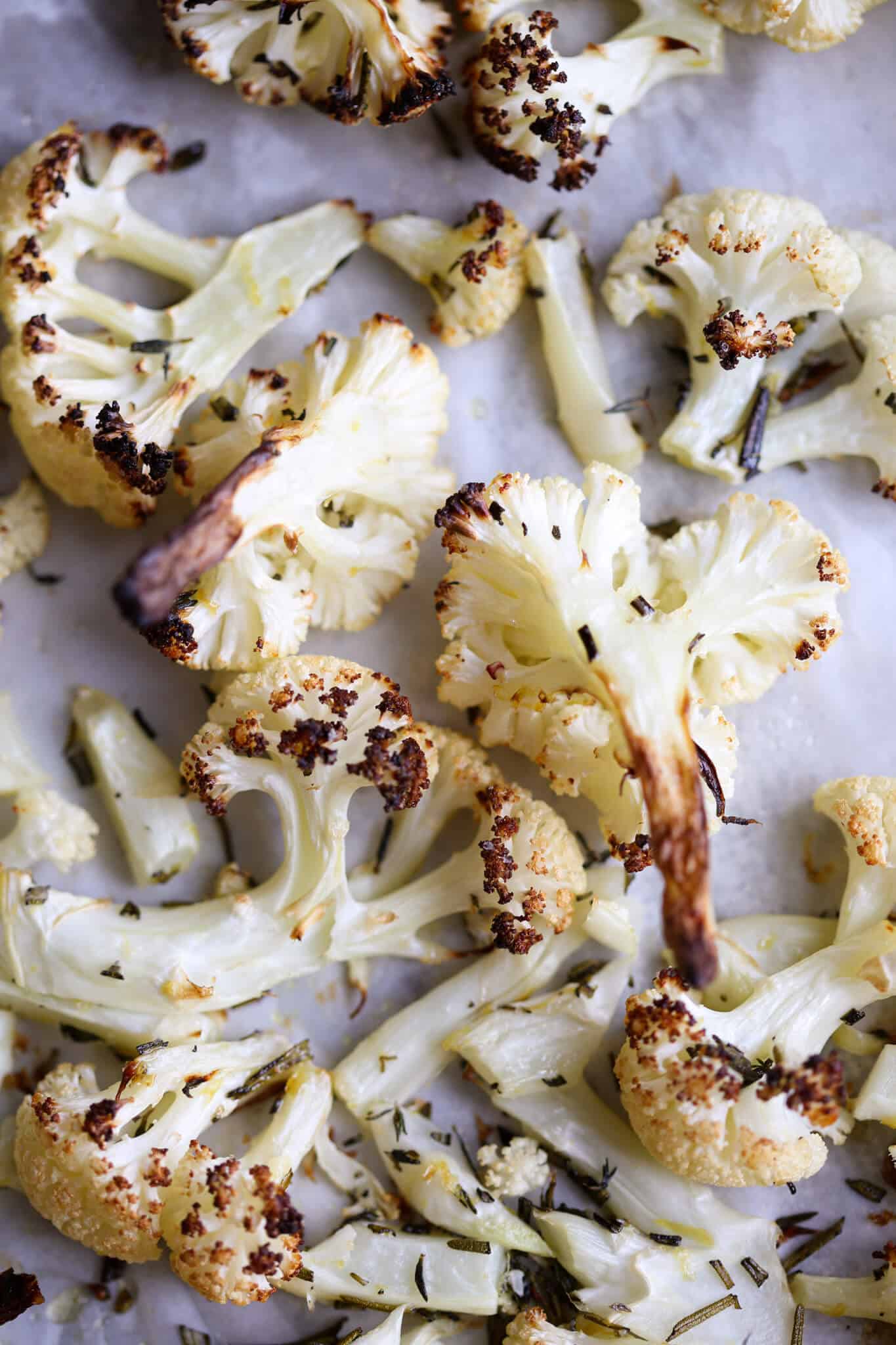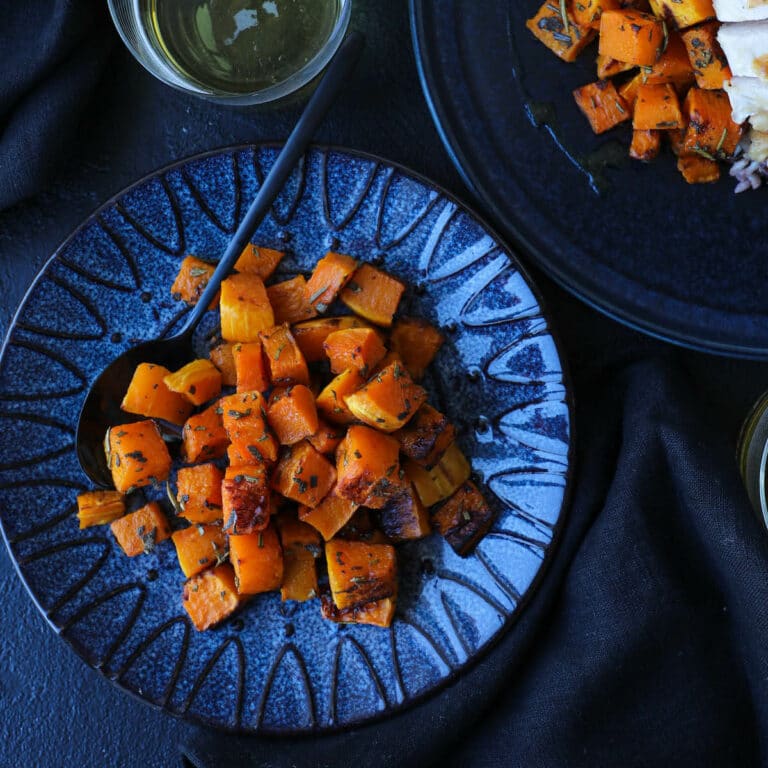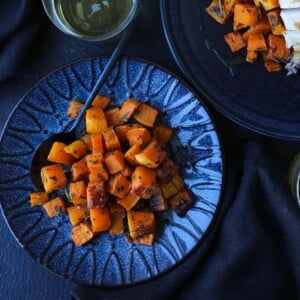 This Rosemary Lemon Roasted Cauliflower is a staple in my weekly rotation. I usually prep my cauliflower and herbs on Sunday night, which means it is ready to bake before my oven even preheats! The cauliflower gets toasty and caramelized and the herbs more fragrant. Pair with a healthy creamy coleslaw, quinoa pilaf, vegetarian stuffed sweet potatoes, or your favorite cooked grains!
I love this dish with roasted chicken, mustard glazed pork chops or brown sugar meatloaf! I always make extra to eat on this easy roasted vegetable salad with my foolproof rosemary chicken.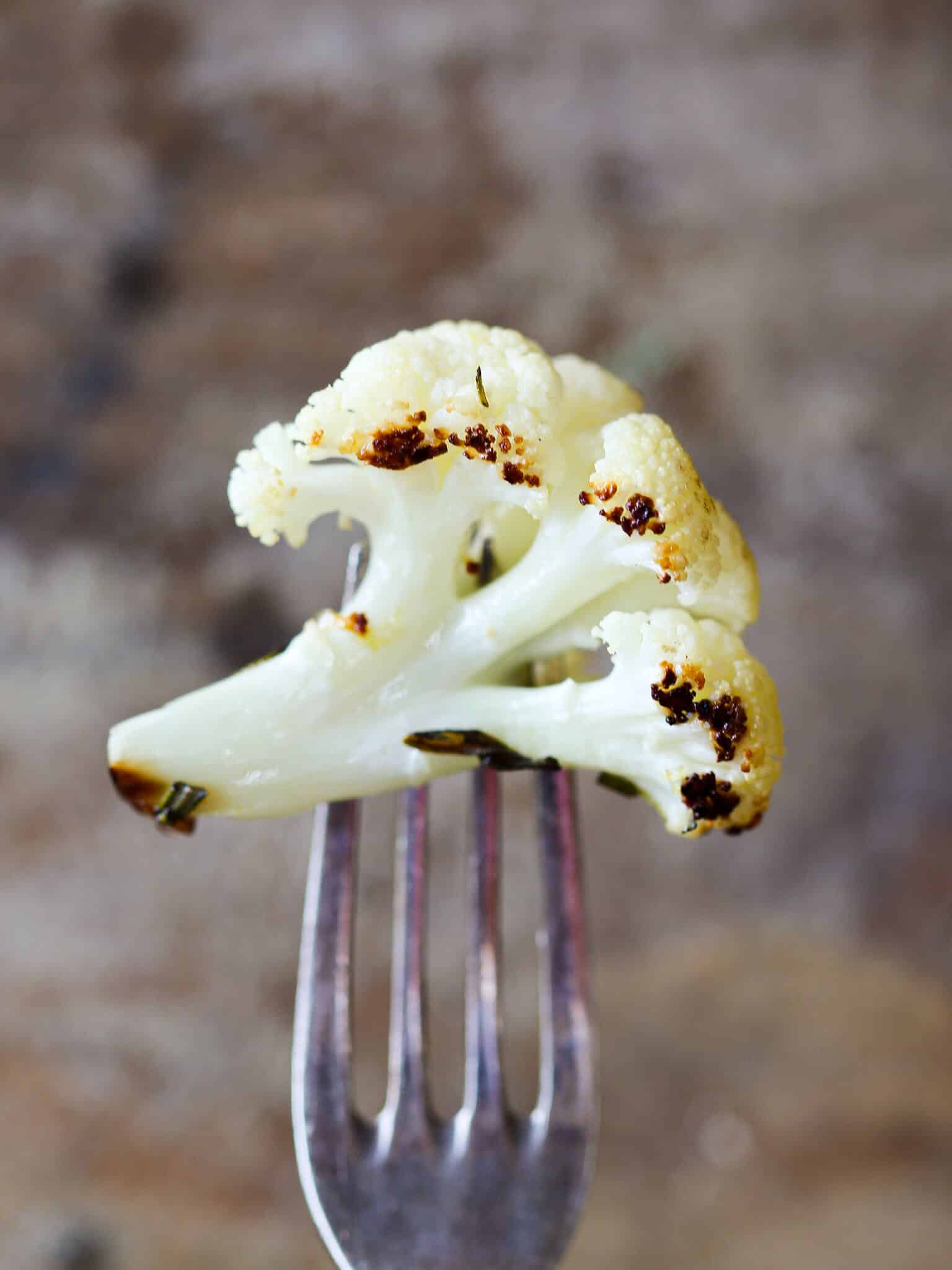 Frequently Asked Questions: Roasted Cauliflower
How to make rosemary lemon roasted cauliflower in an air fryer?
Preheat the air fryer to the air fry setting at 385°F. Lightly spray the basket and then spread cauliflower on top. Air fry for 10-12 minutes or until tender. I usually cut cauliflower smaller when making in the air fryer so it doesn't burn before it cooks through.
At what temperature should you roast cauliflower?
400°F is the perfect temperature to roast cauliflower because it gives it enough time to cook through before browning. It will give you that perfect soft tender cauliflower with the crispy edges!
Can you roast cauliflower on parchment paper?
Yes! Roasting cauliflower on parchment paper will still give you browned, caramelized vegetables without the clean-up! Perfect Rosemary Lemon Roasted Cauliflower every time!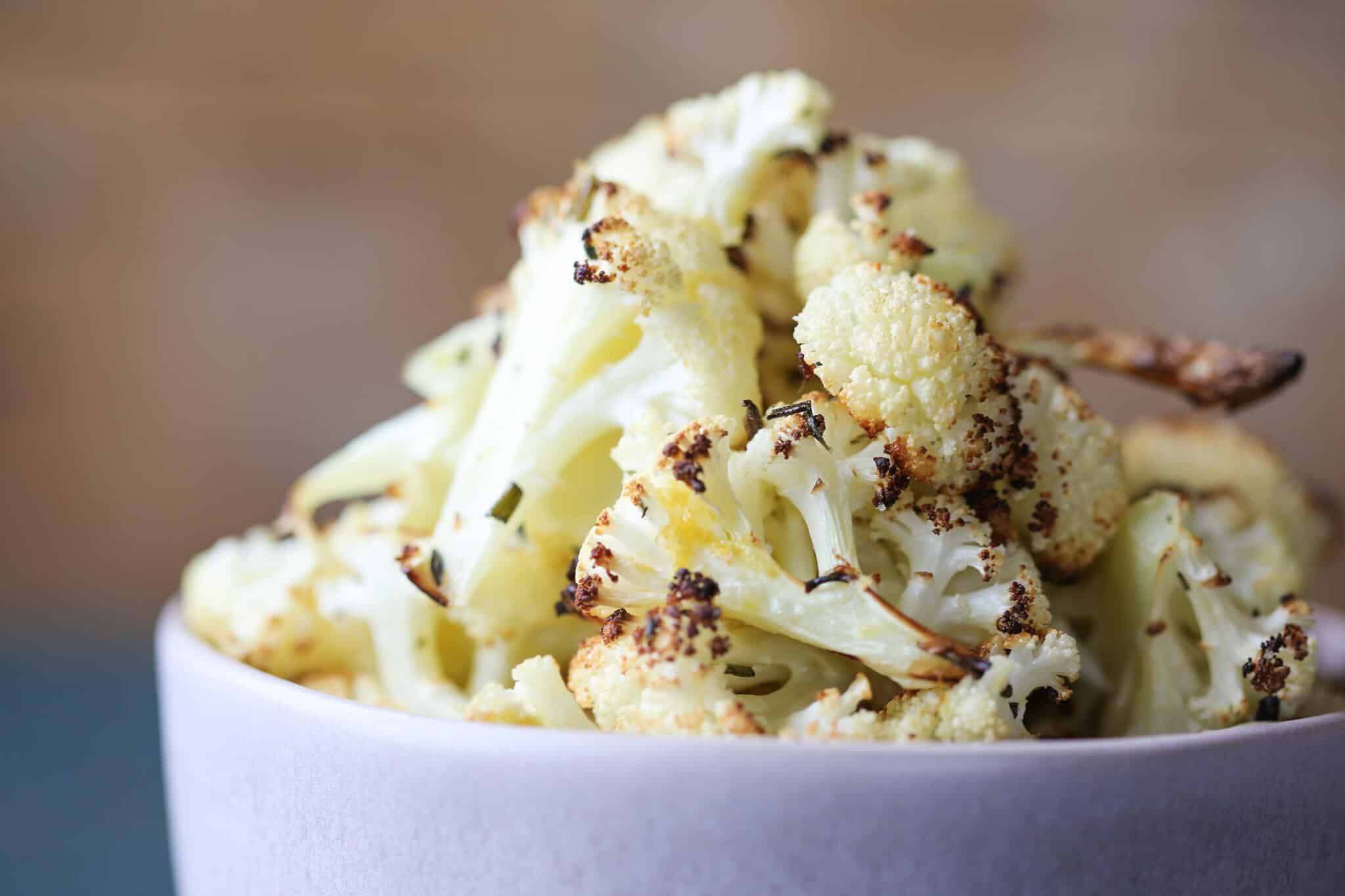 Ingredients needed for Rosemary Lemon Roasted Cauliflower
Cauliflower: This recipe calls for one head of cauliflower, but they differ in size. One medium head of cauliflower will give you about 6 cups of medium cauliflower florets.
Rosemary: I use fresh rosemary that is picked off the stem and then chopped.
Thyme: Picked fresh thyme adds subtly to the flavors of this dish
Lemon: I only zest about half a lemon for this roasted cauliflower with rosemary and lemon recipe, but you can save the rest for a lemon cake or roasted chicken or even lemon curd!
Olive oil: I use extra virgin olive oil for roasting, but you could use any oil you like
Kosher salt: Kosher salt is less salty with larger granules than table salt. In this recipe, it is augmenting all the other flavors.
Black Pepper: Black pepper is optional but a nice complimentary flavor. I typically buy black pepper in a pepper mill or I buy the whole kernels to refill my pepper grinder. Fresh black pepper tastes completely different than pre-ground.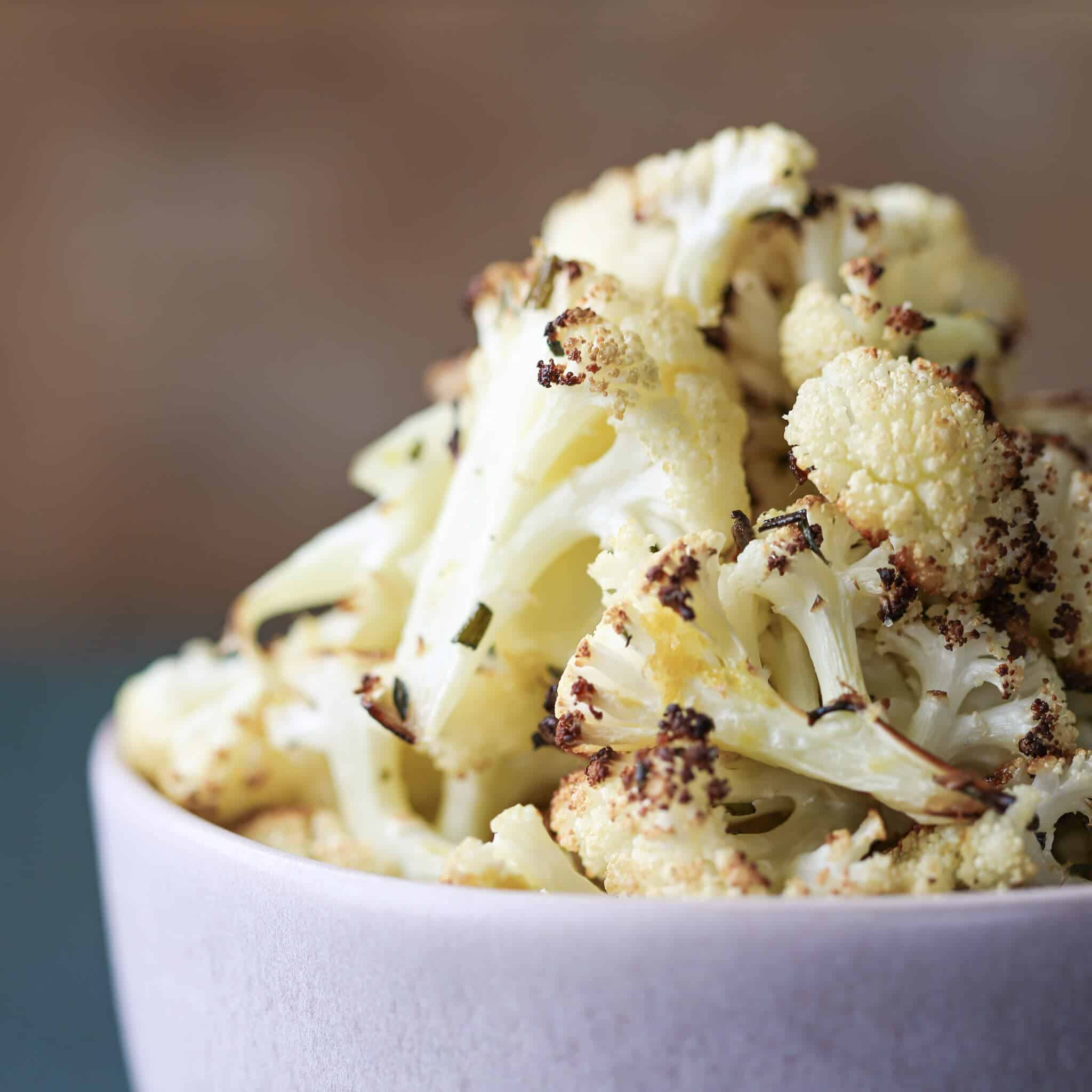 Variations on Rosemary Lemon Roasted Cauliflower
Herbs: Mix up the herbs to your taste or use dried herbs from the spice cabinet. Oregano is also lovely here.
Citrus: Use orange zest instead of the lemon zest for a different flavor completely!
Broccoli: This recipe is also delicious with broccoli.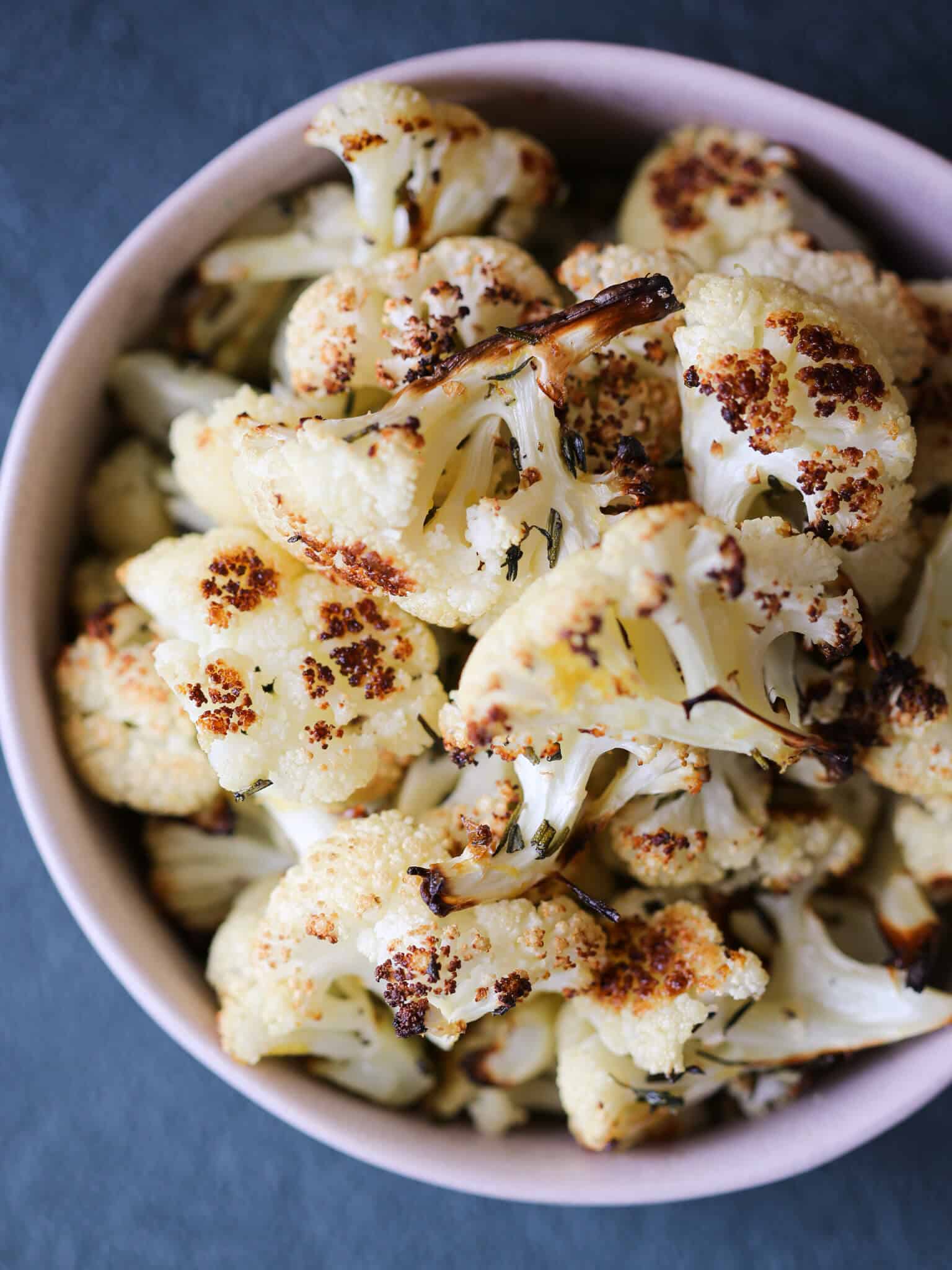 Professional Chef Tip
Cut the cauliflower and cut the herbs in advance to make weeknight cooking a breeze! I prepare all my vegetables for the week on Sunday, which means I can have dinner on the table at a reasonable time, even on the busiest days.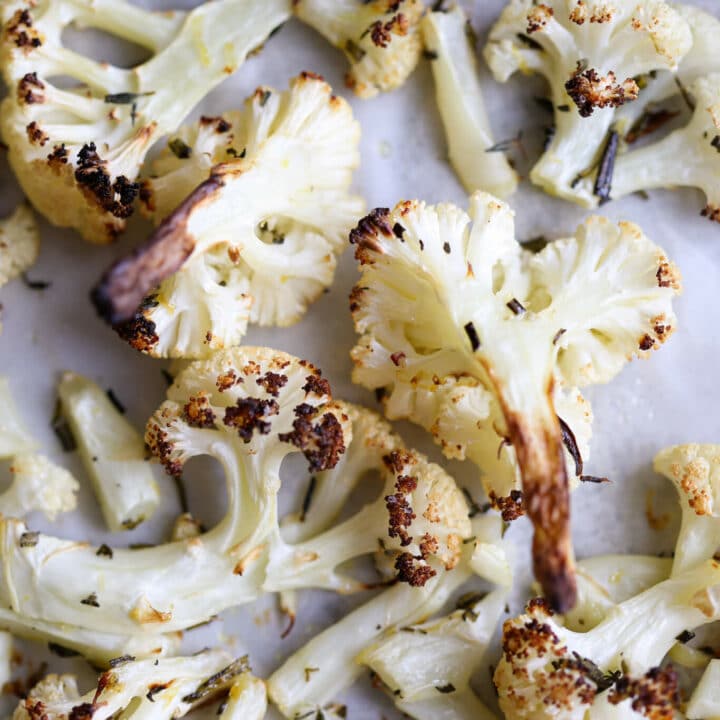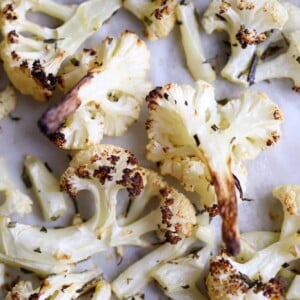 Rosemary Lemon Roasted Cauliflower
This easy Rosemary Lemon Roasted Cauliflower will be your new favorite side dish! Cauliflower florets seasoned with fresh rosemary, thyme and lemon zest. It is fast, flavorful and versatile
Instructions
Preheat oven to 400°F and line a baking sheet with parchment. The parchment is optional but I find it helpful to avoid unnecessary clean up.

Cut the stem out of the head of cauliflower and then cut into florets.

Transfer to a large bowl and add rosemary, thyme, lemon zest, a large pinch of salt, a few cracks of black pepper and olive oil. Toss to coat. The easiest way to see if there is enough salt, is to inspect it. Pick up a piece of cauliflower. You should see some visible granule of kosher salt on the surface. If not, add a bit more.

Spread out on the baking sheet and bake in preheated oven until the cauliflower is tender and there are some nice browned edges. You can always finish under the broiler if you want more char.

Serve!
Nutrition
Calories:
68
kcal
|
Carbohydrates:
2
g
|
Protein:
0.2
g
|
Fat:
7
g
|
Saturated Fat:
1
g
|
Polyunsaturated Fat:
1
g
|
Monounsaturated Fat:
5
g
|
Sodium:
1
mg
|
Potassium:
29
mg
|
Fiber:
1
g
|
Sugar:
0.3
g
|
Vitamin A:
78
IU
|
Vitamin C:
9
mg
|
Calcium:
9
mg
|
Iron:
0.3
mg
Like this? Leave a comment below!