This healthy coleslaw recipe is made with low fat Greek yogurt for a delicious crunch, creamy texture and a little tang! With under 55 calories per serving, it is the perfect healthy side dish for any meal.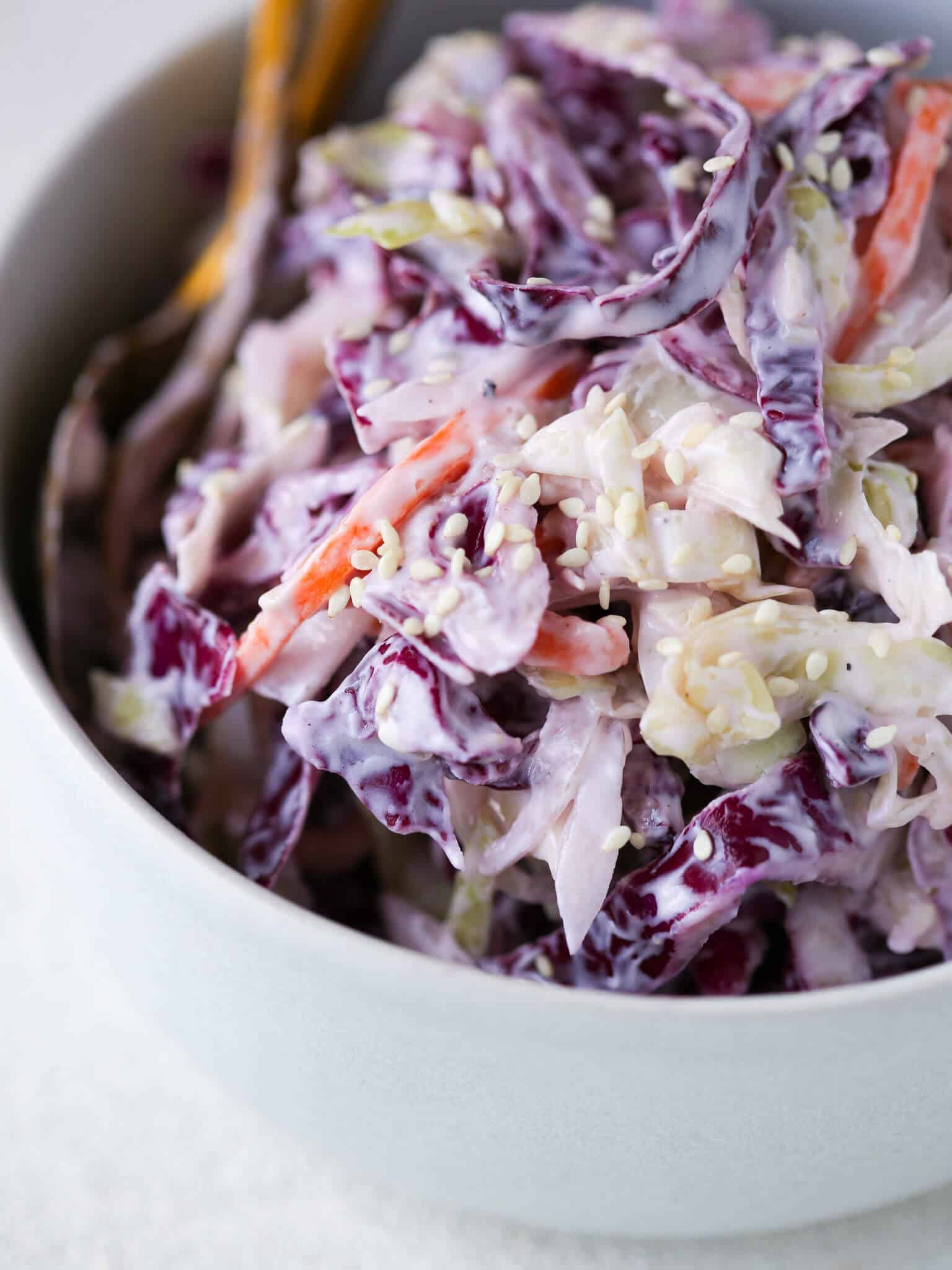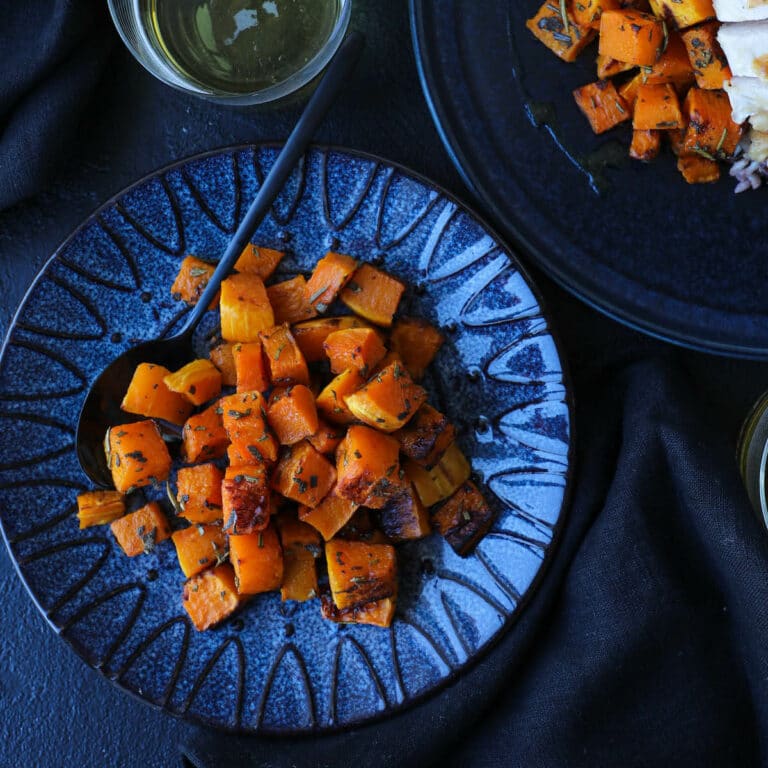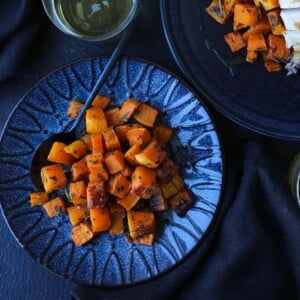 I was late to adapt coleslaw into my everyday side dish recipes repertoire. In my mind, coleslaw was indelibly linked to barbecue and I could not bear to eat bbq pulled chicken sandwiches or a bbq plate without it. The tangy, crunchy, healthy coleslaw contrasts the fatty, saucy delicious meat. But a few years ago, I realized how tragic it was to relegate this fabulously versatile side to one meal.
This healthy creamy coleslaw recipe is a phenomenal crunchy sidekick for Spicy Peach Pork Chops or chipotle chorizo tacos. These tacos have a light mezcal slaw, but this creamy slaw would be a great alternative. It is also delightful with my baked mushroom pork chops or baked chicken and shallots. Cuts right through the rich sauce for the perfect balance. Add a serving of deviled eggs and you'll make me downright jealous of your plate!
What makes this the best Healthy Creamy Coleslaw?
It's Easy: I slice all my ingredients on a mandolin for the perfect thickness, but you could absolutely substitute a bag of pre-packaged coleslaw mix for the cabbage. I did this for the video and I have no regrets!
You won't miss the mayo: The Greek yogurt gives you all the creamy-vibes of mayo without the guilt. As a bonus, it adds a bit of protein and a delightful tang.
It's versatile: With no overpowering flavors, this healthy creamy slaw compliments almost anything! I've even served it with brown sugar meatloaf. Alongside mashed potatoes, of course!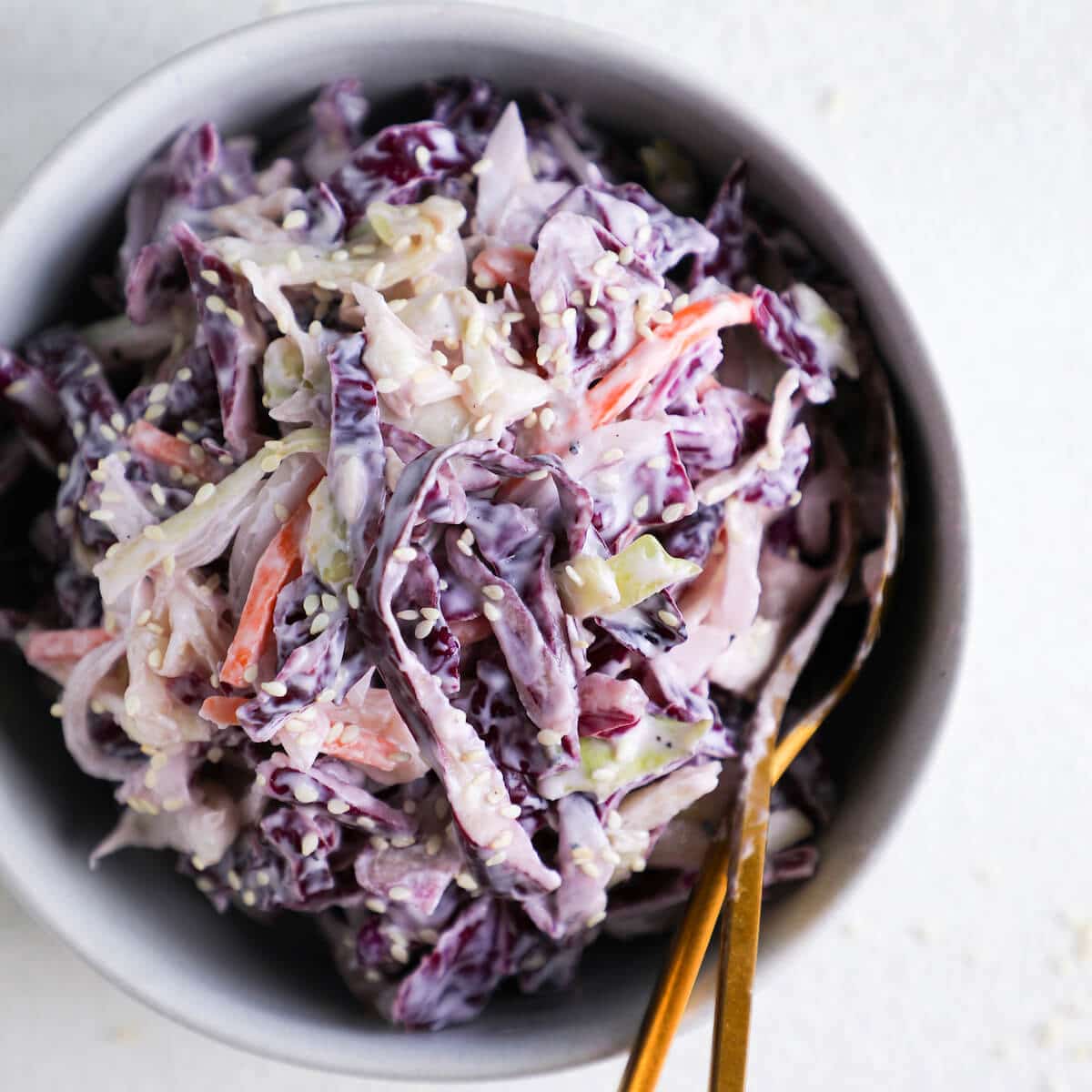 Ingredients Needed
Red Cabbage: I love red cabbage in coleslaw because it tints the sauce a little purple and that makes me happy. Obviously you can use whichever cabbage you like best or can find.
White Onion: A thinly sliced white onion adds a little flavor and interest to the simple mix.
Red Pepper: I love the flavor of sweet red bell peppers. Use as much or as little as you'd like in this healthy creamy coleslaw recipe, or omit it completely.
2% Greek Yogurt: Low fat Greek yogurt is the creamy factor in this mix. It adds a little extra tang and a little natural sweetness. I prefer the taste of 2% but you could use fat free if you like it.
Safflower Oil: Safflower oil is my neutral oil of choice recently. I love that it doesn't have a strong taste and has a high smoke-point. Feel free to use another oil of choice.
White Balsamic: I love white balsamic vinegar in this slaw, but rice vinegar or red wine vinegar would also be lovely.
Kosher Salt: Kosher salt augments the natural flavors and balances the acidity of the vinegar.
Pepper: Freshly cracked black pepper will add a little depth and heat if you add enough! It is completely to your taste.
Sesame Seeds: I love the mildness of sesame seeds in this healthy creamy coleslaw, but poppy seeds would also be welcome.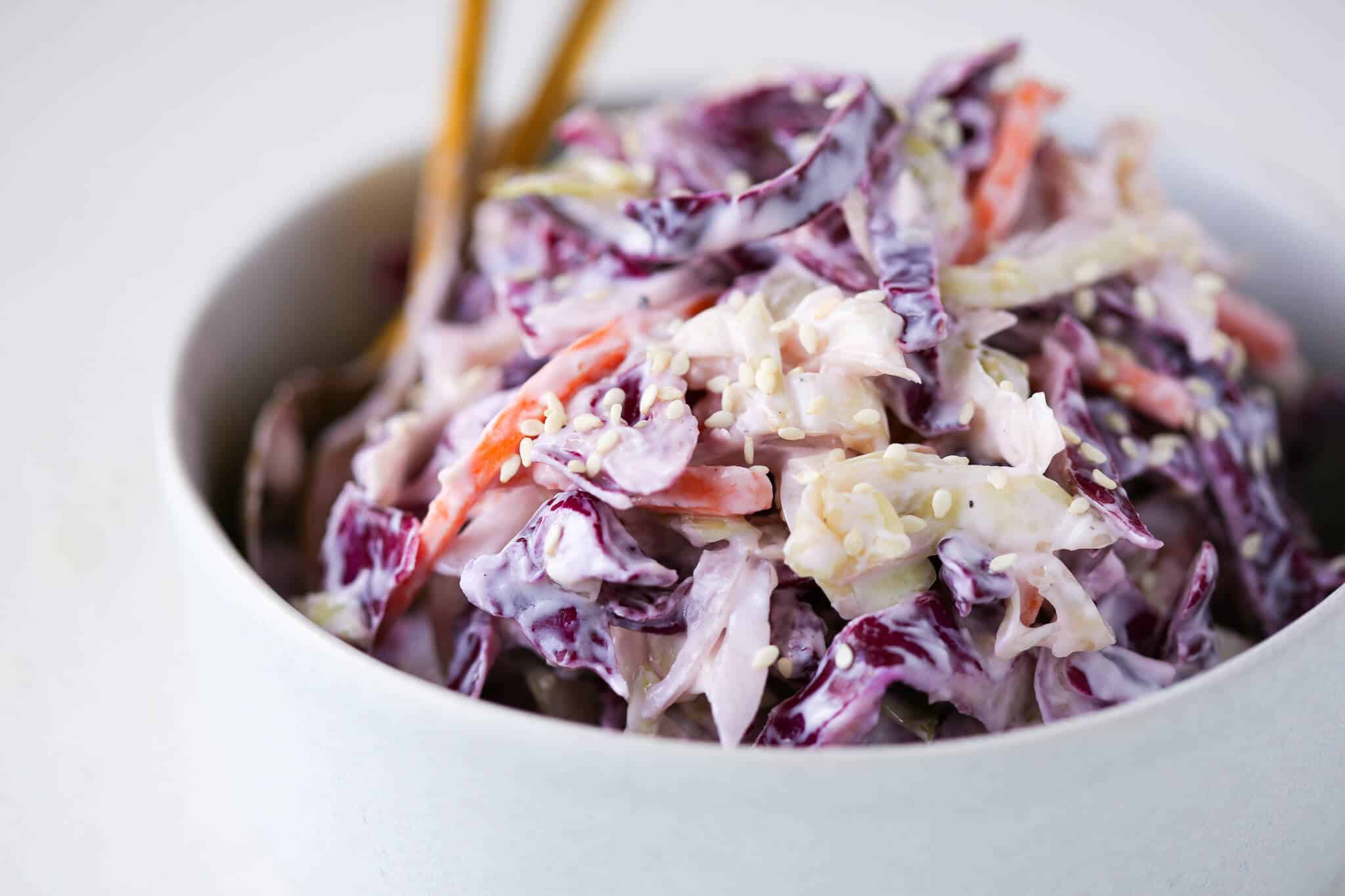 Substitutions for Healthy Creamy Coleslaw
Greek Yogurt: While I feel very strongly that strained Greek yogurt is best, you could certainly use regular plain yogurt in a pinch. It will be a little looser and not quite as tangy. You could also use sour cream but that will add 30 calories per serving.
Safflower Oil: Any neutral oil can be substituted such as walnut or vegetable oil. Sesame oil can also be used but it will impart a flavor. You can also substitute half of the amount of the oil for sesame oil.
Coleslaw Mix: You can substitute a bag of coleslaw mix for the sliced cabbage. I did this for the video and photos. The only downside is you can't control the thickness. My bag was thick-cut, so the cabbage didn't release its juices and the flavors didn't meld until the second day. But it was easy and that was worth it!
Professional Chef's Tip
Mix this healthy creamy coleslaw recipe with two spoons or with your hands. If you're willing to get your hands dirty, you can really massage the dressing into the cabbage! No judgement either way.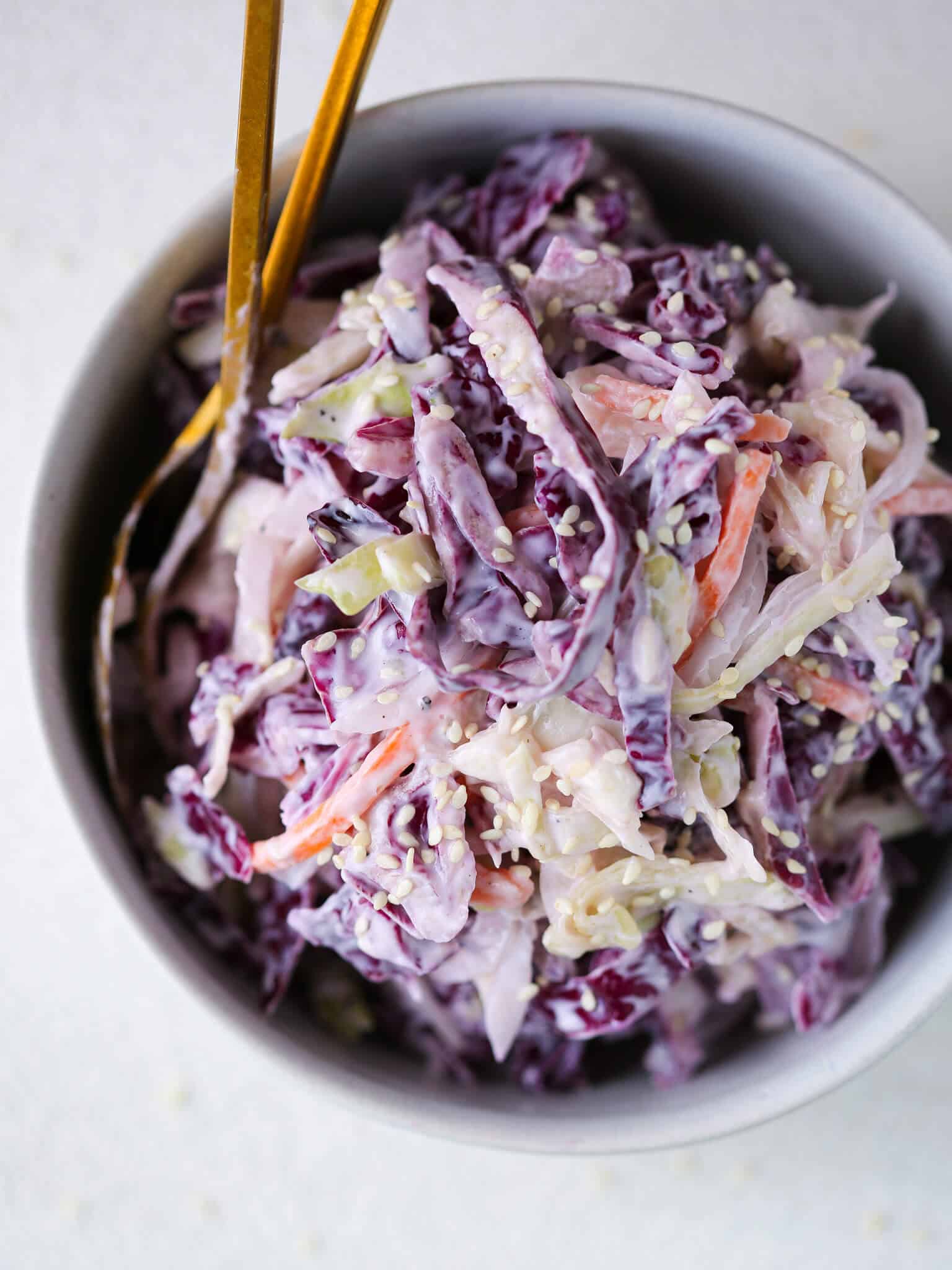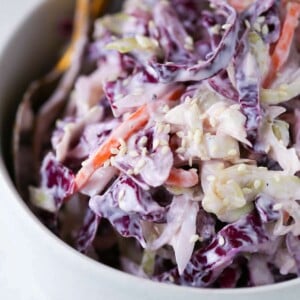 Healthy Creamy Coleslaw Recipe
This Healthy Creamy Coleslaw recipe is made with low fat Greek yogurt for a delicious crunch, creamy texture and a little tang! With under 55 calories per serving it is the perfect side dish for any meal.
Instructions
On a mandolin or with a sharp knife, slice the cabbage longways (from the top towards the base). I always do a few test swipes and then check the thickness. Ideally they are less than 1/8th inch. These will break down better and allow all the flavors to meld.

On the same mandolin, slice the white onion longways (from the top to stem) followed by the bell pepper.

In a small mixing bowl, whisk together yogurt, oil, and vinegar. This can also be added straight to the slaw mix but it is more difficult to incorporate. At times though that one extra dish can just feel like too much. I see you and I am with you.

Pour over the slaw and toss to coat. Sprinkle with salt and pepper. Mix with two spoons or your hands. I find it easiest to mix by hand because you can really massage the dressing into the cabbage. Taste and adjust seasonings.

Sprinkle in sesame seeds.

Cover and refrigerate at least 30 minutes until the cabbage begins to wilt, the onions lose a bit of their bite and a natural sauce forms. For thicker cabbage this might take overnight.
Notes
Yield: ~ 3 cups
Serves: 6
Nutrition
Calories:
55
kcal
|
Carbohydrates:
6
g
|
Protein:
3
g
|
Fat:
3
g
|
Saturated Fat:
0.2
g
|
Polyunsaturated Fat:
0.4
g
|
Monounsaturated Fat:
2
g
|
Trans Fat:
0.003
g
|
Cholesterol:
1
mg
|
Sodium:
20
mg
|
Potassium:
173
mg
|
Fiber:
1
g
|
Sugar:
4
g
|
Vitamin A:
808
IU
|
Vitamin C:
39
mg
|
Calcium:
44
mg
|
Iron:
0.5
mg
Like this? Leave a comment below!