This mouthwatering Rosemary Rubbed Rib-Eye steak with Charred Onions can be made under the broiler or on the grill! Either way it's juicy, tender and flavorful!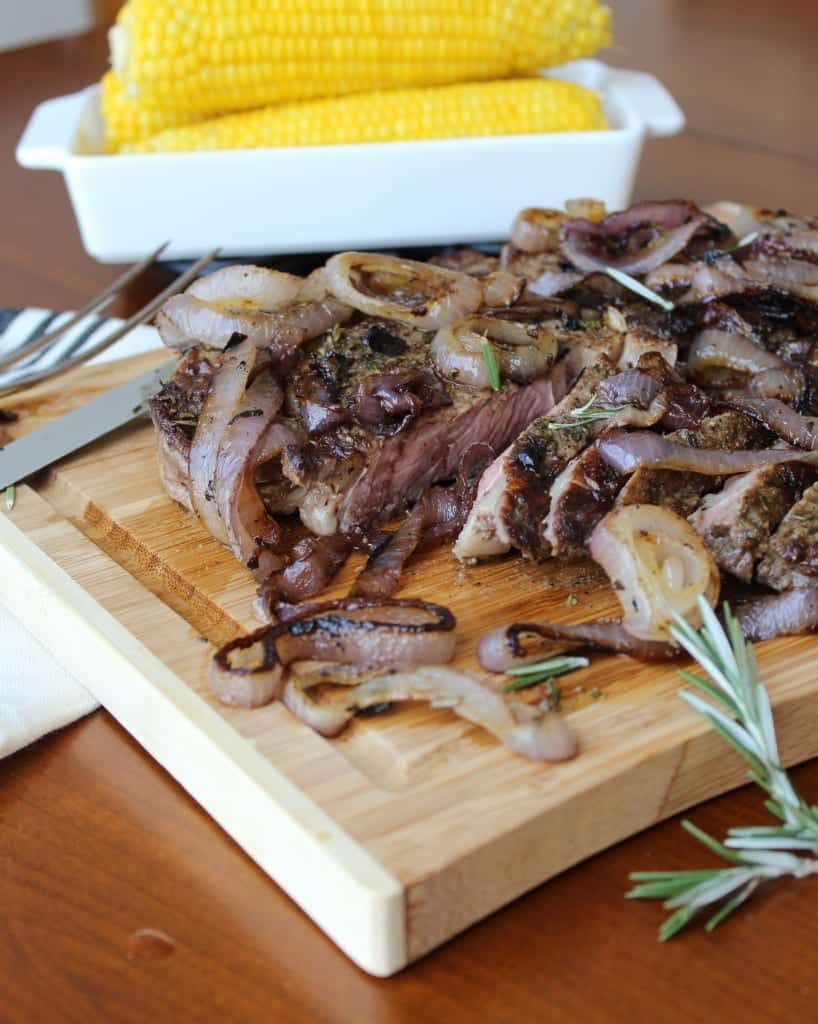 I am going to share with you my deepest culinary secret: I do not feel comfortable grilling. I never know how hot it is or how to time anything. I understand the kitchen. I know how to time each part of the meal with the precision of a synchronized swimmer, but throw me outside with a grill and I feel bewildered and lost.
The grill was always my Dad's territory. He ran his charcoal grill like a pro: every steak perfectly cooked, every chicken breast was juicy and moist and each burger cooked exactly how you liked it. Every. Single. Time. I would peer over his shoulder as he showed me how to stack the charcoal just so and how to tell when it was the perfect temperature. As my Dad threw on the meat, I would wander back inside to the safety and comfort of the kitchen with my eyes wide-open in wonder. It all seemed like magic to me!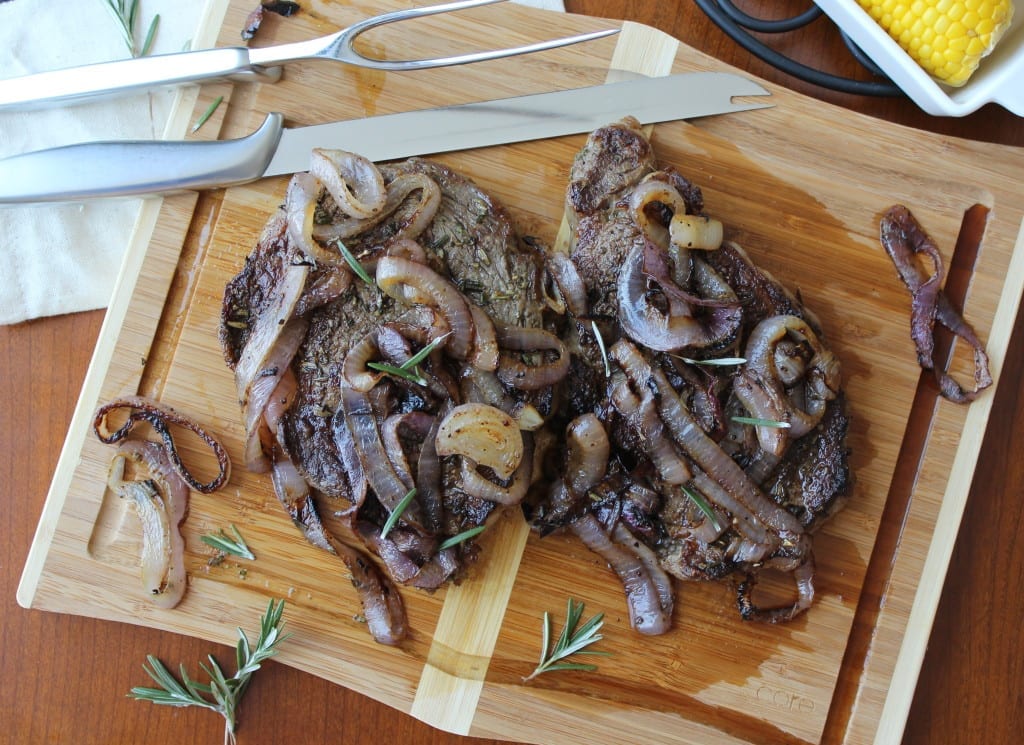 When I saw this article in Fine Cooking Feb/March 2013 about how to use your broiler to the same effect, I couldn't wait to try it out! It seemed like the perfect recipe to spotlight my Dad for Father's Day. This Rosemary Rubbed Rib-eye with Charred Red Onions is mouth wateringly good. There is the perfect amount of rub on the outside of the steak to highlight, not mask, it's beautiful flavor. And the onions! Oh the onions! After the rave reviews from my fiancé, I scampered back to the kitchen and made more onions for the leftovers.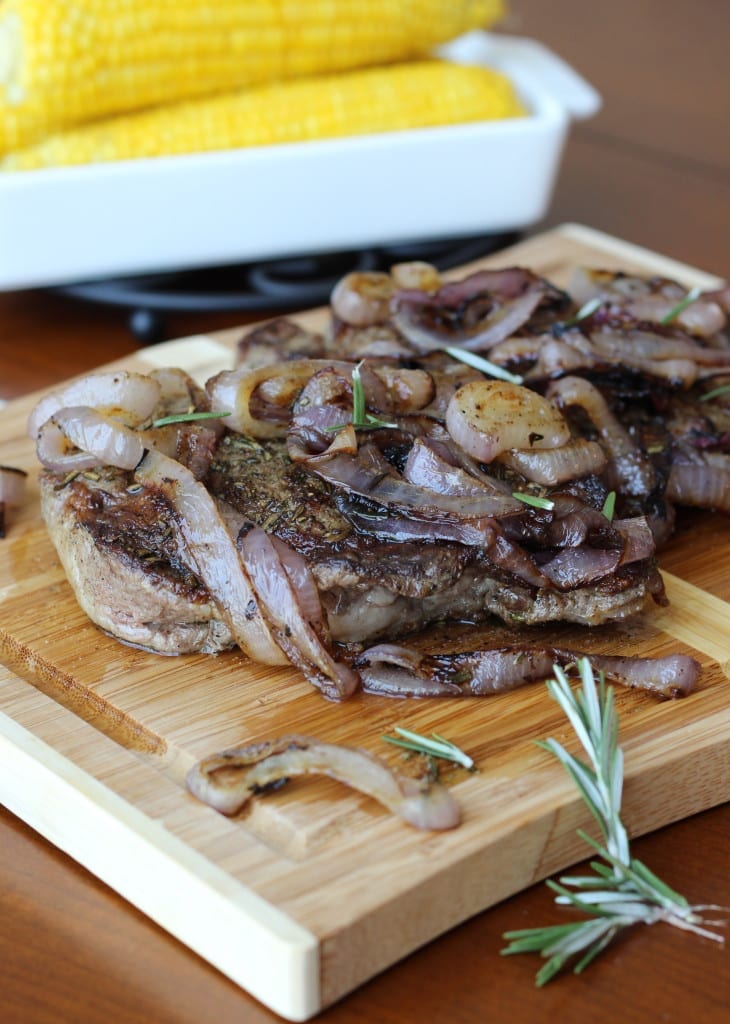 If you feel at home out there working the grill or if you are lucky enough to be cooking with a grill-master Dad, then take these magical steaks outside! If not or it's raining or snowing, then these are absolutely breathtaking made under the broiler. So thank you, Dad, for the years of perfectly grilled dinners and for having the patience to show me how to do it each and every time! Love you, Dad!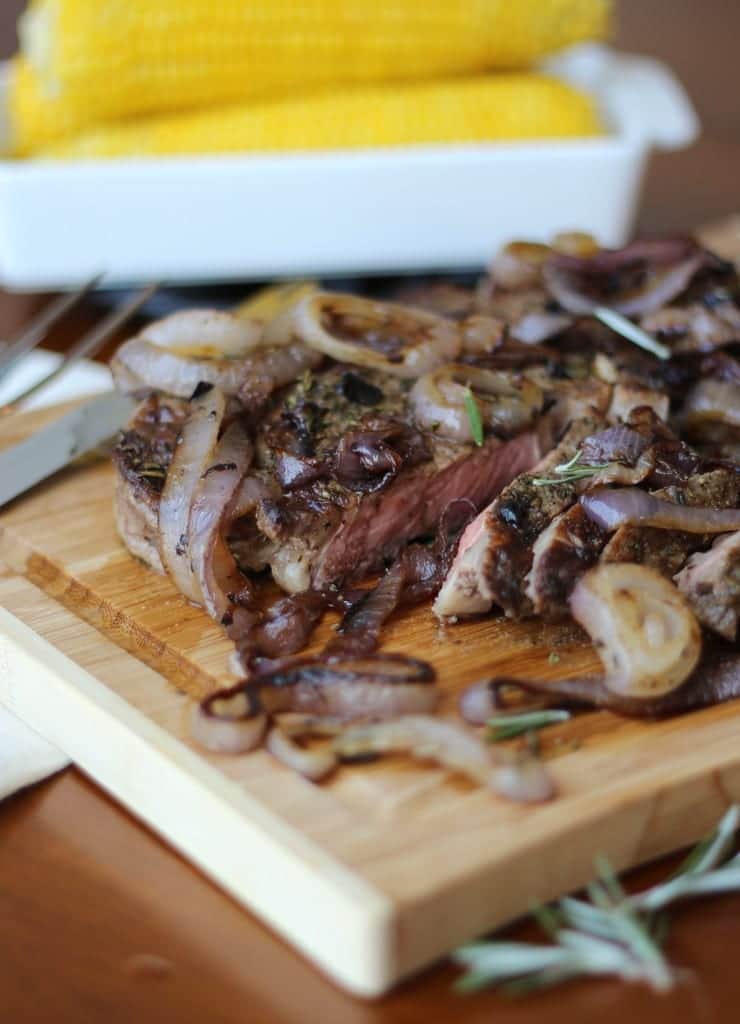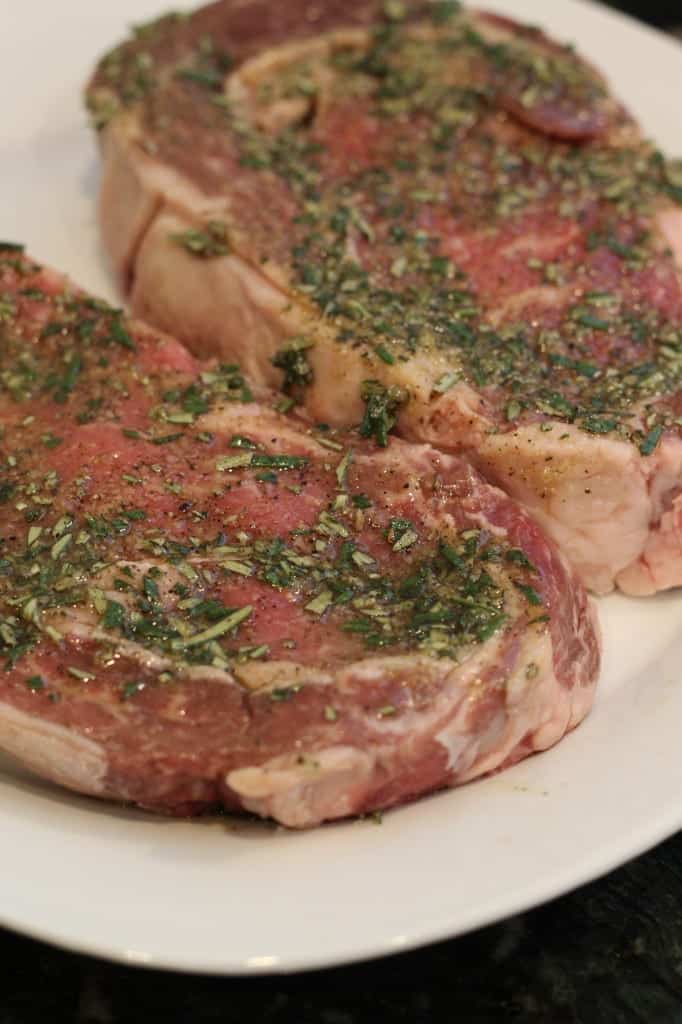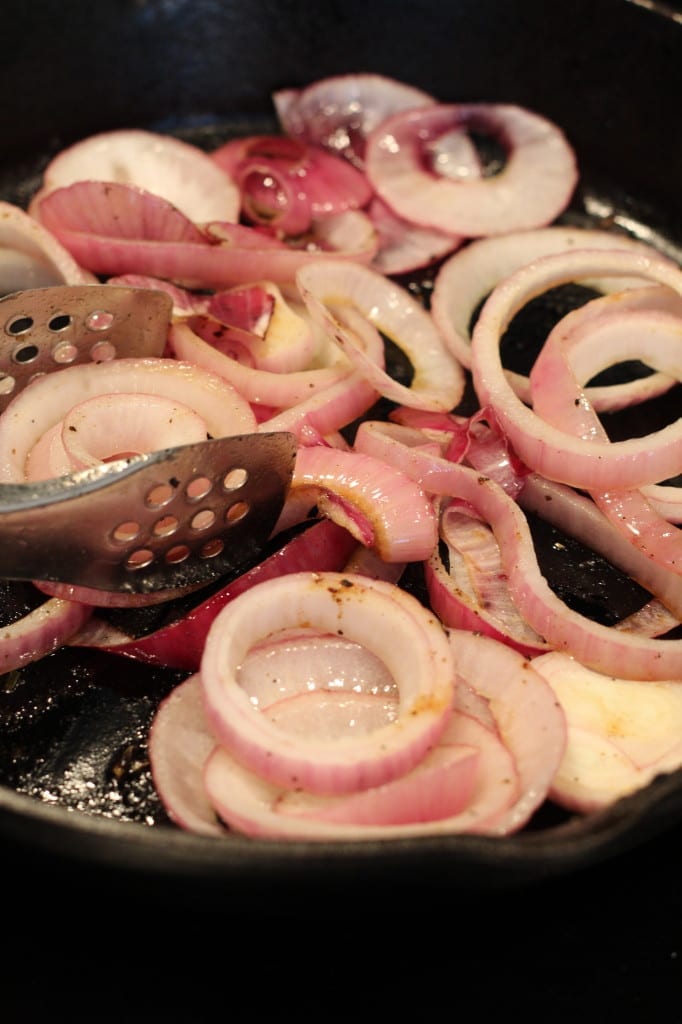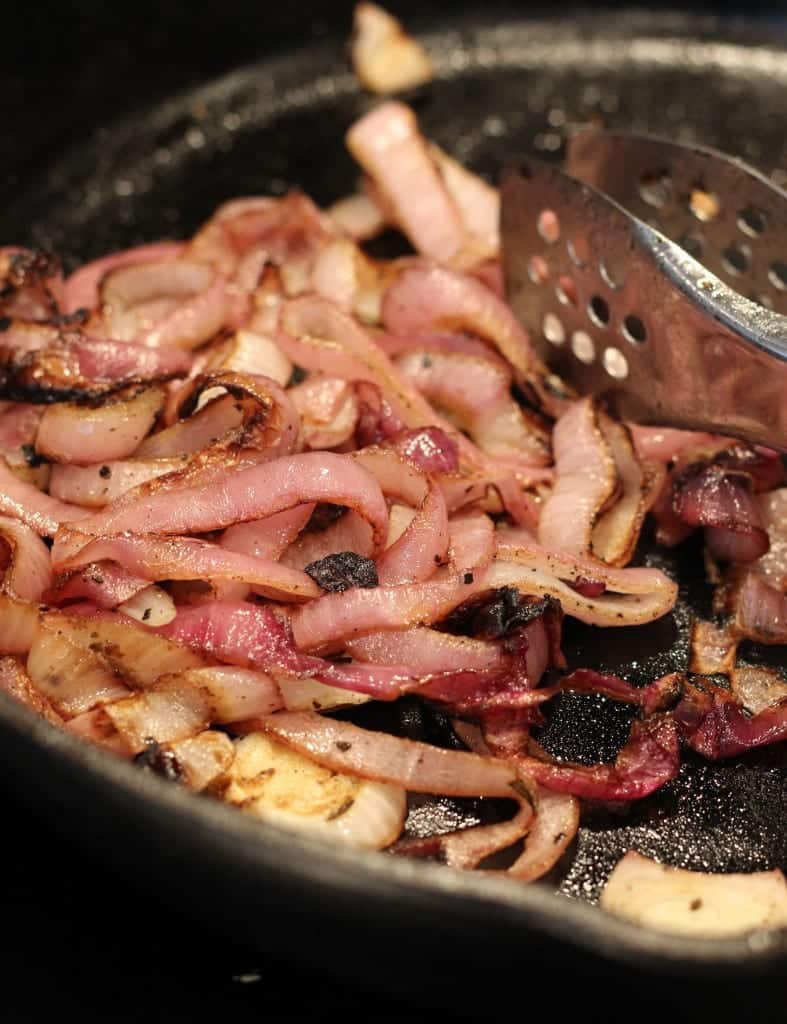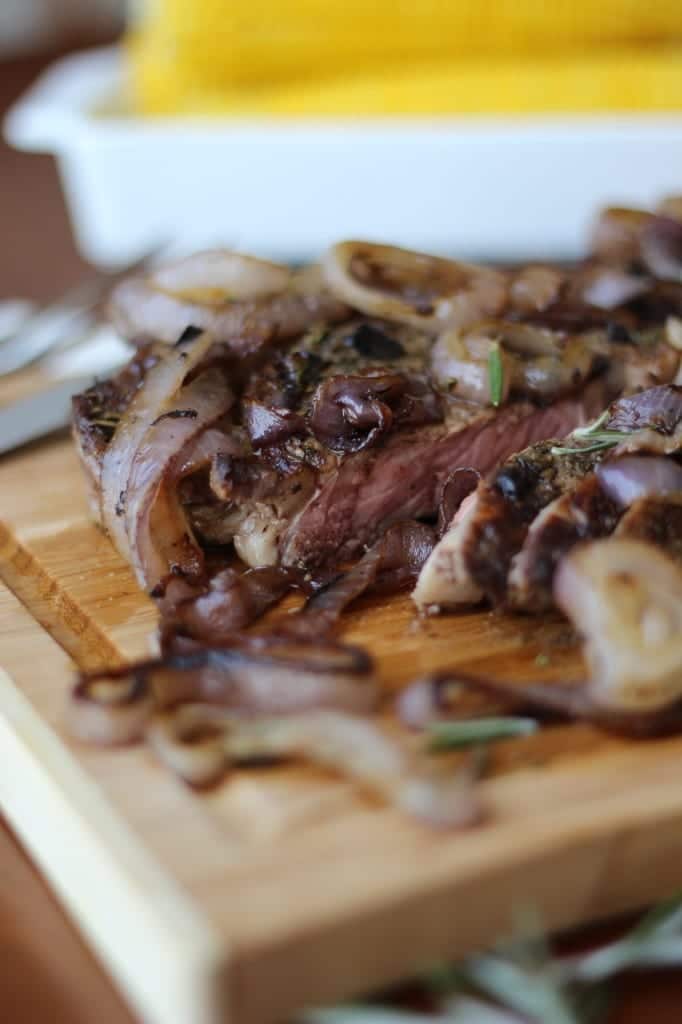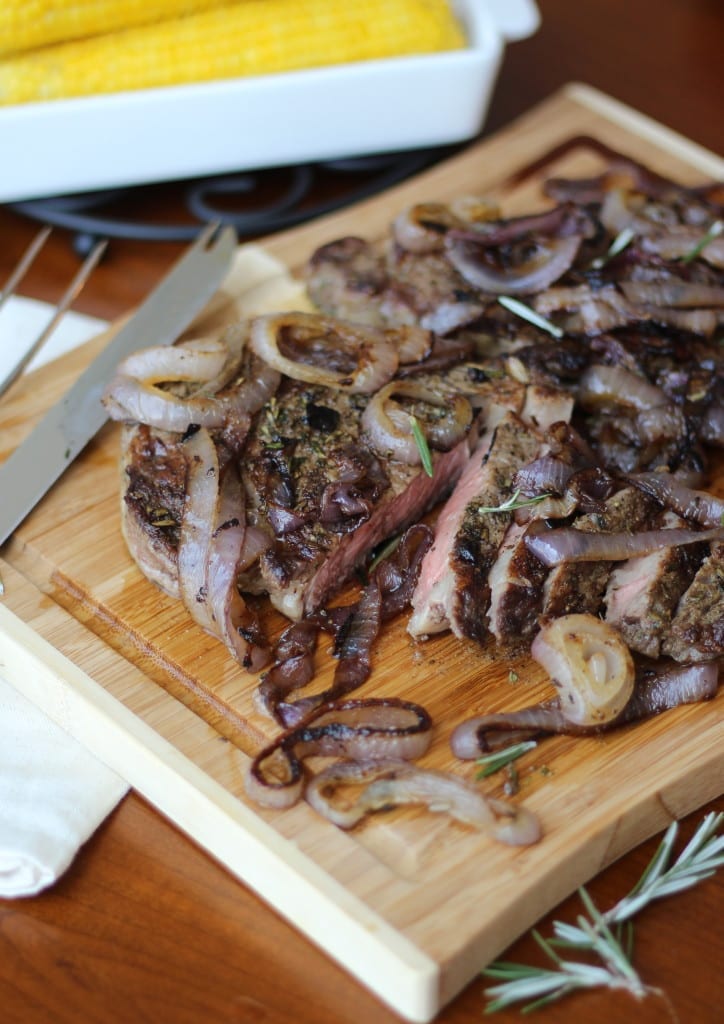 Recipe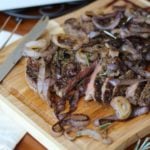 Rosemary Rubbed Rib-eye with Charred Red Onions
This mouthwatering Rosemary Rubbed Rib-Eye steak with Charred Onions can be made under the broiler or on the grill! Either way it's juicy, tender and flavorful!
Ingredients
2

tablespoons

plus 1 teaspoon olive oil

(divided)

4

teaspoons

finely chopped fresh rosemary

1

teaspoon

dry mustard

½

teaspoon

garlic powder

2

teaspoons

salt

1

teaspoon

pepper

2

12-oz

boneless rib-eye steaks

(about 1 inch thick at room temperature)

1

large red onion

(cut into ⅓ inch thick slices (or 2 onions!))
Instructions
Letting the steaks come to room temperature will allow them to cook without burning on the outside. Pat dry with paper towel.

Position a rack 4 inches from the broiler and heat the broiler on high. Heat a broiler safe cast-iron grill pan (or regular skillet) on the stove-top until searing hot.

In a small bowl combine 2 tablespoons olive oil, rosemary, dry mustard, garlic powder, salt and pepper to make a paste. Rub on both sides of steaks.

Put steaks in the hot pan and transfer to the broiler. Broil about 2 minutes per side for medium rare or until they reach your desired degree of doneness. I cooked mine about 2.5 minutes on each side and they were medium. Transfer to a cutting board and loosely tent with foil to rest at least 10 minutes.

Brush the tops of the onions with the remaining teaspoon of olive oil. [2 teaspoons of olive oil if you are doubling the onions] Put in the pan, oiled side up, and broil until lightly charred, about 4 minutes.

With tongs separate the slices, toss, and continue broiling until crisp-tender or more done if you desire, about 4 minutes more.

Serve rosemary rubbed rib-eye with the charred onions. Sigh with culinary satisfaction.
Notes
Adapted from: Fine Cooking Feb/March 2013