These fried Strawberry Lemon Cake Donuts have a soft, tender lemon almond cake absolutely coated in a strawberry glaze made with a quick homemade strawberry jam! In conclusion, they're positively divine!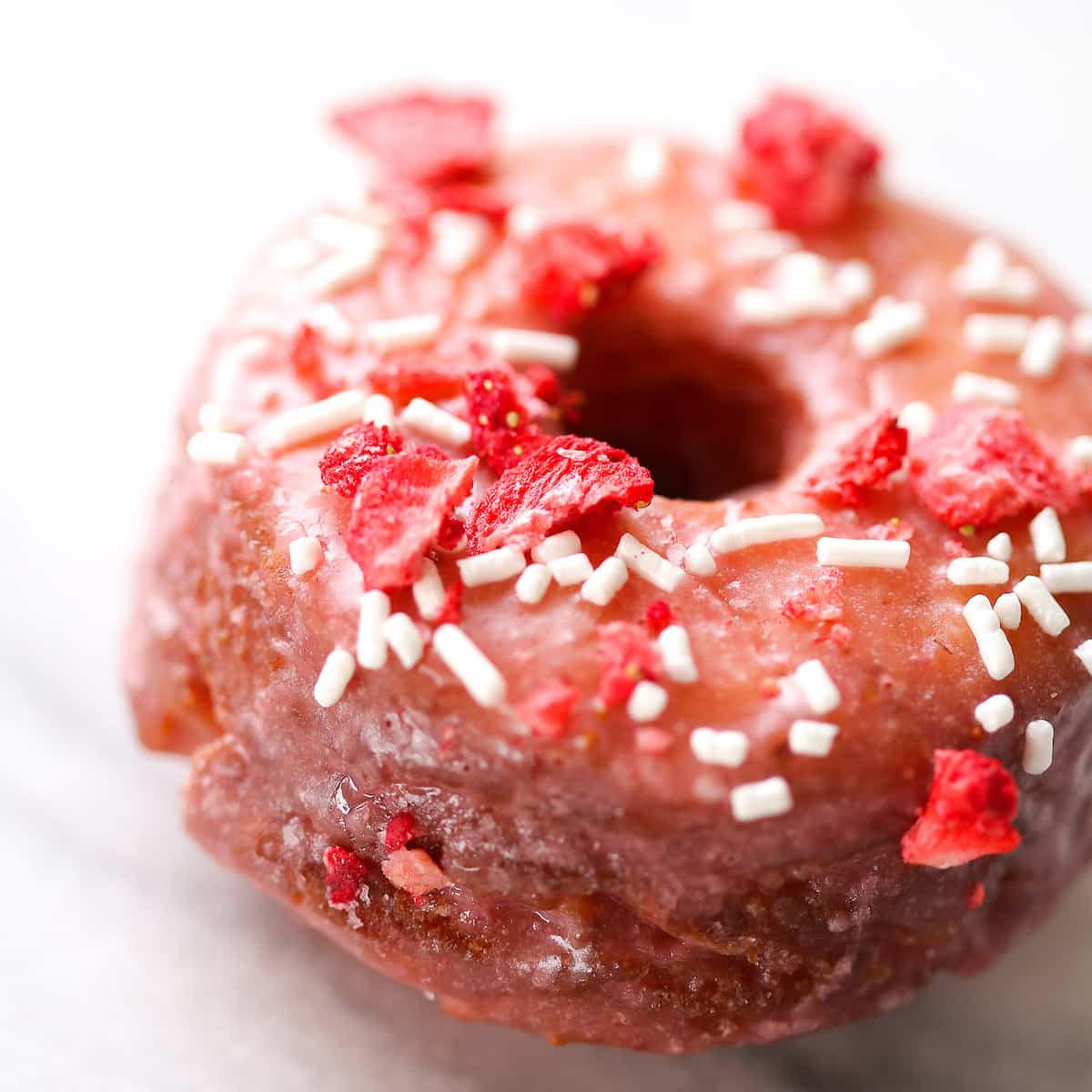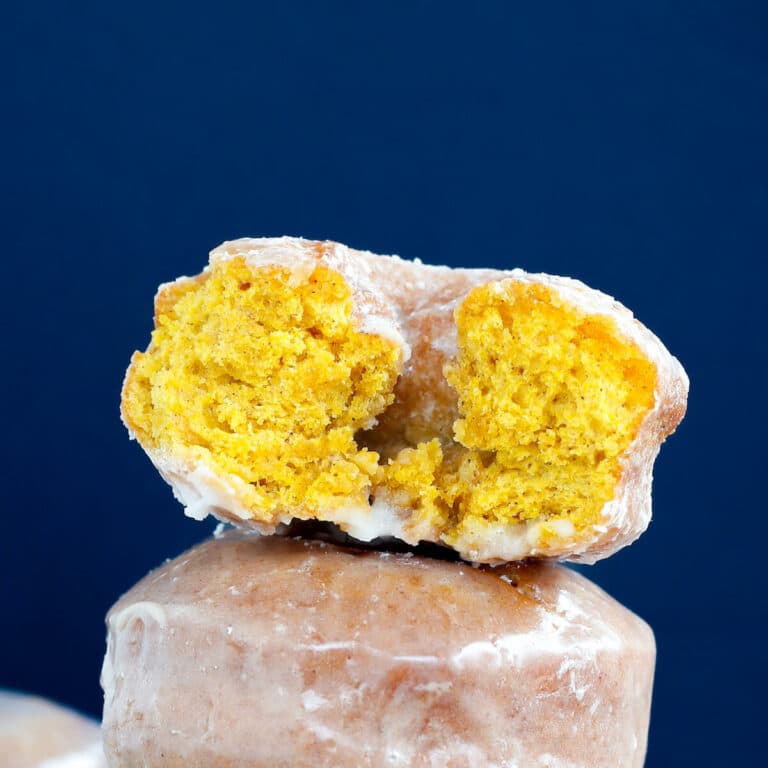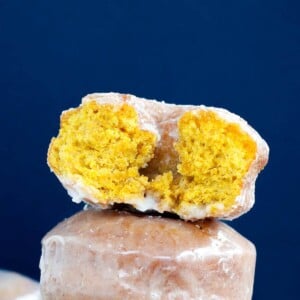 Happy National Donut Day! Proof that God is good!
In fact my daily donut special has become a bit of a thing at the restaurant. Each trying to outdo the next…Red Velvet Donut Ice Cream Sandwiches anyone?
But no one can argue with one of the greatest Spring combinations: strawberry and lemon. Bright, tart lemon and sweet, juicy strawberry: no happier couple has ever met!
On the other hand, don't get me started on peanut butter and chocolate…there's an entire Glazed Chocolate Donuts recipe for that!
But I digress.
Lindsey, focus! That is for another time.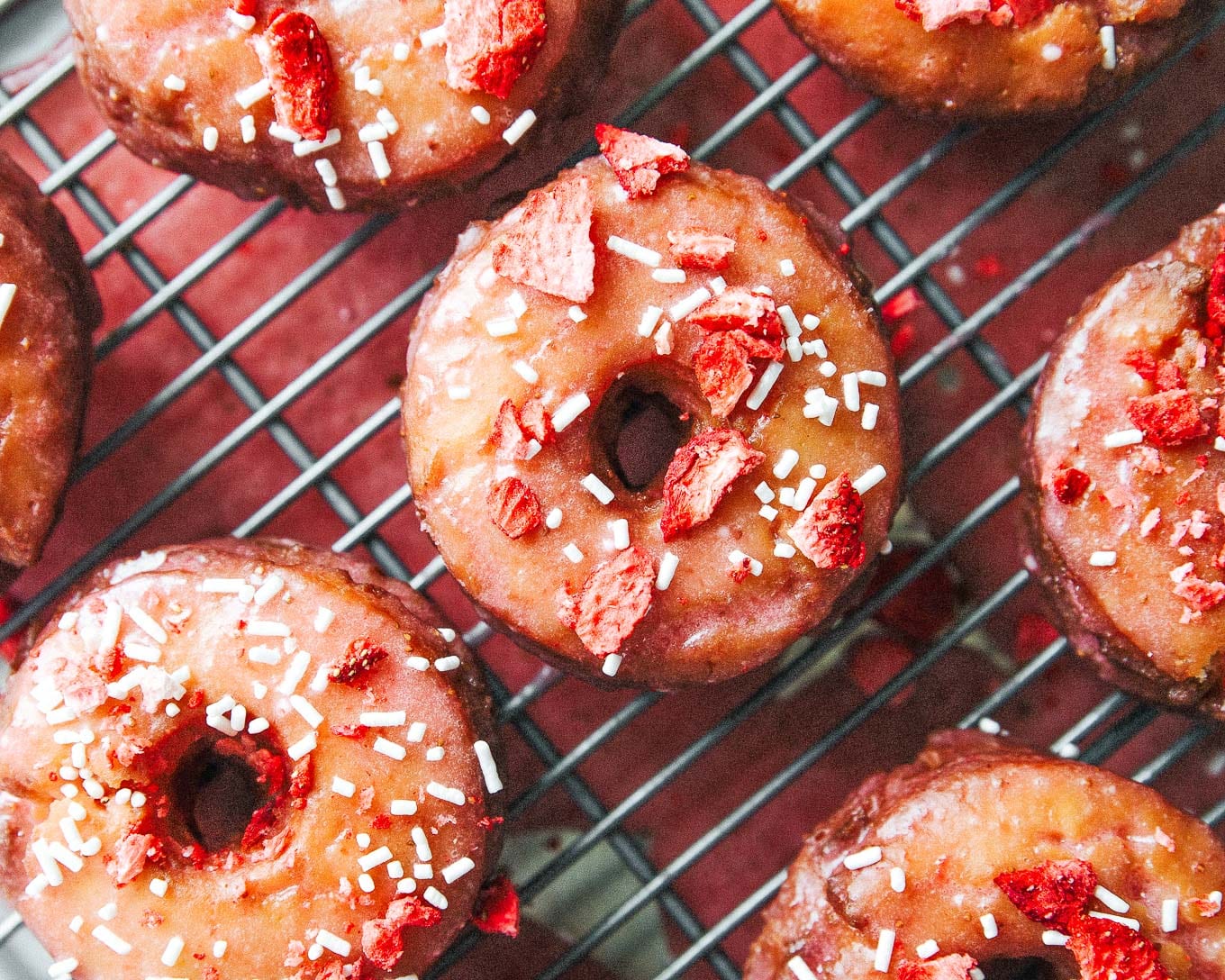 These Strawberry Lemon Cake Donuts are soft and tender and delightfully cakey. A bit of lemon zest and juice brightens the cake and the almond meal makes it lighter than a traditional cake donut.
The glaze is simple and easy to make using homemade or store-bought jam. In the recipe and video, I've shown you how to make a quick 30 minute jam, but any jam will do! Alternatively, you could use my classic donut glaze recipe and be eating strawberry donuts even sooner!
There is just something about a pink donut that'll make you smile!
Then again, maybe that's the sprinkles!
What's more, one bite of these Strawberry Lemon Cake Donuts and you're going to wish every day were National Donut Day!
If I can get over my fear of frying, so can you with these easy tips!
Rules if you will.
I've already burned myself so you don't have to! You're welcome.
The Fryer Rules!
Keep the dough cold. Roll and cut it quickly to keep the baking powder from starting to react with the sour cream. Double-acting baking powder will react again when fried, but let's save all the expansion power for later, shall we.
Use canola oil or some other neutral-tasting oil that has a high smoke point.
Monitor your oil temperature. 340° F is too cold – that is to say your donuts will be greasy. 380° F is too damn hot. The outside will be dark and awful while the inside is still gooey. In summary, gross. 350°-360° F is your target range. Adjust your heat as it approaches the boundaries. In reality don't be afraid to turn off the stove. This is the great thing about frying. If the oil temperature isn't where you want it, just wait. So liberating.
Do be careful. The oil looks so happy and peaceful in there, but I can assure you that 350° F oil is VERY hot. I have the scars from work to prove it. Carefully use the slotted spoon to place the donut in the oil and to remove it. I gently drop it in the oil with my hand so that it slips inside, but I have been trained to have no fear. And the burns to prove it….
May I remind you that oil and water do not mix. When water gets into hot oil, it splatters violently. If this happens, back away. Quickly. This is easily avoidable if you dry all your utensils after rinsing them off. If there is any water collected on the top of your dough, which there shouldn't be if you properly wrapped them, then blot it off before putting it in the oil.
Place your fried donuts on a wire rack over a baking sheet or towels to catch the extra oil. This will keep the bottoms crispy. There will be no soggy bottoms on our donuts!
Dip the donuts in the glaze while they are still warm so you don't need to heat up your glaze and this will keep the donuts moist. People say to use chopsticks. Come on. Isn't life hard enough? Just use your fingers. It'll toughen them up. It's good for you. My Dad taught me that.
NOTE: All photos without @American Heritage Cooking and the video are by Timothy Racca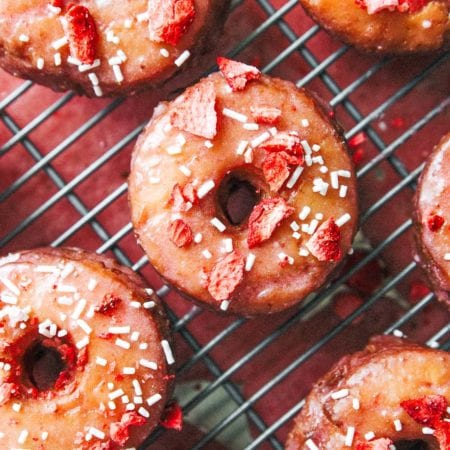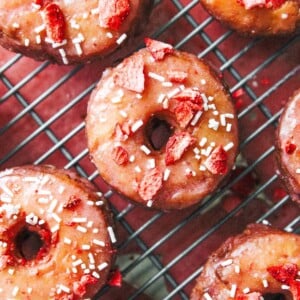 Strawberry Lemon Cake Donuts
These Lemon Strawberry Cake Donuts have a soft, tender lemon almond cake absolutely coated in a strawberry glaze made with a quick homemade strawberry jam! And easier than you think!
Instructions
To Make the Strawberry Jam:
Mix the cut strawberries, sugar, lemon juice and zest in a bowl, stir to coat, cover and refrigerate one hour or overnight. This step is optional but will enhance the flavor. You can mix all the ingredients together in the pot and immediately proceed to the next step instead.

Bring to a boil and then reduce heat to medium until the strawberries begin to break down and release their juices. Puree in the pot with an immersion blender, or you can carefully transfer to a blender, puree and then return to the pot.

Continue to cook until jam jells on a frozen plate. You will be able to draw your finger through it and it will not run at all.

Pass through a strainer to remove the seeds. Chill in a bowl with a piece of plastic wrap on the surface. Cut a few holes in the plastic wrap to allow steam to release.

Note: you can use the jam hot in the glaze
To Make the Donut Dough:
In a large bowl whisk together the all-purpose flour, almond flour, baking powder and salt. Set aside. In a small bowl mix together the lemon juice and sour cream until smooth. Set aside.

Line a baking sheet with plastic wrap and then sprinkle with a generous amount of flour. Set aside.

In the bowl of a stand mixer fitted with the paddle attachment, beat together the granulated sugar and butter until a coarse sandy mixture resembling sand has formed. Add the yolks one at a time and beat on high until fully incorporated. Beat on high speed until the mixture lightens to a pale yellow and the volume increases.

Alternately add the flour mixture and the sour cream mixture beginning and ending with flour. Mix on low until just combined. You want to do this as quickly as possible so that not too much gluten develops, which will make tunnels in your cake and it will be tough.

Transfer the dough to the plastic wrap lined sheet, sprinkle dough with more flour and press down until flat and about an inch thick. Cover with plastic wrap and chill 1-2 hours.
To Cut & Fry:
Line a baking half-sheet pan with parchment paper and spray the paper with nonstick spray and set aside.

Lightly dust a work surface with flour. Turn the dough out onto your floured work surface.

Working quickly to keep the dough cool, roll out the dough to ½ inch thick.

Brush any excess flour from the top of the dough. Use a 3-inch and 1 ¼ – inch ring cutters to cut the donuts and holes. Lightly tap the rings in flour before cutting each donut. Place the donuts and donut holes on the prepared sheet pan. [After I cut all my donuts, I went back and cut more "holes" with the small cutter from the scraps of dough. Waste not, want not!]

Cover sheet pan with plastic wrap, but be sure not to let the plastic touch the top of the donuts. Chill in the refrigerator for 30 minutes. You can chill for up to 3 days at this point.

While your donuts chill, make the glaze. In a medium bowl whisk together the milk, powdered sugar, strawberry jam and salt. Cover the glaze with plastic wrap directly on the surface. You can heat up the glaze over a pot of simmering water on the stove if you want it thinner. I dipped my donuts while they were still very hot, so I didn't need to do this.

Pour oil into a fryer or a Dutch oven, making sure the oil is at least 2 inches deep. Heat your oil to 350° F. Adjust your heat to keep the temperature between 350° – 360° F while frying. You will need a clip-on fry/candy thermometer for this. I heat my oil up to 355° F before adding a batch of donuts because the cold dough will lower the temperature of the fryer oil.

Gently place 3 donuts in the fryer, keep the remaining donuts in the fridge. Once they rise to the surface, cook for 30 seconds and then flip them with a slotted spoon. Fry until the bottom develops a nice golden brown color, about 80 seconds. Flip it again and then fry for another 60 seconds or until the color is a nice even golden brown. Gently lift the donut out of the fryer with a slotted spoon or spider and test for doneness with a cake tester. If it comes out clean transfer to a wire rack set over a sheet pan or paper towels. Donut holes fry for 30 seconds then flip, then another 60 seconds, then flip, then another 40-60 seconds. They will puff up and be golden brown all over. You can cook them for the same amount of time as the full donuts but they will be a little [lot] dry.

Once the donut is just barely cool enough to handle (I only waited about 20 seconds but I have no feeling left in my fingertips…), dip the donut in the glaze and place back on the wire rack. Dipping a hot donut will give you a nice, even glaze that isn't too thick or too thin! With this strawberry glaze, you can feel free to double dip! Let the first dip begin to set and then dip again! Voila, more strawberry in every bite!

Store in container with one side cracked for air flow but they are best consumed the day they are fried…with coffee. Or whipped cream. Or ice cream. Or all three!
Nutrition
Calories:
608
kcal
|
Carbohydrates:
114
g
|
Protein:
9
g
|
Fat:
14
g
|
Saturated Fat:
6
g
|
Polyunsaturated Fat:
1
g
|
Monounsaturated Fat:
3
g
|
Trans Fat:
1
g
|
Cholesterol:
106
mg
|
Sodium:
628
mg
|
Potassium:
164
mg
|
Fiber:
3
g
|
Sugar:
71
g
|
Vitamin A:
383
IU
|
Vitamin C:
21
mg
|
Calcium:
151
mg
|
Iron:
3
mg
Like this? Leave a comment below!