This Classic Donut Glaze recipe makes a thin, sweet glaze that dries to give you a perfect crackle. Use this or any of the variations on old fashioned, baked, or yeasted doughnuts!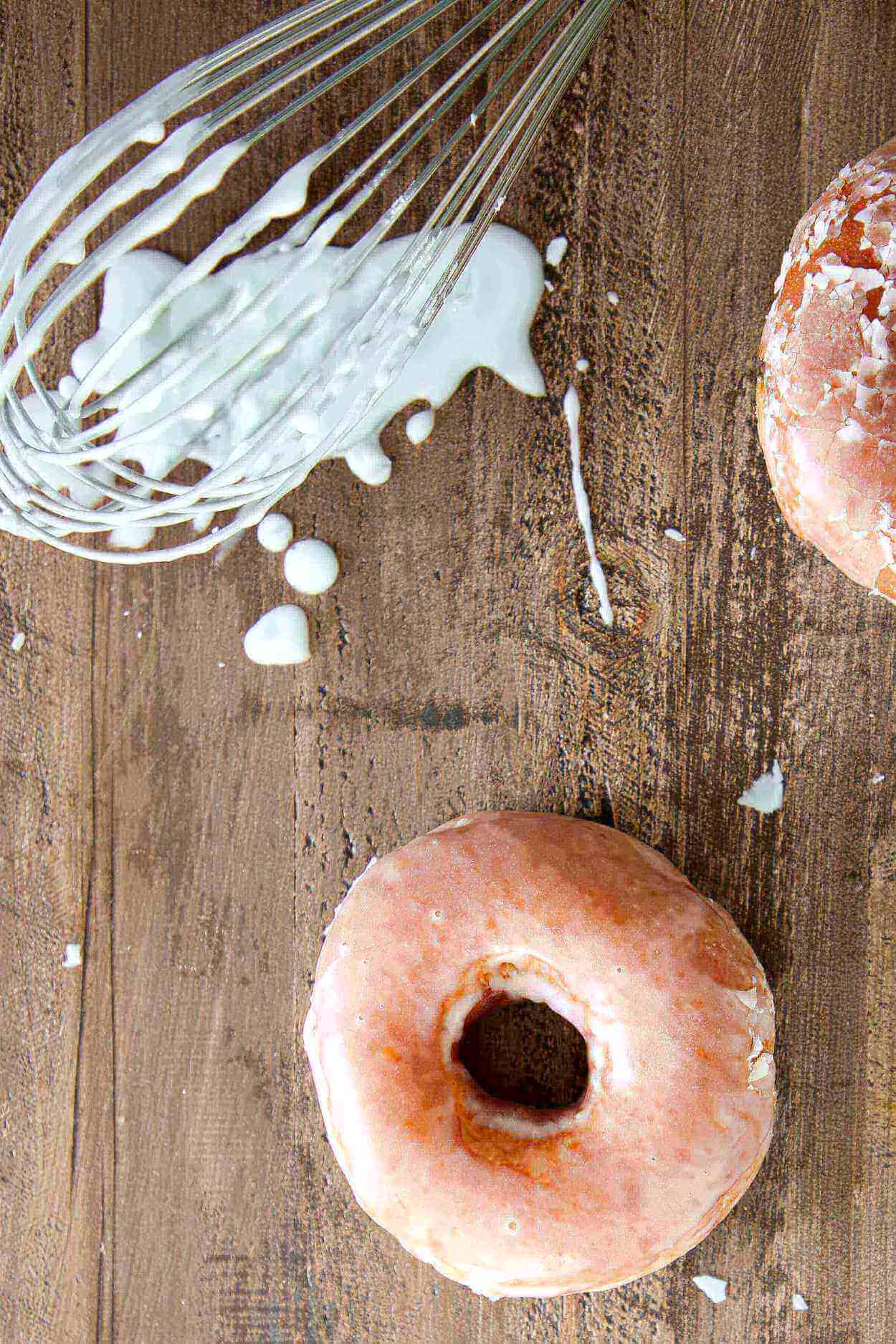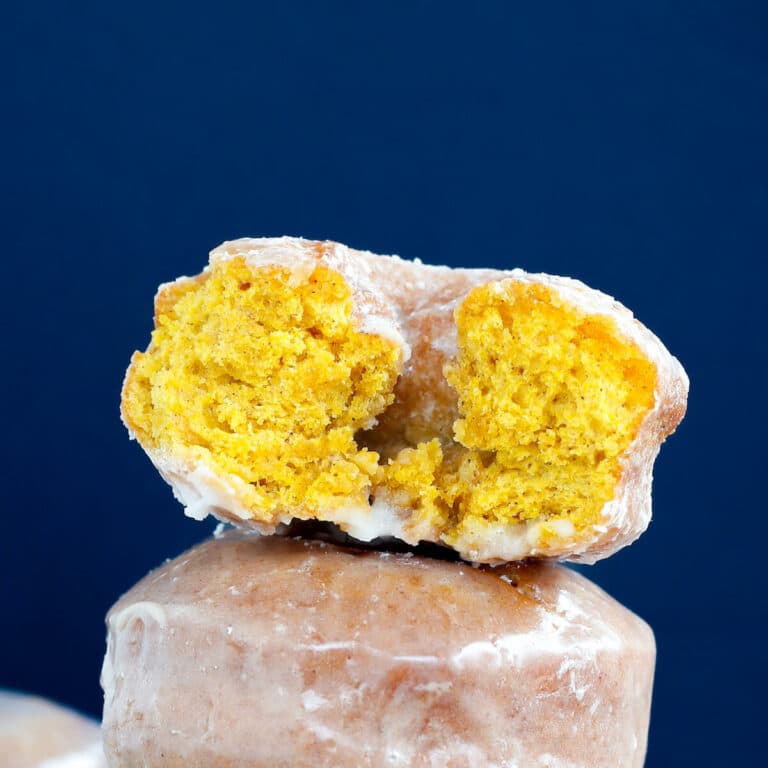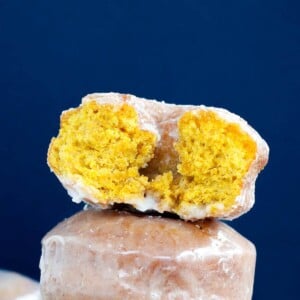 I have made more than my fair share of donuts since the first time that "I was so happy I fried" when I initially made my old fashioned sour cream donuts. For this post, I photographed my Krispy Kreme Copycat Donuts dipped in my classic glaze. I developed this particular glaze recipe over the course of 5 years!
As the Executive Pastry Chef for Iron Chef Marc Forgione, I was tasked with making a 'Donut of the Day' for daily dessert specials. These donuts became run-away hits! I now have over 150 unique donut recipes in my arsenal. Yes, it's a lot. But I only have 10 unique base glaze recipes, and this is my favorite!
Why you will love this Donut Glaze Recipe:
Tempers sweetness: No one wants a donut that is cloyingly sweet, and this glaze adds just the right amount of sugary flair to your favorite doughnuts! You'll find this glaze has a combination of ingredients that tempers sweetness.
Ultimate crackle: You know that slightly hardened shell on the outside of the perfect donut? That is this glaze! The glaze makes the ultimate crackle.
Versatility: This recipe is versatile–it's not just for donuts (although, yes it's perfect for donuts), but it's also the ideal glaze for cakes, muffins, and scones. Plus you can adjust it to the specific flavors of the dessert you're making to be the best possible match!
Ingredients
Doughnut glaze is chiefly made with a few simple ingredients:
Whole Milk: I use whole milk for the added flavor and fat. It also has a lower water content which is useful for glazes.
Kosher Salt: Kosher salt is less salty than table salt and a teaspoon weighs less than other finer ground varieties. It heightens the flavor here and will keep your glaze from tasting dull or flat.
Confectioner's Sugar: I use confectioner's sugar to add sweetness. It also incorporates easily into glazes for a silky, smooth texture. Powdered sugar is sweeter by volume and weight than granulated, so use a light hand.
Vanilla Extract: Vanilla extract adds a beautiful flavor itself and together with the milk is reminiscent of ice cream.
Want to mix it up?
A coffee version: Add 1 tablespoon of espresso powder to the milk before mixing, or just let the flavors meld on their own. Add coffee extract or a little cocoa powder to bump up that flavor! Chocolate Cake Donuts with a coffee glaze anyone?
A citrus glaze: Substitute orange juice or passion fruit juice for the milk, 1 for 1 in this recipe.
A sweet fruit variation: For sweeter fruits like peaches, substitute peach juice for the milk, and add the juice from half a lemon. To use jam as the flavoring, first reserve ¼ cup of the milk in this recipe. Then add your desired jam (raspberry, concord, etc.), and whisk until smooth before adding the ¼ cup of milk a little at a time until the glaze runs smoothly from the whisk.
Add some spices: You can add in pumpkin spice mix to glaze these pumpkin donuts or you can add cinnamon, cardamom or any spice you love!
A donut buffet: Mix and match glazes, and fried and baked donuts for a buffet of breakfast choices! Dip the same donut recipe in different glaze variations, and suddenly you have a lot of options on your hands. A breakfast buffet is always welcome, and you can use the leftovers to make Donut Bread Pudding.
Substitutions
Without milk: Substitute whole milk with your favorite milk alternative for a vegan solution. Almond milk and vanilla make quite the duo, in my humble opinion. You could also substitute the milk for a citrus juice of your choosing.
Different extracts: Replace the vanilla with your preferred liquor or a different extract. Whatever complements the donuts you're making the best. Be sure to comment below with your favorite combination!
Powdered monk fruit sweetener: For a low-sugar vanilla icing, powdered monk fruit sweetener is a possible substitution for sugar in this recipe.
How to Make Donut Glaze
Use these instructions to make the perfect classic doughnut glaze every time! Further details can also be found in the recipe card below.
Combine Ingredients:
If your powdered sugar is particularly lumpy, it helps to sift it prior to mixing it in.
Step 1: Whisk together all ingredients until smooth. I like to use a medium bowl for this, which helps my apartment stay clean! I start in the center with my whisk and make sure I incorporate all the ingredients.
Cover and store:
Step 1: Cover the surface of the glaze directly with plastic wrap to keep it from developing a film before it is ready for use. You can store it in the fridge, but remember that it is easier to use at a slightly warmer temperature, so either dip a warm donut in it or warm it up prior to use. Sometimes it helps to give it an extra whisk before use as well!
Glaze your donuts:
Step 1: Dip your still warmed donuts in the glaze and set on cooling racks.
It's helpful if you use a wire rack with parchment paper underneath to catch the glaze that occasionally drips down as it sets.
Chef Lindsey's Recipe Tip
You cannot go wrong with this donut glaze recipe. If it gets too thin: add more confectioner's sugar. Not flavorful enough for your taste: add more jam, spices, or juice.
How to pair the right donuts with the right glaze?
For me, it's always about balance and using glaze to make an ordinary donut into something unquestionably extraordinary. Possible pairings:
Frequently Asked Questions
How do you store leftover glaze?
Store unused glaze in an airtight, clean container in the refrigerator for up to 2 weeks. You can freeze glaze for longer storage. Unused glaze will keep for 3 hours at room temperature, 2 weeks refrigerated or 3 months frozen.
What is the difference between icing and glaze?
While the ingredients in icing and glaze are sometimes the same, the consistency is different. Icing is thicker and is generally spread on with a spoon or spatula, but glaze is thin enough to pour on. Heavy cream is a possible ingredient to thin icing, but heavy cream will not make a good glaze. It will be too thick and will not harden.
Why does donut glaze harden?
Powdered sugar is the ingredient that makes doughnut glaze harden. It will not harden if too thin or if it contains too much fat. This is the reason that glaze made with heavy cream will not set enough to crack. If your glaze is too runny simply add more powdered sugar.
Do you glaze donuts when they are hot?
It is easier to use this glaze when it is at a slightly warmer temperature. So you can either warm your glaze, or dip a warm donut in the glaze. It's especially good to have a warm glaze for more delicate donuts.
In order to warm your glaze, use a double boiler (or bain-marie). A double boiler is a pot with a low level of simmering water, with the glaze-filled bowl placed on top.
How long does it take a glaze to set?
It usually takes about 10 minutes at room temperature for a glaze to set, though it will not completely set until the donut has cooled.
Can you make it ahead?
Yes, you can make glaze ahead! Just be sure to properly store it and slightly warm it up before use.
Can Glaze be flavored?
Yes! Take note of the glaze consistency as you add flavoring to keep it from becoming too runny or stiff.
Will the doughnut icing recipe multiply?
You can make as large a batch of this donut glaze recipe as you would like. Consequently, you are only limited by the capacity of your bowl or stand mixer.
What is donut glaze made of?
At its core, it is made of milk, powdered sugar, and a small amount of salt. This glaze uses vanilla extract as well.
Can you freeze glaze?
Glaze can be frozen prior to use or you can freeze the glazed donuts in their entirety (though freezing fried donuts is not ideal).
If you tried this recipe and loved it please leave a 🌟 star rating and let me know how it goes in the comments below. I love hearing from you; your comments make my day!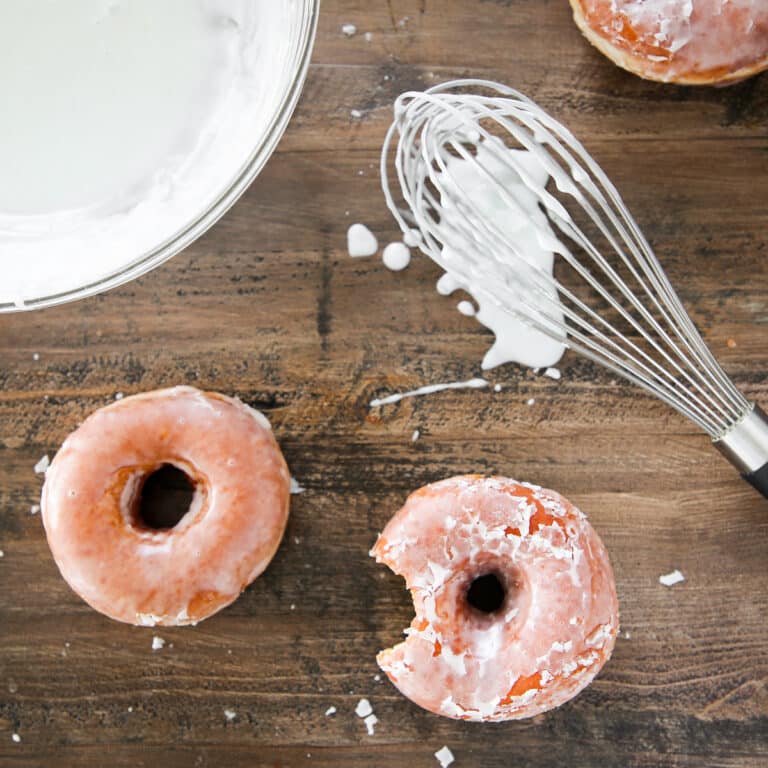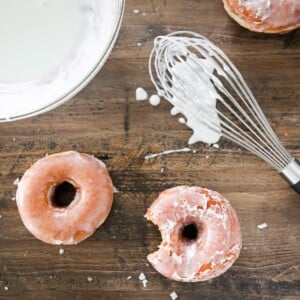 Donut Glaze Recipe
This Classic Donut Glaze is a thin, sweet glaze that dries to give you a perfect crackle. Use this or any of the variations on cake or yeasted doughnuts!
Instructions
In a medium bowl, whisk together all ingredients until smooth. If your powdered sugar is particularly lumpy, you might want to sift it prior to mixing it in.

Cover surface directly with plastic wrap until ready to use.
Notes
Technique – I try to be sure my glaze is slightly warmed, sometimes via a bain-marie, so it covers the donuts easily. Storage – Store in the freezer or fridge in an airtight, clean container.
Nutrition
Calories:
154
kcal
|
Carbohydrates:
38
g
|
Protein:
1
g
|
Fat:
1
g
|
Saturated Fat:
1
g
|
Polyunsaturated Fat:
1
g
|
Monounsaturated Fat:
1
g
|
Cholesterol:
1
mg
|
Sodium:
198
mg
|
Potassium:
15
mg
|
Sugar:
37
g
|
Vitamin A:
15
IU
|
Calcium:
12
mg
|
Iron:
1
mg
Like this? Leave a comment below!
Before You Go!
I hope you enjoyed this professional chef-tested recipe. Check out our other delicious, chef-developed donut recipes!