This Turkey Meatball and Kale Soup is bursting with flavor and remarkably filling!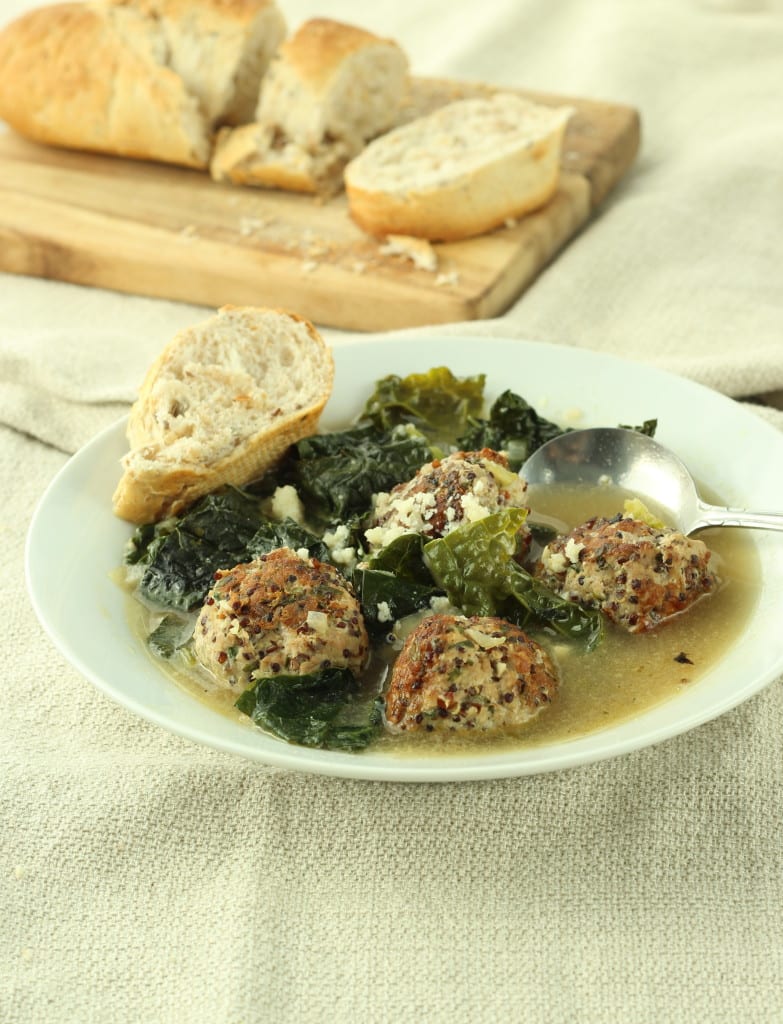 It's Meatball Monday! Or is that supposed to be Meatless? I make the rules around here so Meatball Monday it is! The twist is we are having Wedding Fairy Approved Turkey Meatball and Kale Soup!
The September 2013 edition of Cooking Light arrived several days ago and the poor thing is already covered in sticky notes marking recipes to try (some I already have like this summer pea pasta)! I love making soups that are high on comfort and flavor but low in calories like this Italian turkey sausage soup or even my perfect chicken noodle soup recipe.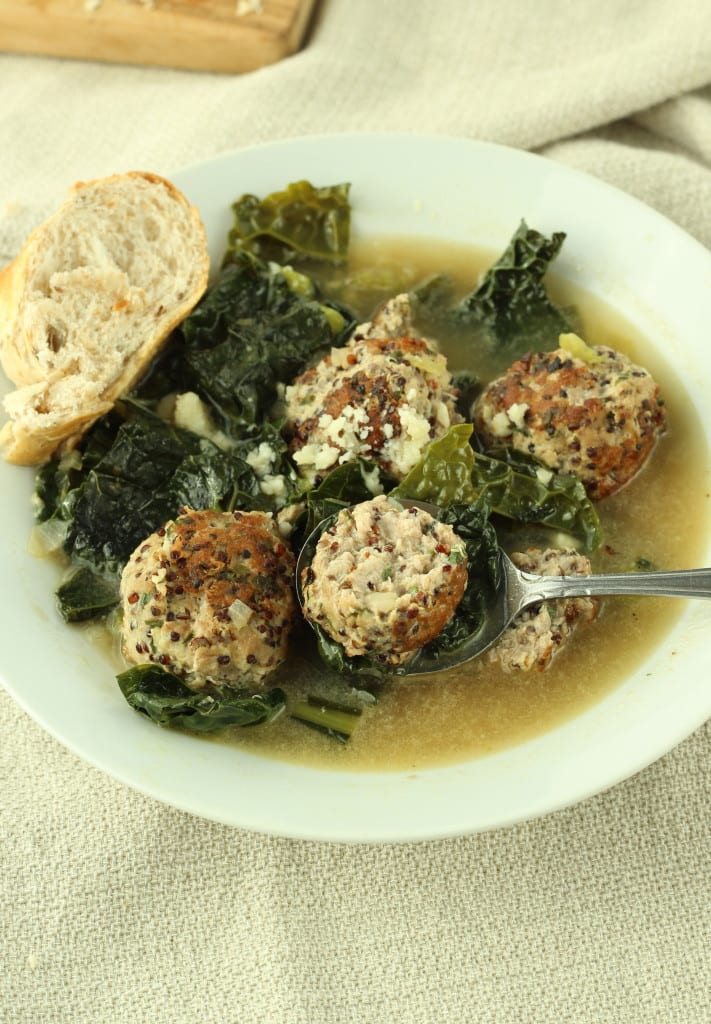 I loved this soup! It's bursting with flavor and is remarkably filling! I was intrigued by the turkey meatballs, which use quinoa as a binding agent. It actually worked surprisingly well. They were delicate in their uncooked state but only one fell apart due to operator error après cooking.
I am totally on board the lacinato kale (also called dinosaur kale) bandwagon. It is thicker, doesn't taste as awful, and has great texture. I only got one, "What is this?!" comment from my fiancé, which is a vast improvement over the array of disgusted faces I usually get whenever I serve him regular kale. The things I endure for health.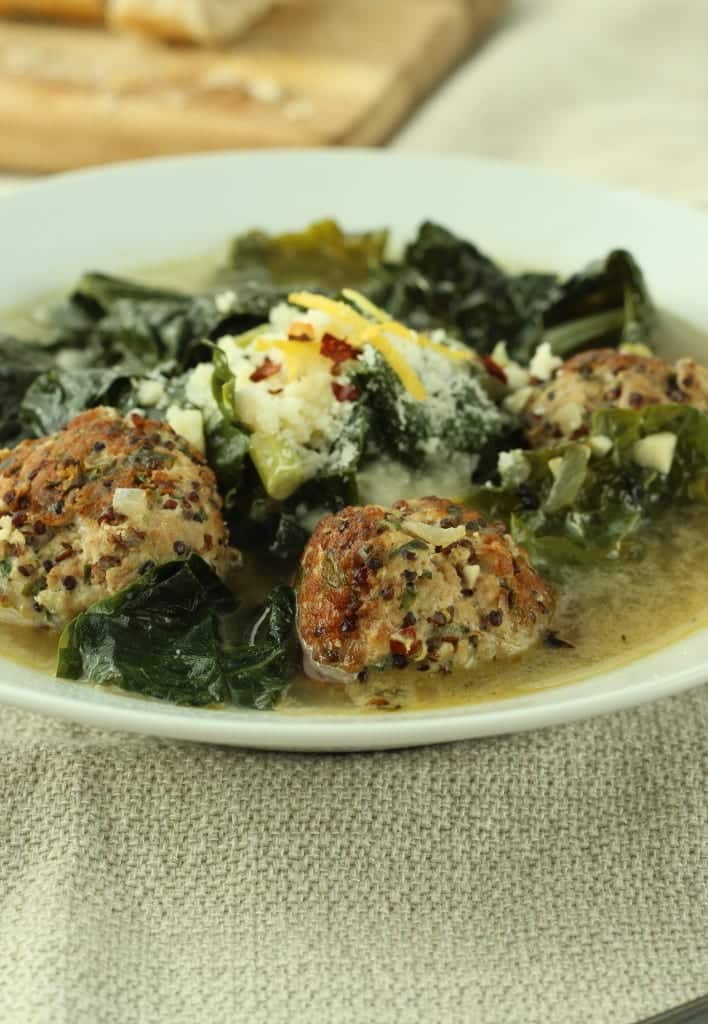 Recipe
Turkey Meatball and Kale Soup
This Turkey Meatball and Kale Soup is bursting with flavor and remarkably filling!
Ingredients
1

pound

turkey

½

cup

cooked quinoa

(I used half black, half red quinoa)

½

cup

grated Parmigiano-Reggiano cheese

(divided)

2

tablespoons

chopped fresh flat-leaf parsley

2

tablespoons

chopped fresh basil

½

teaspoon

kosher salt

(divided)

½

teaspoon

freshly ground black pepper

(divided)

6

garlic cloves

(minced & divided)

1

large egg

(lightly beaten)

4

teaspoons

extra-virgin olive oil

(divided)

½

cup

chopped shallots

½

cups

chopped celery

8

cups

trimmed chopped lacinato kale

(aka Dinosaur Kale)

¼

teaspoon

crush red pepper

5

cups

unsalted chicken stock

(Bonus points for homemade!)
Instructions
Combine turkey, quinoa, ¼ cup cheese, parsley, basil, ¼ teaspoon salt, ¼ teaspoon pepper, 2 garlic cloves and egg in a large bowl. Mix gently just until combined. Working with damp hands shape turkey mixture into 24 meatballs. Mine only made 17, but obviously I was too generous in my portioning.

Heat a large Dutch oven or soup pot over medium-high heat. Add 1 teaspoon oil to pan and swirl to coat. Brown half meatballs on all sides and repeat with additional teaspoon of oil and remaining meatballs.

Add remaining 2 teaspoons oil and sauté shallots and celery for 5 minutes. Add garlic and continue to sauté for 1 minute. Add kale, remaining ¼ teaspoon salt and pepper, and red pepper; cook 2 minutes. Add stock; bring to boil. Add meatballs and reduce heat to a simmer. Simmer 10 minutes until meatballs are cooked through and kale is tender.

Serve soup with remaining ¼ cup cheese, lemon if desired (I didn't think it needed it), and crusty bread. Crusty bread soaked in the broth will float anyone's boat. For serious.
Notes
Adapted from Cooking Light September 2013