These Vanilla Bean Marshmallows are light and fluffy with the perfect vanilla flavor! The Best Hot Chocolate and Smore's will never be the same!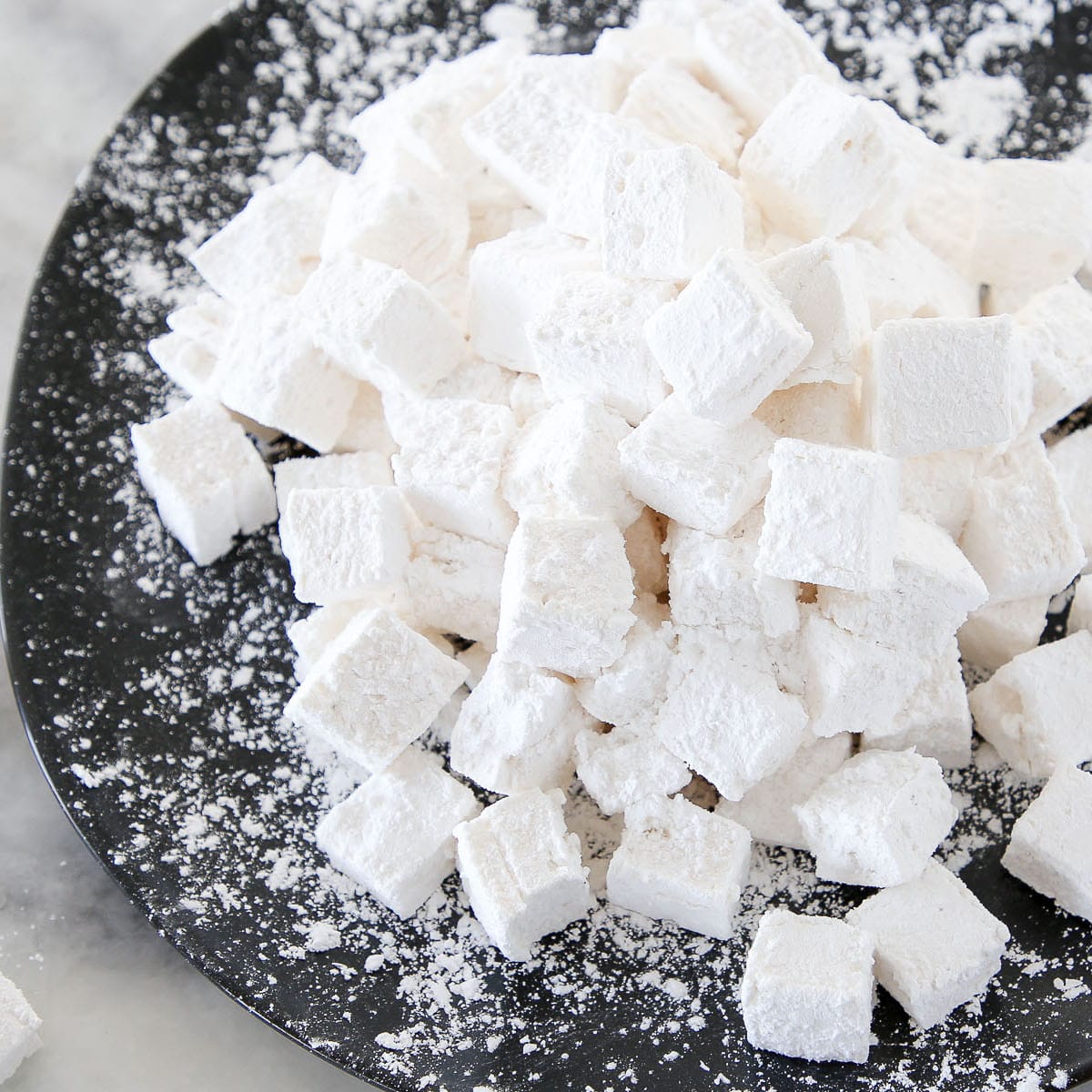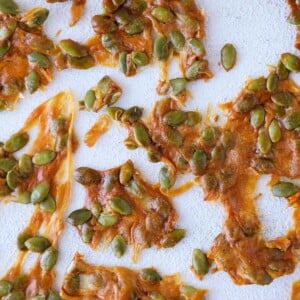 Full disclosure: I have not always loved marshmallows.
I know, I know. This is shocking news, but try to contain your disappointment and overwhelming questions and hear me out.
The texture. It creeped me out as a kid. Squishy, super sweet and kinda bland. Marshmallows were completely acceptable in Smore's (I'm American, so this is a given), but beyond your scorched campfire 'mallow, you could count me out. I didn't understand until I tried my first homemade vanilla bean marshmallow made with egg whites.
I was a line cook and the kitchen was burning hot. It was the kind of hot that made the thought of real food completely unappealing; the kind of hot where you could not physically drink enough water to stay hydrated. I ran off the line to grab more chicken and steaks, and, as I breezed past the pastry station, I grabbed a pro-offered marshmallow scrap without thinking. I popped it in my mouth and as it melted, I thought, "oh damn, that's good."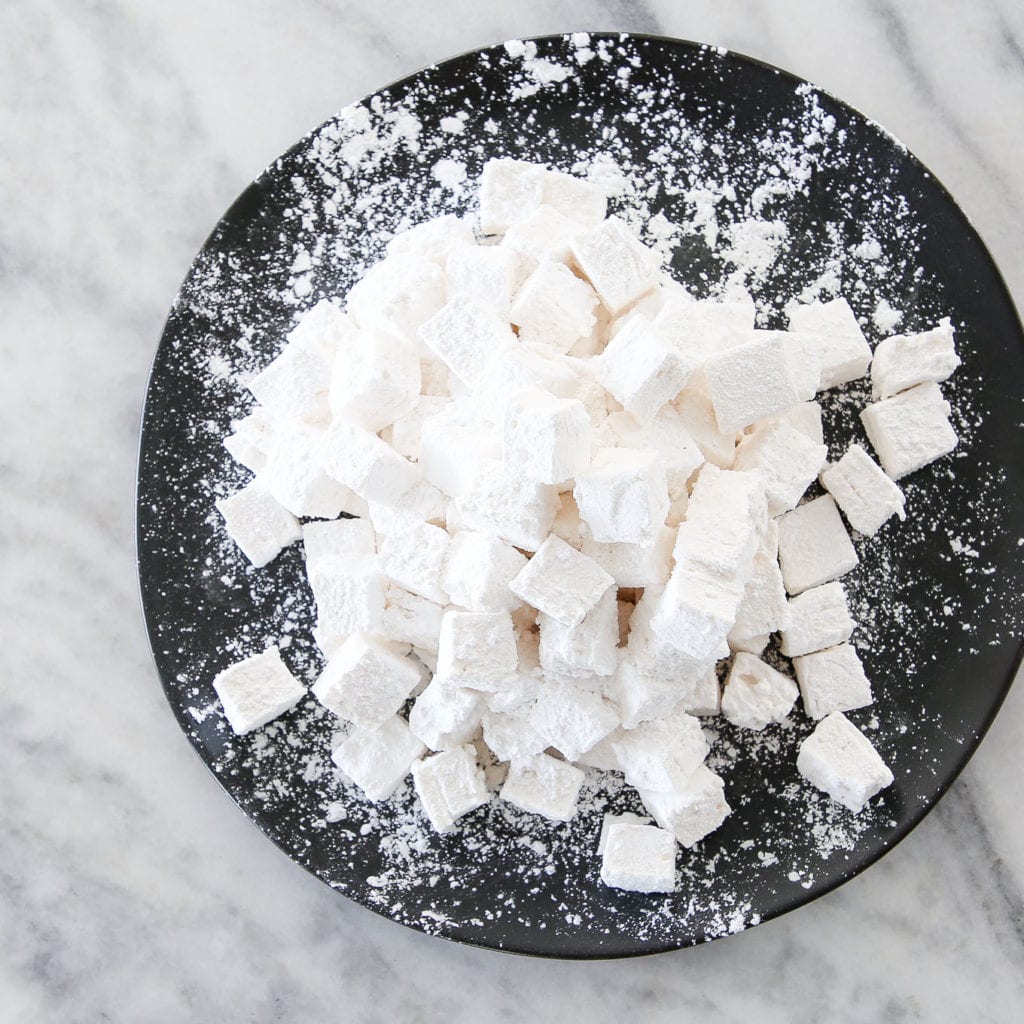 Back to the vanilla bean marshmallows!
These are the very marshmallows that I make at the restaurant. Real vanilla bean seeds and pure vanilla extract give it the flavor, but the real game-changer is the texture of marshmallows made with egg whites. They are pillowy soft and they melt in your mouth.
Granted they do take a little more skill and timing to make but no more than Italian Meringue Buttercream, and thousands of you have had runaway success with my tutorials! You will have runaway success with the best Vanilla Bean Marshmallows too. I just know it!
These are the marshmallows that are featured in my current diy hot cocoa mix. I will switch to oat milk to shave calories off my favorite treat, but I WILL NOT eliminate these vanilla bean marshmallows. They bring me happiness which is a treat all by itself ?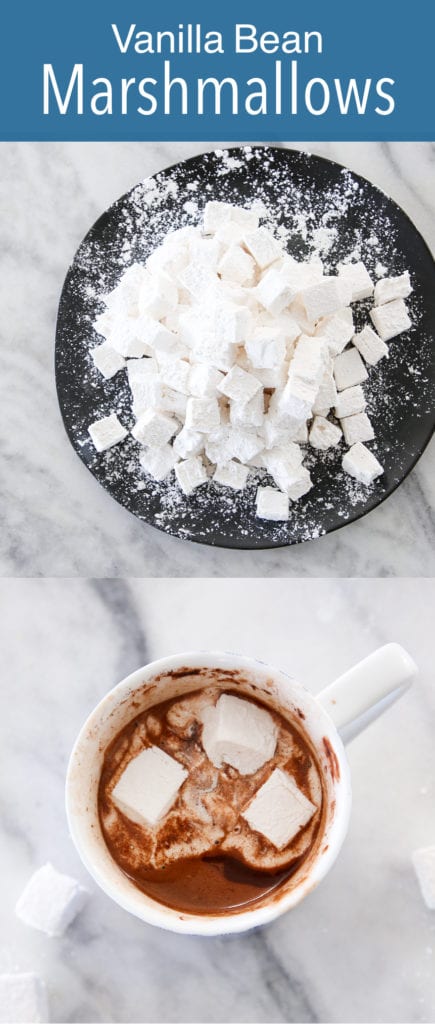 You do not have to make as large a batch as I did. You can easily halve the recipe and have a more manageable amount of marshmallows. Not that I am complaining ?
If you are skeptical of the egg whites or you just don't have them on hand, you can make these homemade marshmallows instead. They don't use eggs and they are also AH-mazing.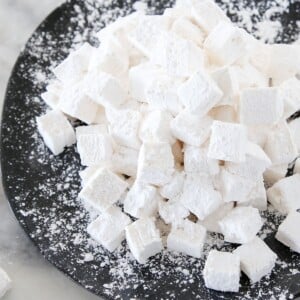 Vanilla Bean Marshmallows
These Vanilla Bean Marshmallows are light and fluffy with the perfect vanilla flavor! Hot Cocoa and Smore's will never be the same!
Ingredients
Marshmallows:
575

g

Sugar

divided

100

g

Water

150

g

Egg whites

⅛

teaspoon

Salt

12

Silver Gelatin sheets

bloomed, squeezed

1

tablespoon

Vanilla extract

1

Vanilla beans scraped

save pods for another use
Instructions
Spray baking pans with non-stick spray, line with parchment, and lightly spray parchment.

In a heavy-bottomed saucepot, combine 525g sugar and water, stirring just to wet sugar. Put egg whites and salt in the bowl of a stand mixer fitted with the whisk attachment.

Cook sugar over high heat until it begins to bubble vigorously. Rinse any sugar from the sides with a clean pastry brush dipped in cool water.

When the sugar begins to boil, begin to whisk the egg whites on high speed. When they foam, slowly begin adding the 50g reserved sugar ( ¼ cup – this is approximate because 50g is slightly less than ¼ c. Don't stress; it isn't that serious.). The salt and sugar will stabilize the egg whites.

Your sugar syrup should reach 235°F when the egg whites have reached a stiff peak. If your whites need more time, reduce the heat on the sugar. If your sugar needs more time, reduce the mixer speed to low but never turn it off. When the sugar reaches 235°F, increase mixer speed to high, and slowly pour the sugar into the bowl of the stand mixer in a steady stream being careful not to hit the whisk.

Squeeze excess water from the gelatin and add to the mixer.

Continue to whip on high until the mixture cools to body temperature. Add vanilla extract and beans.

Pour half into each prepared half-sheet pan and spread into an even layer with an offset spatula, working quickly before the marshmallow cools and thickens.

In a small bowl, whisk together the powdered sugar and cornstarch. Dust a thin layer over the top with a dry sifter. Allow cooling completely in a cool, non-humid place. Then wrap tightly in plastic wrap.

After cutting, toss the marshmallows in the powdered sugar/cornstarch mixture.
Notes
Store in an airtight container away from heat and humidity. Never refrigerate or freeze.
Yield: 100 marshmallows
Nutrition
Calories:
142
kcal
|
Carbohydrates:
34
g
|
Protein:
2
g
|
Fat:
1
g
|
Saturated Fat:
1
g
|
Monounsaturated Fat:
1
g
|
Sodium:
30
mg
|
Potassium:
14
mg
|
Fiber:
1
g
|
Sugar:
34
g
|
Calcium:
2
mg
|
Iron:
1
mg
Like this? Leave a comment below!