This Almond Flour Tart Crust (almond pâte sucrée) is tender and buttery!  It is perfect for mini tarts, frangipane fruit tarts or really anything!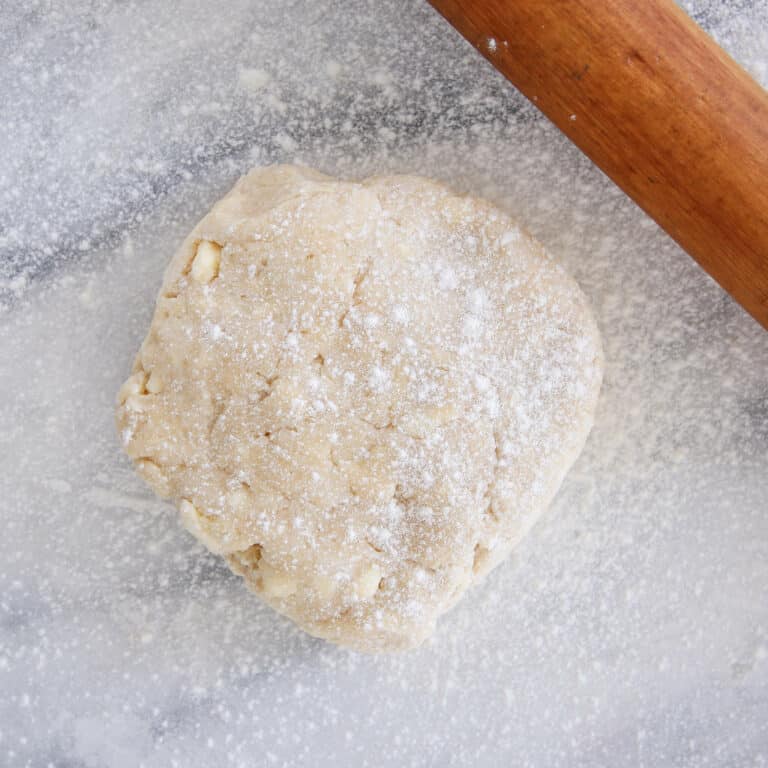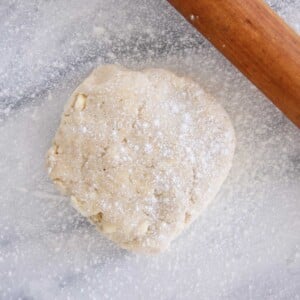 This Almond Tart Dough is one of the most versatile and delightful tart doughs on Earth. Bold statements for bold feelings, people.
If this quarantine sitch has taught us anything, it should be that we should be bold and unabashedly unafraid to show our colors! And that baking is the best form of stress-relief! I'm lookin' at you sourdough ?
Fun Fact: My AC was broken when I filmed this video and it was hovering right around 95
in my apartment with the oven on. My dough would get soft almost immediately! It was a battle of wits and I'd like to think that I won. But I might have lost or at least shed tears without some core pastry knowledge. Let's discuss…
A Guide to Almond Tart Dough
This dough is like a combination of the creaming method and the cut-in method that is only moistened with eggs, which results in an incredibly tender crust. Make sure the eggs are completely incorporated before chilling. If there are lingering bits of dry ingredients, work it in by hand by just squishing it between your fingers.
Press the dough flat on plastic wrap before chilling it. This speeds up the chilling process but also makes it easier for you to roll out later! You can also freeze these little dough packets for up to a month! Tarts on demand!
If your apartment is warm, roll out the dough on parchment paper instead of the counter. You'll see that I switch from rolling it traditionally to rolling on parchment in my video when I realized that the heat was against me. Rolling on parchment also limits the amount of flour you add to the dough, thus preserving the flavor and texture.
Chill the dough right between layers of parchment for easy transfer to tart pans.
Just like other doughs, keep it cold! Ultimately it will affect the final texture if you bake it when it is warm or didn't let the gluten relax. This is no finicky brisée, so you don't have to stress as much and this particular dough is pretty forgiving.
You'll just have to watch the video to see my trick for lining tart shells with parchment. Come on now, let a girl have her secrets! ?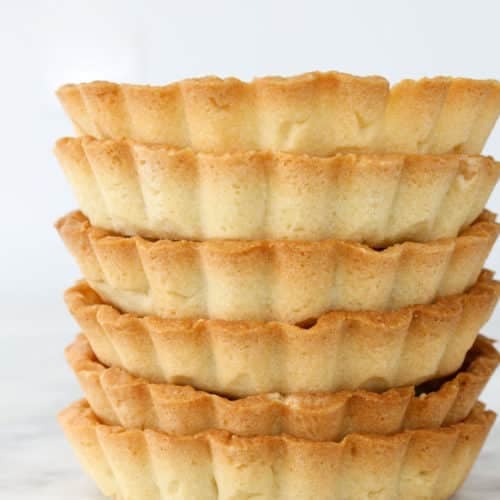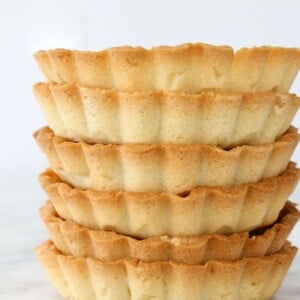 Almond Flour Tart Crust
This Almond Tart Dough (pâte sucrée) is tender and buttery! It is perfect for mini tarts, frangipane fruit tarts or really anything!
Instructions
In the bowl of a stand mixer fitted with the paddle attachment, cream butter and sugar until smooth.

Add flour, baking powder and almond flour, and mix on low until crumbly and the butter is completely incorporated.

Beat the eggs and then add all at once and mix until incorporated.

Wrap in plastic wrap, pat flat and chill thoroughly, about an hour or two. Overnight works too!

Stop here if you are going to use the dough for a tart that does not require pre-baking!
To Par Bake (or blind bake)
Preheat an oven to 350F

Roll to 3mm thick either on a piece of parchment or on a floured surface. Chill at least 30 minutes.

Remove from parchment to line a large tart pan up to 12" in diameter. Or cut with ring molds slightly larger than the mini tart pans you are using. Place one dough circle over each mold and gently place it in the crease and the press to line. Chill.

Cut parchment paper that will fit inside your molds. Crumple it up to make it pliable.

Cut off the excess on the top of the chilled and lined tart shells. Place parchement inside and fill with beans or rice. I find that rice doesn't work as well as medium sized beans. Chill again if they got warm.

Bake in preheated oven for 8-11 minutes with the beans or until the parchment lifts out easily and the sides have begun to brown. Remove the parchment and beans and set aside to cool. You can reuse both again!

Continue baking until golden brown.

Cool completely! You can store them for 5 days or use them immediately.
Notes
In the video I made a double batch, so I divided it. You would not need to do that in this recipe.
This recipe yields 6-10, 2 ½ inch mini tarts. To get 10 tarts you will need to re-roll the scraps.
Or you can make one large tart up to 12 inches in diameter.
Nutrition
Calories:
144
kcal
|
Carbohydrates:
1
g
|
Protein:
2
g
|
Fat:
15
g
|
Saturated Fat:
8
g
|
Polyunsaturated Fat:
1
g
|
Monounsaturated Fat:
3
g
|
Trans Fat:
1
g
|
Cholesterol:
60
mg
|
Sodium:
118
mg
|
Potassium:
14
mg
|
Fiber:
1
g
|
Sugar:
1
g
|
Vitamin A:
415
IU
|
Calcium:
23
mg
|
Iron:
1
mg
Like this? Leave a comment below!