The Only Crust Recipes You'll Ever Need
Professional Tips for Perfect Pie Crusts
Measure your ingredients by weight. Weigh your ingredients for the most consistent, best results. The different methods of measuring flour into a dry measuring cup vary by ½ cup. Think of all that extra gluten in there and how you don't have any additional butter to coat the strands! Think of how tough and elastic that pie crust will be. Sadness.
Keep the ingredients and dough cold. This is the theme that runs through the whole process from the moment you scale your ingredients to the moment when you put the pie in the oven. Keeping everything cold will limit gluten formation, because gluten forms stronger networks when heated and agitated, and it will keep the butter from melting prematurely.
Work quickly and expeditiously. This serves two purposes: the first is to keep your butter cold and the second is to restrict the amount of gluten that develops in your pastry. Cut your butter in as quickly as the method will allow to keep it from warming. Mix or knead the dough minimally once you begin adding the water, because gluten needs to be hydrated before it forms. The faster you work and the colder your water, the less gluten has a chance to form.
Chill the dough before baking and bake it hot. When you take chilled pastry dough with little pockets and sheets of cold butter, and you pop it into a screaming hot oven, the water will evaporate and the butter will melt creating flakey layers.
Professional Tutorials for Pie Crust
In depth tutorial on everything you need to know about baking, latticing or handling pie crust!
Frequently Asked Questions
What is gluten & how does it affect pie crust?
Gluten is formed from two proteins that are found in wheat that, when hydrated and agitated, form a felt-like network. They are responsible for the structure in your pie crust. You need a certain amount of gluten to create a flakey crust that won't just crumble or fall apart after slicing, but too much gluten development will cause pastry shrink or become tough.
Why is my pie crust soggy after baking?
Pie crust can be soggy after baking if the dough had too much moisture, the crust was not baked long enough, or baked at a high enough temperature. If using a liquid pie filling such as pumpkin or pecan pie, try partially blind baking the crust to make a flaky, crisp crust and a soft filling.
What flour to use for pie crusts?
I use a pastry flour or a lower gluten All Purpose flour (like King Arthur) for my pie crusts because they contain a relatively low amount of gluten when compared to traditional all-purpose or bread flour. Never use bread flour. Please. Promise me that one thing.
How do you know how much gluten is in flour
The easiest way to tell how much gluten is in flour is to look at the nutritional labels. The higher the protein, the higher the gluten. This is best understood in relation to other flours, so if you find yourself at the grocery store not knowing which flour to choose for pie crust or puff pastry, simply take a peak at the protein content in relation to the other brands and varieties on display.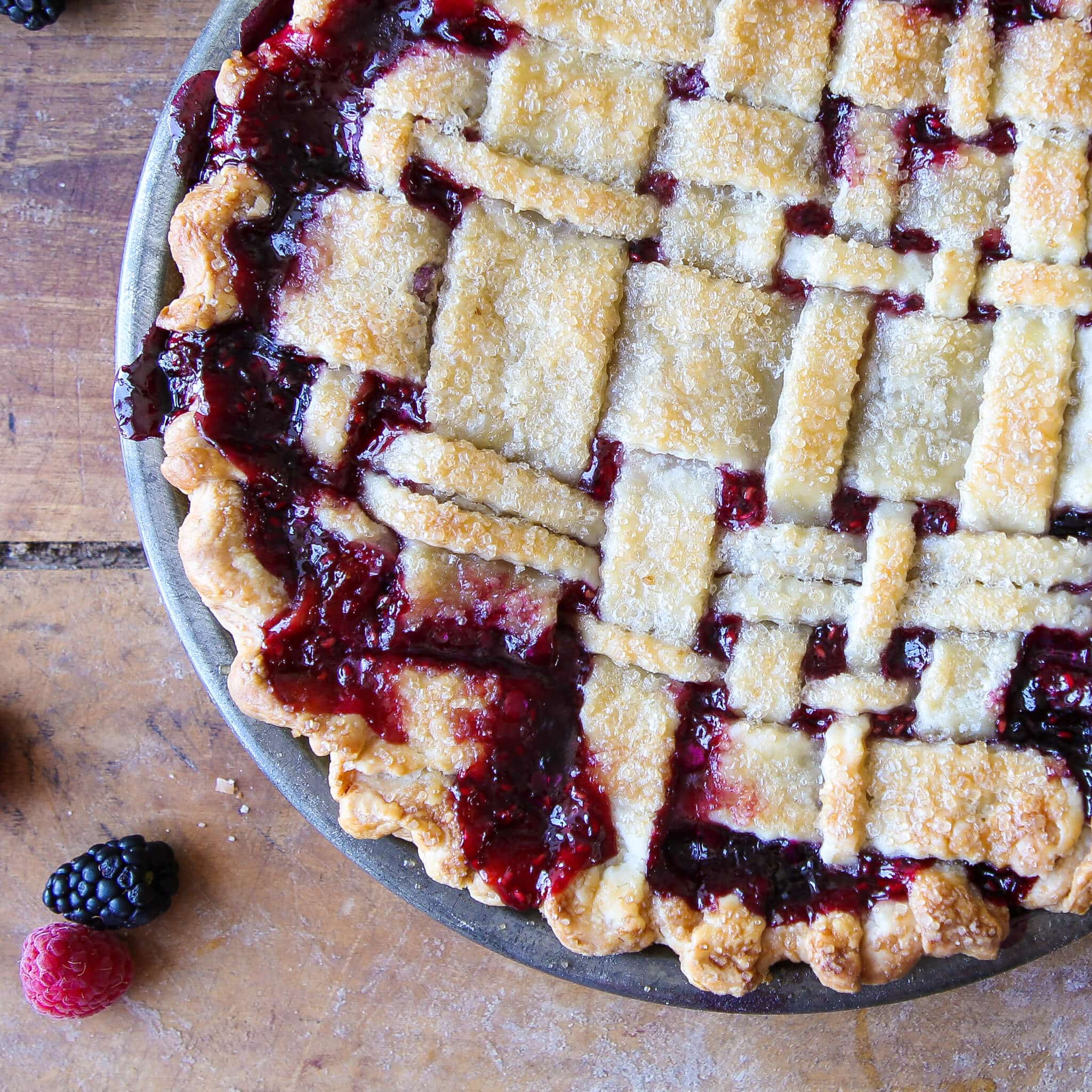 How to Blind Bake Pie Crust
An easy to follow tutorial on how and when to blind bake pie crusts whether you made a crisco pie crust or an all butter pie crust, this has you covered.
Foolproof All-Butter Pie Crust
This easy pie crust recipe only has 4 ingredients and I filmed a YouTube tutorial for every possible mixing method! No matter the equipment you have available, you can make this pie crust!
Pie Crust Recipes
Flaky, buttery and tender all butter pie crust recipe. Make a perfect pie crust that won't shrink in under 5 minutes!
What to make with your pie crust
You have the perfect pie crust. Now what? Here are a few suggestions to get you started or you can check out all our pies and tart recipes!