This Coffee Donut Bread Pudding takes everything you love about breakfast and bakes it into one easy dish! Cake donuts baked in a coffee custard for the perfect addition to brunch!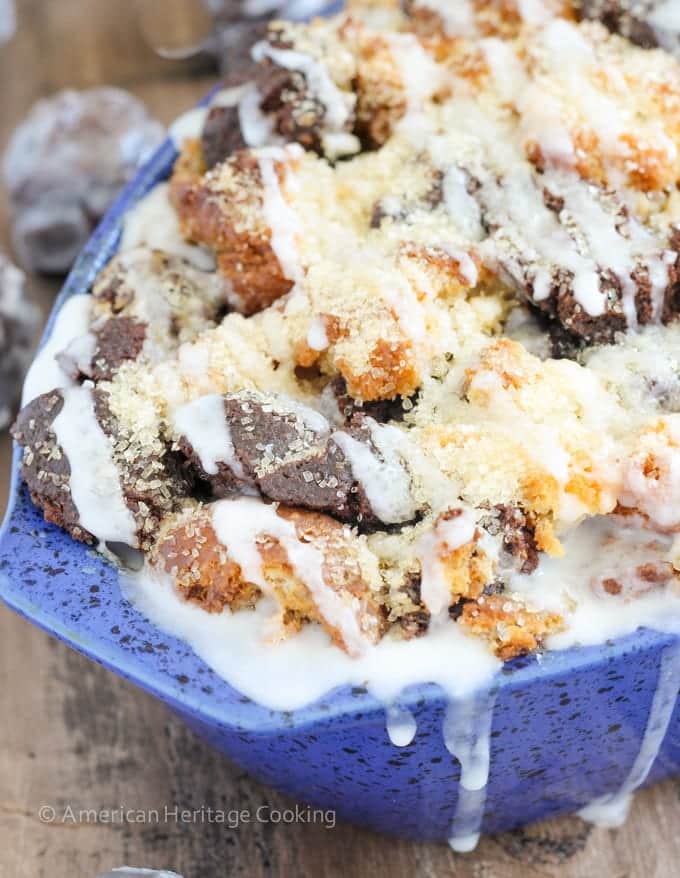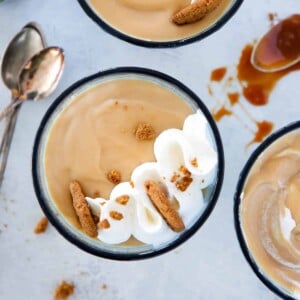 Mother's Day is one of those sacred days; those Hallmark Holidays that remind us what is truly important in life.
I've talked a lot about my mom on this blog. There is a reason that so many of my posts are filled with memories and lessons from her: She has been the single most dominating and forceful influence in my life.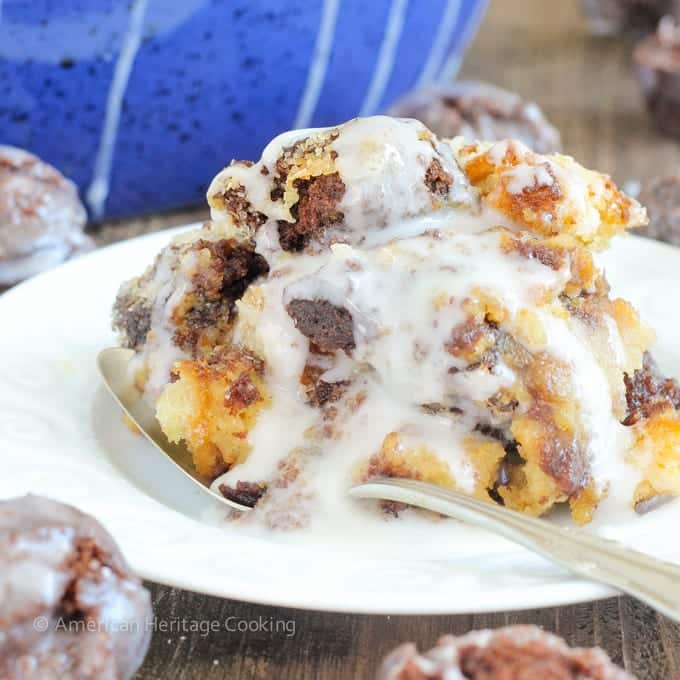 From the profound to the mundane, she is the reason I am a lot of things I am.
She is the reason I am never more than an arms length away from a book: she read to me every single night from the time I was an infant to middle school. Yes, middle school. (We read JR Tolkin together.) Even though she had a fulltime job as a consultant and there were probably a million other adult things she could have been doing, she made time to read me "just one more".
She is the reason I am obsessed with words. When my mom drove me to daycare she would teach me words just for fun. How many two year olds do you know who can casually use "copacetic" in a sentence?
She is the one who started my love-affair with chocolate.
She showed me that success takes hard work, long hours, and sacrifice.
A life spend emulating her is the reason that nothing short of perfect is good enough, even though she celebrates my less-than-perfect-self all the time.
She is the reason that I see physical strength and fitness as an integral part of being a strong, successful woman. After she read to me every night, she would work out no matter how late it was or how early she had to wake up.
She is the reason that I hate buying anything if it isn't on sale, and the one who taught me that wasting is a sin.
I digress. This post isn't about what she taught me and how she helped shape the adult I am today; it's a thank you. [It's also about bread pudding but I'll get to that! Patience 🙂 ]
Thank you for always being there to pick up the pieces, or help me hold together those last remaining pieces as the case may be. There are not words enough to express my thanks and gratitude for how much you have been there for me during the most stressful and complicated time in my life thus far. Over the past year you have helped me navigate the painful crumbling and tumultuous end of a marriage; a move to NYC; a divorce; a drastic and scary change in careers; the end of my life in Atlanta; a stressful, physically and emotionally demanding job; and the beginning of a new life in a new city.
Thank you for giving me space when I needed space to process or when I couldn't handle anything more, and thank you for offering advice and emotional support when I was falling apart. Thank you for trying to make my life easier in any way you possibly can.
I could not have emerged from such a time relatively unscathed and genuinely happy without your omnipresent support. I would not be able to look towards the future with such positivity, hope and excitement if you were not in my life.
Happy Mother's Day to the strongest, most beautiful mother in the world. In the world.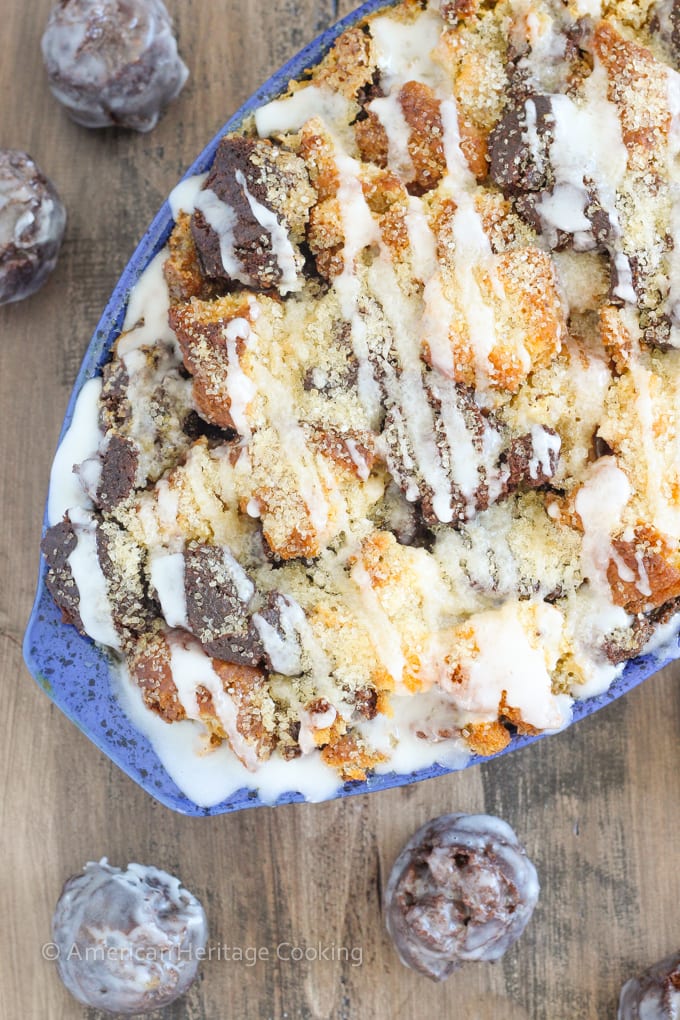 So, umm, this bread pudding….
Actually this bread pudding is AMAZING, and it was born from my inability to waste all the scrapes from my homemade Old-fashioned sour cream cake donuts & chocolate cake donuts! (See #7 above! Lol) It seemed such a shame to waste all the trimmings, so I fried them up, added an easy coffee custard and baked it up to indulgent perfection!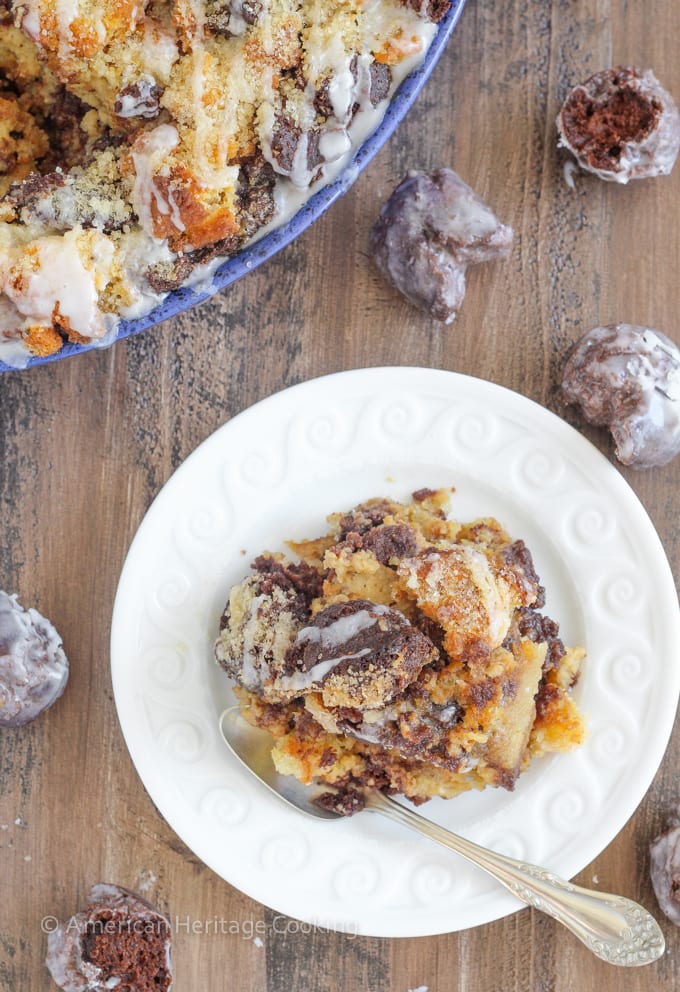 You could also make this from store-bought donuts, which would make it the easiest (as well as the most sinful) addition to Mother's Day brunch. It is better if the donuts are a day old, so that they stand up to the custard better.
Basically this bread pudding is the marriage of two breakfast favorites: coffee and donuts. What's not to like?!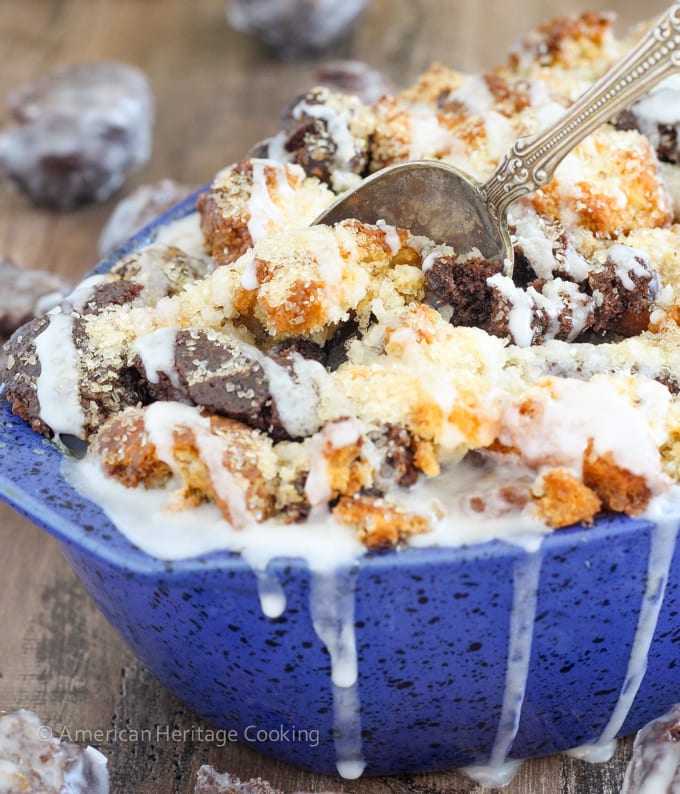 I mixed chocolate and traditional sour cream but it would be good with any flavor!
Like my other bread puddings, this one is all about the crunchy topping! Make sure you don't skip sprinkling turbinado sugar all over the top before you bake!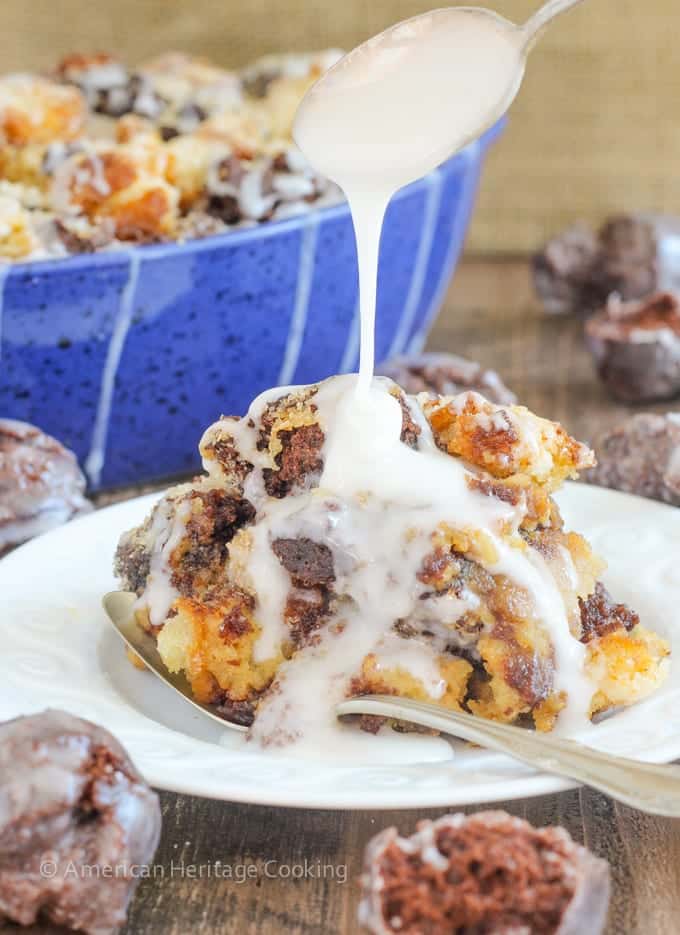 Oh and pour on the donut glaze and be happy!
Happy Mother's Day to my mom and all the other mothers out there! You rock!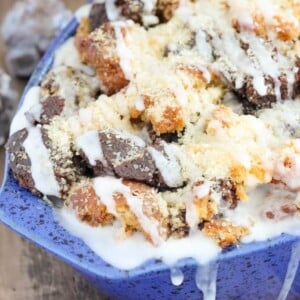 Coffee Donut Bread Pudding
This Coffee Donut Bread Pudding takes everything you love about breakfast and bakes it into one easy dish! Cake donuts baked in a coffee custard for the perfect addition to brunch!
Instructions
To make the bread pudding:
Preheat oven to 350°

Place donut pieces in a 8-inch square baking dish (or any dish really).

In a bowl immersion blend together all remaining ingredients. You can also whisk it if you don't have a stick-blender.

Pour over donut pieces. If your donuts are fresh, bake immediately. If they are stale, cover and refrigerate for 20 minutes.

Sprinkle top with turbinado (raw) sugar if desired and bake in preheated oven for 45minutes-1 hour. Cooking time varies greatly depending on the depth of your dish, so keep that in mind when checking. Bake until the middle gives some resistance when pressed lightly. It should not feel like it is liquid underneath.

Cool at least 45 minutes prior to serving. This allows the custard to set.

Drizzle with donut glaze and serve!
For the glaze:
In a medium bowl whisk together the milk, powdered sugar and salt. Cover the glaze with plastic wrap directly on the surface.
Nutrition
Calories:
418
kcal
|
Carbohydrates:
34
g
|
Protein:
3
g
|
Fat:
5
g
|
Saturated Fat:
3
g
|
Polyunsaturated Fat:
1
g
|
Monounsaturated Fat:
1
g
|
Trans Fat:
1
g
|
Cholesterol:
44
mg
|
Sodium:
125
mg
|
Potassium:
96
mg
|
Sugar:
33
g
|
Vitamin A:
213
IU
|
Vitamin C:
1
mg
|
Calcium:
56
mg
|
Iron:
1
mg
Like this? Leave a comment below!
Got Breakfast on your mind?
Old-Fashioned Sour Cream Cake Donuts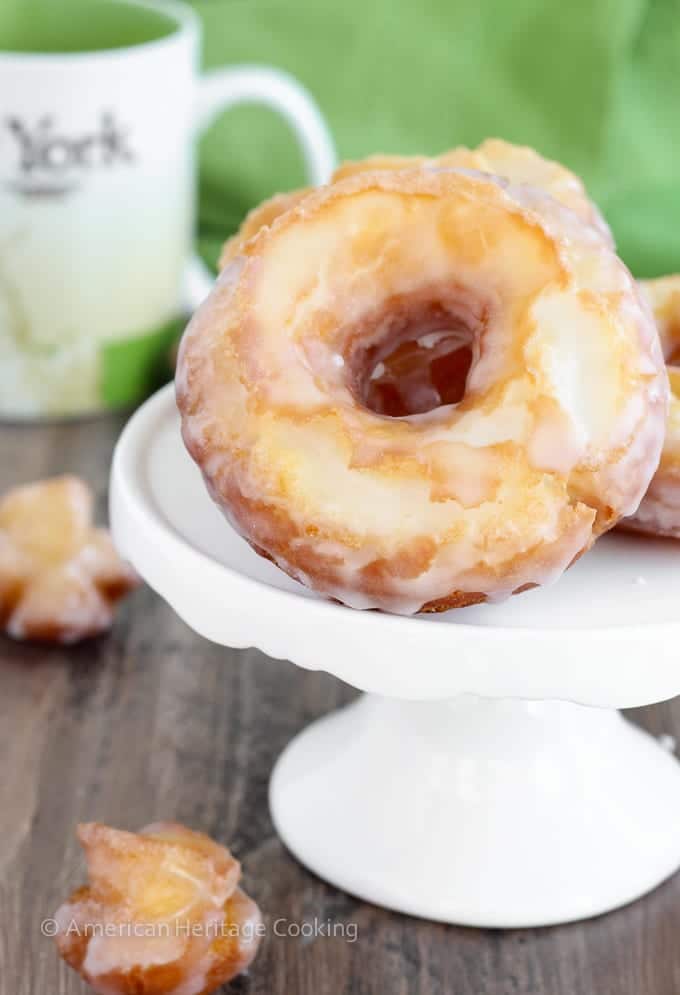 Old Fashioned Chocolate Cake Donuts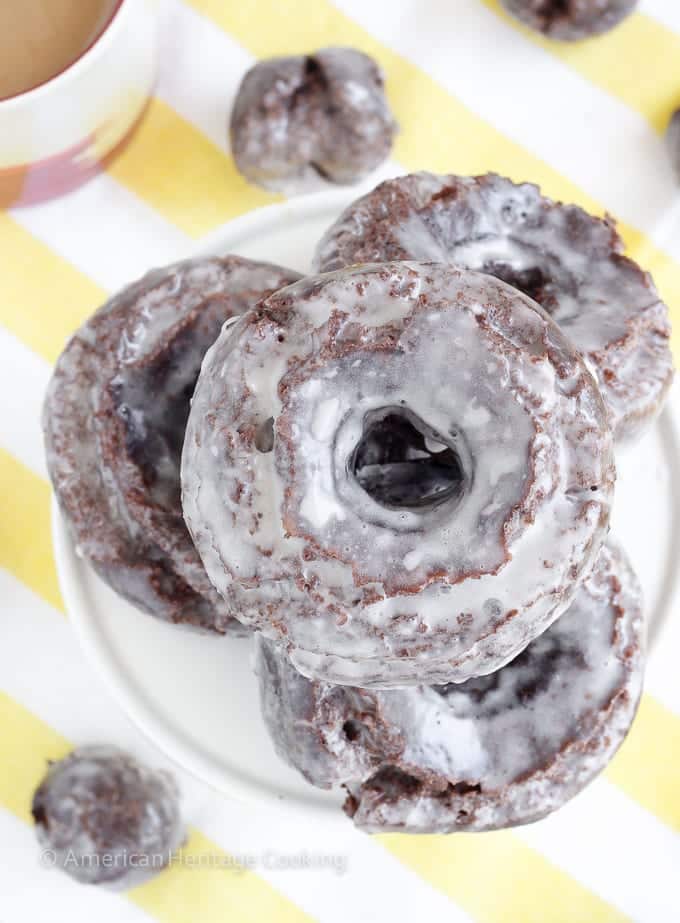 Overnight Oats – Bircher Muesli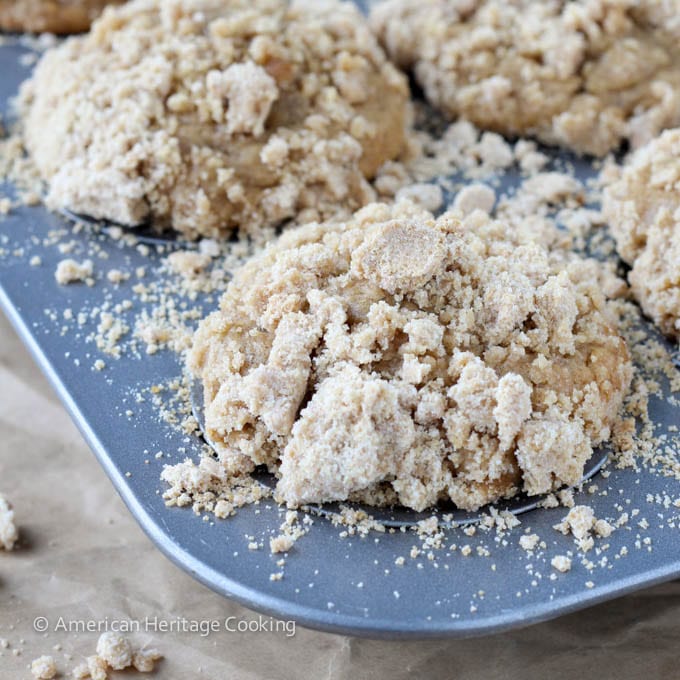 Peanut Butter Banana Streusel Muffins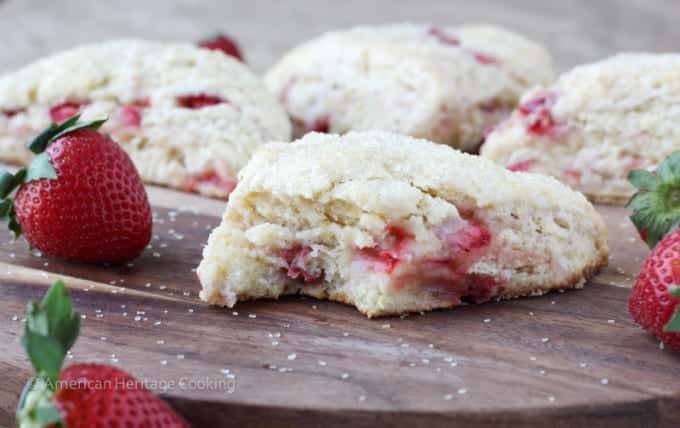 Maple Steel Cut Oats Pumpkin Parfait