These Festive Almond Crinkle Cookies are incredibly soft and chewy. A warm vanilla almond flavor makes these cookies as delicious as they are easy!
12 Days of Christmas Cookies
My mom made these red and green crinkle cookies every year along with chocolate crackles! They were a nice break from the more labor-intensive rolled cookies like gingerbread or sugar cookies.
Made with just four ingredients, they were by far the easiest cookies on the list! Let these Festive Almond Crinkle Cookies be an easy, colorful addition to your Christmas cookie platter or gift box!
Table of Contents
Ingredients Needed: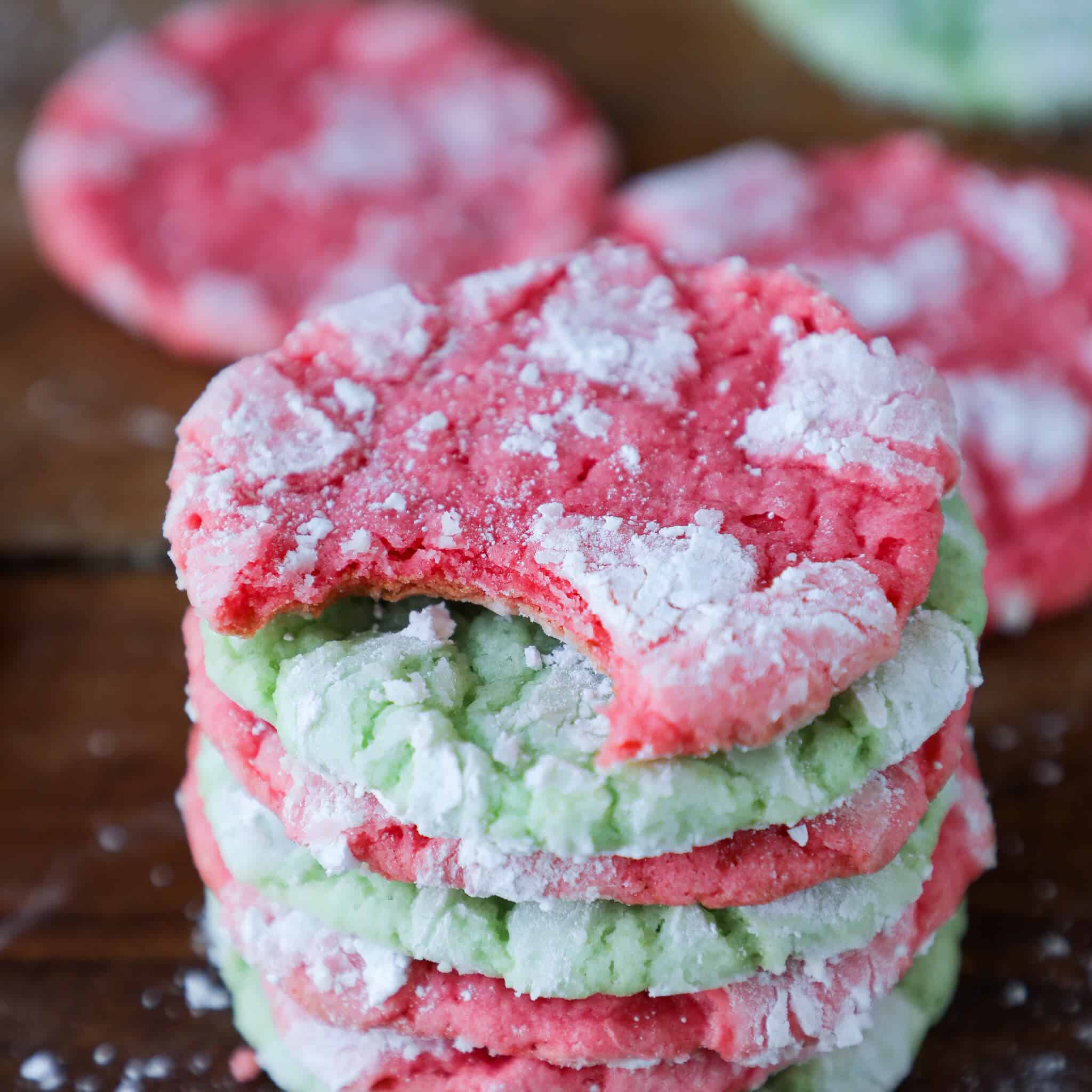 Tips for Successful Almond Crinkle Cookies:
There are different sizes of cake mix boxes out there. I know this because I accidentally bought a small one and my dough was super oily and I had to throw it out. Tear. Make sure you pick up a 16.5 ounce box. I used Duncan Hines.
I prefer the liquid food coloring to the gel food coloring in this recipe. The liquid disperses better in the batter. To get the right color with the gel, you had to use so much I could taste it. Blech! It was also difficult to incorporate, so I ended up over-mixing my batter. Again, another batch wasted.
When I say generously roll your dough in powdered sugar, I do mean GENEROUSLY! As in powdered sugar is caked on the ball and there is powdered sugar all over your hands, the counter and the cookie sheet.
The cook time will drastically alter the texture of your almond crinkle cookies. If you do not want dry, cakey cookies, then watch them!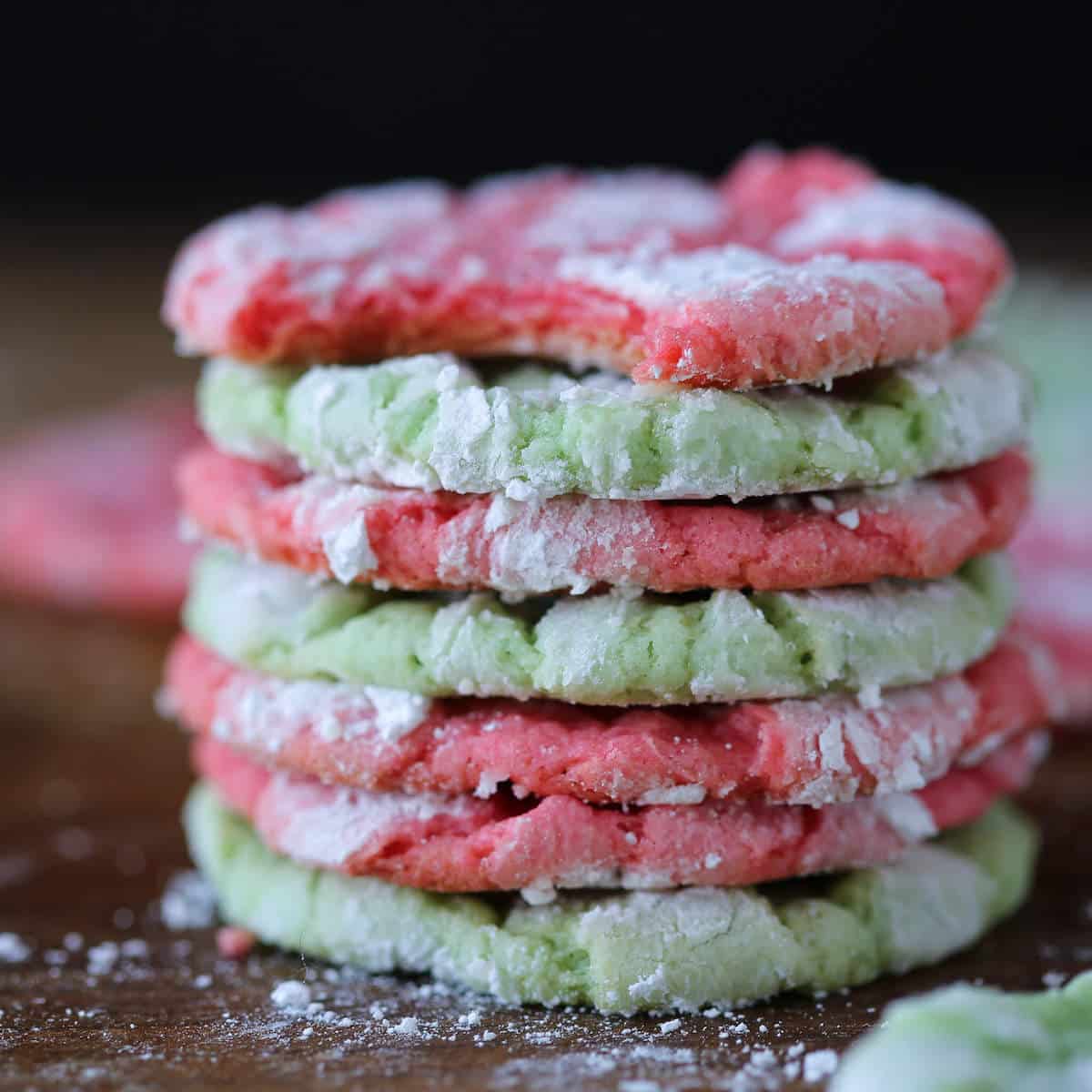 Make Almond Crinkle Cookies your own:
Flavorings: I added ½ teaspoon of almond extract to really pop the flavor! I've also tried ½ teaspoon of vanilla extract, which is delightful, and I plan to try peppermint next year!
Texture: The texture of the almond crinkle cookies is easily customizable as well. The longer you bake them, the cakier they become. They are made with cake mix after all!
Mix-Ins: Mix in chopped almonds or dried fruit for more added texture.
Frequently Asked Questions
How do you store crinkle cookies?
I store them in an airtight container at room temperature or frozen. I find the refrigerator dries them out faster and they lose their chewiness.
How long will Festive Almond Crinkle Cookies Keep?
These chewy almond crinkle cookies will keep up to 7 days at room temperature or several months frozen. They are best when consumed within 3 days when stored at room temperature. They gradually dry out and lose their chewiness.
Can you freeze crinkle cookies?
You can freeze the baked cookies for up to 2 months. I do not suggest freezing the unbaked dough. I found that it did not bake the same.
Can you make a larger batch?
You can make as large a batch of these festive almond crinkle cookies as you would like; however, I will caution that they are best bake immediately after mixing. Only make as many as you can bake that day.
Do crinkle cookies ship well?
These cookies ship wonderfully. Package in a decorative tin or just place in a zip-top bag in a mailer box. They keep for 7days and they stay chewy for almost as long. The larger the cookie, the longer they stay chewy!
Chef Lindsey's Recipe Tips
These cookies really are so easy! The only thing to know is the dough is best baked right after mixing. These are not the cookies to have frozen dough balls in the freezer ready to bake!
These Festive Almond Crinkle Cookies are for the tenth day of my 12 Days of Christmas Cookies 2014! You won't want to miss the No Bake Gingersnap Brandy Balls, Chocolate Pecan Tassies, Molasses Sugar Cookies, Old Fashioned Gingersnaps, Peanut Butter Blossoms, Old Fashioned Oat Lace Cookies, Raspberry Linzer Cookies, Holiday Bark or Cherry Pecan Cookies!
Recipe
Festive Almond Crinkle Cookies
These Festive Almond Crinkle Cookies are incredibly soft and chewy and impossibly easy! A warm vanilla almond flavor makes these cookies as delicious as they are easy!
Instructions
Preheat your oven to 350° and line two baking sheets with parchment paper. Place about ½ cup powdered sugar in a bowl and set aside.

In a medium bowl mix together the cake mix, eggs, oil and extract until few lumps remain.

If you are going to add food coloring, do so now; mix to combine. I divided my dough in half and then colored half green and half red.

Roll dough into balls, approximately 1.5 inches across, and then roll in powdered sugar until they are generously coated. Place on cookie sheet about 2 inches apart. The dough is very soft and will not stay in ball form, which is fine.

Bake in preheated oven for 7-11 minutes. 7 for very soft, underbaked cookies and 10-11 for cakier, lighter cookies.

Let cool 5 minutes on baking sheet and then remove to a wire rack to cool completely.
Video Instructions
Before You Go!
Check out our other delicious, chef-developed recipes for Cookies!