I'm not going to lie, this Christmas season has been an epic ride for me! In truth, I was thrilled to bring back the beloved 12 Days of Christmas Cookies with 12 new cookie recipes in a row! I also had the ambitious goal of 12 days on YouTube where I filmed some videos for fan favorites from Christmases past like Moravian Christmas Cookies. We didn't quite make the 12 days in a row on YouTube but I hope you'll forgive me! 
In the meantime, my online Pastry SHOP sold a record 400 cookie gift tins! My team worked in overdrive (until the wee hours) to make, package and ship 14,012 Christmas cookies. Altogether, that means we made, rolled, cut, baked and decorated over 1,000 Pounds of cookie dough! ?
If you didn't get your hands on one of our Christmas Tins this year before we sold out, no stress, because I've got you here on CLF! Here are 12 damn good Christmas Cookies you can bake instead right now! Let's get this cookie party started! 
On the 12th Day of Christmas…
Day 12 of the annual 12 Days of Christmas Cookies 2021 were Old Fashioned Gingersnaps!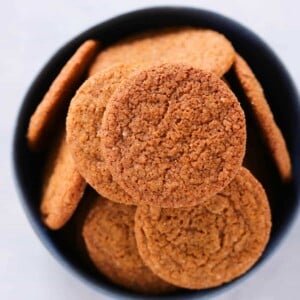 Old Fashioned Gingersnaps
These old fashioned gingersnaps have all the flavors and snappiness of their store-bought counterparts! They have the perfect balance of ginger and molasses and a good amount of crunch!
View Recipe
Mmmmm, No Bake Speculoos Rum Balls were Day 11 of 2021's 12 Days of Christmas Cookies.
Cant get over my SUCCESSFUL Day 10 Old Fashioned Fudge. Finally successful! I'm giving you all the tips so you can be successful too!
These stunning Homemade Speculoos Cookies were Day 9! Worth the effort! Even if I ended up making crumbs with half the dough! I used them in the rum balls above!
Day 8 (a new personal fave) was Double Chocolate Biscotti! Nothing beats a little chocolate dipped in coffee.
Day 7 (Part 2) of the annual 12 Days of Christmas Cookies 2021 were Cinnamon Almond Bars! A little extra effort but a delightful change of pace with the lemon and toasted almond combination.
Traditional Linzer Cookies were Day 7 (Part 1) of 12 Days of Christmas Cookies 2021! This will forever and always be my most requested cookie. At the restaurant they were nicknamed "Lindsey's Linzers."
These Cardamom Crescent Cookies were Day 6! An easy, crumbly, buttery cookie. The Italians really do know best!
We adored Part 2 of Day 5: the traditional Pfeffernüsse Cookies! A shining new edition to my Christmas repertoire! Delicious day 1 and even better on day 2. I can't attest to the taste on Day 3 because they didn't last that long!
Part 1 of Day 5 was the wondrous: Moravian Christmas Cookie! One of the most popular Christmas cookie posts on CLF! It has quite a following in the Moravian community in North Carolina! (This kolacky recipe is the most popular post, for curiosity's sake)
My husband's favorite of 2022! Day 4 of the 12 Days of Christmas Cookies: Orange Financiers!
Day 3 of the 12 Days of Christmas Cookies: Pistachio Cranberry Sablee Cookies! This have been one of my favorites since I started making them in 2018.
We had Day 2 of the 12 Day Christmas Cookie celebration: Cashew Caramel Pretzel Blondies! Brace yourselves for all the chewy browned butter blondies covered in salted caramel pretzels.
Don't forget about Part One of Day 2 of the 12 Day Cookie Extravaganza: Hungarian nut Rolls! This is the second most popular cookie post on CLF!
And who could leave out Day 1, Italian Pizzelles!? Perfectly flavored with anise, these are sweet, crunchy, addicting little cookies! Go put the kettle on and get ready for an epic afternoon tea.
We even had a BONUS day, courtesy of my mom, these super easy Chocolate Crackle Cookies!