An easy Gooey Double Chocolate Chip Cookie recipe that makes soft, chewy, chocolaty cookies in less than 20 minutes!
Things have accelerated on the crazy scale these past fews days! I've packed up everything that could fit in two checked bags, flown to New York City, and, with the help of my mom, I've set up my new apartment in record time. (The doorman may or may not hate me because I had a mattress and over 40 boxes delivered in 4 days! Ooops. Time to start baking 😉 )
As I settle into my new life here in The City, some of my wonderful blogging friends have generously agreed to help me out, and I am excited to introduce you to each of them!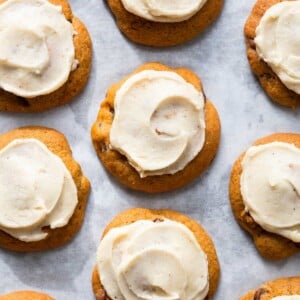 Sophia of Little Box Brownie was one of the first blogs that I fell in love with after I started AHC. I was obsessed with Sophia's moody, romantic photography and vintage props. I marveled at how she incorporated each piece with such attention to detail and almost reverence.
I followed her like a groupie through her first year, the start of her new business, and the publishing of her cookbook. I obsessed over how I could get a copy of this Australia/New Zealand only cookbook. Because I must…I simply must have a copy!!
When my family planned a trip to New Zealand I jumped on the chance to have her ship a copy to my hotel and then my family and I devoured each and every single page. Every photo and recipe looked better than the last! It is truly a work of art. If you live in Australia or New Zealand you NEED this book.
Today I am overjoyed and not just a teenie bit honored to have her here at AHC!
Hello to all the lovely readers of American Heritage Cooking,
Firstly thank you so much for inviting me to write a post for your blog Lindsey!!! As you know I am such a huge admirer of your work and it gives me such great joy and pleasure to be included in your line up of amazing blogs. I don't even know when I started following your blog it was so long ago, and since then we have formed a great blogging friendship, which I am so thankful for.
Now dear readers let me introduce myself, I'm Sophia Purvis and I run Little Box Brownie a baking blog from Melbourne Australia. Yep thats right Lindsey and I live on complete opposite sides of the world, but really whats a little distance when you both have a love affair with food?
For todays post I have brought you my go to recipe for cookies. I always head to Lindsey's blog when I need inspiration for cookies, I think she has such a great range, so when she asked me to bake something I just had to share this recipe with you all. Theses cookies are super easy and I can whip them up start to finish in 20mins, so are perfect for when you have to bake something in a rush and head out the door 🙂 This recipe is one of my favourite cookie recipes and rates super high among my friends and family. I even included it in my book "A Piece of Cake" that Lindsey travelled all the way to New Zealand to buy, well she may have gone there for other reasons, but I tell everyone that she really went there to get a copy of my book 🙂 thats right isn't it Lindsey?
I hope you all enjoy my Gooey Double Chocolate Chip Cookies.
Happy Baking
Sophia xxx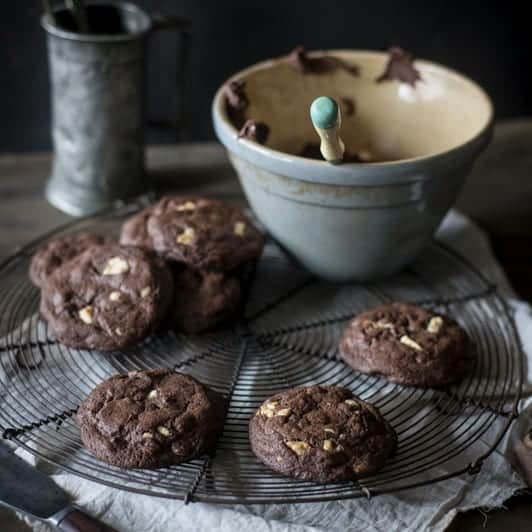 Gooey Chocolate Chip Cookies
An easy Gooey Double Chocolate Chip Cookie recipe that makes soft, chewy, chocolaty cookies in less than 20 minutes!
Instructions
Preheat oven to 180°C or 350°F

Cream butter, sugar and vanilla essence until light and fluffy.

Add the egg and mix until combined.

Sift the flour, baking powder and cocoa together, then stir into the butter mixture.

Add the chocolate chips and combine.

Spoon onto a lined baking tray and press them down a little.

Cook for 10-15 mins until top cracks slightly but still soft to touch. Be careful not to over cook or they will go a bit hard and not gooey
Nutrition
Calories:
230
kcal
|
Carbohydrates:
36
g
|
Protein:
2
g
|
Fat:
10
g
|
Saturated Fat:
6
g
|
Polyunsaturated Fat:
1
g
|
Monounsaturated Fat:
2
g
|
Trans Fat:
1
g
|
Cholesterol:
31
mg
|
Sodium:
96
mg
|
Potassium:
76
mg
|
Fiber:
1
g
|
Sugar:
26
g
|
Vitamin A:
224
IU
|
Calcium:
42
mg
|
Iron:
1
mg
Like this? Leave a comment below!
See! Isn't she marvelous?!
You should hop on over to Little Box Brownie because I know you will fall in love just like I did!
And be sure to follow her on Instagram, Pinterest, Twitter and Facebook. And buy her beautiful book!