This Grilled Onion Roasted Potato Strawberry Spinach Salad has a little sweet, a little salty and all the flavors! A lemon thyme balsamic brings it all together.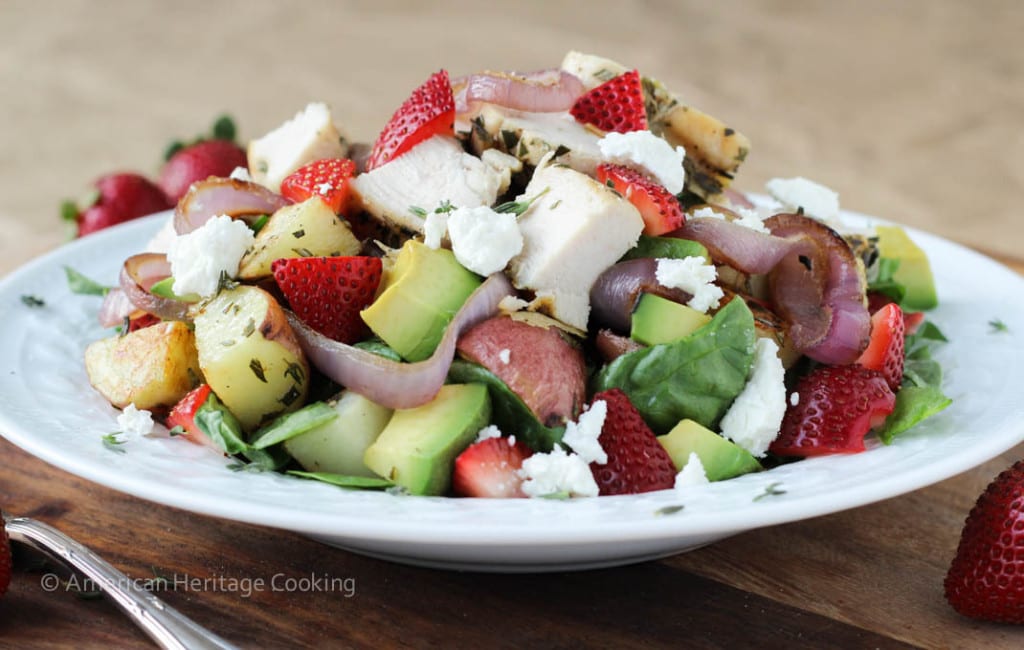 All good things must come to an end, and my love affair with this roasted vegetable salad is no exception. To keep the love alive this time I have been alternating it with this spring asparagus orange farro salad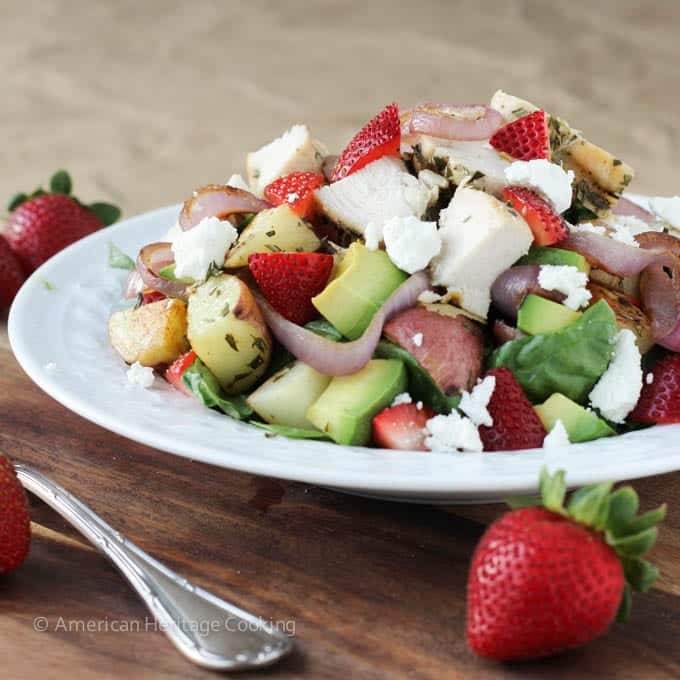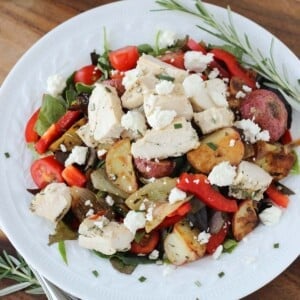 She's magical! There is no other word. Except maybe stupendous! But that doesn't even do it justice. The deliciousness and flavor complexities of this salad totally justify the 86 character title.
Like my other favorite salads this one took shape over time. I originally made it with nectarines and I loved that flavor combination until I ran out of ripe nectarines. I then had a decision to make: do I abstain from my new favorite salad while waiting for my nectarines to ripen or do I try something else?
Try something else. Strawberries. So amazing!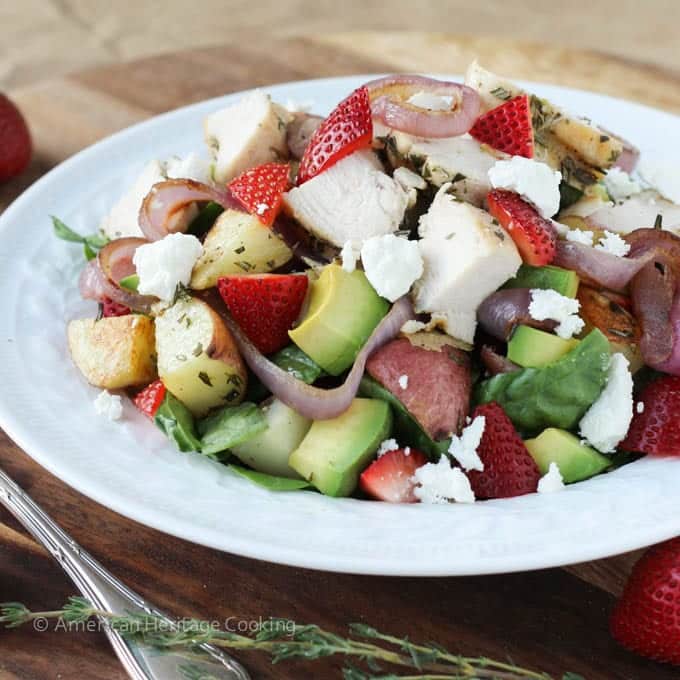 Each component of this salad adds a little something to the dish: a little sweetness from the strawberries balances the earthy rosemary and thyme on the chicken and potatoes; the warm chicken, potatoes and onions make this salad feel hearty enough for dinner; the creamy, cool goats cheese add that little indulgence factor; and the Balsamic Lemon Thyme Reduction pulls all the flavors together and elevates the whole salad to a gourmet level!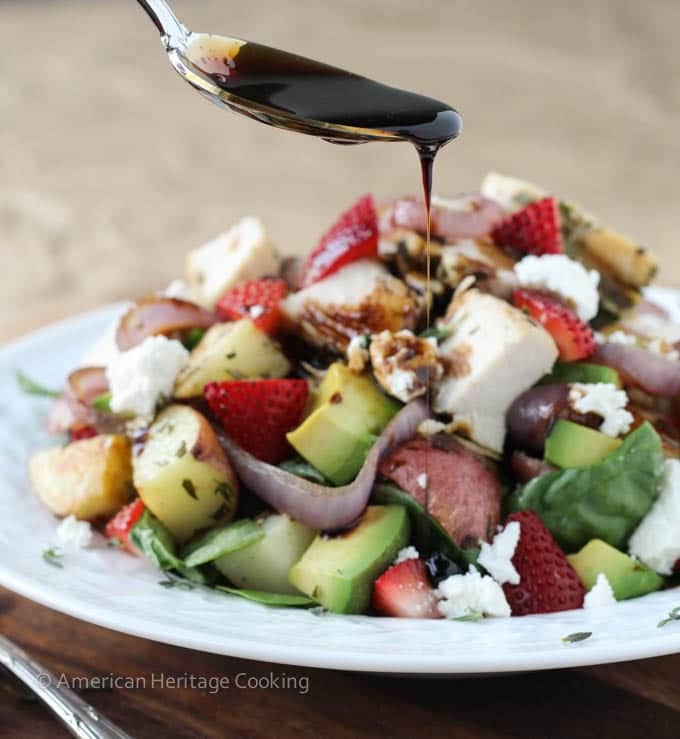 Oh! Let's talk about that warm Balsamic Lemon Thyme Reduction drizzle! As it was reducing, I had to keep tasting it just to make sure it really was as heavenly as I remembered!
It is! A sweet balsamic glaze with a hint of fresh thyme and little zing from the lemon! I just cannot even tell you how magical it is. It really sets off all the other flavors of the salad and makes the tastebuds sing!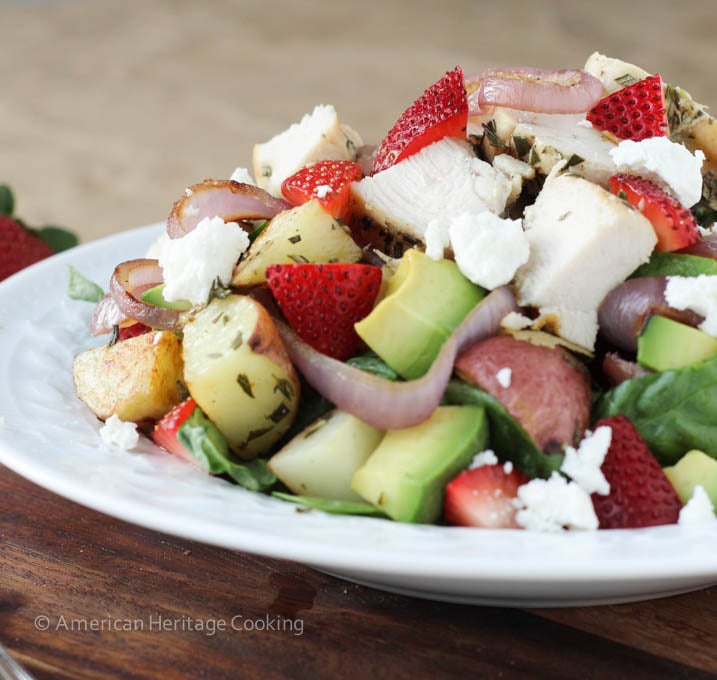 We've got some familiar faces in this salad like the easy rosemary chicken and roasted rosemary potatoes. But it's about the combination and the marriage of flavors that sets this salad apart from everyone else.
I used an easy broiler technique to grill the onions in my grill pan while the chicken was resting. This will…Change. Your. Life! I also love how the timing just works out.
It's all about the timing. I'm a little OCD and I like everything timed in my kitchen so that each component is ready at the exact same time. Thanksgiving…you don't even want to know. I had a timetable set up in advance. It was all orchestrated to the minute by dish. It started 3 days in advance. I know. I have a problem.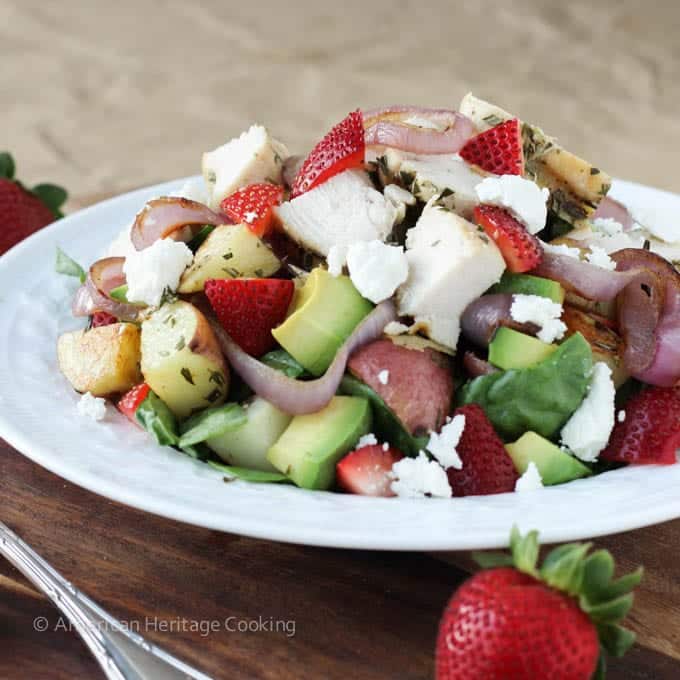 Do not be scared by the length of the instructions in this salad! I want to give you easy to follow, step-by-step instructions so that your salad comes together as quickly and as seamlessly as mine! This is one of those recipes that you absolutely must read all the way through prior to starting if you want it to be as simple as possible!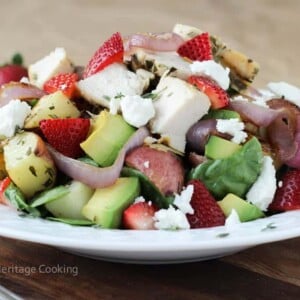 Grilled Onion Roasted Potato Strawberry Spinach Salad
This Grilled Onion Roasted Potato Strawberry Spinach Salad has a little sweet, a little salty and all the flavors! A lemon thyme balsamic brings it all together.
Ingredients
Instructions
Preheat the oven to 400° and place a large, rimmed baking dish on the middle rack to preheat. [Yes, this is the secret to crispy baked potatoes!]

While your oven preheats, cut up your potatoes into small pieces (~ ½ inch cubes) and place in a medium mixing bowl.

Chop the rosemary for the potatoes and the chicken. Add approximately 1.5 tablespoons of rosemary, two large three-finger pinches of kosher salt, and ½ teaspoon freshly ground pepper to your potatoes.

Drizzle olive oil over the potatoes and toss to coat potatoes evenly. The potatoes should have a nice sheen but they should not be drenched. There should be no excess oil in the bottom of the bowl.

By this time your oven should be preheated. If not, proceed to assembling the balsamic reduction and preparing your chicken for the grill.

If it is preheated, then spread the potatoes out in an even layer on the hot pan. Bake until they are a golden brown and are break apart when pierced with a fork, stirring every 8-10 minutes. Mine take about 30 minutes but this will greatly depend on how large your potatoes are.

While the potatoes bake, start your balsamic reduction.
Balsamic Lemon Thyme Reduction:
Add all ingredients except thyme in a small sauce pan. Whisk until all the honey has dissolved. Add the thyme sprigs and place over medium-high heat. .

Stir occasionally, and reduce until the sauce is thick enough to coat the back of a spoon but still thin enough to run off the edges. It will be a little bit more than ½ cup

Once it has reduced, remove it from the heat and take out the thyme sprigs. By my timing this is just a little bit before the onions are done.

After your Reduction has gone on the stove, prepare your chicken, chop your strawberries and slice your onions.
Making the chicken:
While your balsamic reduction is reducing and your potatoes have about 10 minutes left, start cooking your chicken. Follow the instructions in this rosemary chicken recipe.
Grilling the onions:
While your chicken is resting switch your oven to broil and place the oven rack as close to the broiler as possible without your pan actually touching the coils.

Place onion slices in a single layer on your hot grill pan that you just used for your chicken, brush the tops with olive oil reserved from brushing your pan for the chicken, sprinkle with salt and pepper. Place under the broiler for 2 minutes.

Flip the slices over and broil another 2 minutes.

With tongs separate the slices, toss, and continue broiling until crisp-tender or more done if you desire, about 4 minutes more, checking at 1-minute intervals.
Assemble your Salads:
There is inevitably downtime while waiting on one of the cooked components to be ready, so during that time, I chop my spinach, dice my strawberries, cut up my avocado, stir my reduction, and eat some goat's cheese. Oops! I meant get my cheese ready to top the salads.

When the onions come out of the oven, top your spinach with some roasted potatoes, grilled onions, strawberries, avocado, grilled chicken and goat cheese. Drizzle with the warm reduction (also yummy at room temperature) and serve!
Nutrition
Calories:
623
kcal
|
Carbohydrates:
76
g
|
Protein:
35
g
|
Fat:
21
g
|
Saturated Fat:
5
g
|
Polyunsaturated Fat:
3
g
|
Monounsaturated Fat:
11
g
|
Trans Fat:
1
g
|
Cholesterol:
79
mg
|
Sodium:
1078
mg
|
Potassium:
2252
mg
|
Fiber:
12
g
|
Sugar:
37
g
|
Vitamin A:
8330
IU
|
Vitamin C:
126
mg
|
Calcium:
188
mg
|
Iron:
6
mg
Like this? Leave a comment below!