All good things must come to an end, and my love affair with this salad is no exception. After 2 ½ happy months my love started to wane and for a few days I was worried that I would never love a new salad as much again. But don't despair! Enter this Grilled Onion Roasted Potato Strawberry Spinach Salad with a Balsamic Lemon Thyme Reduction drizzle to pull it all together!
She's magical! There is no other word. Except maybe stupendous! But that doesn't even do it justice. The deliciousness and flavor complexities of this salad totally justify the 86 character title.
Like my other favorite salads this one took shape over time. I originally made it with nectarines and I loved that flavor combination until I ran out of ripe nectarines. I then had a decision to make: do I abstain from my new favorite salad while waiting for my nectarines to ripen or do I try something else?
Try something else. Strawberries. So amazing!
Each component of this salad adds a little something to the dish: a little sweetness from the strawberries balances the earthy rosemary and thyme on the chicken and potatoes; the warm chicken, potatoes and onions make this salad feel hearty enough for dinner; the creamy, cool goats cheese add that little indulgence factor; and the Balsamic Lemon Thyme Reduction pulls all the flavors together and elevates the whole salad to a gourmet level!
Oh! Let's talk about that warm Balsamic Lemon Thyme Reduction drizzle! As it was reducing, I had to keep tasting it just to make sure it really was as heavenly as I remembered!
It is! A sweet balsamic glaze with a hint of fresh thyme and little zing from the lemon! I just cannot even tell you how magical it is. It really sets off all the other flavors of the salad and makes the tastebuds sing!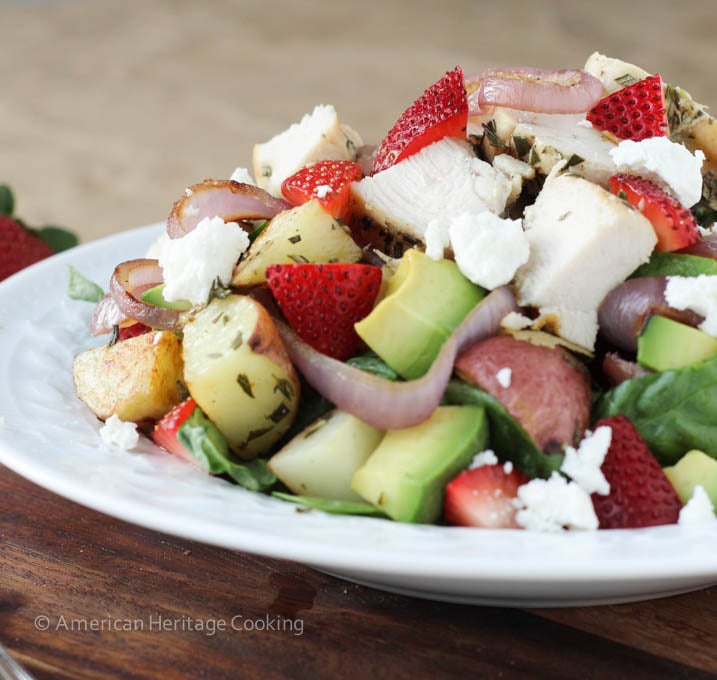 I know, I know. That's the same Foolproof Rosemary Chicken as here and here and here. Yup and here. You must understand I absolutely love this chicken! And it's easy. And it's consistently juicy. Did I mention it's easy?
We've got some familiar faces in this salad like the aforementioned chicken and roasted rosemary potatoes. But it's about the combination and the marriage of flavors that sets this salad apart from everyone else.
I used an easy broiler technique to grill the onions in my grill pan while the chicken was resting. This will…Change. Your. Life! I also love how the timing just works out.
It's all about the timing. I'm a little OCD and I like everything timed in my kitchen so that each component is ready at the exact same time. Thanksgiving…you don't even want to know. I had a timetable set up in advance. It was all orchestrated to the minute by dish. It started 3 days in advance. I know. I have a problem.
Do not be scared by the length of the instructions in this salad! I want to give you easy to follow, step-by-step instructions so that your salad comes together as quickly and as seamlessly as mine! This is one of those recipes that you absolutely must read all the way through prior to starting if you want it to be as simple as possible!
You may also like:
Collard Green Salad with Spicy Peach Vidalia Onion Glazed Chicken
Warm Lemon Rosemary Roasted Vegetable Salad
Power Salad with Champagne Vinaigrette