This easy slow cooker barbecue pulled chicken makes a tender, moist, flavorful barbecue chicken that can be pulled for sandwiches or an easy BBQ plate. The recipe uses an easy homemade barbecue sauce that cooks with the chicken breasts.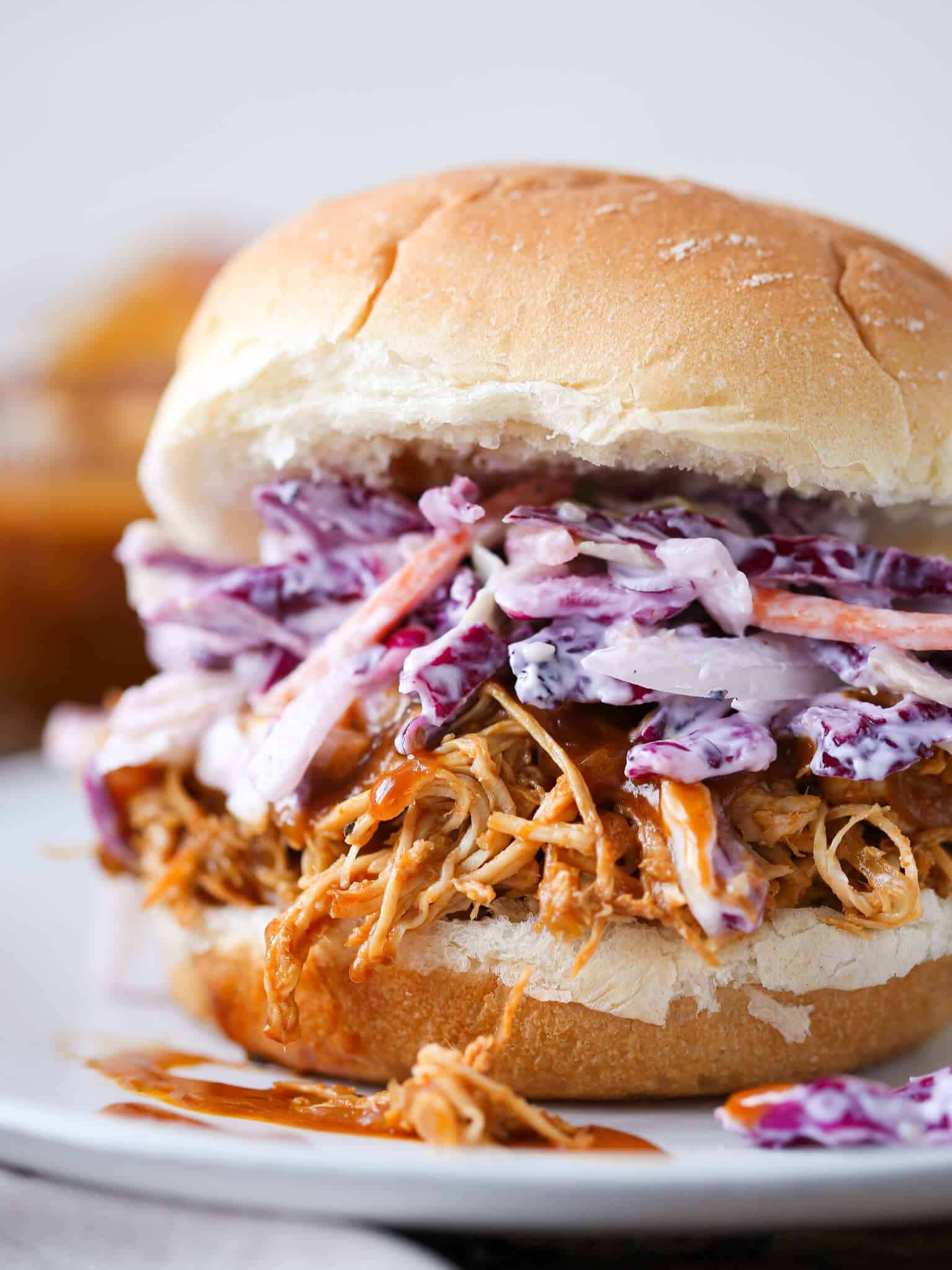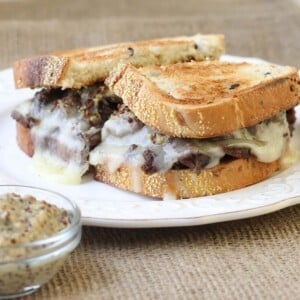 Barbecue is one thing that I can eat anytime and in any season. Layer it in a sandwich or just pile it high on a plate with white cheddar mac and cheese and healthy creamy coleslaw. Throw in this recipe for deviled eggs, and you have yourself a party! Sometimes I love baked beans or a collard greens salad, but the only side that isn't optional is coleslaw. I need that tangy slaw to balance the meat and add the little bit of crunch.
Below I have a delightful recipe for a sweet coleslaw but I also love this chicken with my healthy creamy coleslaw. It adds a delicious tanginess from the Greek yogurt. It is also not optional with my skillet barbecue chicken.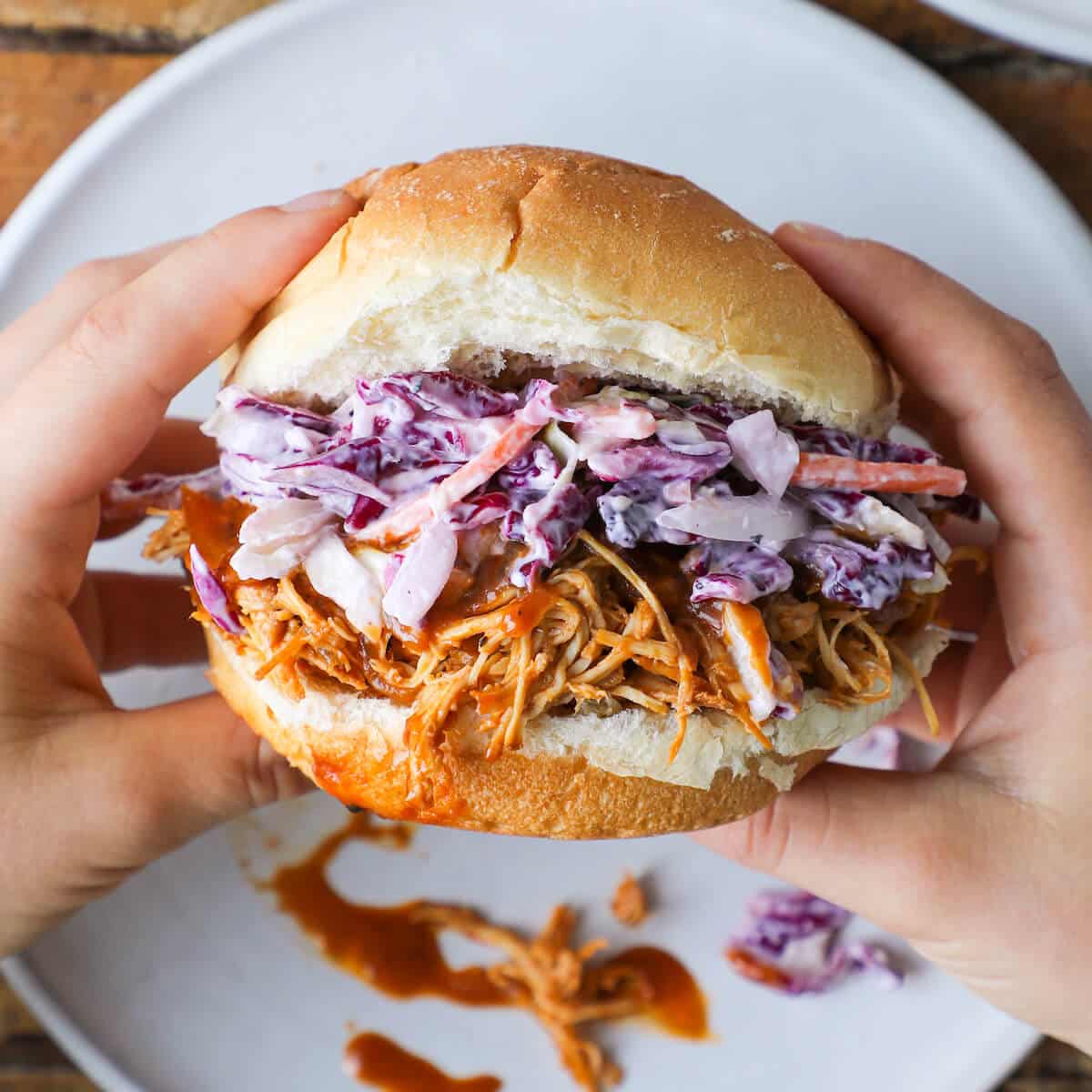 How to make moist barbecue chicken in the slow cooker
Time: You can cook this recipe for slow cooker barbecue pulled chicken either on low or on high heat, but it makes the most tender chicken on low. For the video I made it on high and it was still incredibly moist, so fear not if you don't have the time!
Choose the right sauce: You certainly could use a store-bought BBQ sauce for this recipe, but you might want to thin it out with a little bit of water before cooking. That way it allows for some evaporation without burning and it will completely cover the chicken. This sauce is also delightful because the onions mix in with the pulled chicken and add even more flavor.
Smother the chicken: Leave no part of the chicken bare in the slow cooker. Pour in the sauce then make sure some gets under the chicken breasts also. The sauce will lock in the moisture while it cooks for hours.
Pull it hot: Shred the chicken while it is still hot using two forks. This will allow the steam to escape and cool faster without overcooking the chicken. Toss it in some extra sauce to add even more moisture.
Ingredients for Slow Cooker Barbecue Pulled Chicken
Barbecue Sauce: Use your favorite brand of store-bought BBQ sauce or make the old-fashioned barbecue sauce below. I suggest thinning store-bought with a bit of water before using.
Boneless Chicken Breast: Boneless, skinless chicken breasts are best for this recipe. The bone will just add to the cook-time unnecessarily, though you can absolutely use them. Just check for doneness. The skin prevents the sauce and seasoning from penetrating the breasts, and you will just need to remove the skin after cooking.
Possible Variations
Chef Lindsey's Recipe Tip
Boneless, skinless chicken breasts are best for this recipe. If you don't have chicken breast on hand, I'd still say go with a boneless and skinless cut of meat. The bone will just add to the cook-time unnecessarily, and the skin will keep the sauce and seasoning from penetrating the meat. Plus, you'll just have to remove these things after cooking for that perfect pulled BBQ experience!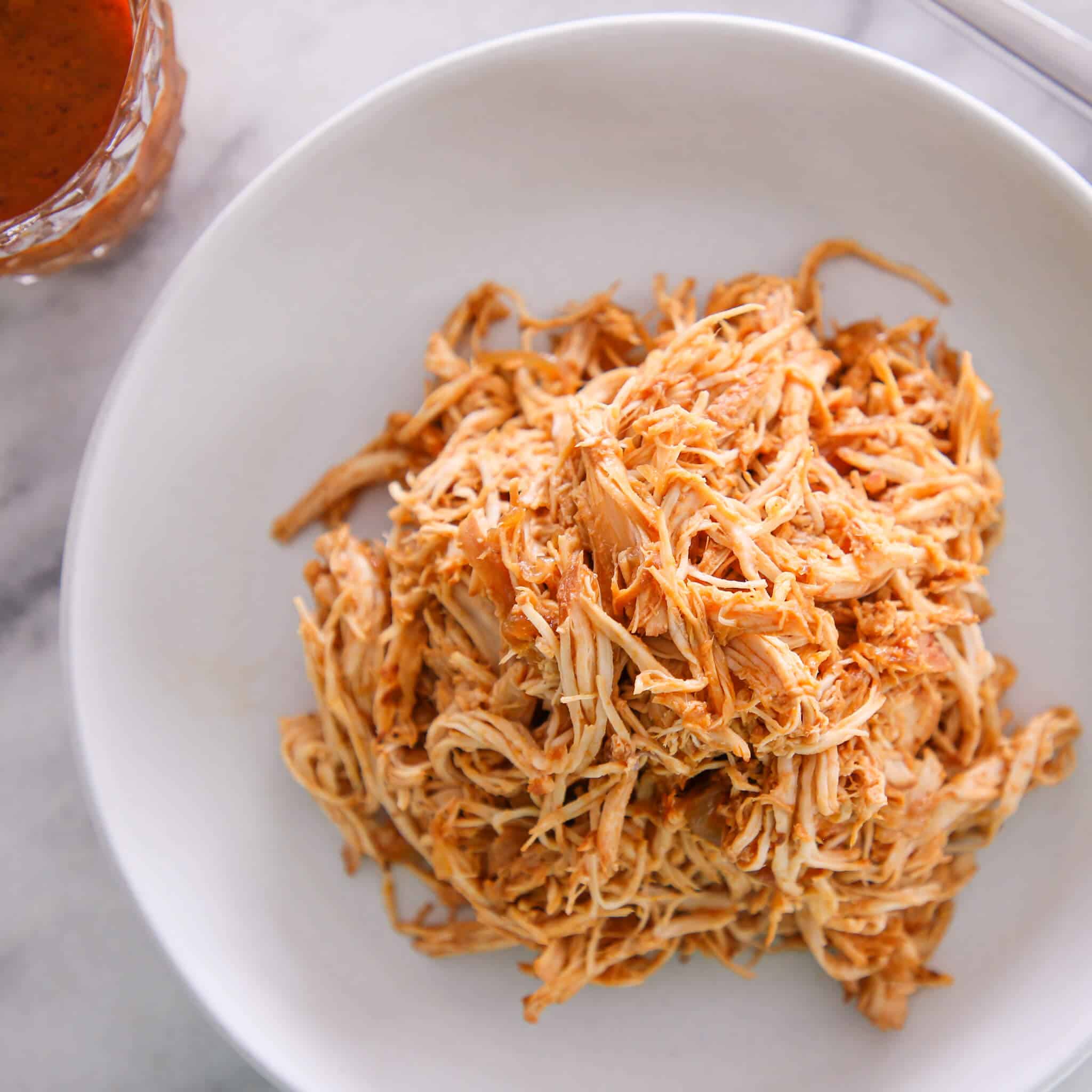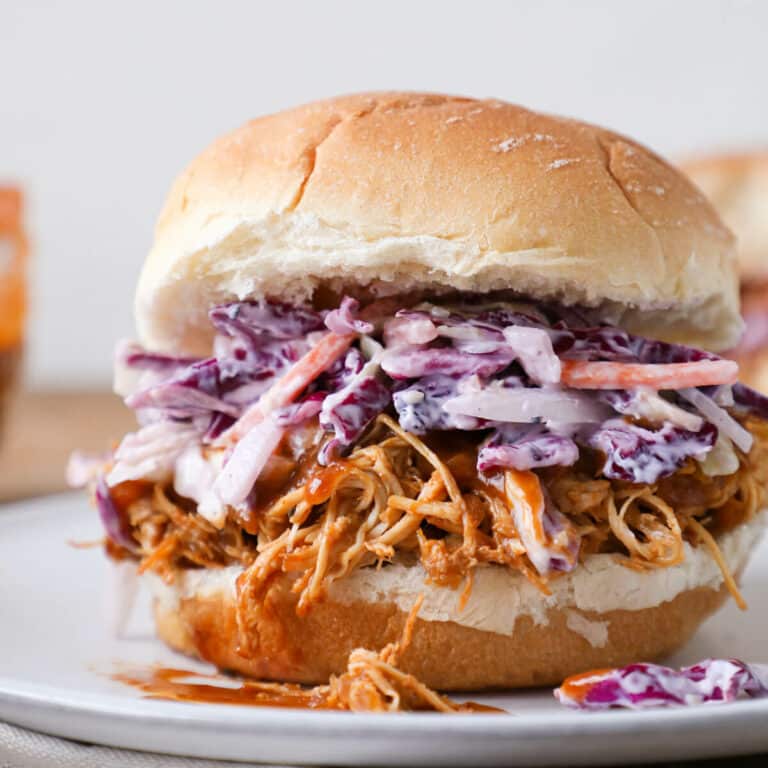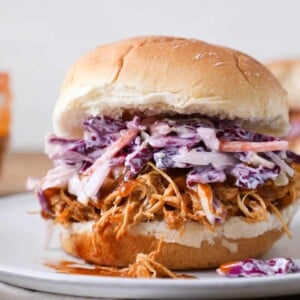 Barbecue Pulled Chicken Sandwiches with Sweet Coleslaw
This Barbecue Pulled Chicken Sandwiches with Sweet Coleslaw is made in the slow cooker! A sweet, delicious homemade barbecue sauce and an easy coleslaw make this one epic sandwich!
Ingredients
For the Barbeque Chicken:
Instructions
Make the sauce:
Peel and slice onion in half from the roots to the tip. Slice thinly vertically (from the root to the tip, rather than across the middle).

In saucepan mix vinegar, water, sugar, mustard, pepper, salt, cayenne, lemon, onion and butter.

Simmer, uncovered, 20 minutes. Remove lemon slice.

Add catchup and Worcestershire sauce; bring to boil.

I would usually puree the sauce until the onions are fully incorporated but I think the slow cooked onions are the perfect complement to the pulled chicken.
Make the chicken:
Pour all the barbecue sauce above over 2-4 boneless, skinless chicken breasts placed in a slow cooker. If you like a lot of sauce, I would double the recipe above for 4 breasts. Cook on low for 6 hours or on high for 3 hours. I have made it both ways and it is definitely better cooked on low. High will certainly do in a pinch!

Remove chicken to a cutting board and shred with two forks. Hold the chicken breast with one fork and scrape at one end of the breast with the other fork until all the chicken has been shredded.

Place in a servicing dish and cover with some of the reserved sauce. Cover with foil to keep warm.
Make the Coleslaw:
Whisk together salad dressing, vegetable oil, sugar, vinegar, salt and poppy seeds in a medium bowl. Pour over coleslaw & broccoli slaw mixes and toss to coat. Chill at least 2 hours prior to serving. Unfortunately this step is necessary. I tried to serve it after only 30 minutes in the refrigerator and it was a bad plan.

With a little prep-work early in the day, your whole dinner can be ready in a matter of minutes! Love it!
Notes
Bert's Superb Barbecue Sauce: Good Housekeeping Cookbook 1955 Ed. Sweet Restaurant
Slaw: Allrecipes.com
*I like to add 1 small bag of broccoli slaw mix
Nutrition
Calories:
367
kcal
|
Carbohydrates:
41
g
|
Protein:
1
g
|
Fat:
23
g
|
Saturated Fat:
9
g
|
Polyunsaturated Fat:
7
g
|
Monounsaturated Fat:
6
g
|
Trans Fat:
1
g
|
Cholesterol:
33
mg
|
Sodium:
1732
mg
|
Potassium:
251
mg
|
Fiber:
1
g
|
Sugar:
35
g
|
Vitamin A:
588
IU
|
Vitamin C:
8
mg
|
Calcium:
46
mg
|
Iron:
1
mg
Like this? Leave a comment below!