These Spicy Peach Pork Chops are a quick and easy weeknight dinner. The sweet and spicy sauce keeps the pork chops tender while baking and the whole dish comes together in under 20 minutes.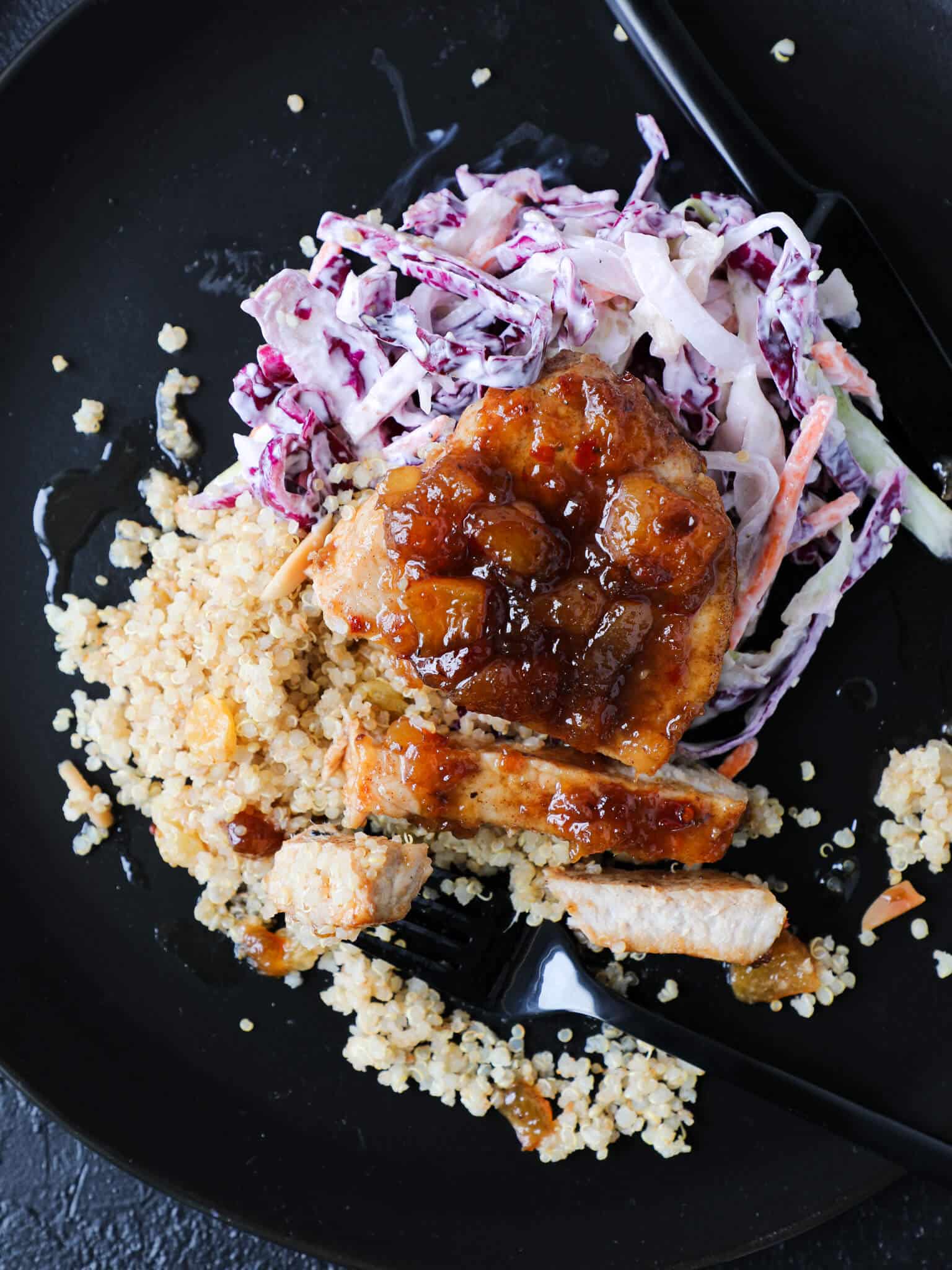 Peaches and pork go together like peanut butter and chocolate. The sweetness from the peach preserves with a little spice make for an incredibly flavorful take on pork chops. Pair with mashed potatoes, healthy creamy coleslaw, quinoa pilaf, brown rice, these easy corn on the cob recipes, or even just roasted cauliflower for the perfect easy, weeknight meal.
You could technically use half the amount of sauce but I love spooning the extra sauce over whichever side dish recipes you choose or even over any of these salad recipes for an easy lunch.
How to keep Spicy Peach Pork Chops moist and tender?
Season late: I always make sure my cast iron pan is already preheating before I season pork. The salt pulls the moisture from the meat and, if allowed to sit, it will dry out the pork chops before you even place them in the pan. Sadness.
It is all about that GBD: Golden brown and delicious sear that is. The sear helps lock in the moisture before baking.
Pick the right cut: A thicker cut pork chop will allow for a good sear plus a long enough bake-time to meld the flavors and thicken the sauce.
Baking with the sauce: The sauce locks in that moisture and will allow the pork to cook fully without drying out. Keep the oven hot and check for doneness after 6 minutes for thicker cuts and 3 minutes for thinner cuts.
Ingredients for Spicy Peach Pork Chops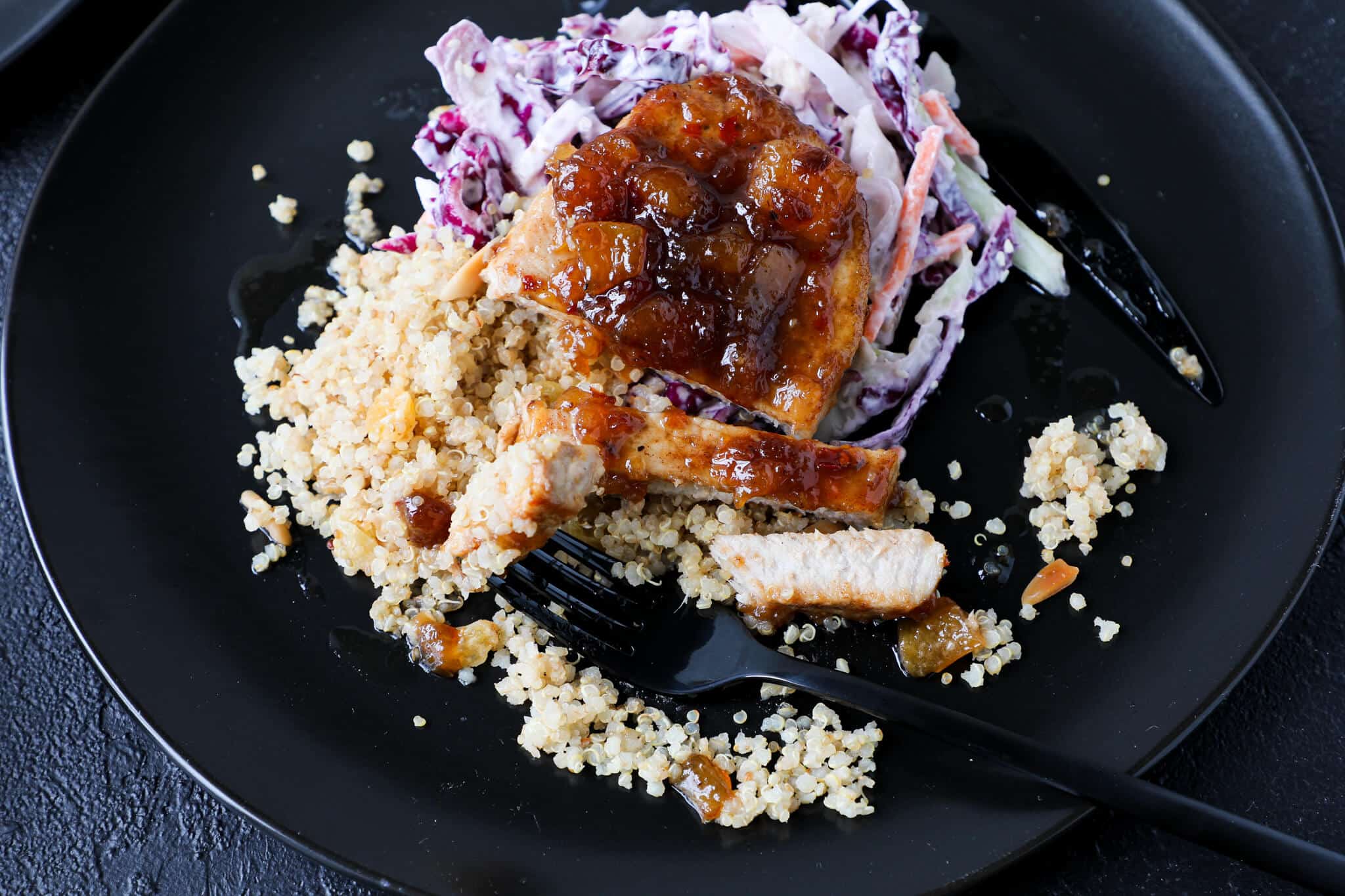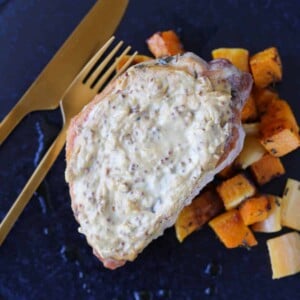 Possible Flavorful Substitutions and Variations
Preserves of choice: Feel free to experiment with different fruit preserves, it doesn't necessarily have to be spicy *peach* pork chops. I have tried both apricot preserves and peach preserves, and I loved them both. It would also be delicious with plum preserves.
Chicken: I also love this sauce and cooking method with grilled rosemary chicken. I get that nice sear and then finish baking smothered under the sauce and it is phenomenal.
Vegan: This recipe and method is also delicious with tofu. I use extra-firm tofu that has been pressed for 10 minutes under a heavy skillet or pan. I sandwich between tea towels or paper towels to soak up the moisture. Slice about ¼ inch thick, season the same way. Sear in a pan, cover with the sauce and finish cooking in the oven or on the stovetop.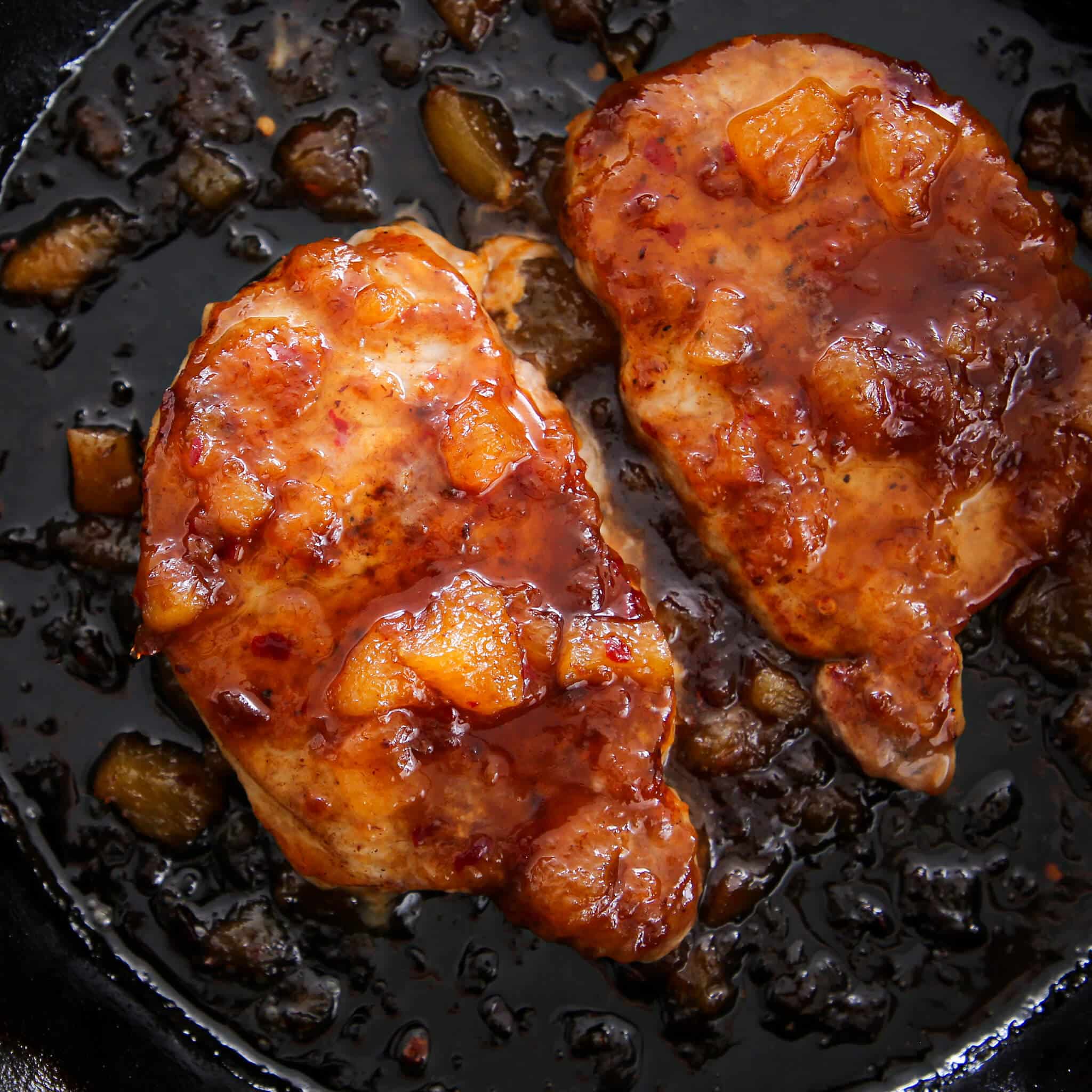 How to serve pork chops
Serve these easy, seared pork chops with quinoa pilaf and healthy creamy slaw like I do in the photos, or make creamy mashed potatoes and baked acorn squash halves for a more indulgent dinner!
I also love making a large batch of these roasted spiced butternut squash and these rosemary lemon roasted cauliflower so there are plenty leftovers for lunch the next day! Don't forget to make one of these classic cocktails recipes for an extra special dinner any night of the week!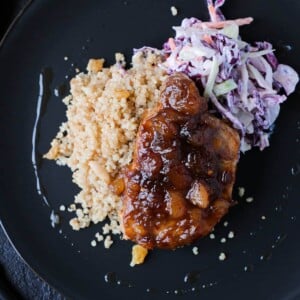 Spicy Peach Pork Chops
These Spicy Peach Pork Chops are a quick and easy weeknight dinner. The sweet and spicy sauce keeps the pork chops tender while baking and the whole dish comes together in under 20 minutes.
Instructions
In a small bowl whisk together preserves, Worcestershire sauce, and chili paste. Set aside.

Preheat a cast iron pan or large sauté pan with the vegetable oil on medium. I use an oven-safe pan so that I can sear and bake in the same pan. You can also use a Dutch oven without the top.

Meanwhile, pat pork chops dry and place on a plate. Sprinkle with ginger, cinnamon, salt and pepper. Flip and repeat on the second side.

Once oil is smoking hot, place pork chops in the pan and sear both sides until golden brown. If the pork chops are thin, sear less or they might dry out while the sauce cooks.

Spread the peach sauce over the top of each pork chop. Letting the excess drip over the edges.

Place in preheated oven and bake until pork reaches an internal temperature of 145F or until they are just firm to the touch. Bone-in pork chops will take longer than boneless. Pork chop thickness varies greatly and that will change the baking time. Pork chops less than ½ inch thick will bake about 6-8 minutes, and those ½ inch or thicker will bake 8-10 minutes.

Remove chops from the pan immediately to slow the cooking process.

Allow to rest 5 minutes and then serve.
Nutrition
Calories:
515
kcal
|
Carbohydrates:
61
g
|
Protein:
29
g
|
Fat:
16
g
|
Saturated Fat:
4
g
|
Polyunsaturated Fat:
5
g
|
Monounsaturated Fat:
6
g
|
Trans Fat:
0.1
g
|
Cholesterol:
90
mg
|
Sodium:
175
mg
|
Potassium:
638
mg
|
Fiber:
1
g
|
Sugar:
42
g
|
Vitamin A:
19
IU
|
Vitamin C:
9
mg
|
Calcium:
36
mg
|
Iron:
2
mg
Like this? Leave a comment below!
Before You Go!
Check out all our delicious, chef-created Dinner Recipes!