This hearty Beef Stroganoff recipe is rich, filling and the definition of comfort food! Serve the heritage recipe spooned over egg noodles for the perfect dinner.
I love that American cuisine in an amalgam of hundreds of different cultures. This Melting Pot tradition stems from the original Settlers who combined their traditional English cooking methods with the new ones they learned from the Native Americans.
The introduction of Russian cuisine to America began with the millions of Russian immigrants who came to the United States between 1880 and World War I. One of the most iconic dishes is Beef Stroganoff. Something magical happens when you mix in sour cream to finish a dish. The Better Homes & Gardens Heritage Cookbooks says it best, "[Sour cream] is used in many ways in many [Russian] recipes, and in Beef Stroganoff it is used to perfection…The flavor has enchanted Americans for decades." You should also try my lightened up beef stroganoff. It has all the flavor without the fat!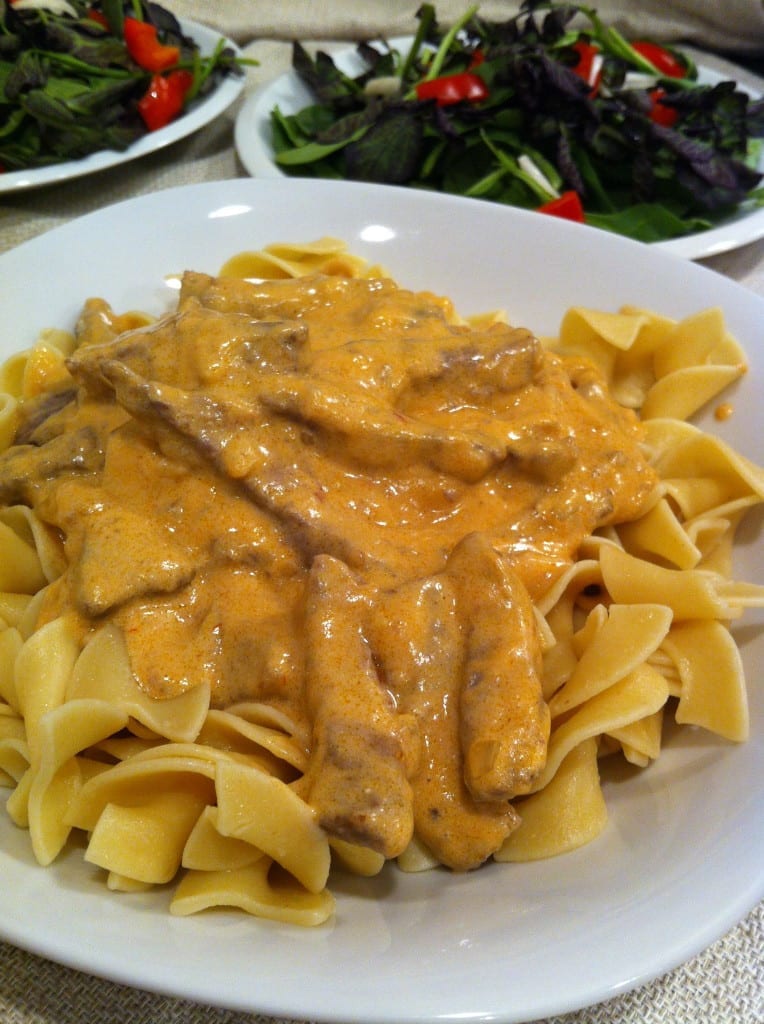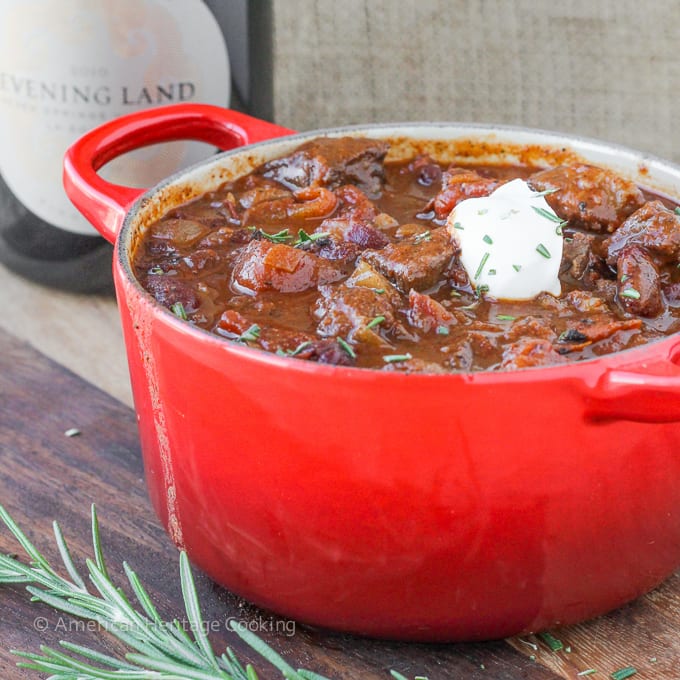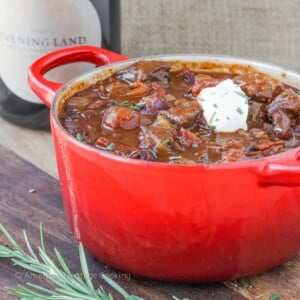 When I was in St. Louis several months ago for another round of wedding planning, I managed to slip away to my favorite bookstore, The Book House. There are thousands of new, used and antique books tucked all over a charming historic Victorian house, and I can never leave with just one! The best part is (yes, it get's better!) they give a portion of their proceeds to charity. Recently The Book House has been struggling to keep the house from being demolished by a developer. You can read all about it on their blog.
I'm sorry, I got distracted! One of the treasures that I found during my last visit was the Better Homes & Gardens Heritage Cookbook printed in 1975. One of the recipes that caught my eye (there were dozens!) was the Beef Stroganoff, so without further detours into my other passions, I bring you the most delicious Beef Stroganoff recipe that I have ever tried!
Beef Stroganoff
This hearty Beef Stroganoff recipe is rich, filling and the definition of comfort food! Serve the heritage recipe spooned over egg noodles for the perfect dinner.
Ingredients
1

lb

beef sirloin steak

cut into thin strips

1

Tablespoon

all-purpose flour

½

teaspoon

salt

2

Tablespoons

butter

3

cups

button mushrooms

sliced

½

cup

onion

chopped

1

clove

garlic

minced

2

Tablespoons

butter

3

tablespoons

all purpose flour

1

Tablespoon

tomato paste

10.5

oz

condensed beef broth

I boiled down 2.5 cups reduced sodium beef broth

1

cup

dairy sour cream

2

tablespoons

dry white wine

6

cups

Hot buttered noodles

Egg noodles make this dish really amazing!
Instructions
Reduce your beef broth if necessary. Mix 1 tablespoon flour and ½ teaspoon salt in a small bowl. Pat sirloin strips dry and coat them with flour mixture. In a skillet brown beef strips quickly in 2 tablespoons butter. Be careful not to crowd the pan or the meat will steam and not brown. Remove browned beef from pan and keep warm.

Add mushrooms, onion, and garlic to pan with more butter if necessary. Cook until onion is crisp-tender, 3-4 minutes. Add tablespoons of butter to pan; blend in 3 tablespoons flour. Add tomato paste then stir in broth. Cook and stir over medium heat until thick and bubbly. Be sure to cook down the sauce until it is no longer runny. This time will depend on how much you cooked down the beef broth. I got distracted (shock) and cooked mine down to ¾ cup. Oops. It tasted just as good!

Return meat to skillet. Stir in sour cream and white wine; cook slowly over low heat until heated through. Do not let it boil!
Notes
A note on my wine: I had previously opened the bottle of white Burgundy pictured below, and decided to see how it would do in the kitchen. It was magnificent. It's definitely a pricier bottle but it tasted better each day that I had a glass. If you are in Atlanta you can find it at Highland Fine Wine and Crystal. This experiment just proves that the better the wine, the better the final dish. It is especially important in Beef Stroganoff because the wine flavor doesn't really get cooked.
Better Homes & Gardens Heritage Cookbook 1975 ed.
Nutrition
Calories:
429
kcal
|
Carbohydrates:
36
g
|
Protein:
26
g
|
Fat:
20
g
|
Saturated Fat:
10
g
|
Polyunsaturated Fat:
1
g
|
Monounsaturated Fat:
5
g
|
Trans Fat:
0.3
g
|
Cholesterol:
119
mg
|
Sodium:
525
mg
|
Potassium:
650
mg
|
Fiber:
2
g
|
Sugar:
4
g
|
Vitamin A:
537
IU
|
Vitamin C:
3
mg
|
Calcium:
82
mg
|
Iron:
3
mg
Like this? Leave a comment below!