Learn how to make inverse puff pastry from scratch with an easy to follow video tutorial! My inverse puff pastry makes the flakiest, most buttery pastry imaginable. The results will be better than store-bought!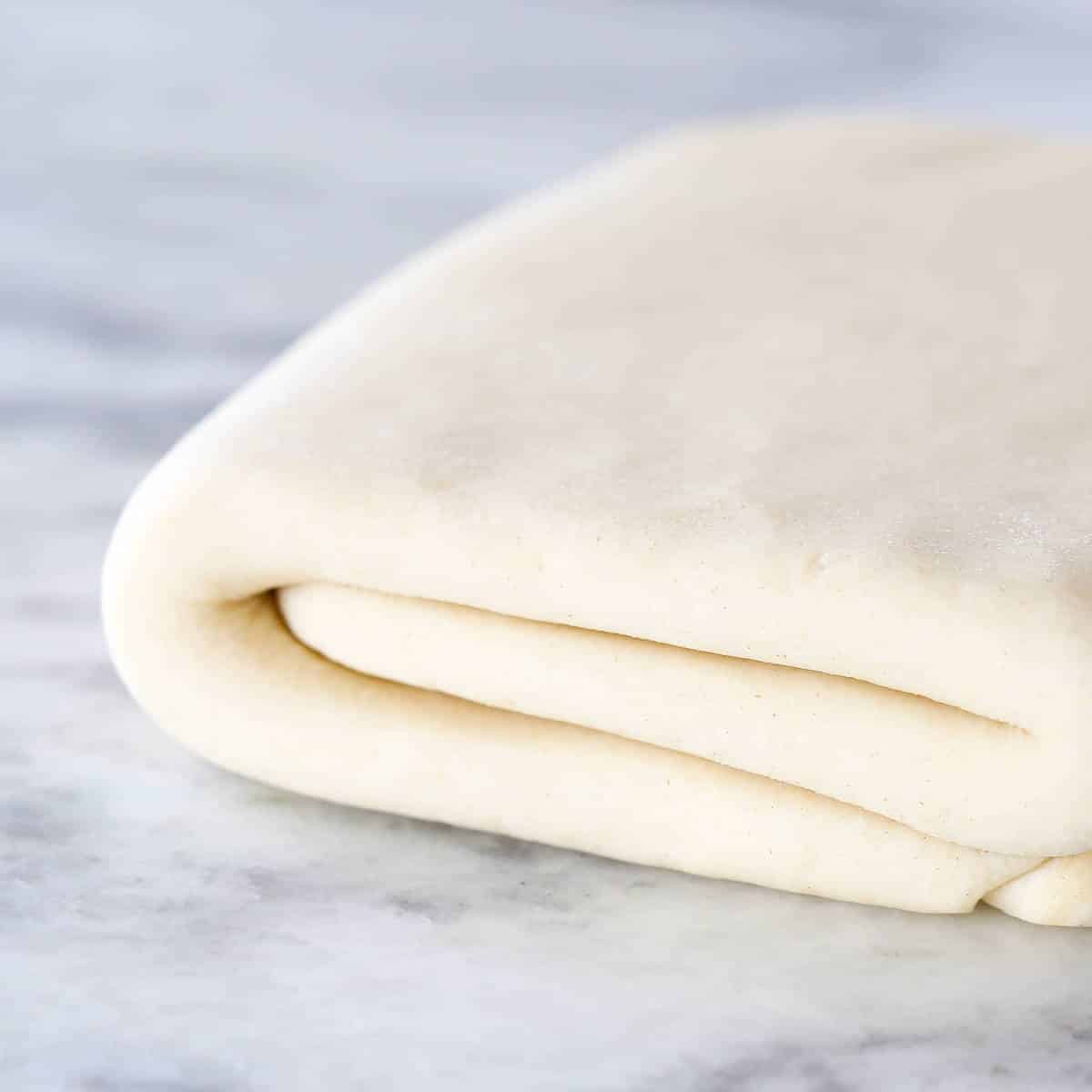 Flakey layers rich with butter! Le sigh of joy
A bit of work and patience will yield almost endless possibilities. Think of inverse puff pastry as the ultimate social distancing technique!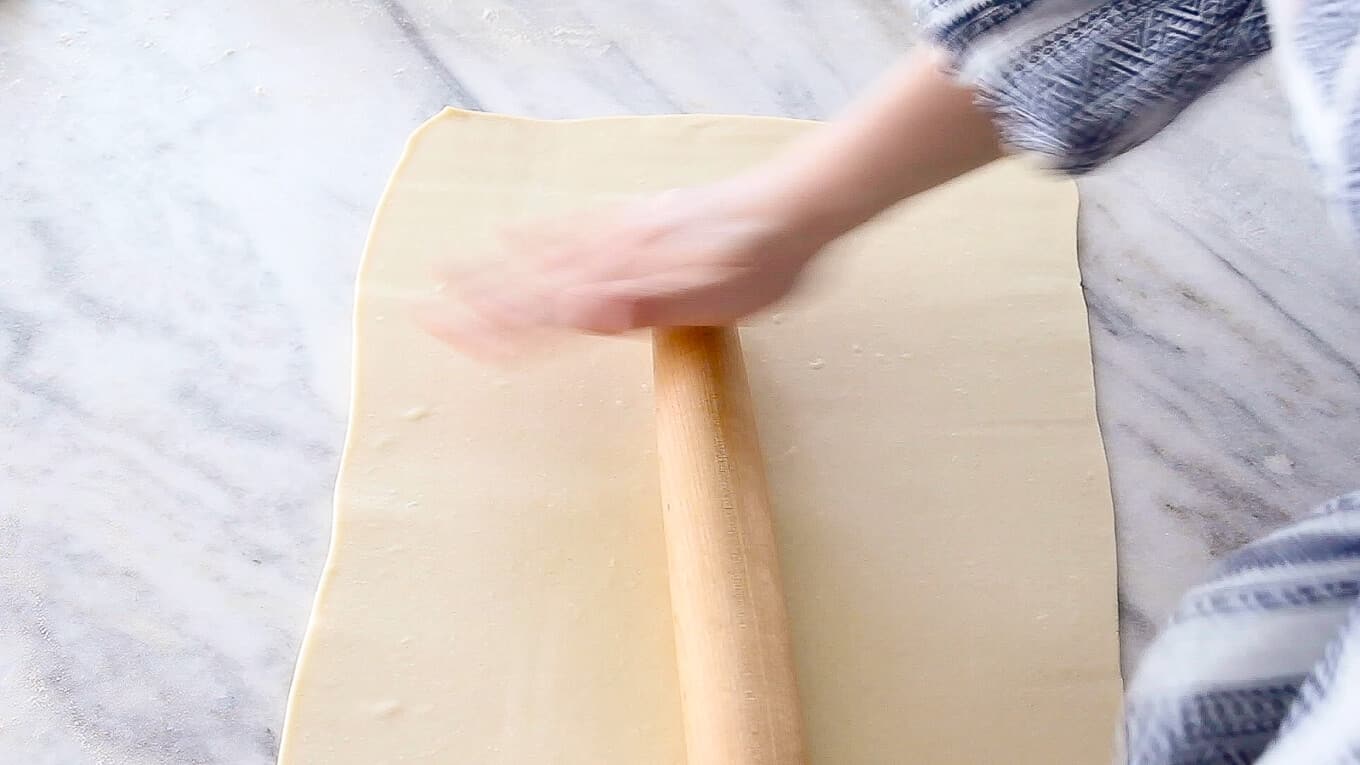 Well until you start the baking and then all your neighbors will be lining up at your door (6 feet apart, of course) for your buttery, crispy goodness.
But what are you going to do with all this perfectly laminated puff pastry?! In two easy steps you can ensure you always have perfect puff at the ready!
Step 1: Freeze it in sheets between parchment paper and wrap it really, really well.
Step 2: Pull out one sheet at a time whenever a need arises.
What kind of need? I'm so glad you asked! You could use it as a topping for chicken pot pie, make fruit turnovers, cheese straws, tarte tatin, a puff pastry fruit tart, savory stuffed cheese and vegetable bites, mille feuille, and the list goes on!
Fear not, I will be using up all the puff pastry in my freezer (and there is a lot) over the next few months and will be taking you guys along for the ride!
Let's talk nerdy details for a minute! (You know this is the part that makes me all giddy!)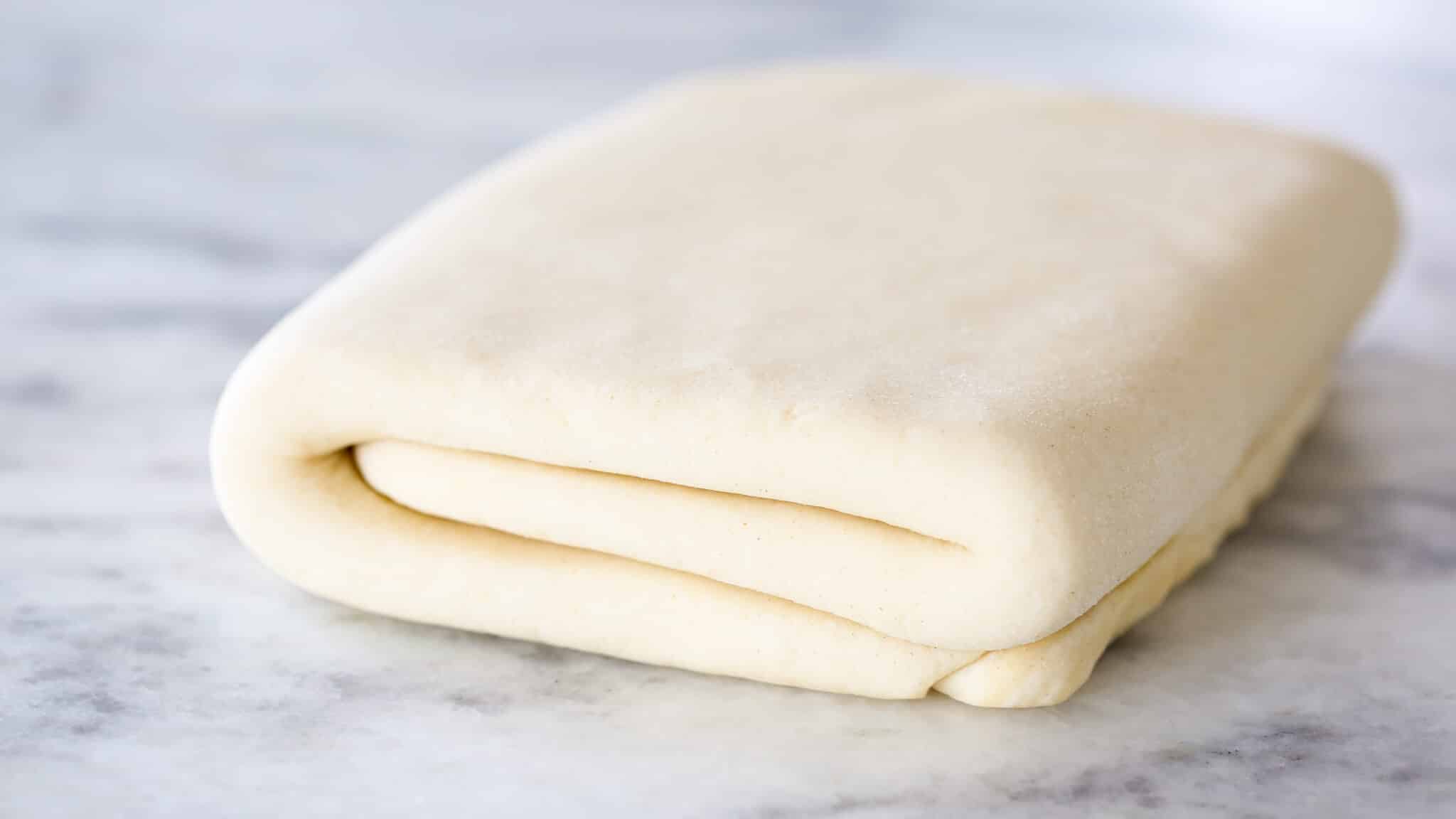 BUT WHAT MAKES IT PUFF?
All the flakey layers in puff pastry are made by lamination. Through a series of folds you create individual layers of butter and pastry dough. When the puff pastry hits the hot oven the butter melts, the water in the butter evaporates and creates steam, and that steam pushes the pastry layers apart. Voilà! Layered, buttery awesomeness.
So, your deductive powers are right, and all that flakiness is hinging on two things: creating those layers and maintaining them.
The layers are initially created by folding a butter square (beurrage) around dough (détrempe), to create one tidy packet (pâton) before rolling it out and folding the dough. The inverse part is because in this recipe the butter is on the outside and the dough is inside, whereas traditional puff pastry has the butter inside.
Inverse puff pastry can be a little tricky during combination and the first fold but after that it is much easier to work with than traditional puff. The resulting pastry is generally flakier and more consistent.
In inverse puff pastry the beurrage is made by combining a lot of butter with a little flour, which will keep the butter from melting as quickly particularly in creating the pâton and your first several folds. Think of it as cheap layer insurance.
After the butter and dough are combined, they go through a series of folds. There are two types of folds in the pastry world: single (envelope) folds or double (book) folds. In terms of laminated doughs, folds are often referred to as "turns". The total number and types of folds will determine how many layers your resulting puff pastry has. This is often a highly guarded secret because without this key, you will never get the same results even with the recipe.
For puff pastry I like to use 6 single folds done in batches of two.
Never try to do more than 2 turns at a time. The gluten in the dough will contract and make getting the pastry thin enough difficult or impossible, and the butter will get too soft and warm and will work into the dough rather than maintain its integrity. Integrity in pastry is just as important as in life. You heard it here first.
Both creating and maintaining the layers depends on keeping the butter cold yet pliable. If you roll cold butter, it will break and sad, uneven layers will result; however, if you do not chill your dough, the dough will become unyielding and uncooperative.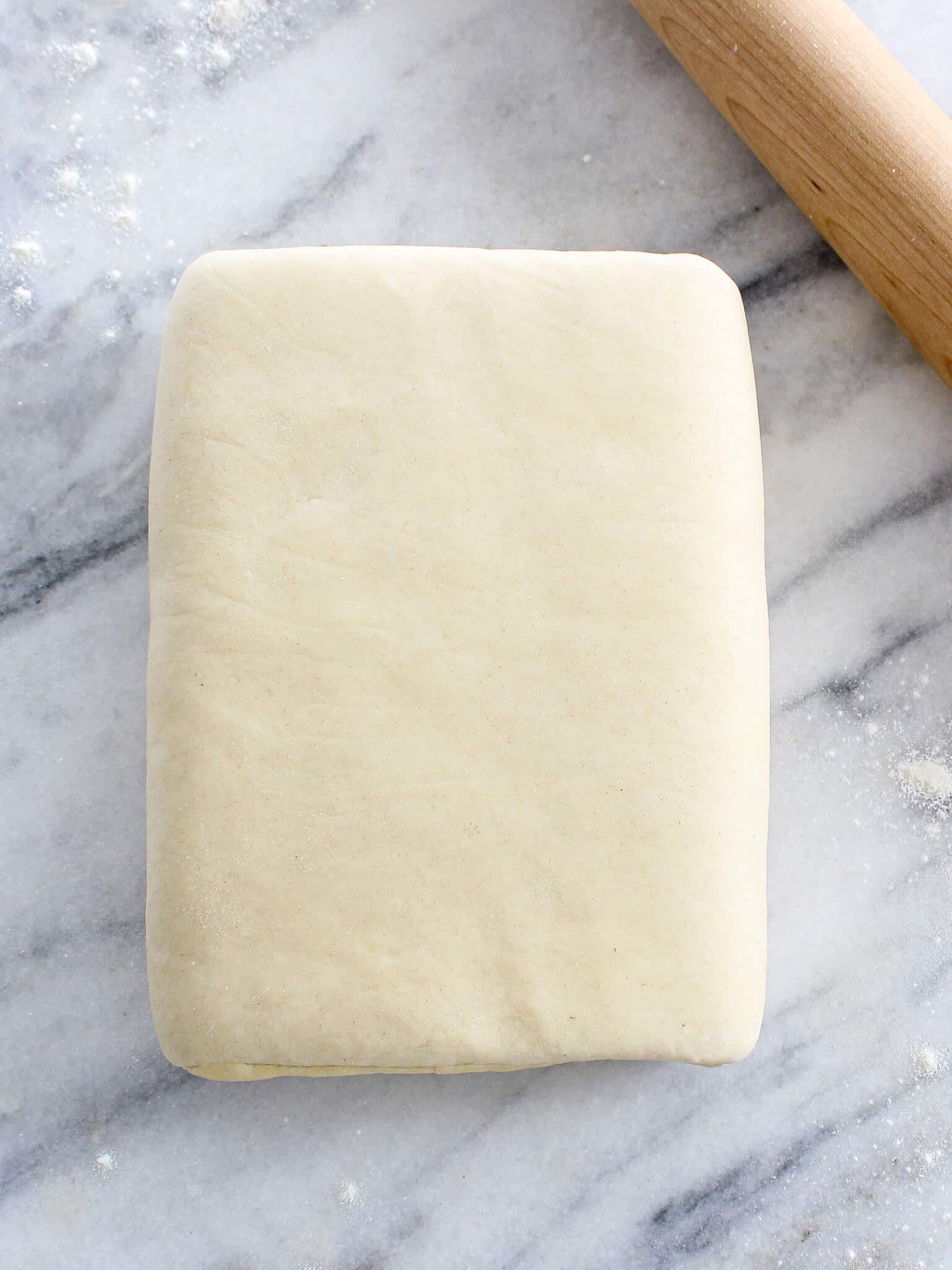 The most important thing in pastry, and this especially holds true with laminated doughs, is to pay attention to your dough. You need to know it intimately, understand its struggles and frustrations, so that you can react immediately and give it what it needs. Dough can never be forced, but you can learn the tricks to controlling it so that it remains cooperative and happy. If the dough is shrinking, chill it letting it relax in the refrigerator. If the butter is hard, wait or learn how to manipulate it at each stage so that it works closer to your timeline. (My video can help)
If I could distill everything into one snippet of advice, it would be: Do not rush and keep it cold and flat! If not, the lamination will suffer and then you just put all that work in for nothing. And that is truly sad. We don't do sadness at CLF. We do butter. Loads of butter.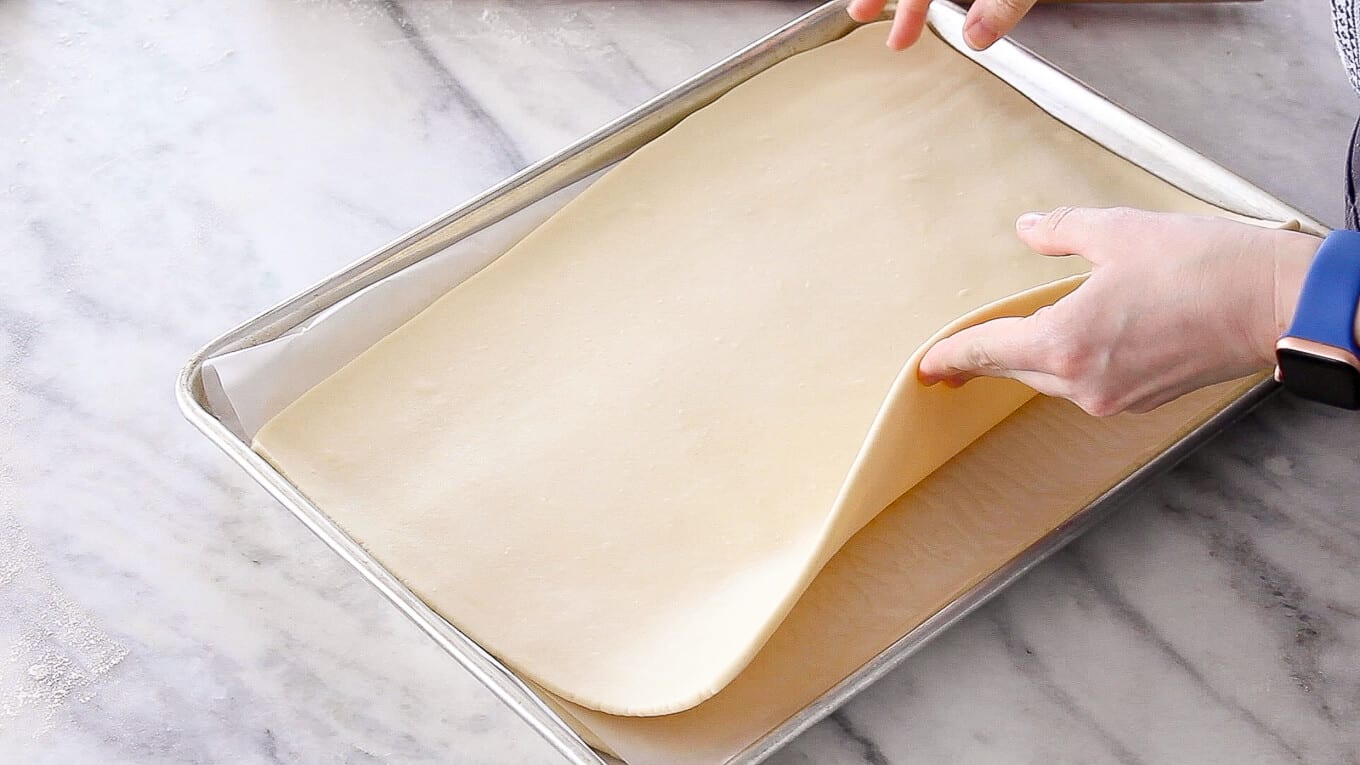 Disclaimer: This recipe is by weight and before I get a million angry comments, I want you to know that it took me months of testing minute changes in a dank, hot prep kitchen to arrive at this recipe. The tiniest adjustments of butter in the dough or in the beurrage do make all the difference. You can convert it to volume, but it won't be as accurate.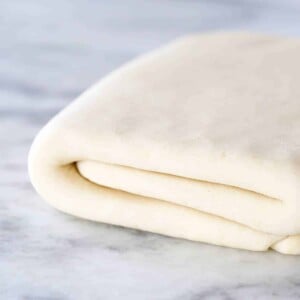 Inverse Puff Pastry
Learn how to make inverse puff pastry from scratch with an easy to follow video tutorial! My inverse puff pastry makes the flakiest, most buttery pastry imaginable. The results will be better than store-bought!
Ingredients
Détrempe:
160

g

Water

12

g

Salt

4

g

Distilled White Vinegar

125

g

Beurre en pommade

15

g

Sugar

198

g

Cake Flour

198

g

AP Flour
Instructions
Fold a piece of parchment paper into a 10 inch square, set aside.

Temper butter for the beurrage by hitting it with a rolling pin then place in the bowl of the stand mixer fitted with the paddle attachment and add in flour. Mix on low until no visible butter remains. Roll out in parchment to a 10 inch square. Refrigerate 30 minutes. I like to do the beurrage first because then I don't need to clean my bowl before I move on to the next step.

Combine dry ingredients for the détrempe in the bowl of a stand mixer fitted with the paddle attachment. Add the softened butter and cut in butter until no visible butter remains. Combine water and vinegar. With the mixer on low, pour in the water/vinegar mixture into the flour. Mix until a dough forms. Turn dough out onto unfloored surface and gently knead until no dry bits remain (dip your hand in cold water and moisten specific areas if needed). Press or roll into a 6.5 inch square and wrap in plastic wrap and chill 30 minutes.

Remove the butter from the refrigerator 5-7 minutes before the dough. Generously flour a smooth surface and remove beurrage from the parchment. Placing the dough packet on top of the beurrage so that the dough looks like a diamond on top of the butter. It will be easier to fold the corners of the butter over the dough if they are offset.

Enclose the détrempe inside the beurrage and seal the seems by smooshing the butter together, working quickly so that the butter does not melt.

Roll out until ¼ inch thick and is 18 inchs long by 7 inches wide. Perform an envelope fold by folding the dough like you would a piece of paper to go inside and envelope. Fold the top third down and then overlapping with the bottom third. Repeat once more before wrapping in plastic wrap and chilling for 30 minutes.

Repeat two more sets of two single turns making sure to chill 30 minutes between each set. During the final set the dough will have developed more gluten and will be more resistant to rolling. If the dough begins to shrink, then place it flat on a baking sheet covered with parchment and refrigerate 10 minutes.

After you complete all six single turns, wrap in plastic wrap and chill 2 hours or overnight. Overnight is best!

Roll 1/8 inch thick, chilling as needed to prevent the dough from getting too warm or shrinking. I find it easier to roll it about the size of a baking sheet, chill and then slice the dough in half with a pizza cutter. Continue rolling one half while the other half chills and then swap them out as they warm up or start to shrink until they are both about 1/8 inch thick. You will end up with two pieces of dough the size of a baking sheet.

Before using the dough be sure to chill it at least 30 minutes. Cut into the desired shape, dock the dough and then chill it once more before baking. Do not allow the dough to temp before baking or you will not get those nice layers.

Bake in an oven preheated to 375F (preferably convection).
Nutrition
Calories:
500
kcal
|
Carbohydrates:
36
g
|
Protein:
5
g
|
Fat:
37
g
|
Saturated Fat:
23
g
|
Polyunsaturated Fat:
2
g
|
Monounsaturated Fat:
10
g
|
Trans Fat:
1
g
|
Cholesterol:
98
mg
|
Sodium:
681
mg
|
Potassium:
60
mg
|
Fiber:
1
g
|
Sugar:
1
g
|
Vitamin A:
1135
IU
|
Calcium:
19
mg
|
Iron:
2
mg
Like this? Leave a comment below!
So you like making dough? Try my flaky pie crust!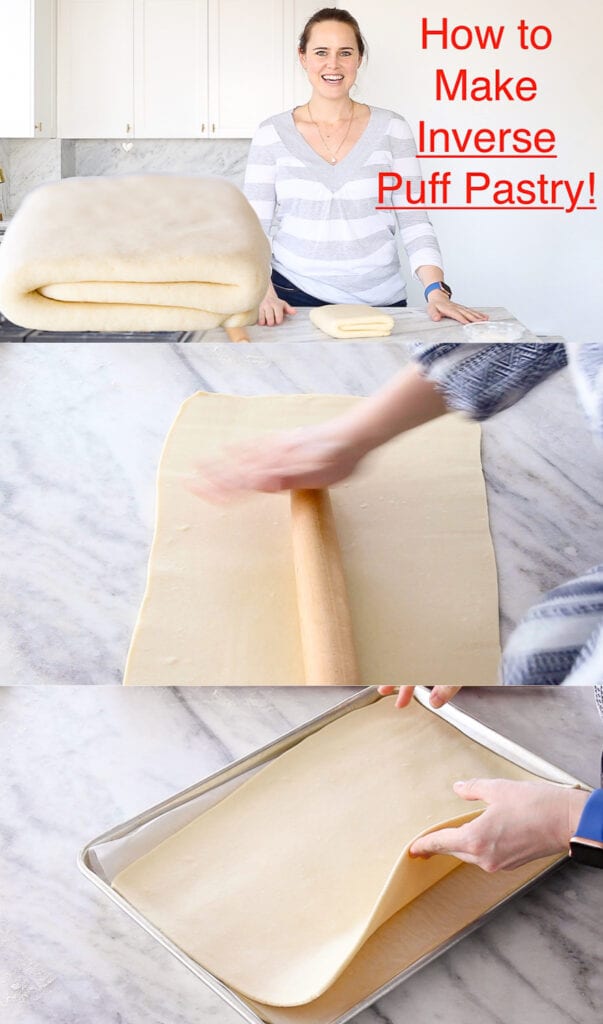 TOOLS USED IN THIS RECIPE: