This Puff Pastry Fruit Tart is an easy, yet stunning dessert! Make the base with store-bought or homemade puff pastry, fill it with pastry cream and top it with an array of your favorite fresh fruits!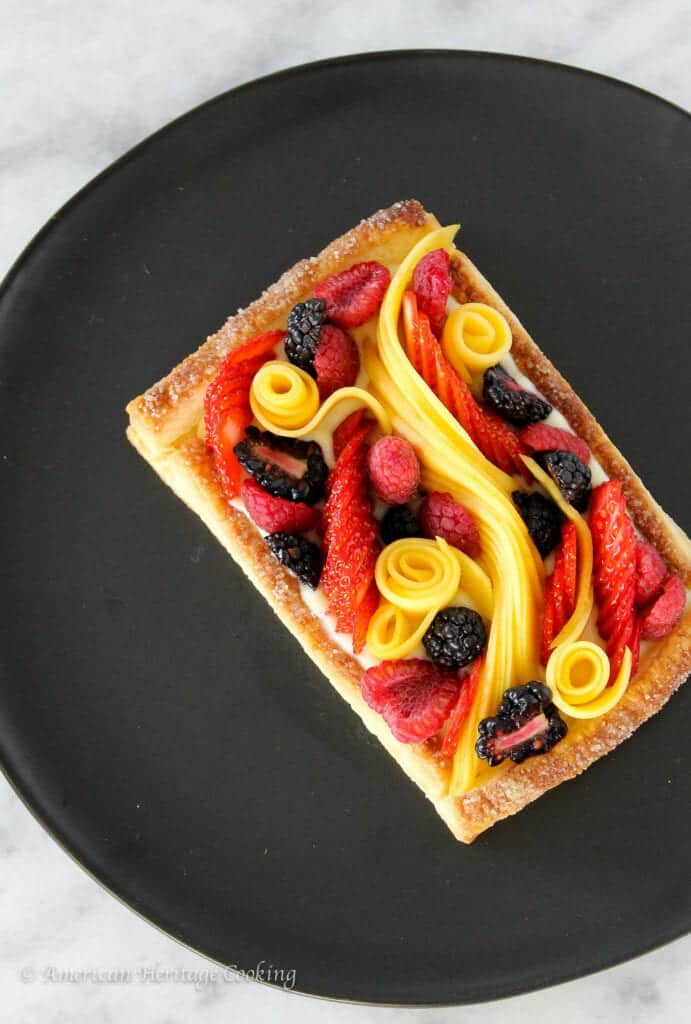 And just when you had lost faith that I would ever do anything with that classic homemade puff pastry, I bring you this delicious puff pastry fruit tart!
This simply stunning dessert will be an excellent grand finale for any dinner! All you need is a bit of inverse puff pastry or classic puff pastry and vanilla bean pastry cream! I added a bit of Bourbon to my pastry cream filling to take it up a notch.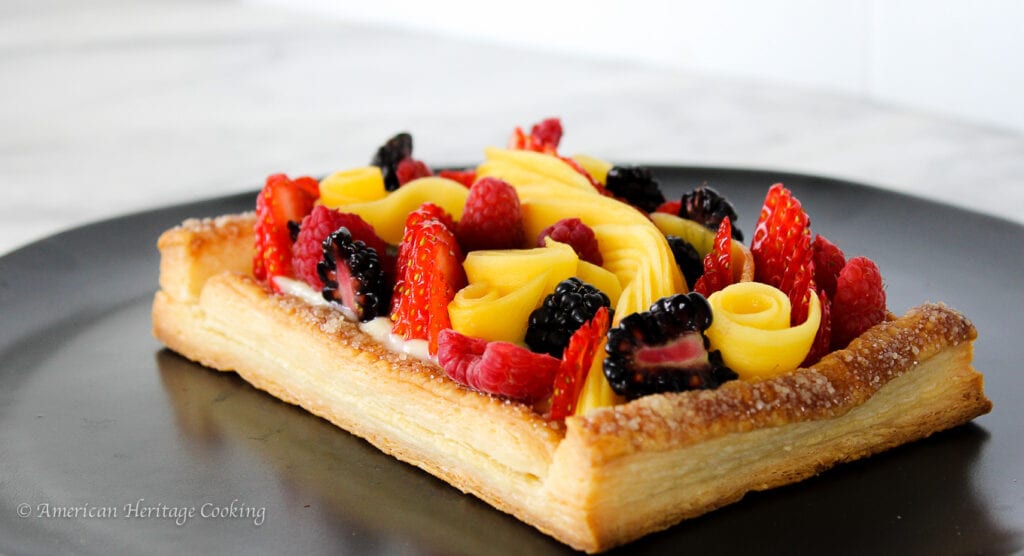 Top with your favorite fruits and, voilà, dessert is ready!
The assembly of this tart hinges on creating those little puff pastry walls. Those walls create a boat for your pastry cream filling to contain all that goodness! The key to adhering two pieces of puff pastry together?
EGG WASH!
What to do with puff pastry scraps?
Inevitably when making savory dishes or desserts with puff pastry, you will have scraps. Here is a list of what to do with them.
Combine them all and re-roll them one time. Chill thoroughly then make adessert where the puff factor isn't as important. These palmiers are a great example of this.
Make cinnamon sugar twists [also called sacristans]
Make cheese straws!
Cut out leaves or flowers with cookie cutters, brush with egg wash or heavy cream, sprinkle with sugar and bake. Use them as garnish on a dessert, top pies or decorate the top of your fruit tart!
Recipe
Puff Pastry Fruit Tart
This Puff Pastry Fruit Tart is an easy stunning dessert! The base is puff pastry, filled with pastry cream and topped with your favorite fresh fruits!
Instructions
Assemble the Base:
Preheat oven to 375F convection.

If your puff pastry is frozen, allow it to warm up just enough to lay flat and be pliable. It should still be cold. Always keep your puff cold while you are working with it to preserve the layers!

Cut your Puff: It really isn't important what size you make it. You could make tiny, bite-sized ones, or individual tartlettes, but I made mine 4-inches by 6-inches. Using a ruler and a pizza cutter, cut your base. Then cut the strips to place on top to create a little puff pastry boat to hold the filling. I cut 4 individual strips about 2cm wide, one for each side. Adhere the strips with egg wash (1 beaten egg) to the top of the base like a border.

Dock the Dough: With a fork poke holes in the puff pastry base so that it rises evenly.

Chill the dough completely – at least 45 minutes.

Quickly brush the top edge of the border with egg wash or a little water, being careful that the egg wash or water doesn't drip down the edges of the puff. This will glue the layers together and keep them from puffing. Sprinkle the top with raw sugar.

Chill again if necessary.

Spray a baking sheet with pam spray or likewise and place a piece of parchment on top. Place puff pastry on top of prepared baking sheet and bake in preheated oven 12-20 minutes depending on size of tart.

Let the tart cool completely.
Assemble the Tart:
Refresh the pastry cream by beating it in the bowl of a stand mixer fitted with the paddle attachment until smooth and more easily spreadable or you can do the same thing in a bowl with a rubber spatula. Mix in Bourbon to taste if desired.

Dollop some of the pastry cream into the baked tart shell. Spread the cream out until it covers the whole tart and comes just below the top of the sides. You don't want to overfill it or when you add the fruit, the cream will squish out.

Cut and arrange the fruit however you like! I chose to arrange it more daintily but a towering pile of mixed berries and fruit would also be beautiful.

Refrigerate before serving. It is best served the day it is assembled, but the tart shell can be baked a day in advance. The pastry cream can be made seven days in advance.
Video Instructions