These Ooey, Gooey Smores Bars are easy to pull together and are sure to be a crowd pleaser! They have all the taste of Smores without the campfire fuss!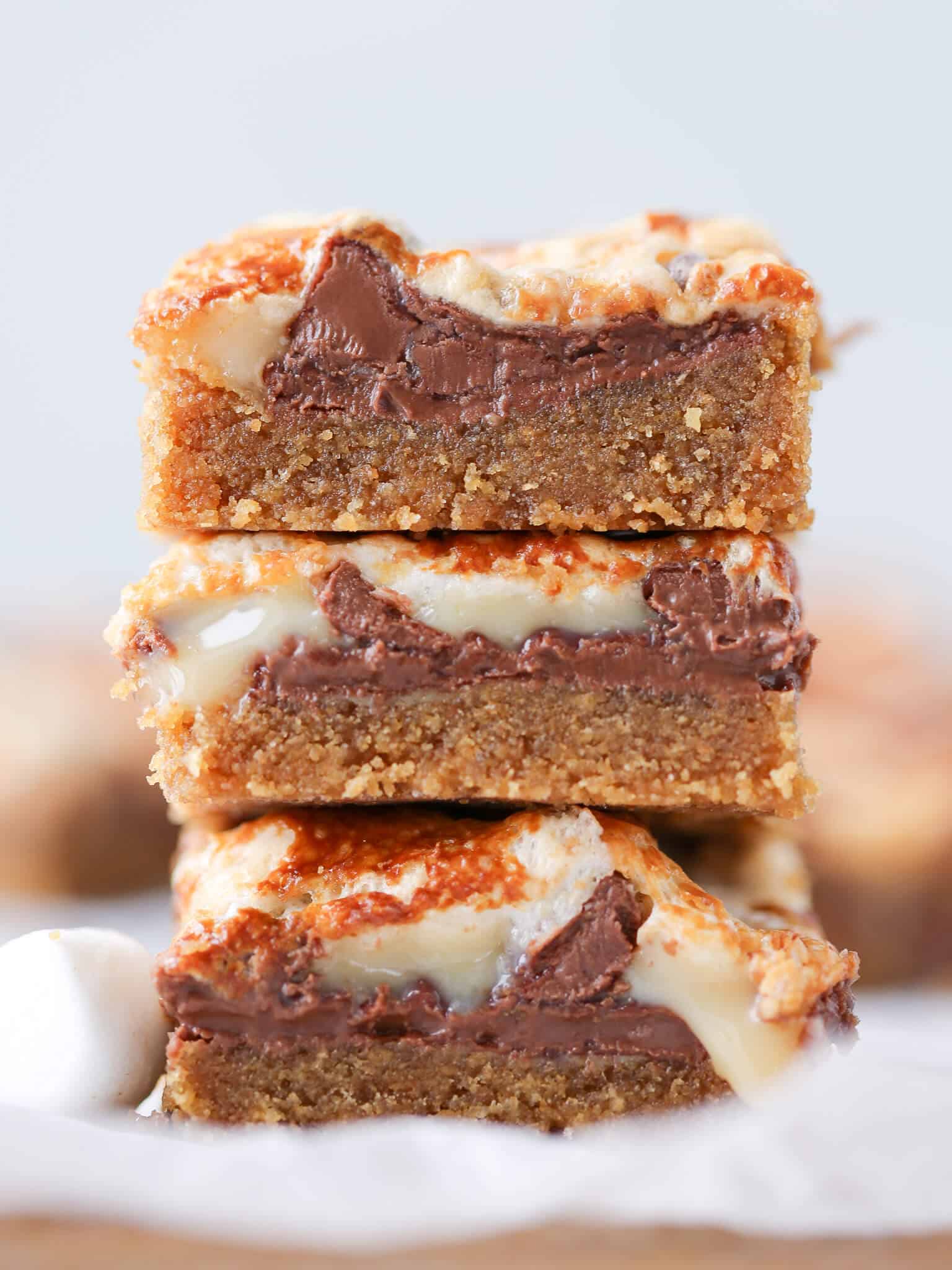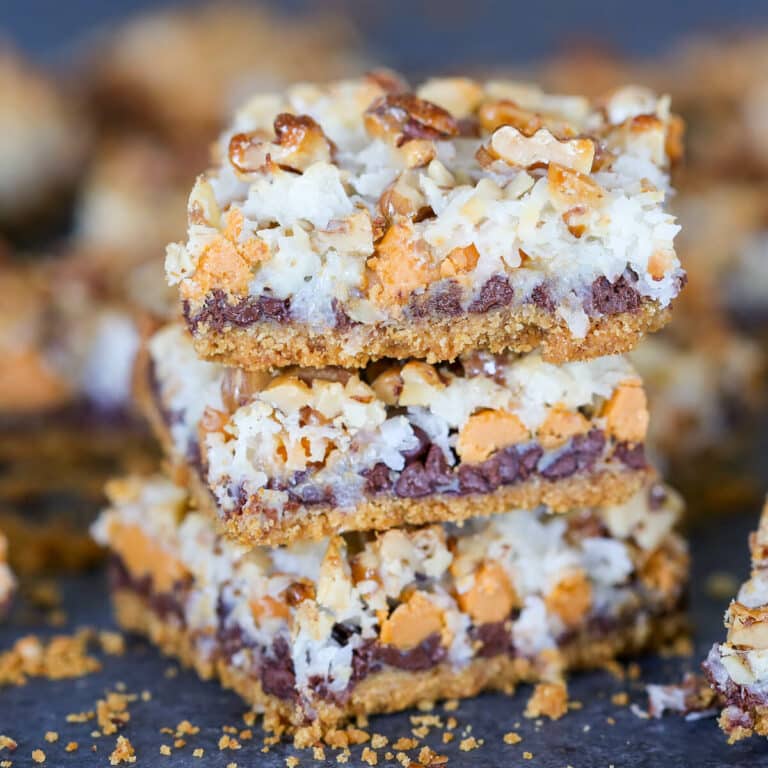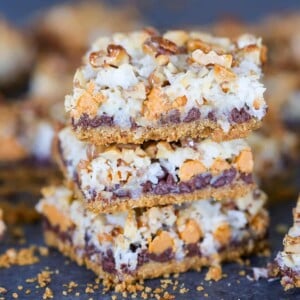 These Ooey, Gooey Smores Bars are chewy, soft and decadent! They have all the flavors of s'mores in bar form! The toasted marshmallows on top with the caramelized sweetened condensed milk made them positively addicting. I could not stop eating these. Could. Not. Stop.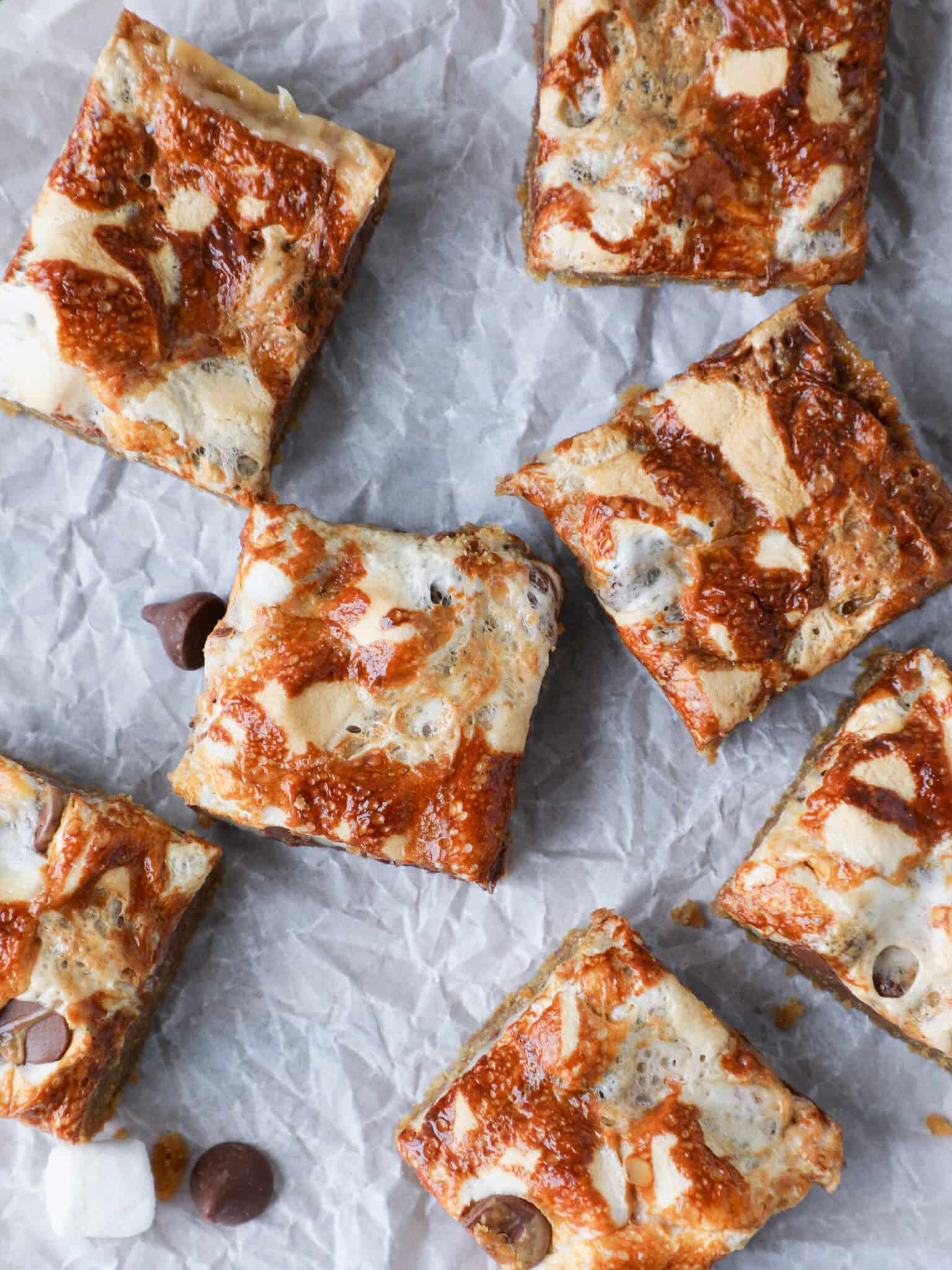 S'mores is one of my favorite flavor combinations. Blame nostalgia or my love of graham cracker crusts. You should check out these Chewy Smores Crumble Bars, no bake golden graham smores bars, toasted marshmallow smores ice cream, and these Mini Smores Cheesecakes.
This No Bake Whiskey Smores Pie even made it's place in history as the anchor of my s'mores dessert at Restaurant Marc Forgione where I was the Executive Pastry Chef.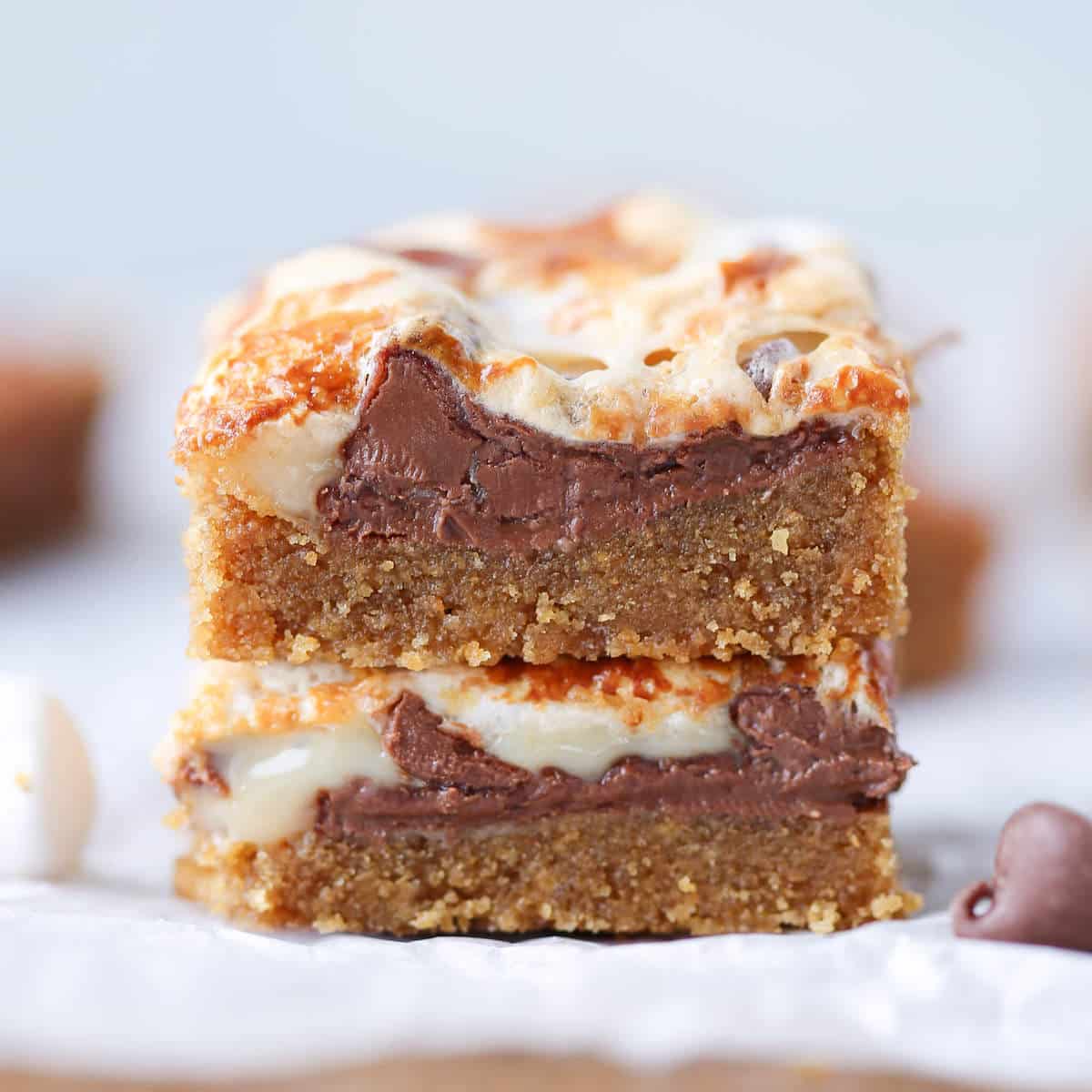 You need to try these. Need. I think making these is up there with brushing your teeth on the basic needs scale. The graham cracker crust is just perfection (Thank you Averie!!), the Hershey's milk chocolate bar layer is just a magical surprise, the mounds of marshmallows sprinkled with Ghirardelli milk chocolate chips just makes you sigh in happiness, but what really sets these bars apart is the sweetened condensed milk that I drizzled on top. When it bakes in the oven it caramelizes on top of the marshmallows giving them that campfire feel.
Do you see that caramelized goodness?!
If you have an unnatural obsession with mini marshmallows (you know who you are!), then you should feel free to dump more marshmallows onto that marshmallow layer. More is more!
I'm going to bring some of these to my next wedding dress fitting by means of explanation when my dress it too tight. One bite and I know the seamstress will understand, condone even, my giddy obsession.
These Ooey, Gooey Smores Bars were one of the fastest desserts that I have ever made. Crushing the graham crackers was the most laborious step. I was done pulling it together before my oven was done preheating. (I don't know what that says about my oven but whatever.) And you know what's even better than that? It's so easy a child could do it. In fact, it's the perfect dessert for a little fun in the kitchen with the little ones! Not that I have any…
Averie's Graham Cracker Crust from AverieCooks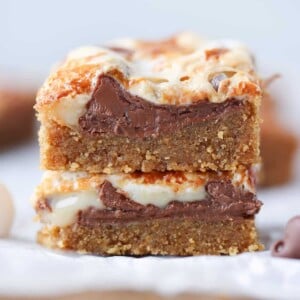 Ooey Gooey Smores Bars
These Ooey, Gooey Smores Bars are easy to pull together and are sure to be a crowd pleaser! They have all the taste of Smores without the campfire fuss!
Ingredients
For the Bars:Unit Conversion
3

oz

Hershey's Milk Chocolate Bars

2 bars

3

cups

mini marshmallows

½

cup

milk chocolate chips

7

oz

sweetened condensed milk

about ½ a can
For the Graham Cracker Crust:
Makes:
8
inch
8
x
8
inch
rectangle
Instructions
Preheat oven to 350. Butter 8×8 dish or line with criss-crossed parchment

Crush your graham crackers into crumbs or buy them this way! My preferred method is to throw them in a ziplock plastic bag and whack them with a rolling pin, can, or even your hand will do. It's kind of therapeutic. As I was crumbling the graham crackers wondering, "Don't they sell graham cracker crumbs!?" Why yes, yes they do! I highly suggest you go that route.

Melt butter in a medium bowl in the microwave. Dump the remaining crust ingredients in with the butter and mix. Press into prepared dish.

Arrange your Hershey's bars in cute little rows.

If you want to get a little crazy with the Hershey's and not leave as much space, you go on with your bad self! [Name that movie!] But I will warn you that these Smores Bars are SWEET!

Then dump your marshmallows on top. The quantities listed above are really more like guidelines. If you are a marshmallow person, pile 'em on!!!

The sprinkle some milk chocolate chips on top. You know how some days a few chips aren't enough? Yeah, I was having one of those days. Why Ghirardelli chips and Hershey's bars? Because, as crazy as this might sound, my chocolate palate has matured over the years and Hershey's just doesn't float my boat as much anymore, but would they be Smores without Hershey's? I'll field that one for you. No. No, they would not. Thus Hershey's AND Ghriardelli it is.

Pour the sweetened condensed milk overtop. No need to cover every nook and cranny. Honestly it's best if you don't. 1/2 can, really? Yes really. You know what I do? I spatula that remaining sweetened condensed milk into a small ziptop plastic baggie and then throw it in the freezer. Just make sure you label it because have you seen sweetened condensed milk in a baggie? It's gross looking. Someone will throw it out.

Anyways put those Smores Bars in the preheated oven and bake for 20-30 minutes or until the top is a perfect golden brown. Cook longer if you like your smores burnt. Here's to that!

Let cool 10 minutes and then pull the marshmallows away from the sides of the dish with a metal spatula or knife. Let cool completely before cutting, or you will have one big messy (delicious) pile and not perfectly formed bars.
Nutrition
Calories:
229
kcal
|
Carbohydrates:
35
g
|
Protein:
2
g
|
Fat:
10
g
|
Saturated Fat:
6
g
|
Polyunsaturated Fat:
1
g
|
Monounsaturated Fat:
3
g
|
Trans Fat:
1
g
|
Cholesterol:
21
mg
|
Sodium:
64
mg
|
Potassium:
87
mg
|
Fiber:
1
g
|
Sugar:
28
g
|
Vitamin A:
210
IU
|
Vitamin C:
1
mg
|
Calcium:
51
mg
|
Iron:
1
mg
Like this? Leave a comment below!