These Easy Lemon Blondies are made in one bowl and a bright with lemon flavor! They have the texture of your favorite classic chewy blondie and the simplicity of our one-bowl brownies!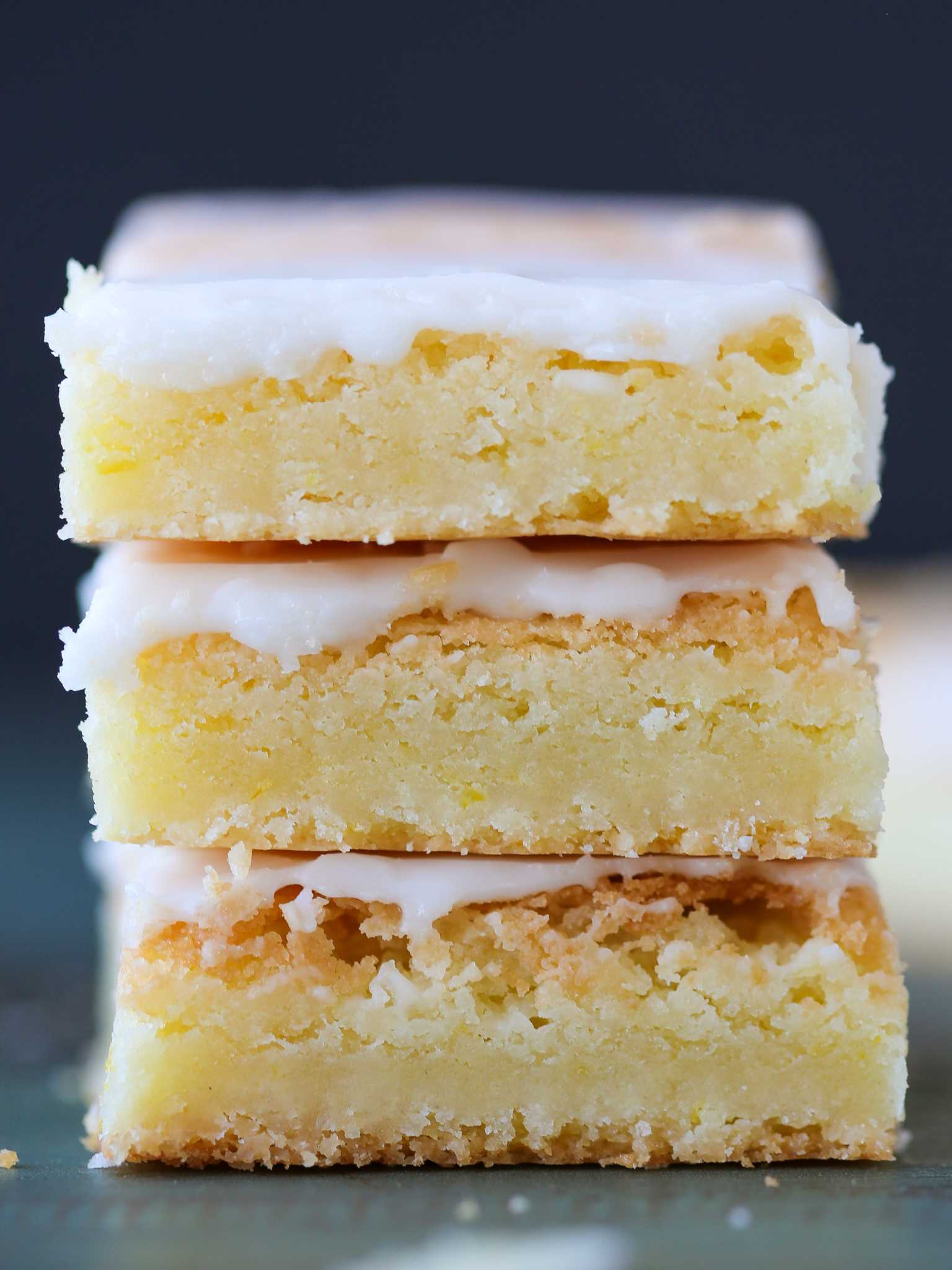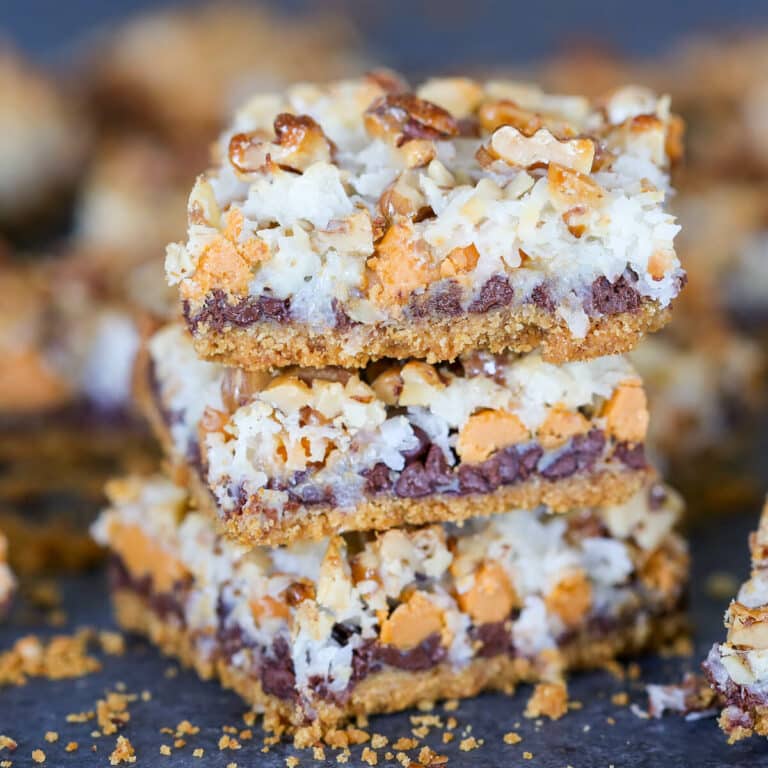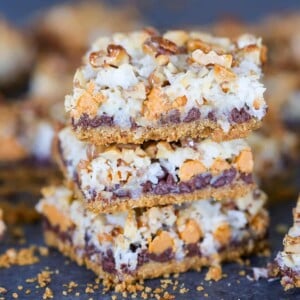 Go open your fridge and pantry and check to see if you have the five ingredients for these blondies. You will not want to miss my fun and significantly easy twist on blondies. They are even easier than lemon pudding cookies!
These were born in my online pastry shop because I wanted sugar cookie bar that had a bright lemon flavor and the chewy texture of a blondie. Et voilà! Lemon blondies!
I've iced these using an easy, two ingredient glaze, but you could also use my favorite fresh strawberry glaze from this strawberry lemon pound cake or even a Lemon American Buttercream.
These Lemon Blondies are the perfect start to a bright, Summer dessert spread. Lean into the citrus vibe with some lemon bars, a lemon berry trifle, and the perfect lemon meringue cheesecake.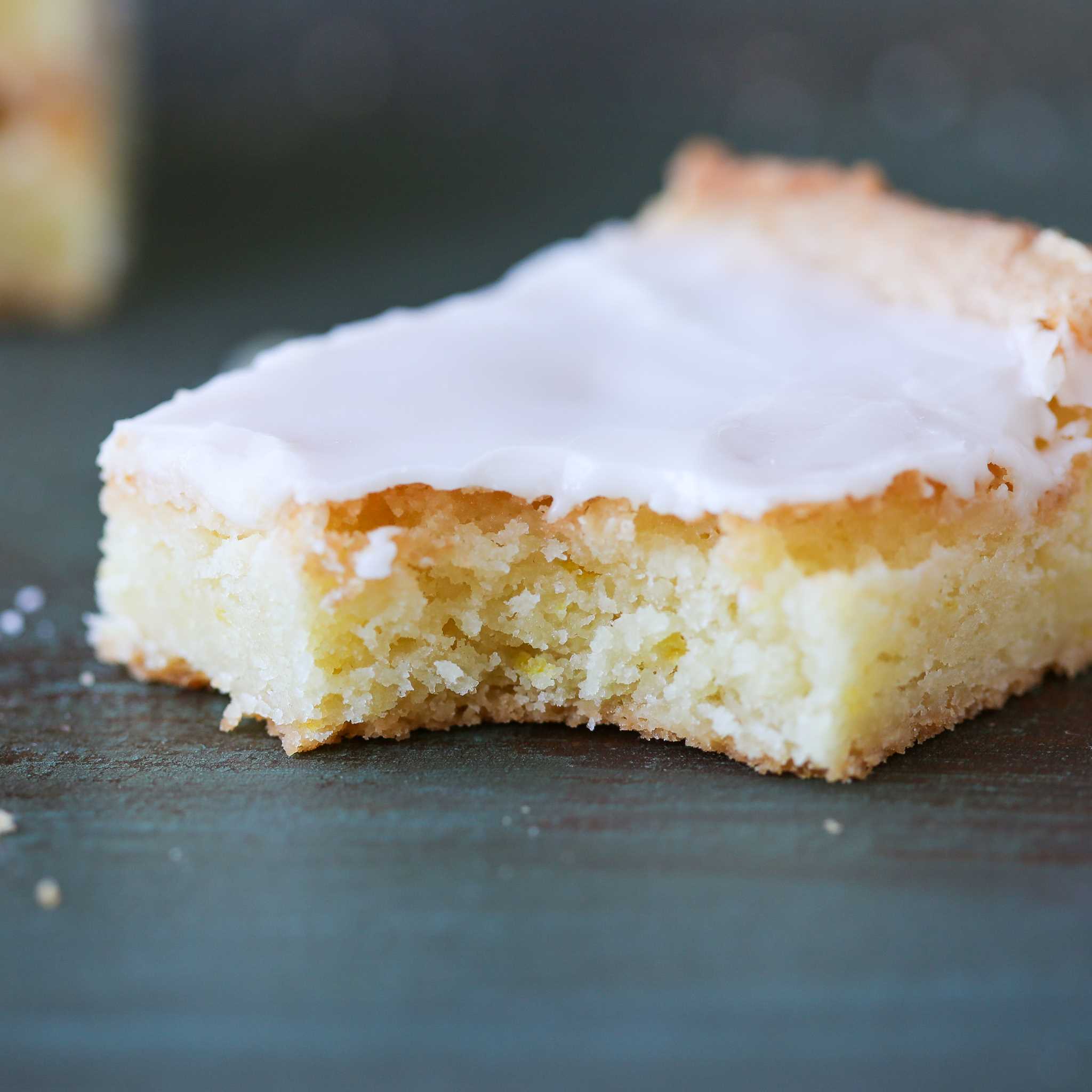 Lemon Blondies Ingredients:
Butter: I use unsalted butter for baking, because you want to control the amount of salt you are adding. Every brand is different and it makes adjusting the recipe a challenge.
Sugar: I use extra-fine sugar in baking because it dissolves faster and incorporates easier than even standard granulated sugar. Regular granulated sugar will be just fine though!
Whole Eggs: Eggs are mission critical for emulsifying all that butter and sugar together. They also create a tiny bit of leavening.
Lemons: The zest flavors the lemon blondies and the juice flavors the glaze!
Salt: The kosher salt is essential in this recipe. It play a supporting roll balancing the flavors and all that sugar! Kosher salt is lass salty than table salt and a teaspoon weighs less than other finer ground varieties.
All-Purpose Flour: I use all-purpose flour but you could also use bread flour with minimal impact.
Confectioner's Sugar: Also called powdered sugar or 10x because it is ground ten times finer than regular sugar.
Make the Lemon Blondies your own!
Orange Blondies: Substitute orange zest for the lemon zest in the brownies and orange juice for 3/4 of the lemon juice in the glaze!
Go Nuts: Add up to 2 cups of nuts like toasted walnuts, pistachios, almonds or hazelnuts after adding the flour.
Strawberry Lemon Blondies: Fold 1 cup chopped fresh strawberries or 1 cup dehydrated strawberries into the batter after the flour. Ice with my fresh strawberry icing from this lemon pound cake instead of the lemon.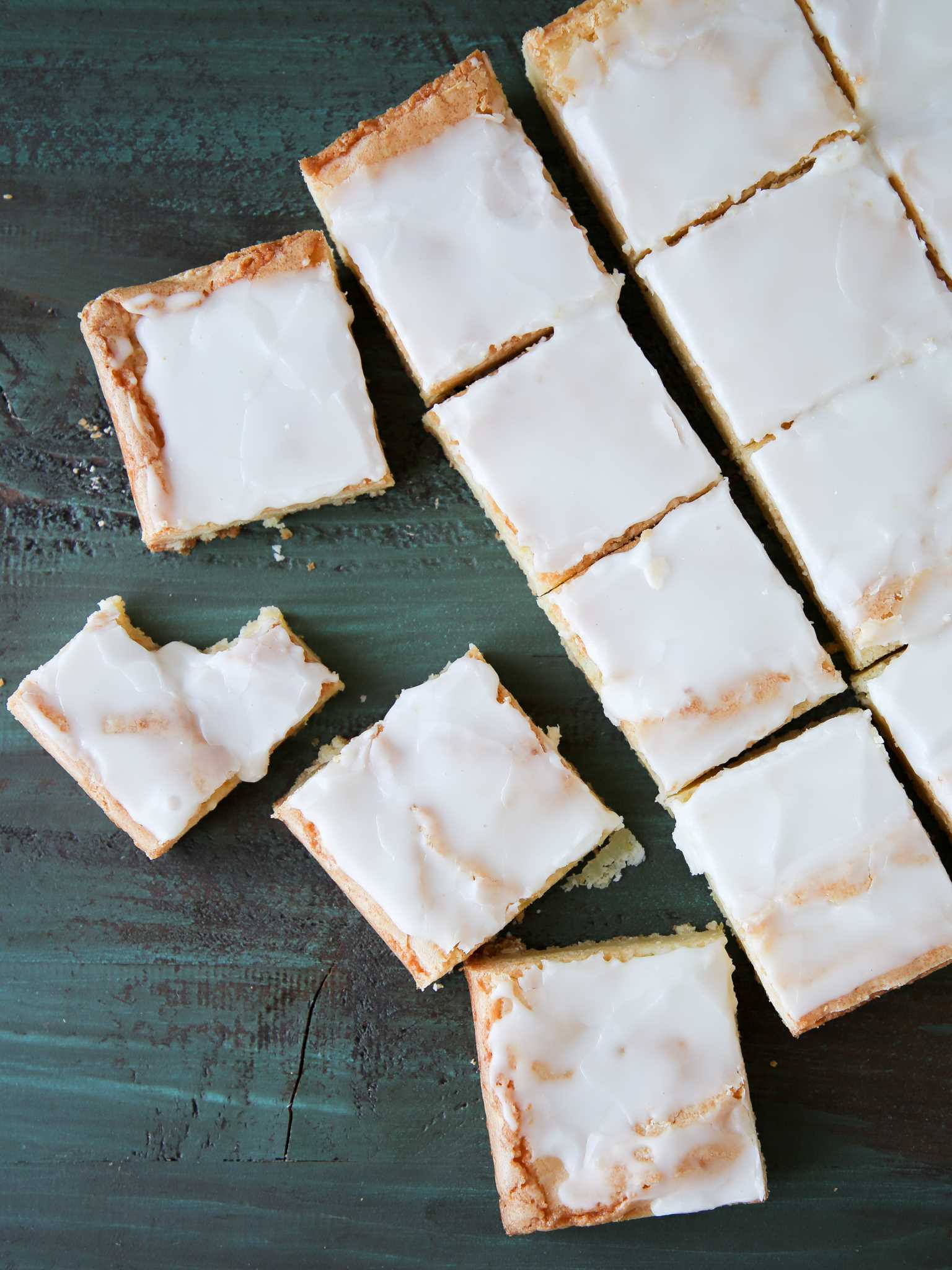 Lemon Blondies Storage:
Store in an air-tight container or wrapped in plastic wrap in the refrigerator for up to one week. Freeze for several months! The blondies freeze beautifully iced, just allow the icing ample time to set before wrapping for the refrigerator or freezer.
The lemon blondies also ship beautifully.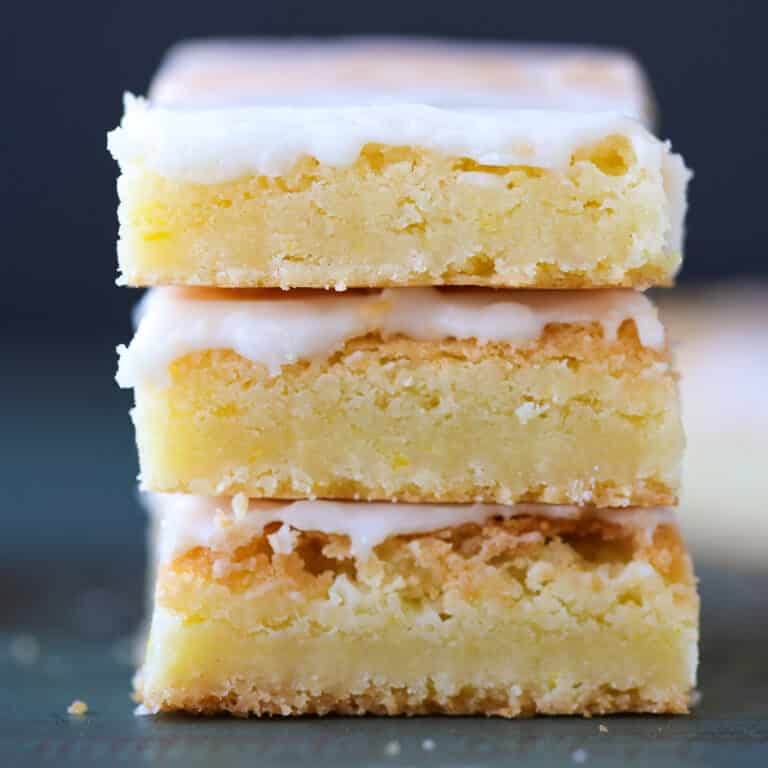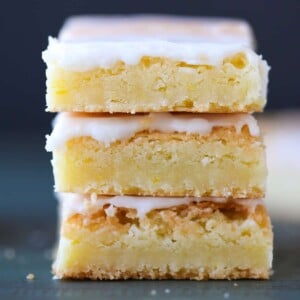 Lemon Blondies
These Easy Lemon Blondies are made in one bowl and a bright with lemon flavor! They have the texture of your favorite chewy blondie and the simplicity of our one-bowl brownie!
Instructions
Make the Blondies:
Preheat the oven to 325°F. Either spray a 9×13 inch pan with non-stick cooking spray or line the pan with parchment. Set aside.

Combine the sugar and lemon zest. Rub the zest into the sugar with your fingertips to start releasing the oils. The longer it sits, the more pronounced the lemon flavor will be.

Melt the butter in the microwave or small saucepot.

In a large bowl whisk together the butter and sugar zest mixture.

Whisk in the eggs until smooth and homogenous.

Whisk or fold in the flour and salt until a smooth batter forms.

Pour into prepared pan and bake in preheated oven for 20-25 minutes or until browned on top and gives resistance to the touch.

Cool completely before icing.
Prepare the icing:
In a medium bowl whisk together the confectioner's sugar and lemon juice until the desired consistency is reached. I wanted mine to be spreadable, so I added enough lemon juice to make a paste.
Assemble & Cut:
Spread glaze on brownies. Allow to set for at least 30 minutes. The thicker the glaze, the longer it will take.

Slice and serve!
Notes
You can store these in an airtight container at room temperature for 3 days or refrigerated for a week. They also keep nicely frozen for several months.
Yield: 1, 9×13 inch pan; 24 blondies
Nutrition
Calories:
222
kcal
|
Carbohydrates:
37
g
|
Protein:
2
g
|
Fat:
8
g
|
Saturated Fat:
5
g
|
Polyunsaturated Fat:
1
g
|
Monounsaturated Fat:
2
g
|
Trans Fat:
1
g
|
Cholesterol:
34
mg
|
Sodium:
140
mg
|
Potassium:
35
mg
|
Fiber:
1
g
|
Sugar:
27
g
|
Vitamin A:
258
IU
|
Vitamin C:
6
mg
|
Calcium:
9
mg
|
Iron:
1
mg
Like this? Leave a comment below!