These Easy Peach Preserves taste like biting into a juicy peach in the peak of Summer! Only two ingredients and a little patience stand between you and the best peach preserves all year round.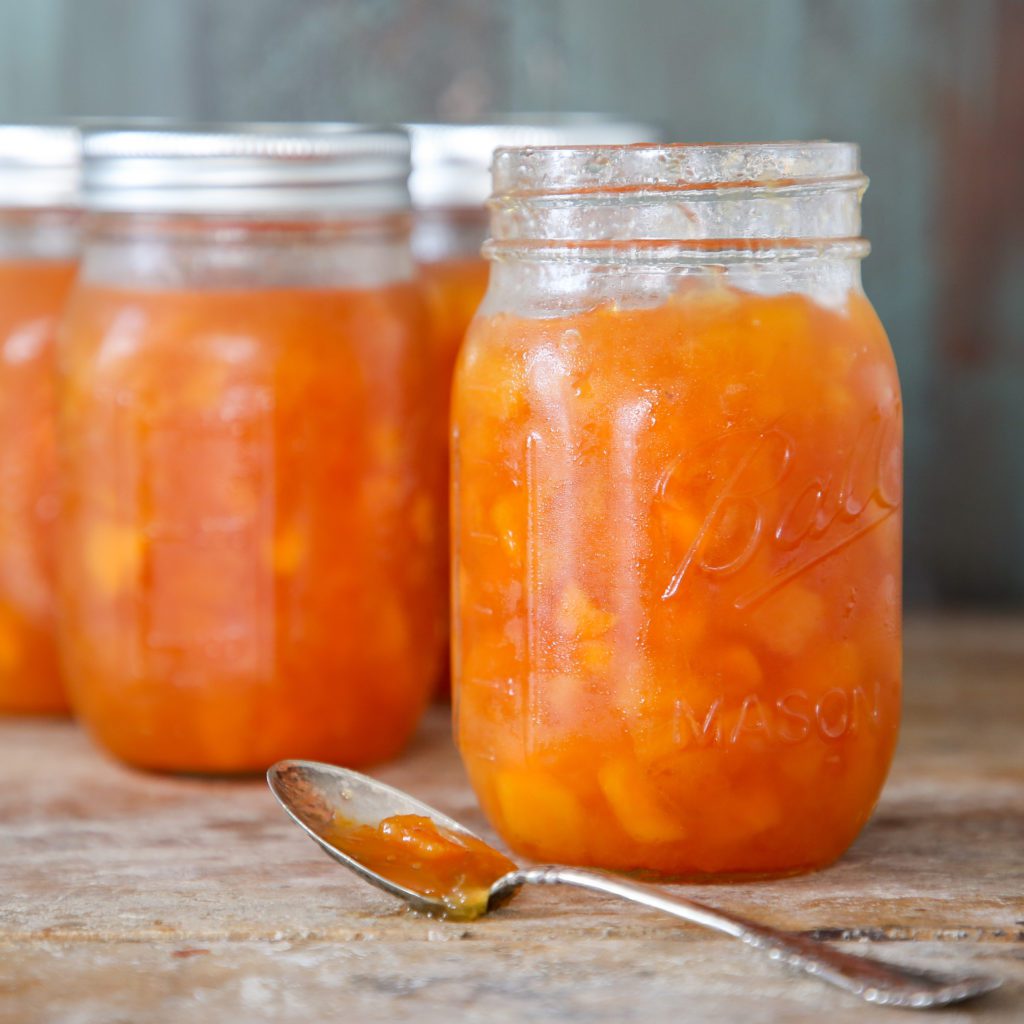 I first made peach preserves with Abigail, my first sous chef at the Restaurant. In the Summer of 2018 Abigail decided she wanted to make peach preserves, an epic amount of peach preserves. She got her grandmother's recipe from her aunt; we went to Union Square Farmer's Market and bought 2 bushels (that is like 80 pounds!) of peaches; and then started peach preserve production in my NYC apartment. It was a roaring, albeit sticky, success!
I bring you Abigail's Peach Preserves. This is almost the same recipe, but with perhaps a touch less sugar. That is not to say it is a diet version because there is more sugar in these preserves than most of my cakes! I hate to be the bearer of bad news but there ain't nothin' diet about jams, jellies or preserves. When you open a jar in December and you smell the sweet fragrance of Summer floating towards you, you won't give a damn how much sugar is in there. That is happiness canned right there.
Peach preserves are phenomenal on toast, with cheese on a cheese plate, in yogurt and cottage cheese, on ice cream, or even as a filling for cupcakes!
Table of Contents
What is the difference between peach preserves, peach jam and jelly?
Peach preserves contain larger pieces of fruit and are often looser than peach jam or jelly. Peach jam is made with fruit puree and is often thicker than preserves but not as thick as jelly. Jelly is typically made with just fruit juice like grape jelly.
How to know when Peach Preserves are done?
Peach preserves are done when most of the fruit is translucent and the juice is slightly thickened. To test spoon a bit of the peach preserves on a frozen plate and place back in the freezer for a 2 minutes. Tilt the plate vertically and run your finger through the preserves. They should hold a line and only slowly move down the plate rather than just running off.
Over cooked peach preserves are tough and chewy. It is best to test early and often.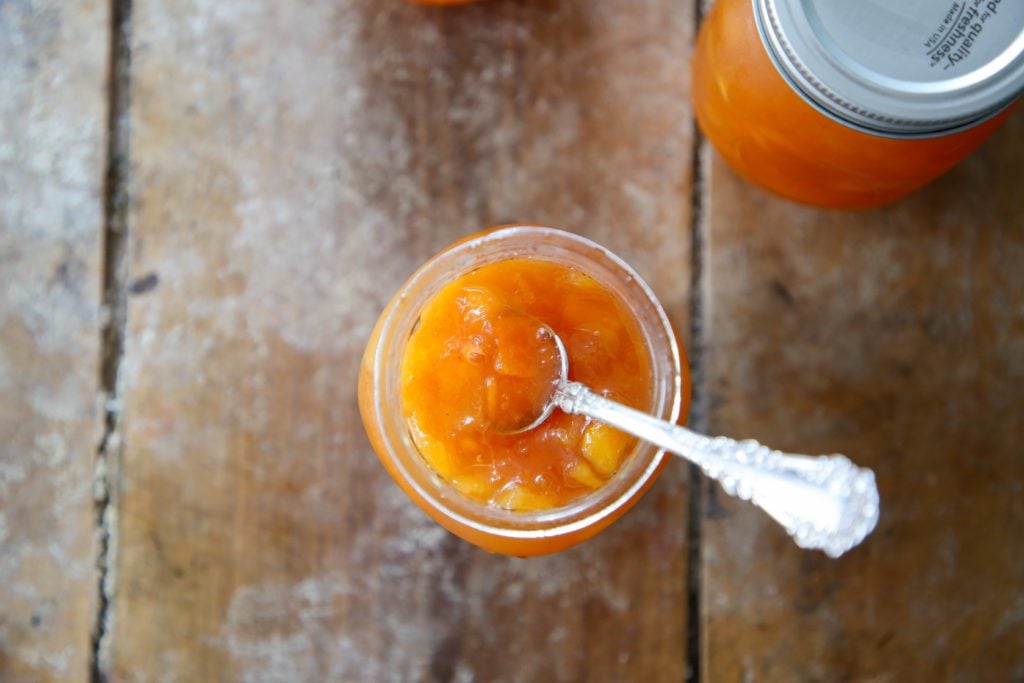 Do you have to skim the foam off the preserves?
You don't have to do anything, but skimming the foam from the cooking preserves will ensure your final product is clear and the color is bright. If you leave the foam, the resulting preserves will be cloudy and dull in appearance.
How do you remove foam from preserves?
The easiest way to remove foam from preserves is to use a ladle. While the preserves are cooking, periodically use a medium to small ladle to remove the foam. Press the ladle down gently into the preserves and allow the foam to simply slip over the sides on the ladle and then discard. Repeat until all the foam has been removed.
How long will peach preserves last?
Without using proper canning techniques, peach preserves will keep for a month in the refrigerator when cooled to 70 degrees within 2 hours then below 41 degrees within the next 4 hours. They will spoil faster if they are contaminated...say, by eating them straight from the jar. 😉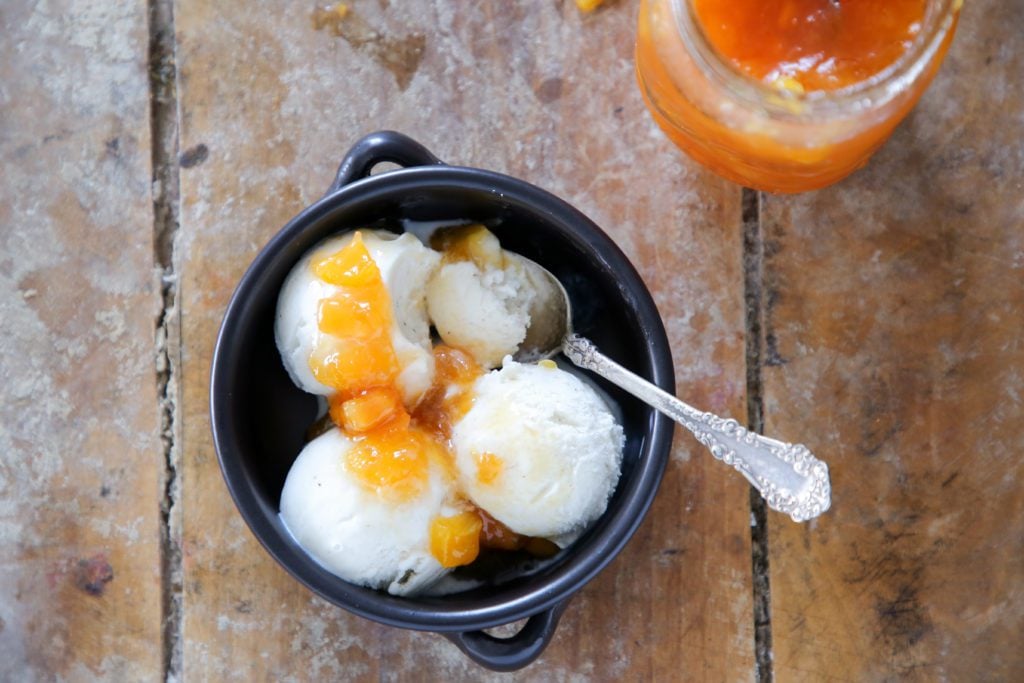 How to use leftover peach canning syrup?
Use like Maple Syrup: The extra peach syrup is delicious on pancakes or French toast
Sweetener: Stir into yogurt, oatmeal or cottage cheese for a little peachy sweetness!
Cocktails: Use it in place of simple syrup in your favorite cocktail
Lemonade or Sweet Tea: Use as the sweetener in lemonade or sweet tea. Add some macerated peaches for a refreshing Summer drink!
Meade: One viewer from the YouTube video for these Peach Preserves even made meade from his peach syrup!
Baking: Use the leftover canning syrup to soak layer cakes or peach cupcakes. You can also mix the syrup with a little lemon juice and use it to soak the cake in your favorite trifle!
Roasted Stone Fruit: In a bowl, toss pitted, halved cherries, peaches, nectarines and plums with the syrup and lemon juice to taste. Add a little vanilla or almond extract, if desired. Then roast on a parchment lined baking sheet until soft and tender. Serve over vanilla ice cream for an easy dessert.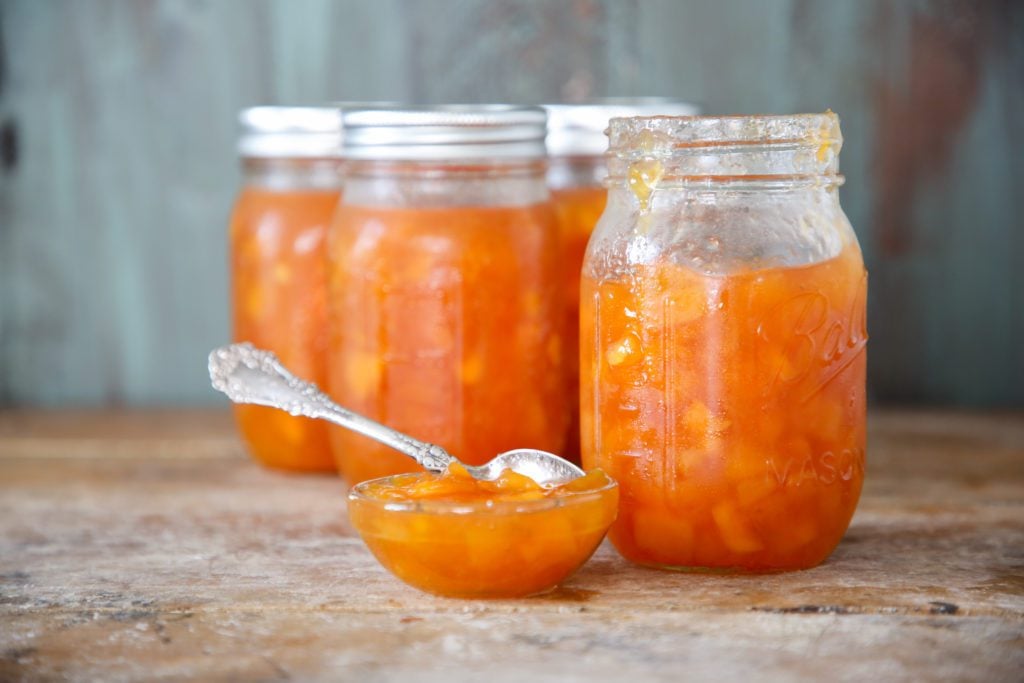 Two Ingredient Peach Preserves
Peaches: Make sure you choose fresh, ripe, peaches when they are in season! New Jersey peaches are lovely or you can order Georgia Peaches from The Peach Truck, or my favorite GA peach farm!
Granulated Sugar: There is a significant amount of granulated sugar in peach preserves. The sugar helps pull out the peach juices and replaces the moisture inside the peach, which is what preserves it. The sugar also helps thicken the preserves.
Recipe
Peach Preserves
These Easy Peach Preserves taste like biting into a juicy peach in the peak of Summer! Only two ingredients and a little patience stand between you and the best peach preserves all year round.
Instructions
Measure or weigh your chopped peaches before you add the sugar. The 3.8 kg of whole peaches should yield about 2 Kg chopped peaches or 10 cups.

For each 10 cups or 2Kg of peaches add 7 ½ cups or 1,700 g sugar.

It is best if you allow the sugar and peaches to macerate in the refrigerator overnight but it isn't necessary.

Put the peaches, sugar, and any accumulated juices in a tall-sided pot. Heat gently until sugar has dissolved and the mixture is warm. Bring it to a boil and then reduce to low. Skim any foam that collects on the surface. This will keep your preserves clear.

Allow to simmer for 2 hours or until the peaches are beginning to become translucent. Not all the peaches will be at the same stage of doneness, so don't stress if some are still a vibrant peach color. Test a small amount on a frozen plate. The should thicken and the peach should be tender and soft.

If you overcook the peaches, they will be tough and chewy. You didn't spend an hour pealing and cutting them to have tough preserves! The consistency of the liquid is loose. Peaches have an incredible amount of moisture. You will have more syrup than peaches, so just accept this an get excited about the possibilities of peach syrup on pancakes and in sorbet.

Meanwhile sterilize your jars in boiling water or in the dishwasher (I greatly prefer this method). Keep warm in a clean towel until ready to use.

Keep a pot of simmering water on for the lids.

Use a ladle to fill the jars with peaches, straining out some of the liquid before transferring. A canning funnel would be super helpful here. I don't have one so I just made a bit of a mess and then cleaned it up.

Place lids in simmering water. Don't forget that you need to use a new top each time you can!

Wipe each jar clean then place lid on and tighten down the outer ring.

Allow to cool down to room temperature. Check the little button on the top – it should be depressed and should not be popped out. If it is popped out, just keep them in the refrigerator. They will keep refrigerated for several months. The same goes if you don't feel like really canning them. Your secret is safe with me!
Video Instructions